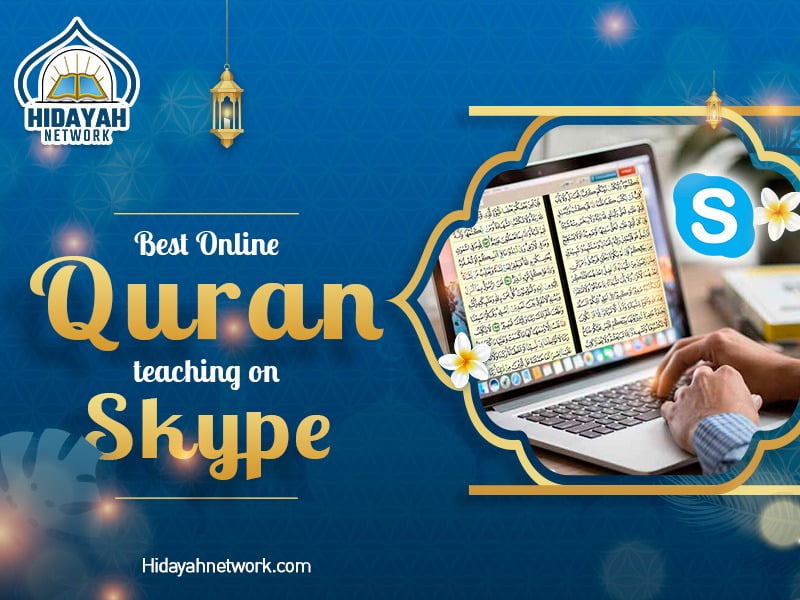 Hidayah Network presents a reliable platform for you that meets your Quran learning requirements. A team of skillful tutors offers their services of online Quran teaching on Skype. Mainly we pledge to guide our students at any time, no matter whether they live in any part of the world.
Best Tutors For Online Quran Teaching on Skype
Hidayah network has a group of certified and experienced teachers who teach multiple Islamic courses and the Quran on Skype. They guide students through well-structured plans under some legitimate rules. Following attributes make our Quran tutors exceptional and more interactive for students of any age.
1-

Certified with an Ijazah:
They are certified with the highest degree of reading perfection of the Quran " Ijazah " to teach Quran online perfectly.
2-

Well-Educated tutors:
Our online Quran tutors are graduated from well-reputed universities in Egypt. They offer great potential to ensure a better learning environment for students. Besides, they are certified by different Islamic institutes for being an active member.
3-

Native Arabic Tutors:
Our certified Arabic Quran tutors are native Arabic tutors from Egypt. This is to ensure they teach Quran with a real Arabic accent, in order to help our students recite Quran in Arabic correctly.
4-

Speak English fluently:
We always believe that the teachers have to speak English fluently in order to make the class super engaging and interactive. Moreover, they would be able to express their ideas and thoughts to their students easily.
5-

Male and Female Tutors:
Hidayah network has both male and female Quran teachers that offer their services at flexible timing. Our adept female tutors ensure a safe and convenient teaching environment for female students.
Why our Skype Quran classes are the best?
There are lots of attributes that make the Hidayah network one of the best online Quran-teaching website. Some of the essential aspects are given below briefly.
1-

Multiple Quran courses:
We offer many Quran courses for adults and kids that primarily aim to teach you the words of Allah and the Holy Prophet (PBUH). You can learn Arabic, Quran, Hadith, and other courses at your home.
2-

Two Free Trial Classes:
This is an exceptional thing that we offer to attain your satisfaction. You can join two free trial classes to communicate directly with Quran tutors and see how well they teach. Once you get satisfied, then you can fill the registration form.  
3-

Certificates and Rewards:
We encourage our students through certificates and rewards to keep their interest in Islamic education. Our competitions provide them with feedback to empower their skills and help them achieve their goals.
4-

One-to-one Classes:
Some adults or female students feel hesitant in group learning; therefore, we offer 1 to 1 class for them. If you want personalized Quran classes on Skype, you can register for that and set the desired schedule to meet your Quran learning requirements.
5-

Reasonable Fee structure:
We have reasonable pricing plans that are suitable for students from every country. Basically, our mission is to teach a large number of students from around the world, so we always demand a fair payout.
6-

Time Flexibility 24/7:
We offer you services 24/7 so that you can set your online Quran class schedule according to your country's time. Time flexibility shows our extreme sincerity and the usefulness of the Hidayah network.
7-

Convenient Medium " Skype ":
There are a few mediums that enable you to communicate with people from any country. While Skype is one of those that enable you to learn easily and use the camera and share screen features. Therefore, our Quran tutors prefer online Quran teaching on Skype.
Our Well-Structured Online Skype Quran Courses:
There are different courses available for students on the Hidayat network, but here we will talk about Quran teaching courses that mainly enable you to read the Quran fluently.
1- Learn Quran via Skype For Beginners:
This course includes Online Skype Quran classes for beginners of any age. Firstly, the tutor will start teaching you Al-Qai'dah An-Nooraniyah or Noor Al-Bayan that will help you to learn the basics.
It will be a regular lesson-based Quran course that goes on as per your schedule. You will learn the alphabets of the Quran and the rules of joining them with the correct pronunciation.
2- Online Quran Hifz Classes:
To keep the holy word of Allah in your mind forever, you should join our online Skype Quran hifz classes. In this course, both kids and adults can take classes 24/7 at their convenient time.
The Quran hifz tutor gives you regular lessons and provides you monthly feedback to make sure your learning is going well throughout. However, you can also choose any pricing plan or time for this course.
3- Learn Quran With Tajweed:
Our qualified tutors offer Quran with Tajweed online classes for kids and adults. This online Quran Tajweed course enables you to read and recite the Quran as it was recited by our Holy Prophet (PBUH).
However, the Quran Tajweed course includes varying rules of the Quran, such as pronunciation, prolongation, and intonation of words. You will also learn about the difference in stops and movements of letters (ahruf) used in reciting the Holy Quran.
4- Quran Tafseer Course:
As the name implies, the Tafseer e Quran course is about explaining, interpreting, and translating words. This is an exceptional course for adults who want to make their Quran knowledge authentic and detailed.
You will learn clarification of divine words with references to Islamic sources. You can also join this course with a flexible routine while the rates will be suitable. However, you take group or personalized Quran Tafseer classes.
How do we teach Quran on Skype?
Hidayah network is a highly interactive platform that offers different Quran learning courses all the time. Quran teachers always work through a well-structured plan that lets the students learn fast and achieve their goals.
However, we prefer to teach Quran lessons on Skype because the sound and video quality remain well throughout, which is good for distant students. Even you can reach your teacher with a flexible schedule.
What makes our Skype Quran classes so interactive?
Kids and adults can easily learn al-Quran online through the Hidayah network as our tutors communicate nicely with them to keep them on track. Our adept teachers make a perfect learning plan and then implement it through a prompt routine to get better outcomes from students.
Ultimately, this is the best opportunity for parents to make their kids understand Islam and Quran knowledge. However, parents can also hire a permanent teacher for online Quran Hifz classes for kids or even for themselves.
Benefits of Online Quran teaching on Skype
There are uncountable benefits of online Quran classes on Skype that facilitate both tutors and learners. Some of the important ones are given below.
Skype Easy Setup:
First of all, Skype meetings are pretty handy and can be started in a while with a few clicks. Moreover, you can copy and share invitation links with other folks. Ultimately, it ensures a safe and easy setup for users.
No Distance Issues:
You will not have any issues regarding finding an experienced teacher. You don't need to go to the teacher. You can quickly fill out your form on the Hidayah network platform to get assisted by certified and Muslim teachers.
Safe For Females:
This is the major benefit that young girls and women can enjoy our online Quran teaching on Skype instead of taking physical classes. Ladies can learn the Quran online from the best Quran female tutors at home with a flexible routine.
Face-to-Face Learning:
Teachers can create a video conference with students so that they can enjoy a face-to-face learning environment. Therefore, even video call learning becomes more effective for students, especially kids.
More Attention:
Due to direct communication, students become conscious and ultimately give more attention to their Quran lessons. While teachers also prepare themselves to deliver the knowledge through a live call.
Flexible Schedule 24/7:
The people who learn and teach through Skype are not restricted in time because they use it at any time. However, the Hidayah network offers full-time flexibility, and you can set your plan according to free time in a day.
Quick Medium:
As mentioned earlier, Skype enables you to start instant meetings at any time without any investment. Therefore, it becomes an easier solution for students from all over the world. You can simply start a meeting without any sign-up setup.
Recordings For Kids:
Being an efficient software, Skype enables you to record videos of lectures for later use. However, you can record videos for up to 30 days which is a pretty good memory. Even the storage is fine enough to help the students to learn from missed lectures.
FAQs about our online Quran teaching on Skype
How much are our Skype Quran classes

fees

?
Hidayah network offers different Islamic courses at lenient rates so that parents from any country can pay for their children. Our fee is as low as 3 American dollars per hour for our online group classes, but you can check our monthly pricing plans. However, if another student joins with your reference, then you will get a respectable discount.
How to register for our Skype Quran classes?
If you have got satisfied with two free trial classes, then it's time for online Quran teaching registration for you or your kids. First of all, choose whether you want to learn in a group or a personalized class, and then select a pricing plan. Lastly, set your own schedule and start taking Skype Quran classes.
Do we offer Zoom Quran classes too?
Yes, we offer online Zoom Quran classes for kids and adults. To learn through Zoom mode, you need to sign up for a Zoom account and share your Zoom email so that your Quran tutor could add you to classes. Our online Quran teaching on Zoom also remains interactive in both individual and group learning.
Do we offer online Quran teaching on Skype 24/7?
Yes, you can take live Quran classes at your convenient time 24/7. While purchasing a package, make sure you have chosen the right class time according to your availability. But you might get restricted a little bit in group learning because the teacher sets a suitable time for all students.
CONCLUSION:
Hidayah network brings the ultimate platform of online Quran classes for kids and adults. Teaching and learning go hand in hand only if the environment is suitable. Therefore, we prefer the ease of tutors and students with complete time flexibility. Students from all over the world can reach us at any time, as our team of adept tutors utilizes their valuable time spans in online Islamic classes on Skype. Moreover, you can learn different Islamic courses by paying a small chunk of fees every month.