To begin connecting to the book of Allah one needs to learn to read the Quran accurately. Whether you are a beginner or know a little about Arabic, you need to formally learn Arabic from scratch. This course is designed to facilitate both kids and adults through a very structured curriculum that is divided into levels. Our native Arab and certified tutors will make you competent in reading Quran the same as Arabs do.
Students can also get a personalized plan based on any level they want to start learning from. Our reporting and testing system will help you keep track of your progress. Our Quran reading classes are backed up with outstanding features that will grab your attention in a blink of an eye.
Qualified and Certified Tutors
Understanding the basics of the Arabic language and needs proper guidelines from a professional teacher.
■ Our teachers go through rounds of interviews to get selected for this noble cause.
■ They are Ijazah Certified from reputed Islamic Universities in Egypt.
■ They are fluent in English and ensure understandable communication with students.
■ Well-trained to teach online and had the experience of helping hundreds of non-Arabs to read the Quran like Natives.
■ Apply strategies and techniques about how to read Quran for beginners in such a way that it makes learning enjoyable, easy, and intriguing.
■ They use slides and infographics to help students remember their lessons smoothly
■ They teach with supreme devotion and pure intentions to help accomplish the goals of learning the Quran.
Well-Structured Curriculum For Learning Quran
To help you learn to read Quran easily, we have skillfully structured the plan for kids and adults. The books we have shortlisted for this course are recognised for their best outcomes and practical lesson divisions worldwide. These books are :
■ Noorani Qaida
■ Noor Al Bayan
Noorani Qaida and Noor Al-Bayan are taught through activities that are designed differently for kids and adults by keeping their age groups and interests in mind.
Learning Quran for beginners is made enjoyable through:
Visuals
Arabic songs
Colorful worksheets
Tracing of letters (for kids)
Dialogues delivery
Show and tell sessions
Games with Arabic words
Picture recognition through Arabic letters
Finding examples from the Quran and much more.
Structured Quran Plan for Kids
We instruct kids with a lot of fun activities and educational games designed to meet their learning goals. The class duration for kids is 30 minutes to ensure 100% concentration by avoiding boredom.
Structured Quran Plan for Kids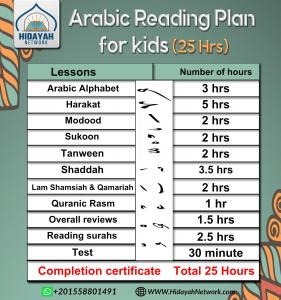 Adults can opt for a 45 minutes or 60 minutes class where all the rules are introduced amazingly through visuals and PowerPoint slides. All the rules are evaluated throughout the course time and a grand test will be held at the end.
Structured Quran Plan for Adults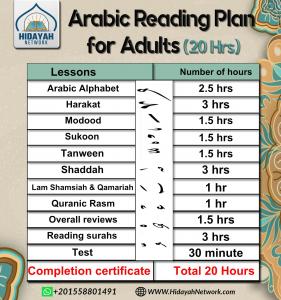 Adults can opt for a 45 minutes or 60 minutes class where all the rules are introduced amazingly through visuals and PowerPoint slides. All the rules are evaluated throughout the course time and a grand test will be held at the end.
Our 3 Main Levels Of Learning Quran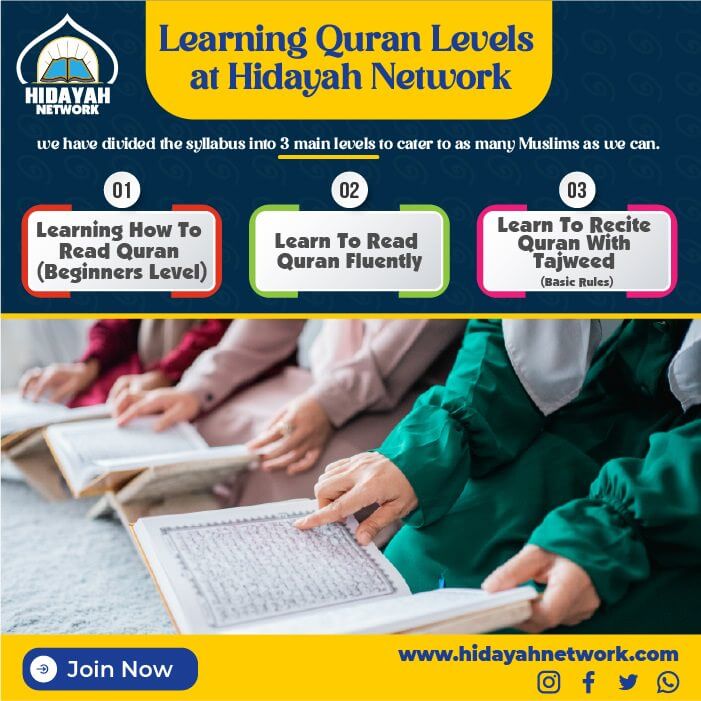 To get the best out of the selected 2 books, we have divided the syllabus into 3 main levels to cater to as many Muslims as we can.
1- Learning How To Read Quran (Beginners Level)
This level is crafted for beginners who know nothing and need to start from scratch. They will learn the very basic rules like
■ The accurate pronunciation of the Arabic alphabet by practicing the articulation points.
■ The Harakat (movements), Tanween (double movements), Madd letters (elongation), Sukoon (silent letters), and Shadda (stressed letters).
■ Different rules for Joining letters and forming words and sentences.
So if you are going to start learning Quran for beginners course then these Quran reading rules will help you a lot.
2- Learn To Read Quran Fluently
At this level, you will learn the rules that will help you read Quran fluently. You will be able to join words easily and smoothly by applying Noon Sakinah And Meem Sakinah rules to make your reading perfect.
3- Learn To Recite Quran With Tajweed (Basic Rules)
Till this level, you must have gained an adequate grip on the basics of reading Quran. Now, you will learn some more rules to apply to Quran recitation. These Rules are:
■ 5 Rules Of Noon Sakinah and Tanween
■ Rules Of Meem Sakinah
■ Qalqala And Its Rules
■ Revision Of All The Rules
Note: Tests will be conducted after each level of the course followed by the final test. This is to check the fluency of each student's reading.
Practical Learning Outcomes For These Classes
Our Quran tutors and supervisors chalk out some learning objectives and outcomes for each course that is meant to achieve in the course time.
■ To identify alphabets and try to read them flawlessly.
■ To apply the basic rules learned in Noorani Qaida and Noor Al Bayan.
■ To read out full ayah, surahs, and juz applying the basic tajweed rules.
■ To recite smoothly without pausing for joining letters and words.
■ To revise and review it daily to retain it with Tajweed rules.
■ To be conscious and avoid hidden mistakes that Non-Arab Muslims do while reciting.
Our Top Features For All Quran Courses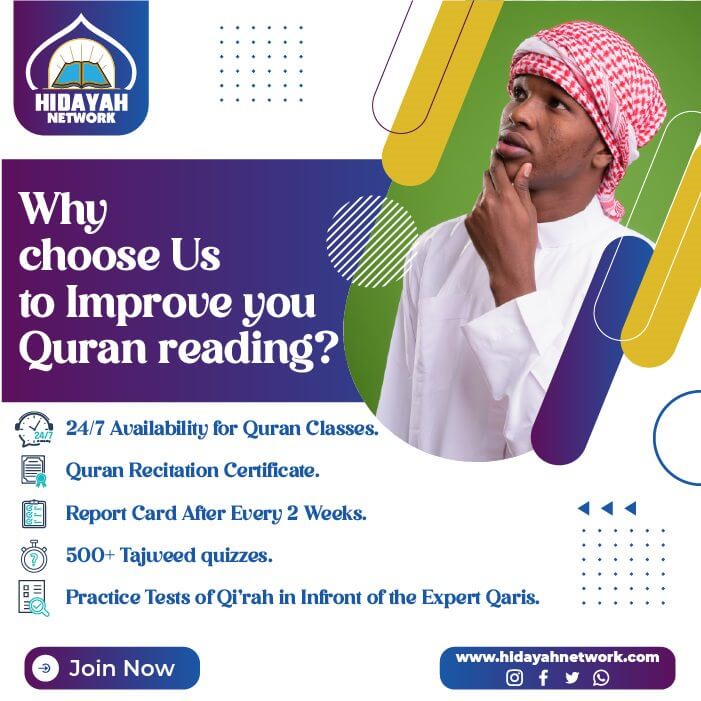 24/7 Access
We let our students choose the best time they can give to learn how to read Quran. Our teachers are available 24 hours a day and 7 days a week to teach at your convenient time.
2 Weeks Report Card
The Quran tutors regularly fill in the evaluation form after every lesson to keep track of the progress. They give a 2 weeks report card based on the evaluation form with tips to improve the errors and a plan for the next 2 weeks.
Mind Mapping Of Each Lesson
Our teachers make proper mind maps of each lesson with as many examples as possible, to help students understand the rules properly and unquestionably. The examples used in these mindmaps are taken from Quran to ensure efficient learning.
The 3D Versions Of Pictures
To help beginners and kids understand each topic, we use the 3D versions of pictures for articulation, pronunciation, and other Tajweed rules.
Affordable Fee Plan
Hidayah Network brings an amazing and economical fee structure where you get a discount for the second child enrolled with us. Even more, discounts are given to families who want to learn together. Users from Pakistan and India get more economical packages that suit their pockets.
Quran Certificates
All the regular students are presented with the certificate. Whereas, the toppers are rewarded for doing their best. This certification allows adults to teach other Muslims if required.
Personalized Learning Plans
We give you the option to choose the curriculum on your own if you are already familiar with the topics enlisted in our course. Our teachers will access you in the free trial classes and make a personalized and customized plan for you according to your capacity and availability.
Tests and competitions
Tests are taken to ensure exceptional learning and continuous progress of students. We also arrange competitions between students in a very motivational environment where students' confidence and morale are uplifted.
Conclusion
Taking the first right step is all that you need to learn to read Quran successfully. We are here to facilitate you with uncountable features. So, grab a free trial class to see how these classes work and enroll in the level of your choice.
Most Important FAQ
Can I Take My Online Quran Class Anytime?
Yes, this is our key feature. You can set the time that suits you the best. Our teachers are available 24/7.
Do I Need to Buy a Textbook for This Quran for Beginners Course?
No, your teacher will share the book online which will be visible on both screens to let you read. We will provide worksheets for reinforcement
What If I Miss My Quran Class?
No worries, you need to inform your teacher beforehand and discuss your availability time so that you don't have a missed lesson, and you can make it up anytime at your convenience.
I Already Have Read the Quran but My Tajweed Is Poor. Can I Be Enrolled in This Course?
You can enroll in our online Tajweed course.
Do you offer one-on-one and group classes?
Yes, we offer both types, you can enrol in any of them. We keep the group very small to provide fully focused classes.