It is challenging for non-Arabs to read Quran just like native Arabs. Due to the relevancy in the alphabet, many people tend to have wrong pronunciation. That is why it is crucial to learn to recite Quran from the basics to learn the exact pronunciation of every single letter.
Hidayah Network, a leading Quranic school, has brought you a golden chance to learn to read Quran online by certified teachers who will make each lesson easily understandable. We aim to begin from the letters and end up making you a pro in Quran reading through our structured and personalized plans.
Learn To Read Quran Online with well-organised Curriculum
To help you learn to read Quran online easily, we have skillfully divided our curriculum into 2 sections. You will not only learn to read Quran but also recite with Tajweed.
Basic Quran Reading Lessons
For basic Quran reading, we have opted for the following 3 famous books that are phenomenal for learning how to read Quran for beginners. It takes you from scratch to the pro stage.
■ Noorani Qaida
■ Noor Al Bayan
■ Yassarnal Quran
Learn Quran Recitation With Tajweed
The next phase is to learn the Tajweed rules to perfect your recitation. The 1st section will help you out in this regard. The following three books are selected for tajweed learning.
■ Tajwīd of the Glorious Qur'ān Made Easy (Taysīr Al-Tajwīd li al-Qur'ān al-Majīd)
■Tajweed Untangled
■ Tajweed Azharia
Levels of Our Quran Reading Classes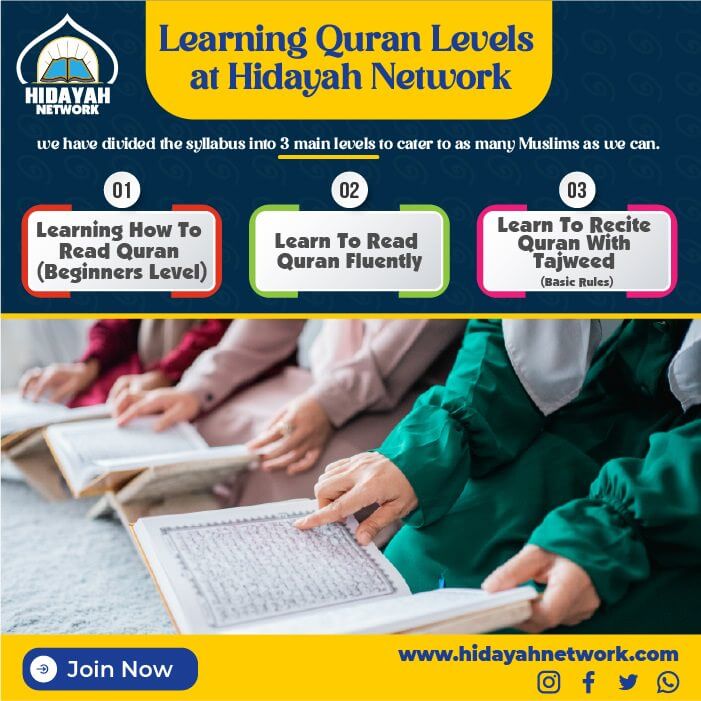 1- Learning How To Read Quran
This level is crafted for beginners who will learn the very basic rules like
■ The accurate pronunciation of the Arabic alphabet by practicing the articulation points.
■ The Harakat (movements),
■ Tanween (double movements),
■ Madd letters (elongation),
■ Sukoon (silent letters),
■ Shadda (stressed letters).
■ Different rules for Joining letters and forming words and sentences.
2- Learn To Read Quran Fluently
At this level, you will learn the rules that will help you read Quran fluently. You will be able to join words easily and smoothly by applying the Noon And Meem Sakinah rules to make your reading perfect.
Till this level, you must have gained an adequate grip on the basics of reading. Now, you will learn some more rules to apply to Quran recitation. These Rules are:
■ 5 Rules Of Noon Sakinah and Tanween
■ Rules Of Meem Sakinah
■ Qalqala And Its Rules
■ Revision Of All The Rules
Note: Tests will be conducted after each level of the course followed by the final test. This is to check the fluency of each student's reading.
Learn to Recite Quran Online Properly in 1-on-1 Classes
We give you the option to get one-on-one personalized Quran reading classes to polish your recitation skills.
➡ ️ These classes are fully focused and goal-driven and let you get 100% attention.
➡️We work on a single student's common reading and Tajweed errors in one-on-one class and help them work on their mistakes to get a better understanding and results.
➡ ️ Such personalised Quran reading lessons let students take notes of the tips to improve tajweed and they can use the whole class time efficiently.
Well-structured Plans to Learn to Recite Quran Perfectly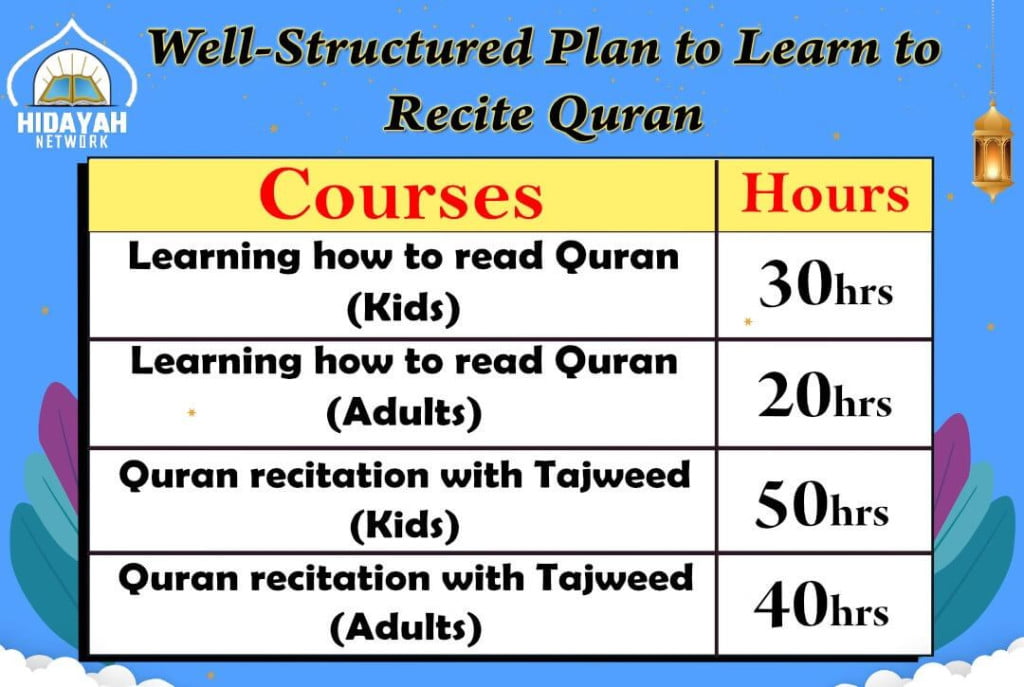 The reading plans you intend to follow are very well-structured as we have worked on many different elements to design them.
The time frame in which the student wants to finish the course and accomplish the target of Quran reading easily.
We focus on the different audiences and set their time frames according to their ages.
Learning How to read Quran (kids)
The Quran reading structured plan for kids will take 30 credit hours in which they will learn according to their plans.
Learning How To Read Quran (adults)
The credit hours for adults are 20; almost 2 months to be able to read Quran properly.
Quran Recitation with Tajweed Plan (Kids)
For this recitation section, kids have a total of 50 hours of plan that is achievable through personalized classes.
Quran Recitation with Tajweed Plan (Adults)
Adults will learn recitation by learning tajweed rules in a span of 40 hours.
Outcomes of Online Quran Reading Course
Our Quran tutors and supervisors chalk out some learning outcomes for each course that are meant to be achieved in the course time.
■ To identify alphabets and try to read them flawlessly.
■ To apply the basic rules learned in Noorani Qaida and Noor Al Bayan.
■ To read out full ayah, surahs, and juz applying the basic tajweed rules.
■ To recite smoothly without pausing to join letters and words.
■ To revise and review it daily to retain it with Tajweed rules.
■ To be conscious and avoid hidden mistakes that non-Arab Muslims do while reciting.
Top Certified Egyptian Quran Tutors
Understanding the basics of the Arabic language requires proper guidelines from a professional teacher.
■ Our teachers go through rounds of interviews to get selected for this noble cause.
■ They are Ijazah Certified from reputed Islamic Universities in Egypt.
■ They are fluent in English and ensure understandable communication with students.
■ Well-trained to teach online and had the experience of helping hundreds of non-Arabs to read the Quran l Natives.
■ Apply strategies and techniques about how to read the Quran for beginners in such a way that it makes learning enjoyable, easy, and intriguing.
■ They use slides and infographics to help students remember their lessons smoothly
■ They teach with supreme devotion and pure intentions to help accomplish the goals of learning the Quran.
What do we offer for this Course?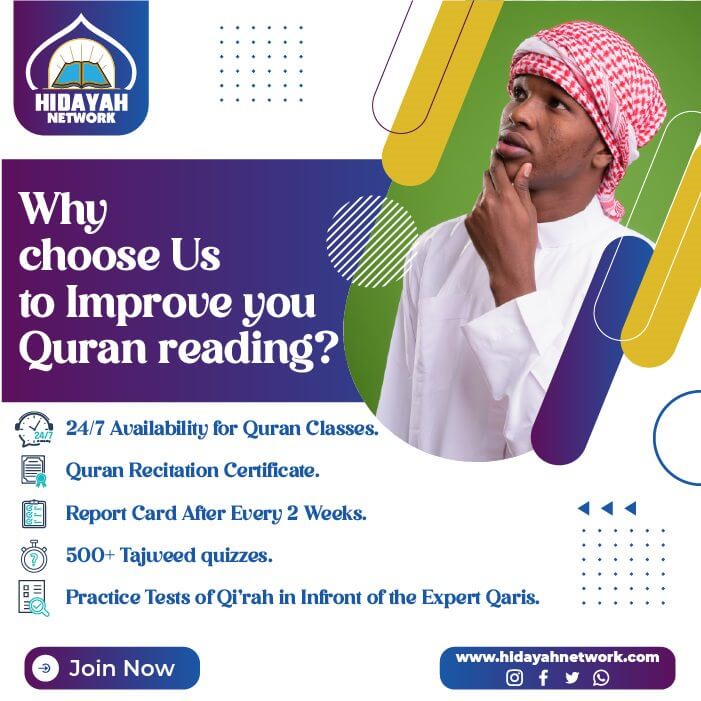 The list of features we offer for all the courses makes us the leading forum of Quran teaching.
Monitoring of Reading Classes
We have a team of competent individuals who keep on monitoring the Quran reading lessons by the following tasks.
➡️Stable internet connection throughout the class.
➡️Feedback forms to get reviews from parents and students.
➡️ Arranging monthly competitions for students.
➡ ️ Answering calls, emails, and messages on priority for any queries from your side.
Weeks Report Card
The Quran tutors regularly fill in the evaluation form after every lesson to keep track of the progress. They give a report card with tips to improve the errors and a plan for the next 2 weeks.
Mind Mapping Of Each Lesson
Our teachers make proper mind maps of each lesson with as many examples as possible, to help students understand the rules properly and clearly. The examples used in these mind maps are taken from the Quran to ensure efficient learning.
The 3D Versions Of Pictures
To help beginners understand each topic, we use the 3D versions of pictures for articulation, pronunciation, and other Tajweed rules. We let them understand the points for utterance of letters through facial pictures.
Affordable Fee Plan
Hidayah Network brings you an economical fee structure where Bristishers, Pakistanis, Indians, and Africans will get discounts. You can enjoy Quran classes for $5 per hour.
Conclusion
Taking the first right step is all that you need to learn to read Quran in Arabic successfully. We are here to facilitate you with uncountable features that will make your Quran reading journey flawless. So, grab a free trial class to see how these reading classes work.
Frequently Asked Questions