Our Quran Hifz classes are offered to all individuals who want to complete them in different time durations with flexibility in schedule. We conduct these classes with innovative Hifz methodologies that suit every student. The lessons are minutely tracked through a reporting system to keep you updated throughout.
Hidayah Network brings this fully-featured Online Hifz classes conducted by the certified Huffaz to help you complete your memorization easier and faster with a unique revision schedule. Our structured plan for Hifz is another best thing we offer, which facilitates memorizing the Quran according to your goals, needs, and requirements.
Hifz Quran Online
The vision behind this course is to Hifz Quran online with a very flexible routine to memorize the Quran or any of its portions with a convenient option. We offer many plans for multiple surahs and ajzaa based on different time durations.
All the memorization courses have different outcomes and preferences and the tutors work hard to help achieve these goals.
Personalized one-on-one Online Hifz Classes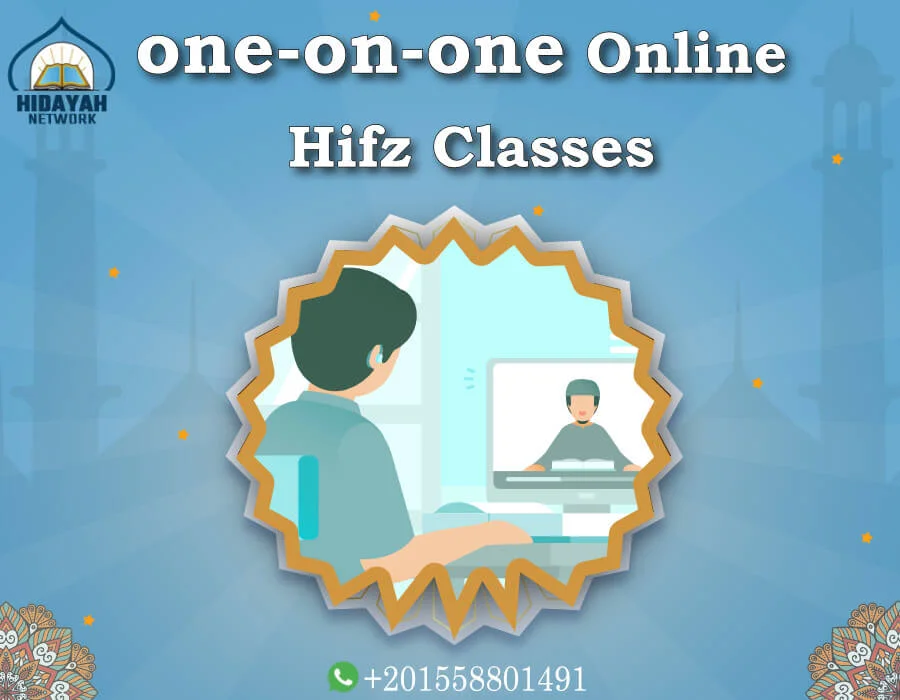 Through our one-on-one online Hifz classes, we have helped hundreds of Muslims memorize the Quran much easier and faster for the last 4 years. These are the great things we are doing to ensure that each student is achieving his or her goal:
➡️In these classes, you are free to choose the hifz portion and get a plan from the tutor with an organized timetable.
➡️Personalized hifz lessons help stay focused and let you concentrate only on the specific syllabus you have to cover.
➡️It also helps students move on with their ability, capacity, and pace. Moreover, they can Hifz Quran at home anytime at their convenience.
➡️The tutor gets time to concentrate on the individual and works on their weaker areas to resolve errors.
➡️Hifz lessons have great retention if done in a personalized class where you save a lot of time because no other student is there.
Variety of Our Online Hifz Classes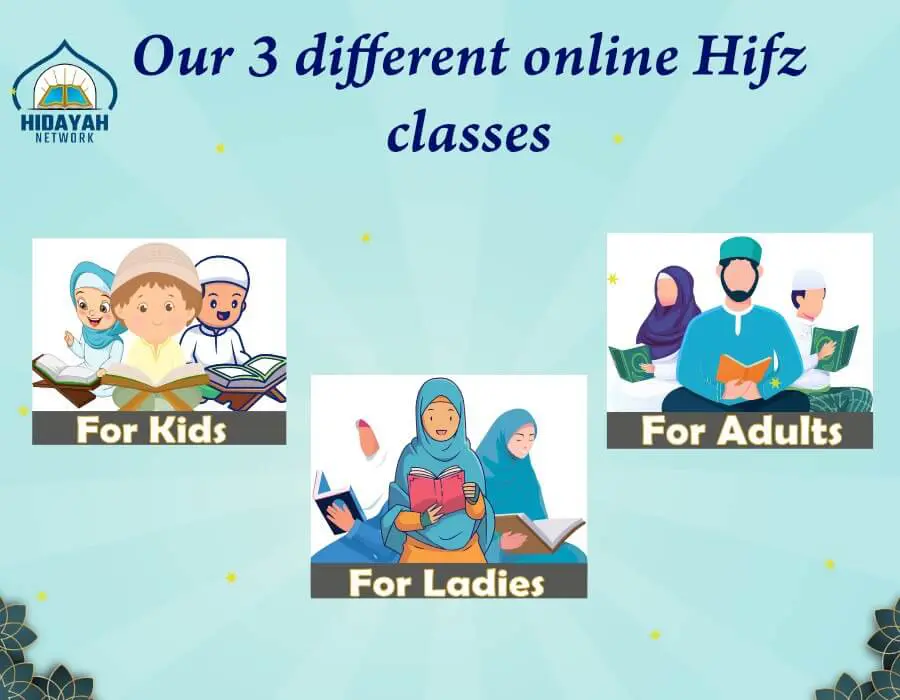 To render our services to different groups of people, we offer 3 types of online hifz classes.
These classes have a very flexible scheduling for adults to memorize the Quran at their convenience time along with their other commitments like studies and work.
Kids hifz classes have an amazing activity-based structure to engage them in lessons and help them memorize with sign languages, flashcards, and stories.
Hire any of our female hifz tutors for this course and memorize the Quran or its specific parts with ease. You can schedule classes even only on Saturdays and Sundays.
Our 4 Levels to Hifz Quran at Home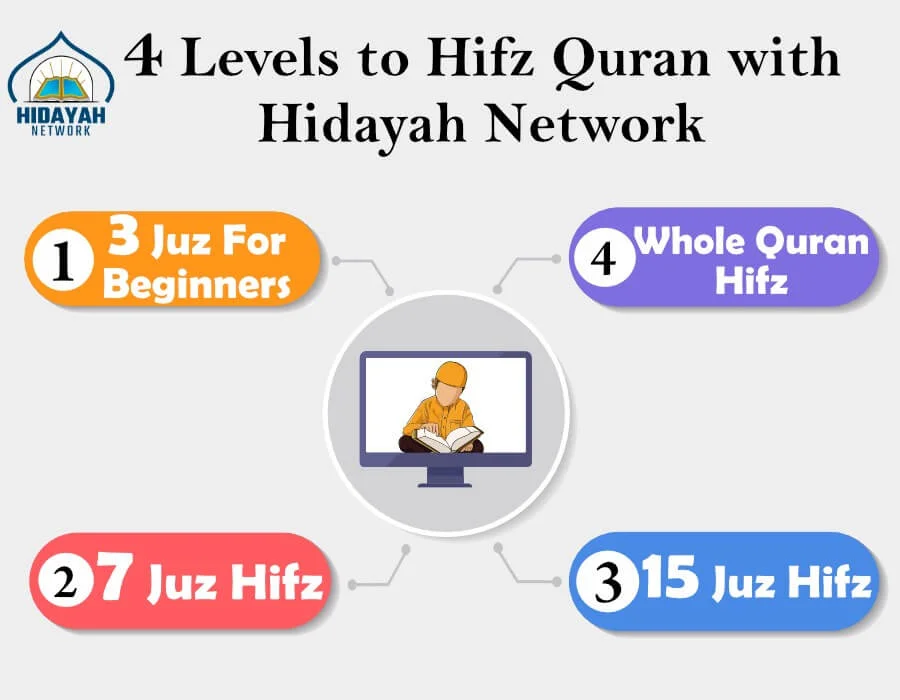 3-Juz Hifz For Beginners
For the students who are initiating their hifz for the first time, we will help them memorize the last 3 juz:
Amma-30th
Tabarak-29th
Qad Sami'a Allah-28th
Once they are flawless in these 3 juz with proper Tajweed and makharij, they can opt for the next level after clearing a test.
7-Juz Hifz Level
The next level will take you from 3 to 7 juz hafiz. Again, you will memorize and revise all the juz with proper tajweed and makharij.
The next 4 juz to cover in this level are 27th to 23rd. You will appear in a test of all 7 juz and then move on to the next level.
15-Juz Hifz Level
Now that you have a good grip on your time management and pace, you will manage to memorize another set of Ajzaa to complete your 15 in total. The juz in this level are 22nd to 15th. You will complete half the Quran here and move to the last level to complete the whole Quran if you are willing.
The whole Quran Hifz For Advanced Levels
From 15th Juz till 1st, you will memorize the Surahs with tajweed and revise the entire Quran 3 times before appearing in a grand test.
Upon passing the test, you will be certified for completing hifz Quran online with accurate makharij and flawless revision.
Our Quran Hifz Schedules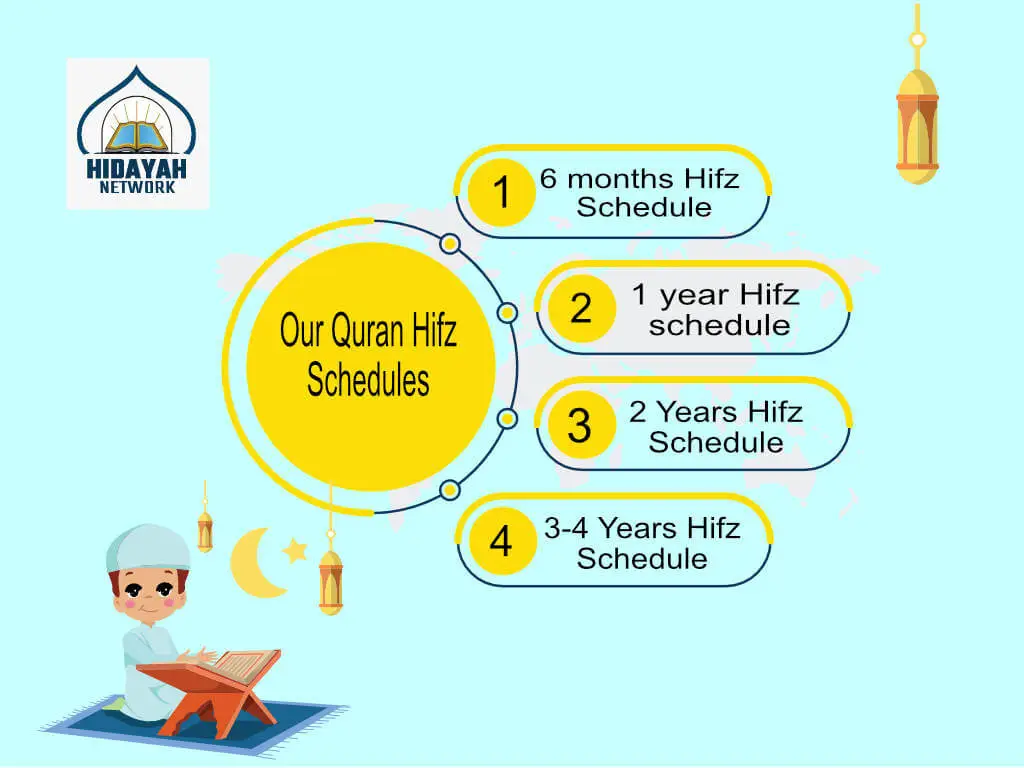 Hidayah Network offers more than one hifz schedule for kids and adults. They can opt for the one that suits them the most. 
6 months hifz schedule
You will memorize 5-6 pages daily in a 6-day per week schedule to complete the entire Quran in 6 months. This schedule is suitable for those individuals who have an amazing photogenic memory to learn around 2 Ajzaa in a week.
1-year hifz schedule
This hifz plan has a little relaxation as you have to memorize 2 pages daily to memorize the whole Quran in a year. You can adjust your weekdays by learning more and keeping a day off.
2-year hifz schedule
This hifz schedule suits all types as it has the flexibility of timings and days. You have to memorize 1.5 Ajza in a month. One Juz has 20 pages so you can split them in 4 weeks of the month easily.
3-4 year hifz plan
Opt for this schedule if you are a student or can't spare enough time for your hifz classes. This is a long plan where you can complete the Quran in around 4 years. The easy breakdown of pages/verses per month, per week, and daily will be less as compared to the other plans. Learn 1 Juz in 1.5 months to complete 30 Ajzaa in 36 months.
Outcomes of These Quran Hifz Classes
No rot learning is supported at Hidayah Network. We have some outcomes, planned to be achieved in each online hifz course.
➡️learned the Tajweed rules along with hifz to have accurate recitation.
➡️Understood translation and tafsir of the verses memorized.
➡️Practised to have a phenomenal voice while reciting Surahs.
➡️Revised the hifz portions more than 3 times with 100% accuracy.
➡️Followed the personalized hifz plan properly to achieve the goals in the set time.
➡️worked hard on tests and competitions to have exceptional hifz results.
Why Choose Our Quran Hifz Academy?
1- Mind mapping Of Surahs
Before initiating the new verses daily, our tutors present the mind maps that include main themes, ideas, rules, detailed meaning, and a summary of the Surahs.
2- Understanding Quran with Hifz
We conduct hifz courses with a proper understanding of what is being learned. The students will get to know the cause and time of revelation and translation of the verses.
3- Tajweed with Hifz
Learn Tajweed rules along with hifz and polish your recitation skills as well. The finesse brought in the hifz through Tajweed is unbelievable. That is why our tutors record the verses of each lesson with tajweed.
4- Our Weekly Hifz Progress Reports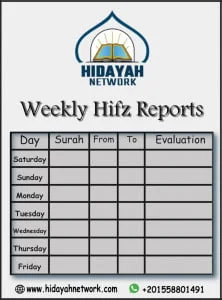 In our online Quran Hifz classes, we send weekly reports to students through emails. It lets you analyze your progress and work on your errors.
Best Memorization Techniques Used in Our Hifz Lessons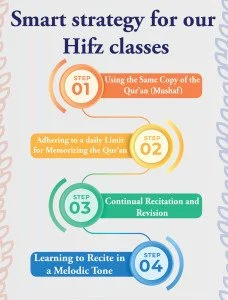 The following strategies help us gain success in all the Hifz programs.
⏵ Using the Same Copy of the Qur'an (Mushaf)
⏵ Adhering to a daily Limit for Memorizing the Qur'an
⏵ Continual Recitation and Revision
⏵ Learning to Recite in a Melodic Tone
There are many others too, and you will come to know them when you practically take our Online Quran Memorization classes.
There are many others too, and you will come to know them when you practically take our Online Quran Memorization classes.
Read before class
Read the Lesson to be learned in class, beforehand. This way at least you know the target you are trying to accomplish.
Listen, Read, and Hifz during Class
Learn the Lesson in your Online Hifz Classes with pronunciation and proper Listening methods in the class. Recite it 3 times in front of the Tutor and let the tutor track your mistakes Adopt at least 1-2 Hours of Routine to Memorize the Quran in Quality.
Daily Revision
Reciting Hifz Lesson the Next Day in Class.Revision in Daily PrayerAfter Fajr Bulk Revision The Teacher helps to record your mistakes and correct them.
Weekly revision
Revision each week, One day each week where bulk revision of What you Memorized is done.
Monthly Revision
Revision Each Month in which you allocate some fixed days for Bulk revision of what you previously Memorized from the Quran. Read Out Loud, pointing and looking inside the
lines, and then read from memory.
Well-Structured Quran Hifz Course with Plans
Our hifz courses are organized in a very systematic way. You get a proper road map of your personalized hifz plan where your daily, weekly, and monthly lessons are mentioned according to your classes.
We structure the whole course to provide easy access to students who can have an idea about their progress through their plans. We have many structured hifz plans with different durations so that you can have a choice to opt from.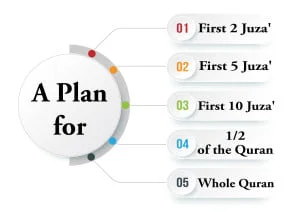 Every detail is considered before structuring the lessons like your age, availability, class duration, number of weekly classes, and off days. Even your test schedules and competition dates are also planned to help you track everything minutely.
Certified Top Egyptian Hifz Tutors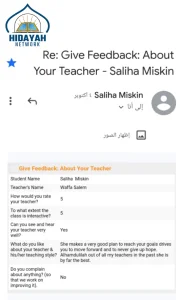 Our Hifz teachers are a real asset and we have adopted strict criteria for hiring. The following qualities make them stand out from the rest.
✓Ijazah Certified teachers with 5+ years of experience.
✓They have graduated from the top Islamic institute i.e. Al-Azhar University.
✓They are adept in speaking English and confidently teach students from around the globe.
✓ They are all Hafiz and memorized the Quran at a very young age.
✓They helped hundreds of Non Arab students to memorize the Quran online.
✓They are aware of multiple hifz techniques to apply to students with different abilities.
6 Things We Do to Monitor Your Hifz Lessons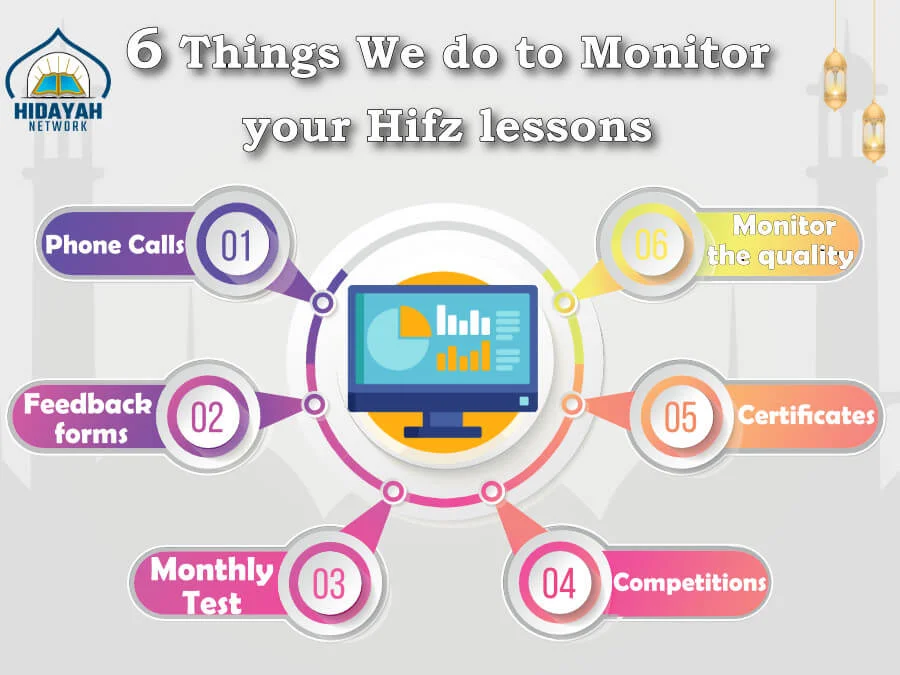 To satisfy our students, we have devised a proper monitoring service to ensure that they get the utmost benefits of online Hifz classes. To guarantee that all students are getting classes with best quality, our quality team is doing the following:
Phone Calls: Talk to us if there is any problem regarding the tutor, class time, lesson, or anything at all. Your contention is our priority and we try our best to satisfy you.
Feedback forms: our forms have all the details regarding the classes. You can fill in for any issue.
Joining the classes to monitor the quality of the internet, audio, video, etc: We have a team of experts who stay tuned in the live sessions to monitor the quality of the tech-based resources and signals.
Monthly Test: We monitor your hifz progress through monthly tests too. These tests are based on the portions you have already memorized.
Competitions: To engage you in co-curricular activities and to reach the ultimate hifz goal, we arrange Hifz competitions.
Certificates: Get certified for your hard work and bear the fruit of your success
Hifz Revision Sessions to Memorize Quran Easily
Memorizing the Quran or any of its parts is easy and its retention is difficult. Students need to be extra focused when it comes to their revision time.
Hidayah Network has unique revision sessions where students get a proper timetable and a planner of their revisions along with the new hifz.
Our revision strategy is very adaptable as we follow this pattern.
Old revision: Next, you will revise the memorized portion that is a few weeks or a month old.
New revision: Lastly, you will revise the portion that is a few days or weeks old.
In this way, you will revise the old portions daily and it will make your hifz strong and flawless.
We also have a separate Quran revision course that aims at helping students revise their hifz more than 3 times with our certified tutors to make it flawless.
In our online Quran Hifz classes, we send weekly reports to students through emails. It lets you analyze your progress and work on your errors.
Our tutors personally help students to understand which area needs their attention and also give tips to improve errors.
You can also track your pace and learning speed through these reports that highlight your learned portion with the time duration.
ted. This offer is for those who are already registered with us.
Hifz benefits and rewards
There are numerous benefits of memorizing the Quran with tajweed and understanding. The tutors at Hidayah enlighten students about the benefits and importance of this great task to keep them motivated and committed.
➡️ Hifz has health benefits for its learners. It provides ailment from diseases. Many verses of the Quran work as Shifa (cure) for the patients. I
➡️ The spiritual benefit of hifz aids you to get closer to Allah by understanding His message and choosing His path.
➡️Reciting the Surahs from your memory in prayers has many benefits. You can enjoy recitation of different Surahs by opting for a new one in every Rakah.
➡️ Hifz elevates the rank of the learner both in this and the next world. The Haafiz will be placed in the top heavens and will be given a chance to select his abode by reciting the Quran and stepping up the stairs of Jannah.
➡️ The parents of Hafiz will be crowned on the day of judgment. It will benefit not only you but your parents too.
➡️Memorize the Quran and get its intercession both in the grave and on the day of judgment. For instance, Surah al-mulk saves you from the severity and strictness of the grave. The Quran will become a shield for you to save you from punishment.
How to Hifz Quran at home
Usually, people look for a convenient option for online hifz that can be adjustable with other commitments. Hidayah Network makes it easy by guiding how to hifz Quran online.
➡️ If you think you can memorize and revise the Quran or its portions on your own, go for it. But, we recommend getting help from our native Arabic instructors in supervision.
➡️After hiring a tutor, discuss and design a hifz schedule according to your availability.
➡️Follow the plan religiously with the help of your tutor and spare extra time to revise more and more.
➡️Apply different learning techniques offered by the professional teacher you have hired and memorize with ease.
➡️Understand the meaning and Tajweed of what you are learning to ensure the quality of your hifz.
➡️Take weekly tests and track your progress to stay aligned with your schedule.
➡️Complete the hifz plan and revise it almost 3 times for excellent retention.
Conclusion
To make your Hifz dream come true, you need to avail yourself of our free trial class to see how the online hifz program works under the supervision of very reliable and qualified tutors. Your Quran memorization journey is surely going to be easy and successful with us. join if you think we are the best ones to start with.
Frequently Asked Questions