Parents owe a great deal of responsibility when it comes to the Islamic upbringing of their kids. Besides general Quran learning for kids, if they are successful in paving the path of memorization for them, they will be adorned with a shiny crown.
Hifz is a responsibility that needs retention and parents are obliged to provide a supportive environment that contributes to well-maintained memorization.
Hidayah Network is one such institution that is famous for facilitating its users by providing the best hifz classes for kids. We create such an engaging and encouraging environment for children that they enjoy the memorization process. The organized plans provided by the talented tutors with the flexibility of time are something that makes us preeminent among other leading platforms.
Best Hifz Program for Kids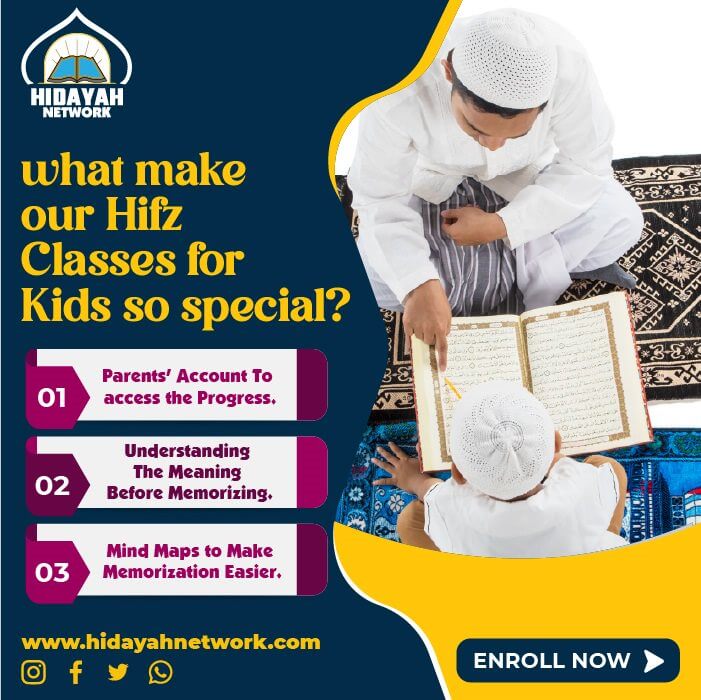 Hidayah Network has a very structured and multi-trait hifz program for young ones which makes it the best Egyptian platform. The providence of the following facilities is what makes us unique.
✅We give a digital account to parents to track their kids' progress.
✅Our tutors work on Mind Mapping before each lesson.
✅We teach the meaning of the verses along with memorization.
✅We use Multimedia projection of stories and infographics of Surahs before hifz.
Personalized One-on-One Online Hifz Classes for Kids
Kids are not compelled to memorize the entire Quran in the given sequence. Rather, we allow you to get a personalized hifz plan of any Surah, Juz, or multiple Ajzaa that you want your kids to learn.
✅ Kids will follow their hifz plan with the monthly and weekly breakdown provided by the tutor.
✅ They will learn Tajweed with hifz and the focus will be on their clarity.
✅In one-on-one class, they will understand the meaning of the verses very clearly.
✅They will learn the sequence of the Surahs and their place of revelation (makki or Madni)
✅All the relevant stories covered in the Surahs will also be explained.
✅The personalized plan will allow them to utilize the time efficiently, and we will help your kid become a Hafiz at a young age.
5 Levels of our Hifz Course for Kids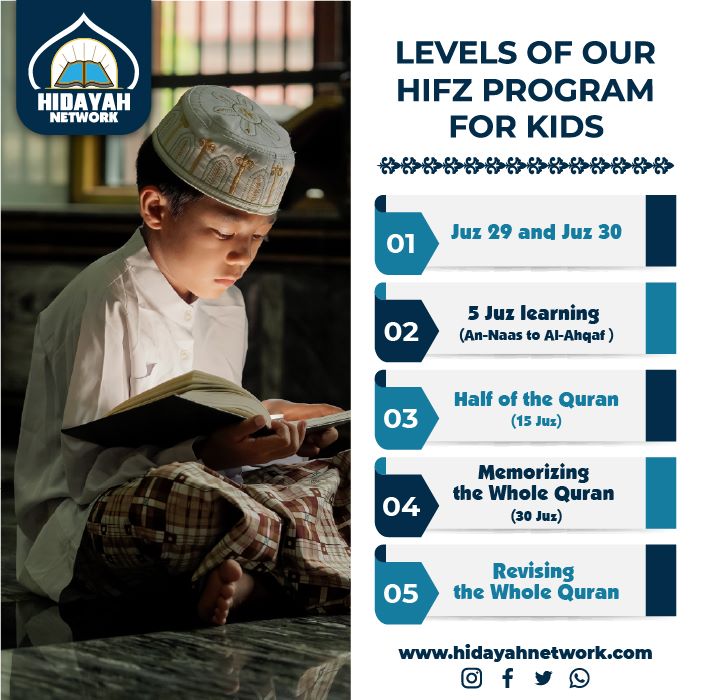 This online Hifz program has 5 main levels that serve as a milestone for the little stars to reach their goals by taking trivial steps. These levels are well-structured in a way that makes the kids love to memorize the Quran without being stressed out:
1-Juz 29 and Juz 30
2-5-Juz learning (An-Naas to Al-Ahqaf )
3-Half of the Quran ( 15 Juz)
4-Memorizing the Whole Quran (30 Juz)
5-Revising the whole Quran
Our 5 Hifz Courses for Kids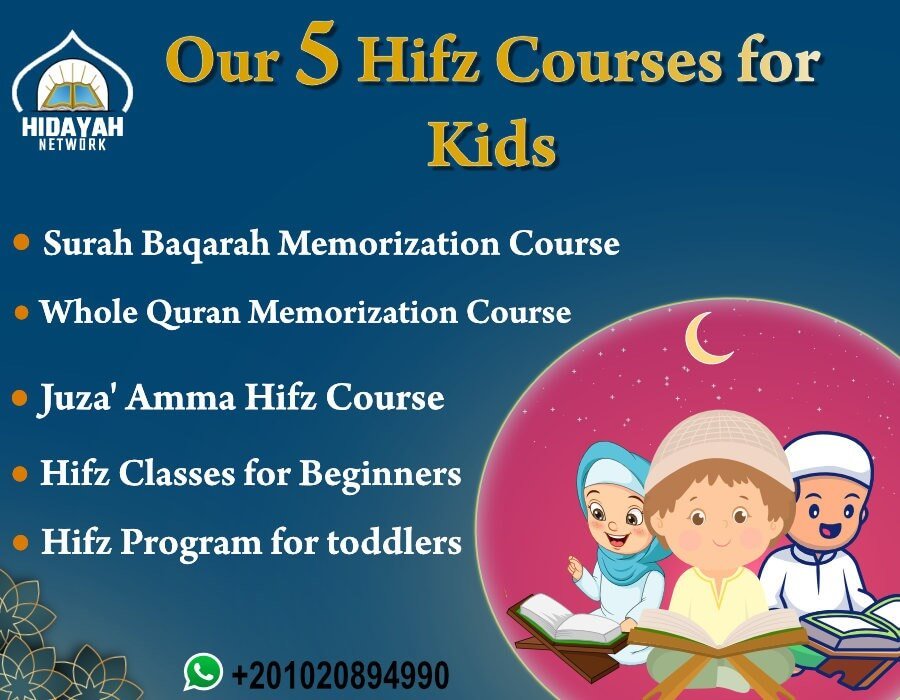 Kids can memorize the Quran with different plans according to their availability, age, and capacity. We have a variety of hifz courses for kids to choose from.
Hifz program for toddlers
Kids of 6-9 years can enroll in our Hifz program for toddlers where they will memorize the verses with an understanding of meaning as well. The duration of the course depends on your Hifz plan.
Hifz classes for beginners
Let your little one start the journey with very little steps. We make a plan easily adaptable for kids. The class formation is kept small and the lessons are as per the kids' ability.
Juza' Amma Hifz course
If you think your kid can manage to memorize little by little, go for this program where they will memorize one juz (the last one) in the flexible scheduling. This course will pave the path for the next ones.
Surah Baqarah Memorization course
Kids of different ages can just memorize one surah to get a kick start of their hifz journey. Surah Baqarah hifz course has different time durations. Choose the one that suits your kids.
Whole QuranMemorizationn Course
This course has different levels to reach the goals in the set time frame. Let kids memorize the Quran step by step and become hafiz.
Features of Our Kids Hifz Classes
We have certain salient features that make Hidayah Network stand out from the others.
1-Report card of lessons after every 2 weeks
Parents are given a report card after every 2 weeks to see how the children are doing. This report card has the following notions in it.
✅The errors and weak areas in the lessons.
✅Tips to overcome them
✅The plan for the next 2 weeks.
2- Certificates of online hifz classes
Kids will be certified for this Quran memorization course and the certificate will be signed by the supervisors and the tutor. The number of hours consumed for hifz program for kids will also be mentioned.
3- Hifz Competitions and Tests.
To bring out the desired results, we arrange tests and competitions for our students, who prepare well to participate in the competitions and tests. Tests are taken after every Surah, be it long or short. Kids really enjoy participating in such online hifz quizzes and competitions. And the best win is the reward for the parents of a Hafiz!!
4- Affordable fee plan for Quran hifz course
All the above-mentioned features of this course are offered in a very cheap package. Starting as low as $5 per hour.
Furthermore, you can pay the dues in your currency as well. There is a special discount for Britishers, Pakistanis, and Indian Kids.
5- 24/7 availability
We have offered the facility of 24/7 availability to cater to your timings and help your kids to become a Hafiz. Our teachers are available round-the-clock to provide ease with the Hifz classes.
Best Techniques to Help Toddlers Memorize Online
1-Balance between memorization and Revision
Another technique that will help kids learn the verses is to strike a balance between the lesson and revision. 
We follow the below-mentioned method for this technique in all the lessons.
✅Memorization
✅Old revision (weeks or month-old lesson)
✅New revision (days or a week old lesson)
These 3 steps are done daily to keep the memorized portion retained.
Other than this we use a simple method of hifz in which students follow this sequence:
✅Read the verses 5 times with the tutor.
✅Listen to the recitation and read those verses 5 times.
And then they keep revising the verses until perfected.
2-Getting fluent in Quran reading
We prefer kids to have basic reading abilities before they start an online Quran course. If they are fluent in reading then they will memorize the verses easily and efficiently. You can have a look at our Quran for Beginners program which will help achieve your reading goals.
3- Starting With The Short Surahs
This technique will help toddlers gain momentum and will motivate them to take giant steps further to complete their lessons soon.
4- Use colorful Mushaf.
It helps retain the lesson in the memory card according to the colorful imagery. While memorizing, these colors will help kids recall easily.
Best Online Quran Huffaz Tutors for Toddlers
We have the best teachers for toddlers who are exceptional in this field and possess the following qualities.
1- They are native Egyptians and can teach the Quran excellently.
2- They are fluent in English and Urdu and speak clearly to help kids join classes from around the globe.
3- They are Ijazah certified in memorization.
4- They have years of experience in teaching kids and handle them very well.
5- Our teachers use the most latest and innovative teaching methods for kids' learning.
Note: We have a facility for both male and female Quran teachers.
Our Hifz classes for kindergarten are in the hype because of the facilities we are providing with minute details. So, see for yourself and register for the free trial now! We assure you of the quality-based classes waiting for you ahead.
H3- Why Hire US?
All the facilities we provide are not forced on our users, rather we let you decide whether your kids should enroll with us or not. Facilitating you with child-centered activities and lessons is our objective and our tutors work diligently to achieve the objectives and make you a happy and contented user.
Frequently Asked Questions