There is no specific age to memorize the verses of the Quran. Allah wants us to understand and connect with it no matter what age, gender, and origin we have. Beginners sometimes get confused when deciding whether or not to start memorizing the Quran because they lack knowledge regarding how to enroll in the best Hifz program.
Our Hifz classes for beginners motivate them with our qualified Huffaz tutors, progress trackers, weekly reports, competitions, and certificates. All the features are designed to make your memorization goal easily achievable. With all of that in mind, you can easily memorize the whole Quran one day Inshaa Allah.
About This Hifz Course
This course is skillfully designed to cater the beginners from around the globe who are or aren't familiar with Arabic language reading and understanding.
This Hifz course duration merely depends on the learners' availability and capacity. The following points are considered to measure the duration of the whole course.
✅ The personalized learning plan that you have got at the end of the trial class.
✅The number of classes you want to attend per week.
✅The duration of your class ( 30 minutes,45 minutes, or an hour ).
✅The extra classes for revision or practice (as per your choice).
Our Memorization Schedules and Plans.
If you are not on board with the whole Quran learning process, then you can opt for a structured hifz plan that will be formulated with the help of your tutor.
The structured plan will focus on the part of the Quran you want to memorize by breaking down the syllabus into smaller goals that are achievable for you to start your hifz journey as a beginner easily. Some examples of plans based on different portions are:
1- Juz Amma Memorization Plan
2- Juz Tabarak Hifz Plan
3- 30, 29, and 28 Juz Hifz
4- 7 Juz Memorization
Children are having their own well-structured plans in our Hifz course for kids.
Personalized Plan for Each Student
This program is flexible as you can get different plans based on your level and interests. You are not bound to memorize the Quran as a whole, rather can choose any portion to start with.
Kids and adults of different ages can get different plans starting from the easy Surahs and getting to the tough ones. You are not forced to learn something that is above your learning capacity.
Main Features of Our Hifz Classes for Beginners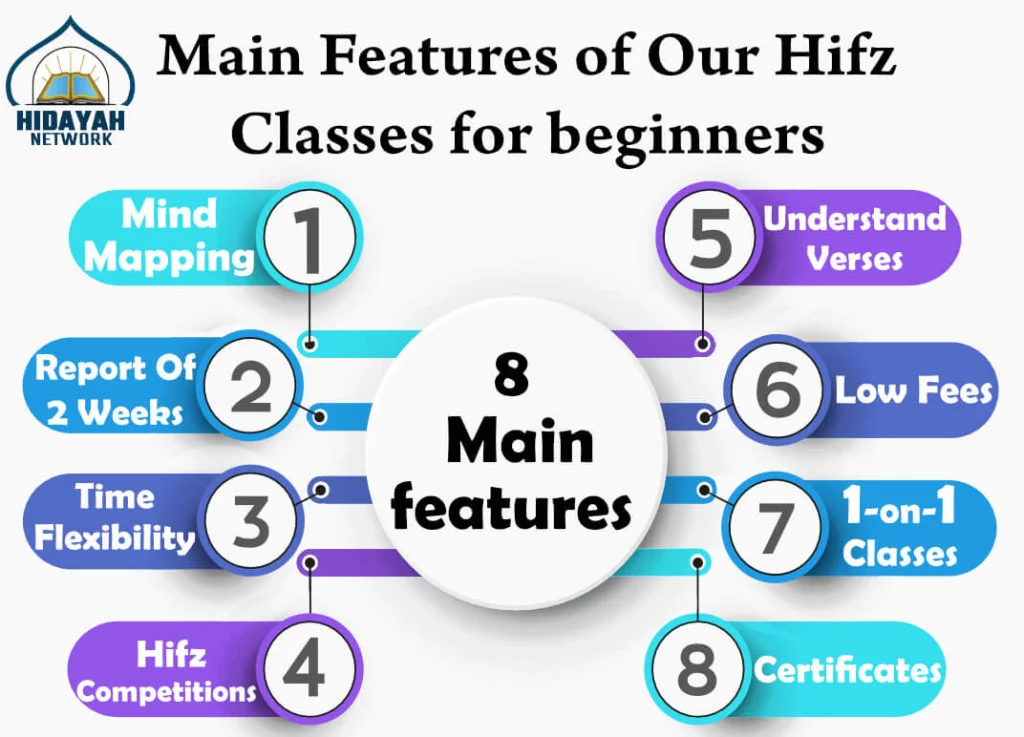 Our online Quran memorization classes are known worldwide due to the unique features we offer to help beginners enjoy the lessons with ease.
1- Mind Mapping Before Lessons
Before starting the class, our tutors make a mind map of how to start and carry on the lesson by keeping the major factors in mind, like:
Tajweed,
Translation,
Background of the surah, etc
2- Overall Understanding Of The Verses
We not only work on helping you become a Hafiz but also make you have a sound understanding of the meaning of the verses. It helps beginners have an idea while recalling the verses.
3- Hifz Competitions and Quizzes
We let students participate in competitions and also provide them with a free account to solve quizzes related to memorization.
4- Report Of 2 Weeks
The report is meant to update you about the ongoing progress within 2 weeks. Our report card is a sort of unseen meeting and it comprises the following points.
✅ The errors in Tajweed faced as a beginner.
✅ Any repeated stuck point in the hifz lesson.
✅ Issues regarding reading or memorizing (if any).
✅ The plan for the next two weeks.
Kids' parents are kept well-informed and called for a digital meeting if the progress is static.
5- Time Flexibility
You can join our classes at anytime that is convenient for you to focus easily. We have many teachers available in different slots to cater to your needs.
This way you can enroll in different courses at different times and days to learn how to memorize Quran fast.
6- Affordable Fee Structure
Our course comes in a highly economical fee plan making your dream of becoming a Hafiz possible to chase.
We also offer discounts for families and those attending more than 10 credit hours per week.
7- One-on-One Personalized Sessions
After getting a personalized Hifz plan, you can choose a one-on-one class where you can even opt for an Intensive Hifz program because of the full-time focus and concentration.
8- Quran Memorization Certificates
At the end of the course, you will be given an E-certificate that is signed by the supervisor and the course tutor. Your total credit hours will be mentioned on it.
Our Certified Huffaz Tutors.
✅Are native Arab Haafiz.
✅ Are Ijazah Certified and graduated from a reputed Islamic university.
✅Fluent in English and capable of teaching non-Arab students easily.
✅ Experienced in conducting hifz classes online and letting students memorize Quran fast.
We have the facility of separate male and female teachers to cater to your demand.
For Whom is This Program?
1- Beginners who are not aware of basic Quran reading and Tajweed.
2- Beginners who are aware of Basic Quran reading and Tajweed.
For the 1st category, you can start the classes by getting your study plan right away.
For the 2nd category, you can start the memorization lessons with short surahs along with the Noorani Qaida course to learn the basic tajweed and reading.
3- There is no gender or age specification for this Quran memorization course. Anyone can enroll to start their hifz classes with us.
Conclusion
Understanding the Quran is really important for memorization. To know how our Hifz courses work, avail of our free trial now and join the session to be enlisted among the rewarded ones. Our Huffaz tutors will teach you unique memorization techniques to draw out the best results.
Frequently Asked Questions