To learn the Quran properly requires a strong base of the Arabic language. It is only possible through this unique course "Learn Noorani Qaida online". 
We aim at providing a Noorani Qaida course where all  Muslims (kids or adults) are welcomed to learn the basics of Quranic Arabic.
What makes our Noorani Qaida course different?
We have worked diligently to stand out from the rest in providing this unique course. Some key points make us one of a kind. 
Let's skim through the lines to discover it!
1-

Best tutors

for effective

Noorani Qaida Online teaching:
Hidayah Network is committed to providing highly talented tutors for Online Quran teaching.
1- The experts have chosen the best Qaida teachers after difficult selection criteria to match the high standards of our Noorani Qaida teaching.
2- They are qualified with Ijazahs from the best Islamic Institute of Egypt: Al-Azhar University.
3- All of our Noorani Qaida tutors are native Arabs. Moreover, we only hire Quran teachers who can speak English fluently.
4- Qaida for beginners is made easy by these proficient teachers who apply innovative strategies and techniques while teaching.
5- Our teachers use 3D versions of pictures of the mouth to guide exactly how to pronounce the words with proper articulation points.
6- They have attended workshops and done various diplomas regarding effective teaching skills from different institutions that make them stand out from the other teachers.
We assure you that you won't regret enrolling yourselves and your kids in our Noorani Qaida course.
2-

what you will learn in our online Noorani Qaida classes: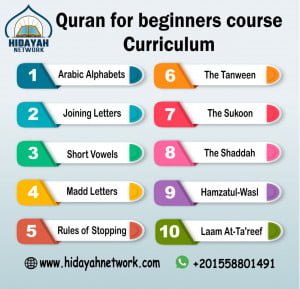 We bear in mind that learning Quran for beginners is tough. That is why we have worked hard on how to conduct Noorani Qaida classes where the students will learn:
1- How to pronounce the words in a natural way like Native Arabs.
2- How to connect them together correctly.
3- How the words are shaped perfectly.
4- How the letters are affected by the native language. For instance, In Pakistan, the very common mistake is changing the letter DAAD in ZAAD.
The Noorani Qaida includes the following topics that will be covered in this course with proper practice:
1- The online Qaida course will be started with the pronunciation of the Arabic letters with proper makharij (articulation points).
2- The shapes of Arabic letters (especially for beginners) will be taught through activities. 
3- The harakaat (movements) on these letters will be explained with examples.
4- Types of Harakaat (Vertical and horizontal).
5- Maddah (elongation of letters and their rules).
6- Tanween (double movements) and the rules.
7- Tashdeed (stress on the letter) and the rules.
8- Jazm (silent letters).
9- Rules of Noon and Meem saakin.
10- Wakf (pause or stop) and the rules.
11- Joining letters to make compound words.
12- Practice of letters with online Noorani Qaida
Note: After finishing this Noorani Qaida course you will start to learn Tajweed online with us 
3-

Track your progress in learning Qaida online with us:
• Curriculum-Based Testing
We conduct tests and competitions regularly to keep the students motivated and determined. These tests also let students compete with each other by practicing rules regularly.
• Observation

s and Interactions
Students can develop their course schedules, projects, reading lists, test styles, etc to match their unique passions and learning styles. 
Our Online Quran tutors will always align conversations and assignments with what interests and inspires the student.
• Frequent Evaluations and Formative Assessment
Since Frequent Assessment and Evaluation is a critical component of an online classroom. 
Thus we adopt this method so that the  student gets idea of their progress in a course,
☆Identifies individual strengths and weaknesses
☆ And ultimately serves as the measure of whether Noorani Qaida students achieve the course's learning objectives!
Highly recommended: practical tips on how to read Quran fluently
4-

Our creative approach to learning Noorani Qaida Online!
We invite you to learn how to read Quran online with our top innovative techniques.
1- Video watching technique– It helps remember the shape of every new letter learned.
2- Using 3D version- It is used to explain the articulation points of the letters to pronounce all the Arabic letters naturally and correctly.
3- Repeating with drawing– This method helps retain the newly learned lesson by repeating and drawing them.
4- Reading out loud- It is very helpful to get used to reciting Arabic same as the natives.
5- Finding examples from the Quran- To retain the lesson for a longer period, this technique will help the students to practically apply the new rules and find the relevant examples from the Holy book.
6- Practice repeatedly- It is important to keep practicing all the rules repeatedly as it will help you recite Quran with tajweed perfectly.
7- Recording of practice- The teachers give homework of recording the students' reading while practicing certain words. ( The teacher will specify those words )
→ Download Noorani Qaida pdf 
5-

24/7 Convenience of learning Arabic Qaida Online!
We are available 24/7 for you! Get enrolled with us to have the best learning experience of  Arabic Qaida online. 
It is understood that sometimes due to unexpected circumstances, the students may not be able to attend classes at a fixed time.
No issue at all!
We provide you with the 24/7 Convenience of Arabic Qaida Online at any time. We provide Free Recorded Lectures so that the students don't leave behind in the course and recover from the loss well.
6-

1 to 1 online Qaida classes

with greater ability to concentrate!
Our Experts often initiate or organize meetings or check-ins, conversations are almost always student-driven where the student has control over the questions they ask and the feedback they receive from their instructors. 
Why are our One on One classes Best for your Introverted Selves?
1- Qurani Qaida Class will never go on without the student.
2- High-quality interaction where students feel heard
3- Ability to personalize conversations and assignments.
4- Our professional Instructors can gauge the student's progress and mastery.
5- A low stressful environment frees Arabic Qaida students from the fear of failure
6- Allows students to step up and not rely on others.
7- Avoids overstimulation and eliminates many distractions.
8- The Instructors adapt to the student's communication style.
7-

Best Interactive Noorani Qaida teaching for kids and adults on Zoom:
We are engaging kids and adults by learning Noorani Qaida online through the following interactive methods;
• Using Zoom's white board for all the Qaida lessons in order to simplify them, and get your full attention from the start to the end of the class. 
• Sharing Quranic Arabic exercises regularly in order to test your Arabic reading fluency. 
• Using slides and infographics to make all Arabic lessons easier to remember. 
• Using Zoom's recording feature to review the lessons back after each class. Moreover, getting a chance to imitate the way the teachers pronounce the words effortlessly.
8-

A Highly Inspiring Medium for You to Learn Qaida online:
Motivation plays an important role in learning Qaida online both for kids and adults.
Our teachers create a healthy, positive, and motivational learning environment for the students to learn to read Quran easily.

Our rewarding policy helps a lot in this regard where all the participants are appreciated for their efforts and the toppers are awarded with financial prizes.
We conduct tests and competitions regularly to keep the students motivated and determined. These tests also let students compete with each other by practicing rules regularly.
The students are given prizes in the class regularly which helps them love the subject and enjoy learning.
We are available 24/7 for you! Get enrolled with us to have the best learning experience of Noorani Qaida online.
9-

Learn Noorani Qaida

with Cognitive Group classes!
For Those students who wish to learn more by interacting with other students in Class, our Cognitive Group CLasses are the Best Option to Learn Noorani Qaida.
Builds Self-Esteem in Students 

Promotes a Positive Attitude Toward the Subject Matter

Enhances Student Satisfaction with the Learning Experience of

Noorani Qaida.
10-

Not Just Noorani Qaida Lessons

| Islamic lessons and Self Discipline too!
Our Noorani Qaida Lessons are not Merely Lessons, it's a complete package of Preplanned Study schedules, Fun Oriented Classes, and practical Skills along with Islamic Manners of Leading Life.
Self-discipline allows you to stay focused on your goals. The course you are selecting, skills you want to acquire should be the result of your own motivation. Thus Our Professionals adapt many amazing Tricks to help the Students have better Time management and Self Discipline! 
What are those? Here are:
Self Motivation

Organized Noorani Qaida course.

Top Communication skills.

Proper Schedule shared through Google Calendars 

Always have a backup plan.

Every small detail about Class Planned.

Avoiding multitasking.

Setting up a proper virtual office.

Block out distractions. 

Rewarding the Students

Creating a balance.

Encouraging the students to get a good night's sleep.
11-

Our reward policy for beginners learning Qaida:
Our rewarding policy helps a lot in this regard where all the participants are appreciated for their efforts and the toppers are awarded financial prizes.
Our Expert Team has introduced the Reward system and Point system. The more a student is involved, the more he gets points and this winning game lets the students compete to participate more in class.
The students are given prizes in the class regularly which helps them love the subject and enjoy learning.
12-

Two FREE trials with 2 different Qaida teachers:
You must have heard of free trials everywhere but we are pleased to announce 2 FREE trials for Noorani Qaida classes with different teachers.
You can avail of this offer with two different teachers (male or female) who will teach you according to their selective techniques and methodologies.
Note: The tutor for online Qaida teaching will be assigned to you for this course according to your preferences.
13-

Affordable fees & discounts for our Noorani Qaida classes:
The Noorani Qaida course is available at a very economical fee structure for you and your kids.  It is pocket-friendly and helps you fulfill your dream of starting the journey of learning the Quran from the basics.
We offer discounts for the second and third person enrolled in any of our courses from the same family.
We offer a discount on group classes as well. All these facilities are provided to help you achieve your goal of learning Qaida online.
14-

Amazing outcomes of this online Noorani Qaida course:
Noorani Qaida course is the fundamental course that helps learn Arabic letters with their correct pronunciation. We have listed some major outcomes of this course that our teachers will strive to achieve at the end.
1- To have learned to read the Arabic alphabet and sentences naturally and effortlessly.
2- To have recognized the Arabic letters to read the Quran uniformly..
3- To have learned to connect the letters together.
4- To have practiced all the Makharij (Articulation points) of each letter.
5- To have revised the Qaida more than one time to get used to the new language.
6- To have practiced and applied Arabic harakaat (movements) on huroof (letters).
7- To have perfected their Arabic by practicing like Native Arabs.
Bonus tips:

How to learn Qaida Noorania perfectly and quickly:
• Learn with a Native Arabic Qaida tutor only!! That would definitely help you read Quranic Arabic naturally, smoothly, and effortlessly. 
• Try to always understand how all the unique Arabic sounds should be articulated accurately by learning Makharij; the articulation points of the letters.
• Learn with a step-by-step approach and never go randomly or hurrying up. Let's take more time learning each  Qaida lesson, to make sure you are reading all the words effortlessly. That would surely help you recite Quran faster later on.
• Don't ever practice reading Noorani Qaida once or twice a week. You should rather read two or three pages from your Qaida book 4 to 5 days a week. Reading consistently is very crucial at this stage.
• Never limit your Arabic reading to the time of the class. You should listen back to your recorded lessons and try to practice the same words and sentences over and over again.
• Try to read real examples from the Quran frequently. That would help you getting familiar with the different shapes of the letters, and most importantly connecting the wording effortlessly.
Note: After finishing this course, you will be qualified to take our amazing structured course of Tajweed in order to perfect your Quranic recitation.
Conclusion.
We are lending our helping hands by providing an amazing opportunity to learn Noorani Qaida online from our eminent tutors at your best available time with discounts for the families. Let's not delay taking this first step towards the journey of learning the Quran.