Learning Quran for beginners is a unique course that aims at every Muslim present around the globe to learn to read Quran online with our expert Quran teachers, with uncountable features that you need to explore through the text below.
1-

Our proficient Native Arabic online Quran Tutors: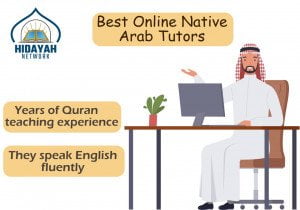 • Our online Quran tutors are highly devoted and dedicated to helping beginners around the globe.
• They use the most advanced technology tools like 3D version, visual PowerPoint slides, educational games to help students grasp the rule easily.
• The Quranic Arabic teachers are highly qualified to apply practical techniques of How to recite Quran for beginners. All the techniques and strategies applied are practiced and 100% optimal.
• They have studied and are certified with an ijazah of teaching Noor Al Bayan and Qaida Noorania, from the best Islamic institute in the world Al Azhar University.
• Our native Arab tutors are fluent in English and are capable of teaching Online Quran classes to beginners around the world professionally by engaging them. 
• They have been through different stages of interviews and selection before being hired as teachers to make students learn Arabic to read Quran proficiently.
• Our skilled teachers are experts in tajweed, makharij, Arabic, and Quranic translation. They qualify to be at the position of Al-Quran tutor.
• They have mastered the skill of devising and introducing innovative methodologies for beginners to keep them motivated and maintain their interest.
2-

Customized plan to learn Quran online for beginners: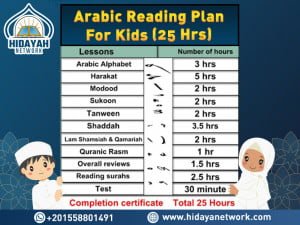 a) We evaluate the current level of the student enrolled in this course. Then, a customized plan is set for the student to carry on with.
For instance, if a student is well aware of the Arabic alphabet, his Tajweed and makharij are accurate.
b) Then the teacher will make a personalized plan for him to help him achieve his goals and finish the rest of the Quranic Arabic lessons.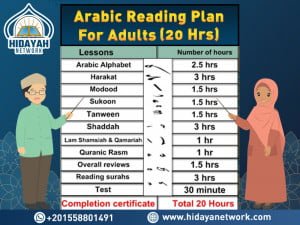 A personalized study plan to learn Quran online for beginners is vital because it lets you manage your tasks like extracurricular activities, work, social commitments, accordingly by setting your available focused time for the class.
3- Learn to read Quran online in a motivational environment:
We are determined to provide a motivational learning environment for the people enrolled in our Quran for beginners course.
Everyone is encouraged to give the best they can and are never underestimated for lack of knowledge or practice. So, come join us to learn to read Quran efficiently.
These types of classes help students be creative and confident about whatever they are learning. They feel connected and involved throughout the lesson.
This positive environment brings amazing results as compared to the authoritative classes where students do not feel confident enough to speak up.
Note: We also offer amazing online Quran classes for kids.
4- 24/7 availability to learn to recite Quran for beginners:
Time is not a constraint when you start learning Quran at home with us. We are reachable round-the-clock to let you learn to recite Quran at the time of your choice.
Our teachers are available all the time according to your time zone. Select the time that is convenient for you to focus easily.
We have hired dozens of teachers that are available at different times in 24 hours. We provide you with a teacher that is easily available at your flexible time.
This helps students study comfortably and stay consistent with their Quranic Arabic classes.
→ We also offer online Tajweed classes for those able to recite the Quran already.
5-

Affordable fee structure of our Quran classes for beginners:
Our fee structure for Quran classes for beginners is highly economical and pocket-friendly.
You can cross-check our highly affordable packages with other leading platforms to see the difference.
We also offer a discount for the second and third siblings enrolled with us in the same course to learn Quran online for beginners easily. Our discount policy is very flexible for families.
Our group classes rates are as low as $3 per hour, which is comparatively lesser than the other online platforms.
6-

Our major 3 levels of Quran classes for beginners:
1) Beginner level

: 
Basic Quran Learning

by understanding the Basic Rules of Word Recitation.
2) Intermediate Level:
 Learning Tajweed Rules along with Basic Quran Pronunciations Rules for Reading of Quranic Verses Line by Line.
3) Expert level:

 
Either the Student picks to Read Quran In Hand page by Page and Then Hifz THe Quran or if He is better performing in the course, He can Directly Pick for the Quran Memorization Course and Get Ijazah.
These Levels are the best strategy we use in our  Course on Online Quran For Reading. But the Beginner indeed takes a very fresh start From Step 1 to Reach the Expert level step by step slowly according to his mental capability.
7-

2 FREE trials to Learn Arabic to read Quran: 
We provide you an opportunity to avail yourself of our 2 FREE trials by 2 different teachers to select the best that suits you.
Both the qualified tutors will help you in basic Quran learning online with their unique teaching styles.
After the trials, you can decide to opt for any one of the teachers to carry on with this course to learn Arabic to read Quran.
Our Online female Quran tutors for beginners are highly professional and you can hire them for this course if you are looking for a gender-specific teacher.
8-

Certifications of Quran learning for beginners:
The students enrolled in our online Quran for beginners course are assessed weekly and then the grand tests are held monthly.
To keep our students motivated and determined, we arrange competitions among the students where they are guided and encouraged to practice more than usual for better results.
The toppers are rewarded for their hard work with certificates and cash prizes. All the students enrolled in this course are awarded a certificate. Signed by the administrator of this platform.
9-

One-on-one online Quran classes for beginners:
We offer direct classes with the teacher for more focused and customized Quran classes for beginners. 
It lets the students interact with the tutor in a low-stress environment and give time to be directly supervised.
One-on-one classes let students step up and answer efficiently, they do not rely on others to answer in their place.
Unlike other classes, you won't miss your lesson if you miss your 1 on 1 class, as it is only meant for the individual enrolled for it.
We also offer group classes for the same family members so that they can join together, learn together, practice, and reply together.
10-

Enjoy learning Quran for beginners with our teaching style:
To make this course the best Quran course online, we have devised unique strategies to conduct this course and make it result-driven and 100%  successful. Following are the unique techniques to learn the Quran basics for beginners.
•

Interactive Quran classes:
Our classes are unlike authoritative and more inclined towards interactive sessions. It lets students discuss things freely and come up with creative ideas.
•

Step by step online Quran learning

:
We make sure that Online Quran reading for beginners is taught step by step, by keeping the level of the student in mind. Starting from the basic huroof (letters) pronunciation and reaching the level of reading the Holy Quran easily.
•

Smooth transition between lessons to learn Arabic:
The new and the previous lessons are interlinked and the students are smoothly moved towards the new lesson concerning the previous one.
•

Fun oriented classes to learn to read Arabic Quran:
As we know the course is conducted online, so we strive to make it fun-oriented and enjoyable to let the love and devotion for the Holy book develop in the hearts.
• Mirror practice to read Quran fluently:
The letters learned, in the beginning, are practiced with the mirror in hand to let students see how to pronounce the letter, what should be the shape of the lips, and how to articulate it.
It helps in learning how to read Quran fluently.
•

Learn Arabic to read Quran with read out loud technique:
This is an amazing technique practiced and suggested by our qualified teachers while teaching Quran for beginners. Reading out the lesson loudly gives you a chance to check whether you are pronouncing it correctly from the articulation point or not.
It helps you evaluate your mistakes when you learn Arabic to read Quran and work hard to improve it.
•

Learning Quran basics with audio and videos:
Learning Quran basics is supported by audio or video snippets to let students hear and see how the letters are pronounced and the words are recited.
•

Repetition of online Quran learning for beginners:
Repetition is considered one of the best teaching techniques in online Quran learning for beginners. It lets the student perfect their errors and strive for an excellent result.
•

Listening to the favorite Qari:
Our teachers motivate students to listen to their favorite qari in their free time and try to imitate them. That would help you learn how to recite Quran beautifully.
This will develop a love for Quran and listening to the heart-warming recitation will let them endeavor to be like their favorite Qari.
•

Previous Quran lessons repeated every day:
Each lesson is repeated every day before the new lesson to check whether the retention is intact or not.
Keeping the technology advancement in consideration, we keep on modifying our teaching styles to keep the bars high and endeavor to provide high-quality service.
11-

What will you learn in these Quran classes for beginners?
We have opted for two of the best available books for this course.
These books include multiple topics to guide how to read Quran for beginners.
Lesson 1 (The alphabets)

Lesson 2 (Joining letters)

Lesson 3 (The movements Fatha, Dammah, and Qasrah)

Lesson 4 (The Tanween- double Fatha, Dammah, and Qasrah)

Lesson 5 (The movements and tanween together)

Lesson 6 (The standing movements)

Lesson 7 (The prolonged words)

Lesson 8 (The sakoon and Jazm)

Lesson 9 (The Tashdeed)

Lesson 10 (The merging sounds)

Lesson 11 (Practicing the exercises)
12-Educational games for online Quran learning for beginners:
We make learning Quran for beginners online very enjoyable and interesting for the students by letting them play educational games that enhance the Quranic knowledge of beginners. 
These games and puzzles help reinforce the lesson and make students practice the letters while playing.
Our teachers use different sites to make students play educational games in online Quran learning for beginners, like https://www.baamboozle.com/
For learning the Arabic alphabet and reinforcing the lessons, the Quran tutors use the site http://alifbaa.net/ which proves to be enjoyable and helpful for students.
The following reliable sites are used for educational video games.
13-

Professional lesson planning for basic Quran learning:
All the classes are conducted after proper and detailed lesson planning by keeping the level of the student in mind.
We avoid the common error of teaching by keeping the syllabus content age-appropriate for the students of basic Quran learning online.
Our supervisors discuss the progress of every student with the relevant teachers and then check the lesson planner.
14- Our feedback policy of Quran learning for beginners:
• The progress is kept as a record to keep a track of the improvement in Quran learning for beginners. 
• The parents (if the student is a child) and the participants are updated throughout the course.
• The meetings are held to discuss the problem areas and solutions are mutually agreed upon.
• The students are given feedback on their learning after every lesson.
15-

The outcomes of our Quran classes for beginners:
With sincere intentions, hard work, and continuous dedication we look forward to achieving the following outcomes by learning Quran for beginners with us.
1- To identify the name and the shape of the huroof (letters) learned.
2- To learn the mechanism of articulating the unique Arabic letters and being able to understand how Arabs pronounce them naturally.
3- To learn the sounds of the letters with the rules of ( fatha, dammah, qasrah and sukoon).
4- To learn the sounds of the letters joined with ( Alif, Wao, and Yaa).
5- To merge the sounds of the letters by following the rules.
6- To successfully join letters with the rules learned and pronounce the whole word.
7- To accurately recite the short sentences with the Tajweed rules in mind.
8- To be able to learn to recite Quran with Tajweed confidently.
9- Inculcating the habit of practicing and giving due time to the recitation of the Holy Quran.
10- To be proficient in reading Quran fluently, smoothly, and naturally.
Hidayah network aims to provide the best online Quran classes for beginners through the Zoom App, with professional tutors, structured study plans at affordable rates, and all-time reachability. Let's connect and make a difference by learning Quran for beginners and refreshing our Emaan.