Did you ever have the passion to recite Quran exactly like Prophet Muhammad?
We have designed this course that provides you an opportunity to learn Quran with tajweed online from highly qualified and certified teachers to enable you to recite Quran with Tajweed correctly.
1-

Professional online Quran Tajweed tutors:
We proudly announce that we have the best online Quran Tajweed tutors who are qualified enough to take charge of this course.
• Our teachers go through several rounds of interview and selection where their expertise and aptitude is tested by the professionals.
• They avoid traditional teaching methods and use technology-based features like 3D versions of the articulation points of the letters, PowerPoint slides, etc.
• Our instructors are experienced to teach with motivation and dedication. They maintain the interest level of students who learn Tajweed online.
• Our professional online Tajweed teachers are fluent in English which enables them to teach professionally, and engage their students easily.
• They have years of experience teaching Non-Arabs, they are well- aware of the common mistakes and difficulties they face in learning Tajweed rules.
• The qualified teachers of the tajweed course give practical tips on how to implement these rules as they keep on practicing regularly.
• They graduated from the best Internationally recognized institute; Al Azhar University, with an Ijazah of teaching Quran.
• They have prepared the Tajweed practice activities through audios and videos to make the lesson engaging and retaining. 
• They are capable enough to make you recite surahs and even the whole Quran confidently.
2-

Our quizzes & competitions of Quran Tajweed online: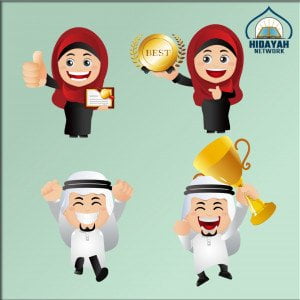 All the lessons of Quran Tajweed online are supported and reinforced with the quizzes and competitions exceptionally designed to keep the interest intact. These competitions are announced beforehand to let students prepare well for them.
Sometimes the teachers take surprise oral tests regarding rules of tajweed to check the pronunciation every now and then.
Quizzes have been a favorite test type for the kids and even adults where they strive hard to be on the top. These quizzes are conducted regularly after each lesson.
3-

Schedule your online Tajweed classes anytime 24/7: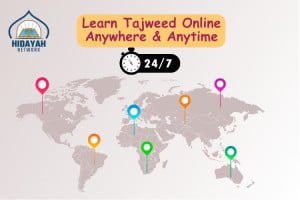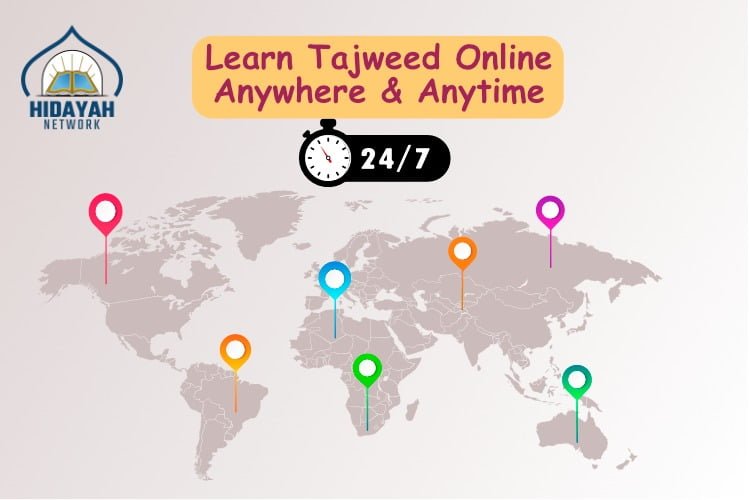 Hidayah Network provides you with round-the-clock availability. Now, you can learn Quran online at the time of your convenience.
Our service is available for everyone whether you are in Asia or Europe. We have hired plenty of teachers for Quran Tajweed classes who are available at different times to meet your needs.
All you have to do is to dedicate the best of your time for this course, in which you can focus and stay away from distractions. 
4-

Enjoy learning Tajweed online with our innovative techniques:
Our teachers are well aware of the fact that the implementation of new techniques and innovative ideas are highly important these days to make online learning classes successful. Thus, they have devised strategies and techniques to make learning Tajweed online enjoyable.
Audio/Video presentation:
The Tajweed books are not only taught as a syllabus in Online Tajweed classes for beginners but also assisted with audio-video presentations by the tutors.
The teachers prepare their planners with the support of these resources and play the snippets from the most reliable sites like Kahoot to let students learn Arabic letters easily.
Repetition and practice of Tajweed lessons:
As we are aware that only repetition and practice can make us good at Tajweed. So, we encourage our students to put in extra effort and keep practicing the rules of tajweed learned in each lesson.
Each new lesson of online Quran classes with Tajweed is started with a revision of the previous lesson to let students get started with the lesson with a boost.
Finding out the words from the Quran (real examples):
Another amazing technique used by our online tajweed teachers is that they make the students find the words from the Quran for the relevant lesson.
This practical tip helps them recite the Quran perfectly when they connect the lesson with the words in Quran.
Practical tips to implement Tajweed rules:
Instead of reading and learning new rules, we prefer giving practical tips to implement Tajweed rules so that the errors and flaws are marked.
Once the new rule is taught and practiced, the examples are looked out from the Quran, and then the teacher and the students recite the Surah to practically apply the rule and get perfect
Learn Quran Tajweed online loudly:
Reciting the Tajweed lessons loudly and clearly lets us utter and learn makharij online accurately.
Thus, it is advisable to learn Quran Tajweed online on top of your voice. This will let you understand your mistakes and will give you a chance to correct your errors.
Check this out → Our Tajweed course for kids 
Underlining mistakes with online Tajweed teachers:
When the beginners or even the advanced level students make mistakes in their recitation, the online Tajweed teachers ask them to underline them so that the errors are evaluated and be given more time to practice.
Learn Quran online with Tajweed by using a mirror:
This is an amazing technique that our teachers follow to make students flawless in their tajweed. The students learn Quran online with Tajweed by focusing on articulation points.
They are supposed to hold a mirror in front of them and then utter the Arabic words to check if they are correct.
Listening and imitating the Qari:
There are numerous Qaris who recite the Quran beautifully with all the rules of tajweed. The students are provoked to listen to their recitation to learn to recite Quran with Tajweed beautifully and imitate them to get flawless.
Introducing one rule at a time in Quran Tajweed lessons:
Cluttering the rules in students' minds burdens them and lets them run away from the course. 
We introduce only one rule at a time in Quran Tajweed lessons with proper practice and implementation. Our teachers only move forward when they are sure the students have mastered the rule.
The balance between learning Quran Tajweed theoretically and practically:
We not only focus on learning Quran Tajweed theoretically but strike a balance between its practical implementation.
As the online Quran Tajweed tutors know very well that learning the rules from the books won't do justice to the course. That is why every new Tajweed rule is practically practiced and implemented to bring a notable change in makharij.
5-

1 to 1 online Quran classes with Tajweed: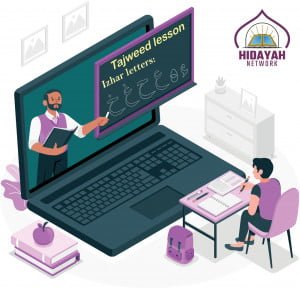 Now you can enroll in our online Quran classes with Tajweed that allows you to concentrate more on your lesson and stay away from distractions and diversions.
1 on 1 class is very helpful as it allows introverted kids to step up and talk to the teacher without any hesitation. Such classes let students focus on the lesson and finish the work before time.
We bear in mind that Tajweed needs a lot of dedication and practice, which is only possible if you are sitting in a personalized class.
6-

Our reward policy and Tajweed course certificates:
We keep appreciating and encouraging our students through rewards after monthly assessments.
The position holders who tried their best to learn to read Quran with Tajweed are motivated through gifts and cash prizes.
Whereas, all the participants are presented with certificates signed by the supervisors, for attending the online Tajweed classes regularly.
These Tajweed course certificates would be beneficial for the learners in the future when they will apply as certified Tajweed teachers.
7-

Book 2 FREE online Quran Tajweed classes:
Our online platform offers you 2 free trials with 2 different Tajweed teachers. This is done for your convenience because we really care for our valued learners.
You can attend both the trials and decide which teacher you want to continue your online Tajweed course with.
8-

Learn Quran online with Tajweed at an affordable fee:
Why would someone miss the chance to get enrolled in such a unique course at a pocket-friendly rate?
We have structured our fee plans at an economical and affordable rate where you get a discount for the 2nd and 3rd child enrolled.
We also offer discounts and financial support to the ones who are deserving and can't afford even the minimum. We have different packages for 1 on 1 and group classes to cater you to learn Quran online with Tajweed.
9-

Our lesson planners prepared for the best online Tajweed course:
We never allow our instructor to start their lesson without planning and preparation. Quran Tajweed classes online are well-prepared beforehand for the best results.
The supervisors check the weekly lesson planners in the meeting with the teachers to make sure they are delivering the best online Tajweed classes. The resources to be used in the class are also checked and discussed in detail every week.
10-

Evaluation and feedback of Quran Tajweed course online:
We not only evaluate our students' work but also give feedback on our online Quran Tajweed course for the areas of improvement.
The track record is updated after every lesson and the evaluation form is filled in daily to maintain a record of every student. Their evaluation forms are then shared with the supervisors as well as the parents of the students.
It helps examine the mistakes and weaker areas of the students so that both the teacher and the parents could collaborate to work on them.
The feedback form is designed for the students where they have the freedom to complain about anything (about the class, teacher, syllabus) that needs consideration from the supervisors. They are supposed to tell us every now and then how enjoyable it is to learn Quran Tajweed online.
11-

Learn Tajweed online with our free printable worksheets:
We not only teach with textbooks and designed material but also provide free printable worksheets to learn Tajweed online.
These worksheets are given to reinforce the lessons learned through different activities like:
1- Multiple choices questions
2- Fill in the blanks
3- Mark the correct answers
4- Colour the correct answers
5- Trace and match
12-

Age-appropriate online Quran Tajweed course:
We have made levels of our online Tajweed course that suits all age groups starting from the age of 4.
Our Tajweed curriculum is specially designed by keeping age groups into consideration. Parents and students can further customize the curriculum according to their requirements.
This makes our course much optimized for those seeking a particular level for Quran Tajweed classes.
13-

Learn to read Quran with Tajweed online in our group classes:
Now you can avail of this amazing offer to learn to read Quran with Tajweed online in our interactive group classes.
In this best online Tajweed course, the students learn through interaction and listening to their peers' lessons. This cooperation and group work results in a very good aggregate.
Siblings can enroll in a group class that proves to be convenient for the parents to monitor kids together and stay updated daily.
Do check out our pricing list for group classes where we have designed different packages for your convenience.
14-

Learn Quran with Tajweed online in a motivational environment:
We provide a highly motivational learning environment to learn Quran with Tajweed online, where the focus is on 100% delivery of the lesson.
The students are motivated throughout and those who are slow learners are never bashed in front of other students. A motivational and encouraging environment always makes things easy and enjoyable for students and brings out positive results.
Our qualified online Quran Tajweed tutors let students interact freely and give them breaks with the time if they are tired.
15-

The outcomes of learning Quran with Tajweed online with us:
Learning Quran with Tajweed online is skillfully designed to meet some outcomes to be accomplished at the end. These includes:
1- Learning about the science of Tajweed in great detail.
2- Covering all the aspects of the requirements of Recitation.
3- Practicing the articulation points with back to back revisions
4- Developing love and devotion for the Art of Recitation.
5- Understanding and implementing the basic Tajweed rules to the recitation.
6- Getting perfect in applying rules of recitation in every Salah.
7- Gaining confidence in reciting the Quran as beautifully and mesmerizingly as other reciters.
8- Being capable of teaching and guiding others around you about correct Tajweed rules.
9- Avoiding all the common mistakes that some non-Arabs make when reciting the Quran.
10- Reciting the same way our Prophet Muhammad SAWW did.
11- To learn how to recite Quran beautifully with Tajweed.
12- At the end of this course you will be qualified to enroll in our online Ijazah course.
Conclusion
We are dedicated to providing the best online Tajweed courses via the Zoom app. We are here to help you achieve the dream of beautifying your recitation with the jewels of Tajweed. 
Together, with the help of our talented and efficient Quran teachers, innovative teaching strategies, time flexibility, and free-trial opportunity, we aim to connect students under one platform to learn Quran with Tajweed online where language is no more a hurdle.