Learning Quran with effort and sparing some time daily for it is a rewarding journey. Allah has promised elevated ranks for not only huffaz but their parents too. Embarking on this experience virtually has many advantages. That is why many people prefer online hifz courses to save time and energy.
Hidayah Network brings a convenient opportunity to take this course with multiple facilities under the guidance of certified huffaz from Egypt.
About Our Online Hifz Course
To provide the best online hifz classes to all non-Arab Muslims around the globe, our huffaz tutors have designed structured and personalized memorization programs with different goals in mind to cater to as many students as possible.
Our distinction is our 4+ years of hard work and dedication in helping hundreds of Muslims memorize Quran with Tajweed successfully.
There are multiple options to choose from within the category of hifz. All the programs are meant for different groups of people.
Learning Goals Of Quran Hifz Classes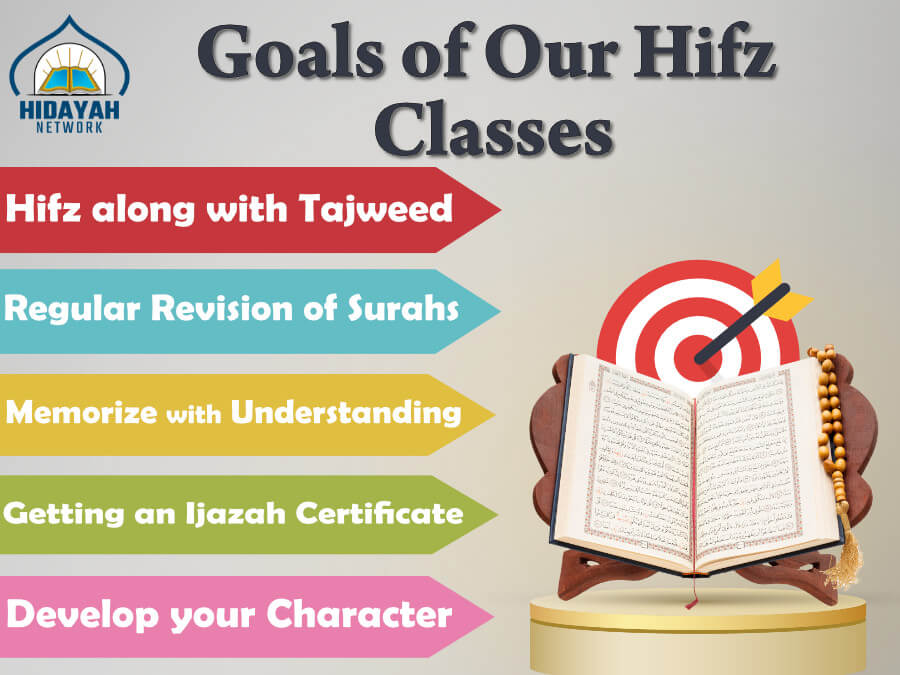 The goals for each Quran hifz class are chalked out beforehand to keep the learners on track and fastened. We plan both short-term and long-term goals.
The 1st aim of the Hidayah Quran tutors is to help memorize with a thorough understanding of verses.
The 2nd goal of Quran hifz courses is to teach Tajweed along with hifz. We appreciate and prefer recitation with accurate Tajweed rules.
The 3rd learning goal here is to produce huffaz who are exceptional in the retention of their Quran lessons with constant revisions.
Our 4th goal is to pave the path for an Ijazah degree for those who excel in their hifz, tajweed, recitation, and understanding.
Lastly, the ultimate 5th hifz goal is to develop good character, manners, and ethics along with hifz Quran.
Variety Of Our Online Hifz Courses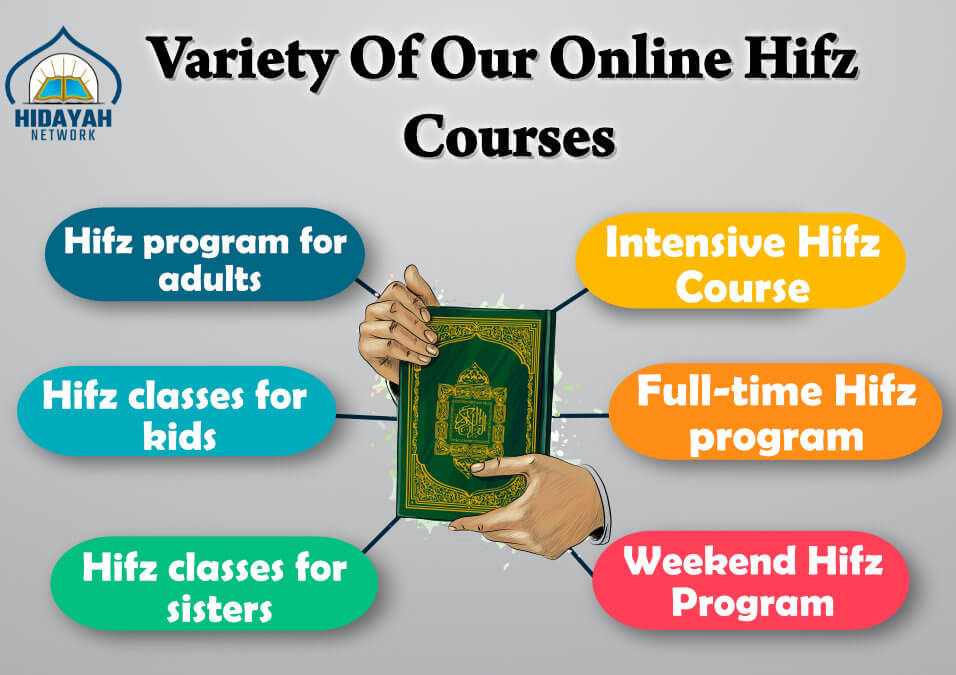 We have several options for online hifz programs that will make it easy for users to choose the one that suits their routine the most.
This course is designed to assist students to complete their hifz in a short time with intensive effort and hard work. They can attend 5 to 7 classes per week for the duration of their choice.
This program will be suitable for those who are dedicated to giving more than 3 hours of daily hifz lessons to reach their target in a decided duration.
Weekend Hifz Program
This is an elongated and relaxed hifz course where the students are only memorizing on Saturdays and Sundays. It suits the students and full-time busy people.
With flexibility in schedule, our hifz program for adults is just what they need to opt for with their other commitments. Adults can customize their hifz plans too.
We offer a fun-oriented, engaging, and very friendly environment for kids to hifz Quran with a focus on stories and moral lessons.
ladies are invited to join hifz classes where a female tutor will supervise them through multiple techniques. Understand the meaning of verses in detail before learning.
Easy Levels Of Memorization For Kids and Adults
Dividing the curriculum into levels and sub-levels helps reach the target efficiently by focusing on one milestone at a time.
Level For Beginners (Start-up round)
Start memorizing Quran at your convenience with the easiest level to follow. You will learn the Surah from the last chapter Juz Amma and understand the meaning of the verses.
After the plan is executed perfectly, you will be tested and promoted to the next level based on your hifz schedule.
Level For Beginners (Get-set-go round)
This level is still for beginners to set their pace, speed, and routine. Not everyone gets on the hifz track right away, so we give time to students who are struggling with their hifz goals.
Learn the Surahs from the last 2-3 chapters of the Quran and challenge your memory disc to learn more.
Level For 10-Juz Learners
This level aims at making you memorize 10 juz with a planned schedule of your choice. You will see providing the old portions with the new ones to keep your whole hifz flawless.
Level For 15-Juz Learners
Whichever plan you opt for, follow it religiously and complete your targets conveniently. Opt for this level if you intend to move on from the last level. Learn half the Quran in an adjustable schedule and perfect your tajweed alongside hifz.
Level For Entire Quran Memorization
The final level is for those who intend to complete the whole Quran with more than 3 whole revisions. This level will be a little tough as you have to revise long old portions.
A final test will be held before your results and certification. That will ensure your accuracy in Tajweed, recitation, and hifz.
Expert Egyptian Huffaz Tutors For Hifz Classes
Depending on a few tutors to conduct all the courses is not convenient on the part of the most reliable hifz forum.
Hidayah Network has made a team of very competent and dedicated individuals over the years who have worked on their skills to stand out from the rest of the online teachers available.
➡️Our tutors are mainly from Egypt and Other Arab countries.
➡️ They are certified with Ijazahs and possess sound Islamic personalities.
➡️Their flawless communication with the students from the West is another good attribute.
➡️They possess phenomenal Tajweed and recitation skills that attract many students.
➡️We have both male and female huffaz tutors who have memorized the Quran at an early age.
➡️ They are adept at teaching with different hifz methods that suit students of all ages.
What Techniques Do We Follow In Hifz Programs?
Hifz is done more efficiently and effectively if different techniques are applied. We make sure our students learn to read and memorize Quran with the technique they find super easy to follow. Some of the online Quran memorization techniques we use are:
➡ ️Listening to the audio of any Qari to strengthen your lesson with accurate Tajweed and voice tone.
➡ ️ Watching the video and reading the lesson along with it to make it exceptional like a native Arabic Qari.
➡ ️Back-to-back rot learning after understanding the meaning also proves to be helpful in quick memorization.
➡ ️Splitting the page into two halves and repeating each half 5 times until learned.
➡ ️Splitting the page into 3 parts and memorizing each part with 3 repetitions.
➡ ️ Memorizing verse by verse with 10 repetitions for each.
Facilities Provided By Hidayah Network In Hifz Classes?
Get facilitated with lots of catchy features we have prepared for our valued customers. You can hifz Quran online easily if these facilities are readily available.
➡ ️ Ease of access at any time and any day.
➡️ Organised hifz curriculum with test and revision schedules.
➡️ Digital hifz accounts for practice.
➡️ Competition and certification.
➡️ Weekly reports to monitor the progress of kids and adults.
➡️ Hifz goal trackers for each Surah and Juz.
➡️ Minimal monthly charges for subscription.
➡️ Female Egyptian tutors for sisters.
How Do These Online Hifz Classes Work?
These 5 steps make it clear how all the hifz classes work.
Step 1: After the trial and selection of the tutor, you will get a hifz planner broken down into months, weeks, and days. You will start your classes right after your formal enrollment.
Step 2: You will start your lessons by reading the verses with Tajweed after your tutor, understanding the meaning of those verses, and repeating the verses on your own with Tajweed.
Step 3: Once you have learned the verses/daily lesson, you will recite it to the teacher and the process goes on.
Step 4: You will revise the old portions and recite them along with the new lesson daily. If there is any error in your lesson, you will not be given new lines to memorize until the old ones are perfected.
Step 5: Get ready for weekly and monthly tests of the total portions you have memorized. You can prepare for your tests by solving quizzes in your account.
Benefits and Rewards Of Quran Memorization
All these efforts are done for memorization because of the benefits and rewards this sacred task holds.
➡️As we know hifz is the best way to preserve the words of Allah in hearts so it is surely going to raise the ranks of the hafiz in both worlds.
➡️ To alter and change Surahs in Prayers, it is beneficial to memorize a good number of Surahs and Ajzaa (chapters).
➡️ Let your parents also get rewarded and crowned for your status as a hafiz.
➡️ Another amazing benefit of memorizing the Quran is that it connects you with the Creator and you understand the purpose of life very clearly.
➡️ Quran haafiz knows very well which Surahs should be recited for protection, healing, and safety.
Frequently Asked Questions