About Our Online Arabic Classes for Kids
What Will Your Child Learn?
✅ We work on 4 main skills to learn Arabic.
1- Speaking       2- Listening
3- Writing          4- Reading
✅  Our main focus is on spoken Arabic in which we make kids confident to speak in Arabic as naturally as natives do.
✅ The kids will be able to read Arabic texts and comprehend them easily.
✅ Your kid will understand the meaning of the Quran accurately by learning the Quranic Arabic.
Our Well-Structured Arabic Plan for Kids:
We have the best organized and Structured Arabic plan for kids to learn Arabic. With the help of highly professional and qualified scholars, we have designed our curriculum that meets all the needs.
Starting from the basics, the kids will learn to read, write, speak, and comprehend Arabic as easily as natives do. If you want your kids to be confident in their Arabic, enroll them now and let them begin the journey to enjoy Arabic.
Facts about Hidayah Network
Best Native Arab Online Arabic Tutors for Kids
✅ Our teachers have graduated from the leading Islamic University Al Azhar.
✅ Our professionals hire teachers after rounds of interviews, tests, and trials.
✅ They are capable to communicate in English and teach kids from around the world.
✅ They efficiently use technology to support their class with advanced resources.
Our tutors' interactive Teaching Tricks 
By constantly exploring new tricks for teaching Arabic to children, our tutors adopt the following steps
✅ Activities outside the Arabic classes.
✅ Reinforcing the lesson through quizzes.
✅ Using gestures and physical demonstration.
✅ Teaching through repetition.
→ We also offer the best Islamic classes for kids with experienced Islamic tutors. Your kids will enjoy learning Islam with fun 
Outcomes of Our Arabic Course For Kids
✅ To make kids able to speak Arabic fluently and confidently like native Arabs.
✅ To make them able to listen and understand the Arabic language easily like a pro.
✅ To be able to read Arabic text efficiently and effortlessly.
✅ To make them understand basic Arabic grammar to comprehend the Quranic text.
✅ To make them understand common Arabic words used in Quran through root word analysis.
✅ Finally, to be able to write sentences and even a short paragraph in Arabic.
Why Choose Us to Learn Arabic for Kids 
Use Of Arabic Educational Games, and Puzzles
Our teachers use games and puzzles to make lessons interesting and monotony-free. We don't teach through books only, rather, our teachers use engaging educational resources to make kids have fun to progress faster.
Printable Worksheets For Reinforcement of Lessons
We give free printable worksheets to the kids to solve and color the worksheets. Kids enjoy coloring, tracing, and joining. So, we have designed the worksheets to reinforce the lesson and help kids revise while enjoying it.
Tech-Based Learning To Motivate Kids
We use technology-based activities to motivate students to learn more. The following are the major things for children to learn the Arabic Language effectively.
★ Stories in Arabic.
★ Arabic show and tell sessions.
★ Arabic flashcards.
★ Arabic kids' poems
★ Attractive PowerPoint slides.
★ Arabic letters Tracing Worksheets.
★ Arabic audiobooks.
★ Arabic books.
Rewards and Stickers To Encourage Kids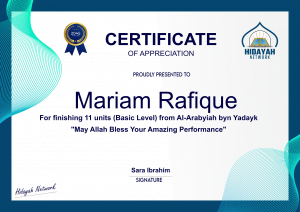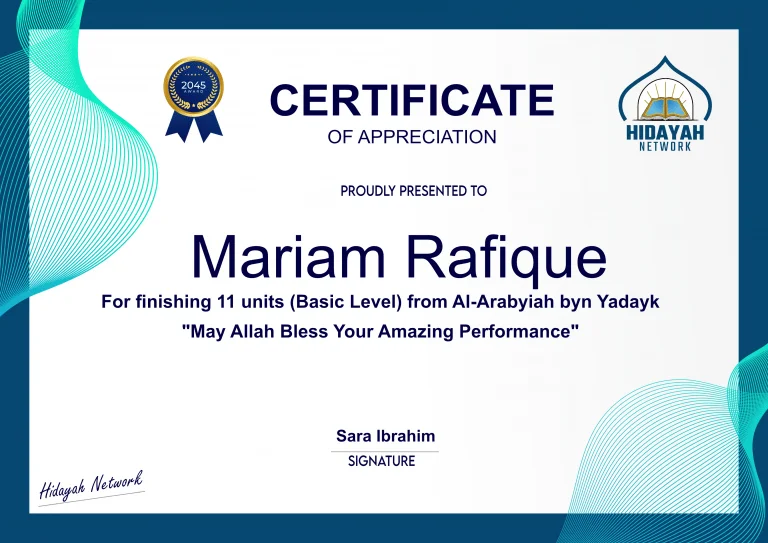 Teachers not only praise the top-performing students but also reward them with digital tags, and digital stickers, monitoring authority and making them Special guests for a day.
 Also, teachers have a virtual badge system Like Gold, Silver, and Bronze. These badges appear on kids' profiles whenever they perform best in class. 
Emails with cool gifs and voucher rewards are sent to parents to let them know how their child is getting involved in the Arabic class.
Recorded Lectures to Practice Arabic at Home
The best benefit is that our teachers let kids Learn Arabic at Home with recordings too. We work in every way to facilitate our students to learn more easily and not feel any burden.
If the Kid couldn't take lectures at his fixed time, we provide the kids with Lecture Recordings. Our Recordings provide kids the flexibility to view or review the lectures at their own pace.
One to One Personalized Arabic Class
We provide personalized one-on-one Arabic classes where the kids get the full attention of the teacher as there is no other student to share the class.
Our customized plan is made according to the age and level of the kid. Hence, it won't become burdening for the kid.
We also provide Tajweed and Hifz structured plans in our Quran classes for kids.
A Positive Learning Environment
We at Hidayah network make sure to provide a positive and very friendly learning environment where kids explore, enjoy, discover, open up, and socialize. 
Our Arabic classes are fun-filled and we let all the students participate in the discussion, answering questions, guessing riddles, dialogue delivery, and much more.
More amazing features of our kids' Arabic classes
A Report Every 2 Weeks to Track the Progress
Weekly ad monthly reports are prepared to track your kid's progress in our online Arabic classes. Teachers present those reports to the parents and have a detailed meeting for every single kid's performance along with a plan for the next 2 weeks. 
Scheduled Arabic Tests and Quizzes
The kids are accessed weekly through Arabic quizzes and monthly tests. A gift is already announced as a motivator for kids so that they strive hard to earn the reward.
Kids don't feel pressured for tests since the tests are kept fun according to their age. For example, coloring a Letter Test or other tricks.
Flexible Schedule 24/7
We provide flexibility for Kids to learn round the clock 24/7. If a student can't take classes at his normal fixed time and wants to reschedule his classes, he can do that by contacting our customer support team.
Affordable Fee Structure To Learn Arabic:
You will be amazed to know that we have minimal costs for our courses as we care for you and your kids. 
✅ We also offer the following discounts:
✅ We provide a special discount to your 2nd and 3rd kid too. 
our Arabic group classes are much more affordable and the hourly rate is as low as 3 dollars per hour.
Note: We do not burden our students with any hidden charges.
Book 2 Free Trial Classes with 2 Teachers
We provide you the facility of 2 Free Trial classes with 2 different teachers so that you can choose the best for your kid.
This is absolutely something that none of the other institutions offer. Feel free to judge since we try to improve ourselves with each coming day.
FAQs 
What is The Duration of  This Course?
It depends on the kids' level and how many classes they are taking per week. You can book a free trial class to assess your level, and provide you with a personalized plan that includes the duration.
Do You Offer Group Classes for Arabic Learning?
Yes, our group classes are very much in demand. We enroll up to 4 kids in a group and make them enjoy lessons with fully focused lessons by teachers.
At What Age Should Kids Start Learning Arabic?
Kids are really prone to learning any language when they are in their early years. They can start learning as early as 3 years old.
How to Engage Kids in Arabic Lessons at Home?
That is very simple, just buy some toys and games from a credible online source and engage them in the learning activity. To help you further, there are dozens of reliable sites where you can buy Arabic games and toys.
What Methodology Do You Use in Teaching Arabic to Kids?
Our Qualified Arabic teachers use the best learning methodology for kids to learn Arabic at a fast but balanced pace.
Is It Hard for Kids to Learn the Arabic Language?
Let's be honest! Arabic is a challenging language to learn. But a harder language is not an unlearnable language. That means it could help keep learners' brains healthy as they age.
All you need is to get a better Online Arabic Tutor for your kid and leave the rest to us.
Can my kid change the

Arabic teacher

if he/she is not compatible with the teacher?
Yes, he can. Although we have the most qualified tutors for teaching Arabic to your kids, we still consider the kid's reviews through google forms.