Hidayah Network brings engaging online Arabic classes for kids that are fulfilled and interesting. Our qualified Arabic male and female tutors are experienced in teaching kids of all ages and are known for their teaching strategies.
Our structured curriculum of Arabic classes can be customized according to your child's availability. Get a flexible schedule for your kids and let them learn Arabic happily.
About Our Online Arabic classes for kids
These online Arabic classes are open to all kids of different age groups. We have 3 levels of the Arabic curriculum to facilitate kids to learn step-by-step. The tutors of this course will engage kids in various activities of reading, writing, listening, and speaking to polish their skills.
We have different Arabic learning plans designed for kids that include activities, games, tests, quizzes, and the course certificate. The progress of each student will be closely tracked and a weekly report will be sent to their parents. Monthly online meetings are an essential part of this course.
What will you learn through our Arabic course?
✅ We work on 4 main language development skills in our Arabic classes for kids. Speaking, Listening, Writing and Reading.
✅ Our main focus is on spoken Arabic in which we make kids confident to speak in Arabic as naturally as natives do.
✅ Read Arabic words, phrases, and texts.
✅ Comprehending Arabic texts through translations.
✅ Read and write short sentences in Arabic
✅ Understand general day-to-day Arabic through sign language and flash card activity
✅ Understand the meaning of the Quran accurately by learning the Quranic Arabic.
Personalized one-on-one Arabic class for kids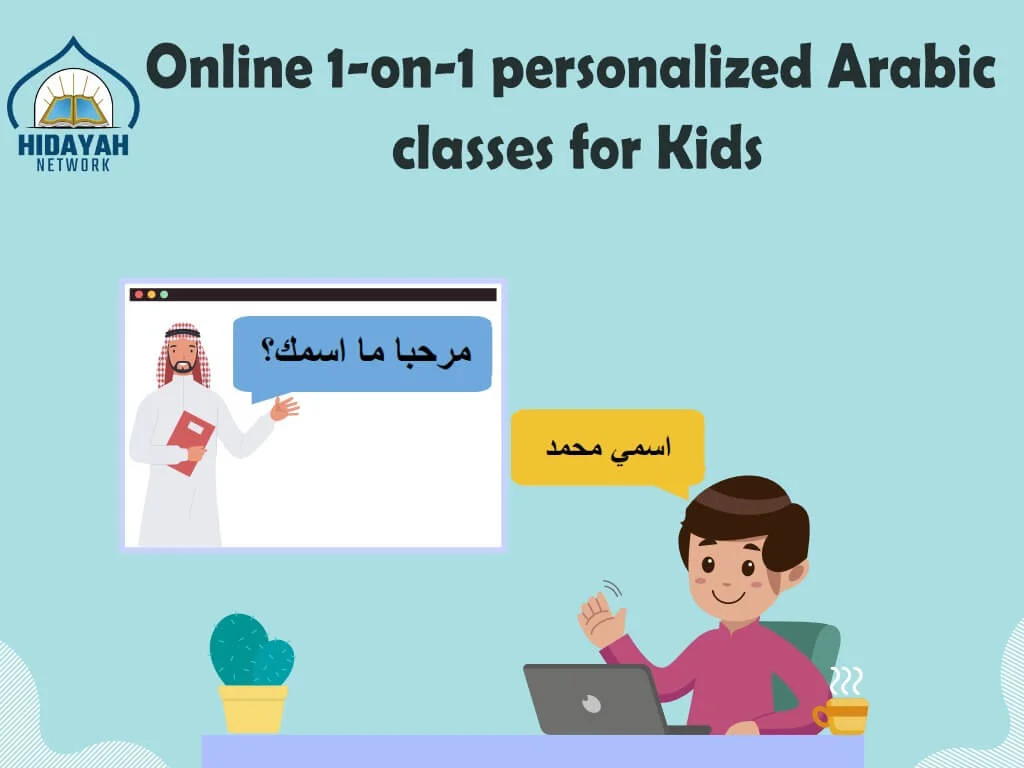 Hidayah Network provides personalized one-on-one Arabic classes where the kids get the full attention of the teacher as there is no other student to share the class.
These classes let your kids learn Arabic at their own pace and complete the syllabus according to their ease. There is no burden or compulsion of scheduling. Our one-on-one class includes activities, quizzes, and other educational games that every kid can enjoy.
Arabic Teaching Activities and Assessment Methods for Kids
✅ Educational Arabic board and other games.
✅ Arabic quizzes based on the topics.
✅ Using sign language, flashcards, and physical demonstration 
✅ Teaching through repetition and revision of all topics
Our short tests are taken orally after the class and grand assessments are taken monthly. The type of the tests are both objective and subjective.
Well-structured Arabic Course for kids
We have the best organized and Structured Arabic plan for kids to learn Arabic. With the help of highly professional and qualified instructors, we have designed our curriculum that meets all the needs.
Starting from the basics, the kids will learn to read, write, speak, and comprehend Arabic as easily as natives do. If you want your kids to be confident in their Arabic, enroll them now and let them begin the journey to enjoy Arabic.
Our structured curriculum will give you a clear roadmap of the whole course that includes:
➡️ The weekly and daily syllabus breakup.
➡️ The test and activities' schedules.
➡️ The weekly reporting and meeting with parents.
➡️ The division of the syllabus into levels.
➡️ Arbic group classes to engage kids and allow then to interact with other fellows.
Qualified Arabic Tutors For Kids
✅ Our teachers have graduated from leading Islamic Universities like Al-Azhar.
✅ Our professionals hire teachers after rounds of interviews, tests, and trials.
✅ They are capable of communicating in English and teaching kids from around the world.
✅ They efficiently use technology to support their class with advanced resources.
Levels and Schedules Of Arabic for Kids Program
Beginners Level for Kids
This level is based on the basics of the Arabic letters, pronunciation, joining, and sight words. Kids will be engaged in multiple activities of reading writing speaking and listening. The total number of hours for this level is 25 which includes the tests. After completion of the topics, kids will have a test to get started with the next level.
Medium Level for Kids
This level has 35 study hours that include activities, games, presentations, and tests. Kids will learn to make short sentences, phrases, general gestures, and words used in everyday life. They will be able to speak small phrases and reply to the short questions in Arabic easily. After a test, they will be promoted to the last level where they will become adept in Arabic.
Advanced Level for Kids
This advanced stage has 50 credit hours divided into small units according to the topics. Kids will learn to read short passages in Arabic, give brief self and other introductions easily, and listen and comprehend Arabic texts accurately.
Other than the levels we have different schedules for Arabic classes for beginners and kids.
➡️ 5 months
➡️ 7 months
➡️ 9 months
➡️ 12 months
Learning objectives of Kids' Arabic lessons
✅ To make kids able to speak Arabic fluently and confidently like native Arabs.
✅ To make them able to listen and understand the Arabic language easily like a pro.
✅ To be able to read Arabic text efficiently and effortlessly.
✅ To make them understand basic Arabic grammar to comprehend the Quranic text.
✅ To make them understand common Arabic words used in the Quran through root word analysis.
✅ Finally, to be able to write sentences and even a short paragraph in Arabic.
Why Choose Hidayah Network For this course?
Use Of Arabic Educational Games, and Puzzles
Our teachers use games and puzzles to make lessons interesting and monotony-free. We don't teach through books only, rather, our teachers use engaging educational resources to make kids have fun and progress faster.
Tech-Based Learning To Motivate Kids
We use technology-based activities to motivate students to learn more.
Stories in Arabic.
Arabic show and tell sessions.
Arabic flashcards.
Arabic kids' poems
Attractive PowerPoint slides.
Arabic letters Tracing Worksheets.
Arabic audiobooks.
Arabic books.
Recorded Lectures to Practice Arabic at Home
The best benefit is that our teachers let kids Learn Arabic at Home with recordings too. We work in every way to facilitate our students to learn more easily and not feel any burden.
If the Kid can't take lectures at his fixed time, we provide the kids with Lecture Recordings. Our Recordings provide kids the flexibility to view or review the lectures at their own pace.
A Report Every 2 Weeks to Track the Progress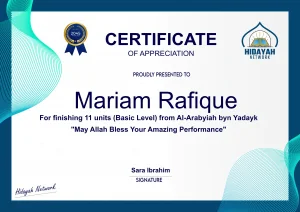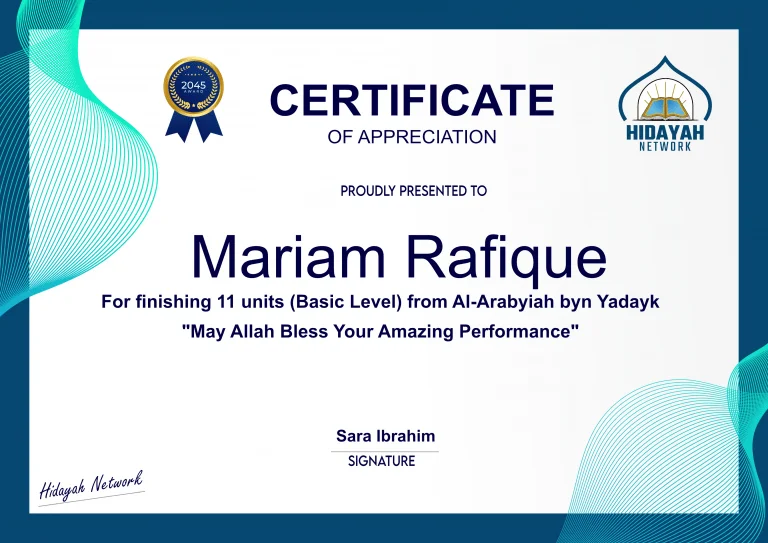 Weekly and monthly reports are prepared to track your kid's progress in our online Arabic classes. Teachers present those reports to the parents and have a detailed meeting for every single kid's performance along with a plan for the next 2 weeks.
Scheduled Arabic Tests and Quizzes
The kids are accessed weekly through Arabic quizzes and monthly tests. Kids don't feel pressured for tests since the tests are kept fun according to their age. For example, coloring a Letter Test or other tricks.
Flexible Schedule 24/7
We provide flexibility for Kids to learn round the clock 24/7. If a student can't take classes at his normal fixed time and wants to reschedule his classes, he can do that by contacting our customer support team.
Most Important FAQs