The best way to understand the basics of Quran reading is to learn Noorani Qaida online. We have formulated the qaida classes by dividing them into different stages that make the lessons easy to understand and review.
NooraniQaida classes designed by Hidayah Network are featured and structured very skillfully. The lessons will be conducted by our qualified native Egyptian Tutors. This online Noorani Qaida course will take you through the nitty-gritty details of the Arabic language rules to help you achieve your goals easily.
About This Noorani Qaida Course
The Noorani Qaida course is meant to teach you from the beginning with very detailed tiny steps to understand and apply each rule easily. For non-Arabs and new converts, it is usually difficult to pronounce letters exactly like Arabs. So, we make sure each student gets perfect articulation.
The tutors strive hard to provide all educational resources, activities, and lectures to make the course super easy to follow daily. Be it the whole qaida or any specific rule/rules, learn at your convenience and practice it as much as possible.
Noorani Qaida is named after its author Sheikh Noor Muhammad Haqqani who designed this booklet not only for language learning but to read the Quran properly. This booklet has rules with practice and they are arranged systematically to learn from easy to difficult. 
Personalized 1-on-1 Online Noorani Qaida Classes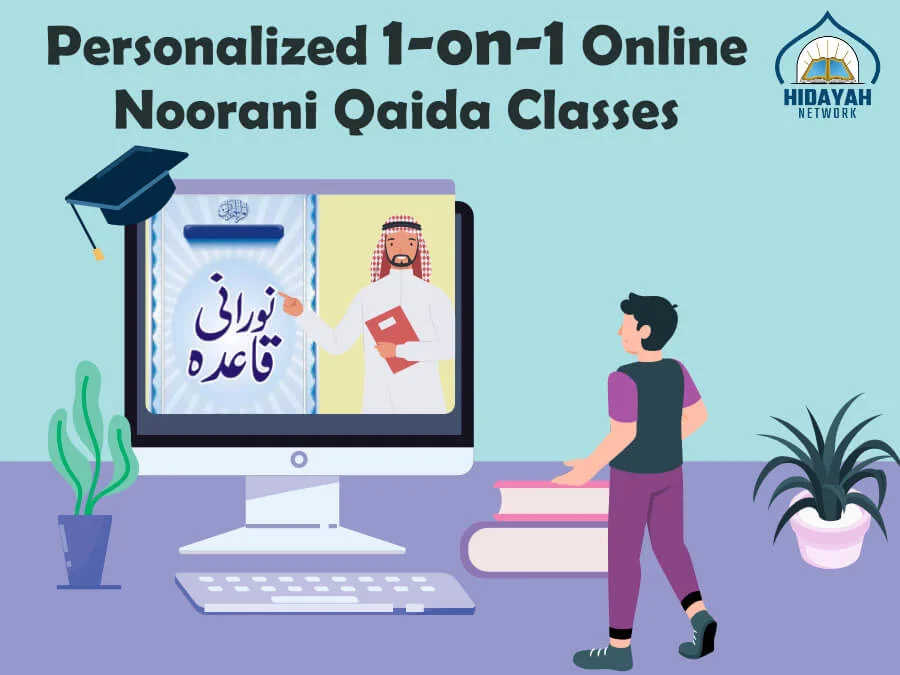 You can easily interact with your tutor in one-on-one online Qaida Classes where the learning mode is student-centric. In these classes, your teacher will fully focus on making you learn rules and revise them daily. 
Your teacher will know exactly what are your strengths and weaknesses while learning the Qaida. The focus and attention is only on the student to help them achieve their goals perfectly. There is no distraction or waste of time in this session. Our tutors work to bring out 100% results with their innovative teaching methods. They know exactly what will work best for you.
Outline of Our Online Qaida Course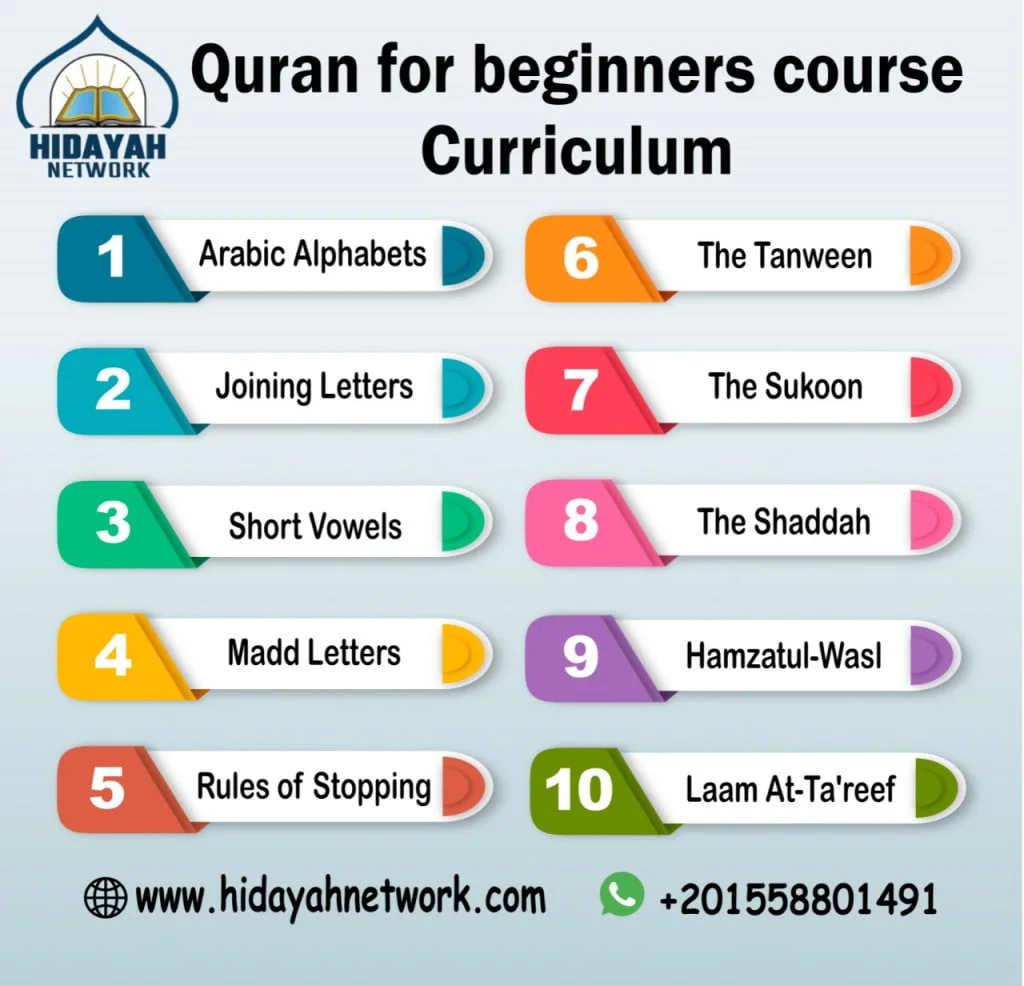 We bear in mind that learning Quran for beginners is critical to all Muslims. That is why we have worked hard on making this course well-structured to help our students learn the following lessons really effectively:
The pronunciation of the Arabic letters with proper Makharij (articulation points).
The shapes of Arabic letters (especially for beginners) will be taught through activities.
The harakat (movements) on these letters will be explained with examples.
Types of Harakat (vertical and horizontal).
Maddah (elongation of letters and their rules).
Tanween (double movements) and the rules.
Tashdeed (stress on the letter) and the rules.
How to connect them
Jazm ( Sukoon ).
Rules of Noon and Meem saakin.
Wakf (pause or stop) and the rules. 
Practice all rules from Quranic verses.
Well-Structured Noorani Qaida Lessons With a Plan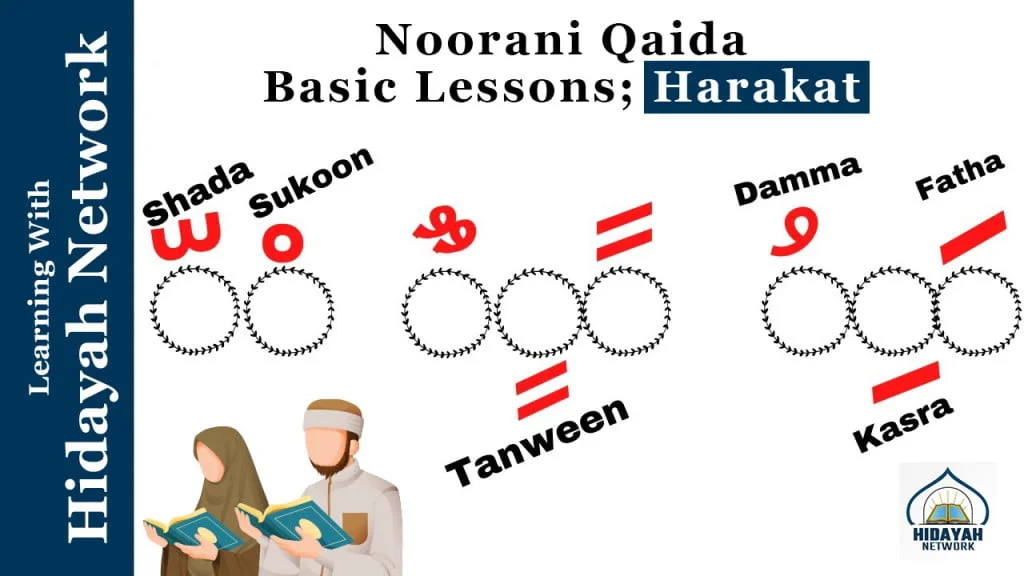 We give you a well-structured plan for Qaida lessons to finish the whole course within the duration that has been set beforehand (25 hours). The plan helps you stay on track and check your progress.
You can manage the course's end-time according to your availability and learning capacity. It can be stretched from one to 6 months as per your choice.
Get a designed road map of the whole process of learning in an organized way to have an idea about your upcoming lessons, their practices, their tests, and their results.
What Are The Goals Of Noorani Qaida Classes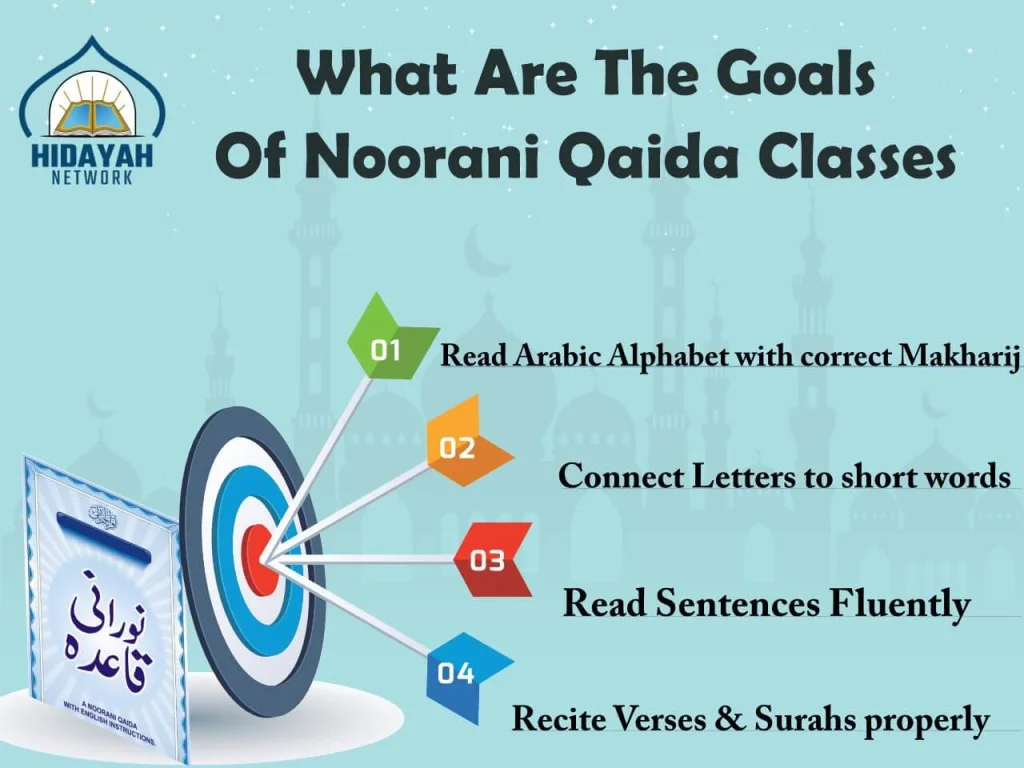 We have listed some major goals of this course that our teachers will strive to achieve at the end.
➡️ Learned to read the Arabic alphabet with proper articulation points effortlessly.
➡️ Recognized the letter with the same phonics but different makharij.
➡️ Connected letters to form short words.
➡️️ Read words fluently to form short sentences easily.
➡️ Recited short Quranic verses fluently on your own.
➡️ Revised the lessons more than once to get used to the new language and reciting like natives.
Note: After finishing this course, you will be qualified to take our Quran recitation course to beautify your voices with amazing tones.
Our Certified Native Egyptian Tutors
Our Expert Supervisors have chosen the best teachers after difficult selection criteria to maintain high standards.
Some of the priority points are:
✅ Qualified with Ijazahs from leading Islamic Universities.
✅ Are native Egyptians and can teach Arabic efficiently.
✅ Speak English fluently and clearly to cater to students from different countries.
✅ Flexible in applying innovative techniques while teaching, and providing very engaging and interactive Noorani Qaida classes for kids.
✅ Creatively uses 3D versions of pictures to help understand the exact articulation points.
✅ Having years of experience in conducting online sessions for kids and adults.
✅ Research very well about the activities to make Arabic learning easy.
How Do We Monitor Our Qaida Classes?
A team of experts monitors the classes all the time to satisfy the users by providing amazing facilities like,
➡️ Full-time technical support for internet signals to make audio/video quality superb.
➡️ Feedback forms are asked to be filled in monthly to let us know if there is any issue faced during classes.
➡️ Frequent tests are taken with a beforehand prepared questionnaire.
➡️ Competitions are arranged for kids and adults to participate and make their learning excellent with preparations.
➡️ Certificates are awarded to all the regular students with their distinction mentioned on top.
Our Best Techniques for Teaching Noorani Qaida Online
We invite you to learn Noorani Qaida for beginners with our top innovative techniques:
Video watching technique
It helps remember the shape of every new letter learned.
Using 3D version
It is used to explain the articulation points of the letters to pronounce all the Arabic letters naturally and correctly.
Reading out loud
It is very helpful to get used to reciting Arabic the same as the natives.
Finding examples from the Quran
To retain the lesson for a longer period, this technique will help the students to practically apply the new rules and find relevant examples from the Holy book.
Recording of practice
The teachers give homework on recording the students' reading while practicing certain words.
How to Join Our Noorani Qaida Course
Attend the complimentary Free class with 2 different teachers (male or female)
Get a plan based on your daily class duration and weekly number of classes.
Set a time for your class and be ready to attend it punctually.
Pay for the dues and get started right away.
Learn Noorani Qaida With Tajweed Effectively
Noorani Qaida has a very systematic arrangement of lessons that start with the Arabic letters and their pronunciation and end up teaching the basic tajweed rules.
We make all the lessons very effective and engaging through our teaching methods. The tajweed rules like Noon and Meem Saakin and their forms are taught through multimedia projection with practice.
Our tutors let students find practical examples from the Quran. Students are also exposed to the audio of recitations of Qaris to follow the way they apply the tajweed rule naturally.
A Separately Designed Noorani Qaida course for kids
Not only adults but kids can also learn noorani qaida online which is full of activities, quizzes, learning resources, and fun.
Kids of all ages, 3-7 and 7-14 can enroll in Qaida lessons to improve their Quran reading. Learning Noorani Qaida at an early age helps practice Quran reading more than ever and male recitation is flawless.
Kids love activities so they can enjoy learning Qaida from our prestigious teachers who engage students in amazing activities.
What Features Do We Provide?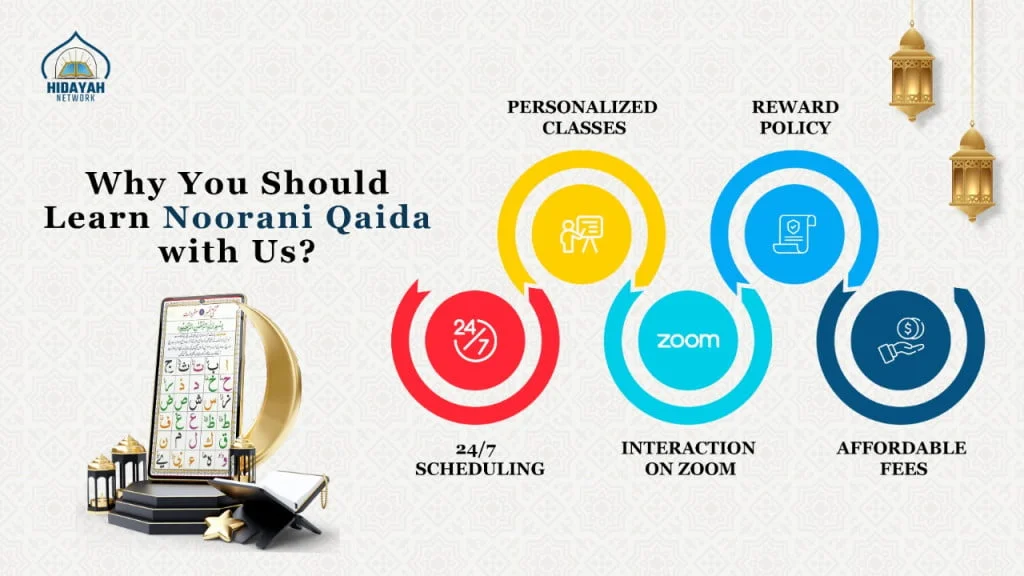 24/7 Availability
We facilitate you with 24/7 availability as our dozens of Quran teachers are available round the clock to conduct classes as per your convenience.
Weekly Report Card
We provide a report card every week that highlights the following points:
Errors in articulation points.
Tips to improve the accent and overcome errors.
A plan for the next week to get prepared beforehand.
Mind Mapping for lessons
This is a very unique style adopted by our tutors to conduct the lesson in a very planned way. They make mind maps of each topic and prepare lots of examples to share. It helps in making the class more result-oriented and topic-focused.
Affordable Fees & Discounts
This program is available at $5 especially if you are British, Indian, Pakistani, or African. We offer discounts for the second and third person from the same family. Furthermore, get $30 on referring Hidayah Network to your friends.
Advantages of Learning Noorani Qaida
There are many benefits and advantages of learning Noorani Qaida. It is the most comprehensive booklet that explains all the fundamentals of drills.
➡️It is the gateway for beginners to read the Quran perfectly.
➡️It strengthens your articulation points with exercises of phonics.
➡️It makes your pronunciation the same as native Arabs.
➡️It helps you work on your basic tajweed rules that are mandatory to learn for flawless Quran reading
️➡️The layout of Noorani Qaida helps us learn each rule step by step with a connection to the other.
➡️It opens a way to opt for other Quran courses like recitation, advanced tajweed, and hifz.
Conclusion
Our revision strategy and evaluation reports make us prominent everywhere because we believe that 100% results are achieved only through various teaching methods and activities that are supervised carefully.
We have successfully taught hundreds of Muslims around the globe with 100% results. Do not delay taking this first step towards the journey of learning the Quran. Avail of our 2 FREE trial sessions to see how it works.
Frequently Asked Questions