Are you a working lady or a housewife and wish to become a Hafiz but it's almost impossible for you to attend physical classes? Are you searching for the best online Hifz classes for ladies? Fortunately, you're at the right place.
Levels Of Quran Hifz Course For Ladies
You can opt for any of the following levels of the Hifz course.
Memorization of Juz Amma
To initially get used to memorizing Quran with some short Surahs. We tried to make Hifz of Juz Amma so easy by dividing it into 2 parts:
Surah An-Naas to Surah Al-A'ala
Surah At-Tareq to Surah An-Nabaa
However, we can make changes or further subdivide it according to your requirements.
Memorizing Specific Long Surahs
If you want to learn some particular long Surahs from the Quran, we can surely break it down into parts according to the main elements of the surah, and provide you with mind maps to memorize with the help of Tafseer. You can discuss your requirements with your female Quran teacher and she will guide you further.
Memorizing the Whole Quran
This is our advanced-level Hifz course for ladies. You can either directly enroll in this course or first complete the above 3 stages and then go for Ijazah. If you choose Ijazah, you need to learn the whole Quran, practice Tajweed rules, and pass an online exam to clear the course and become certified.
Why Choose Our Online Hifz Classes For Ladies?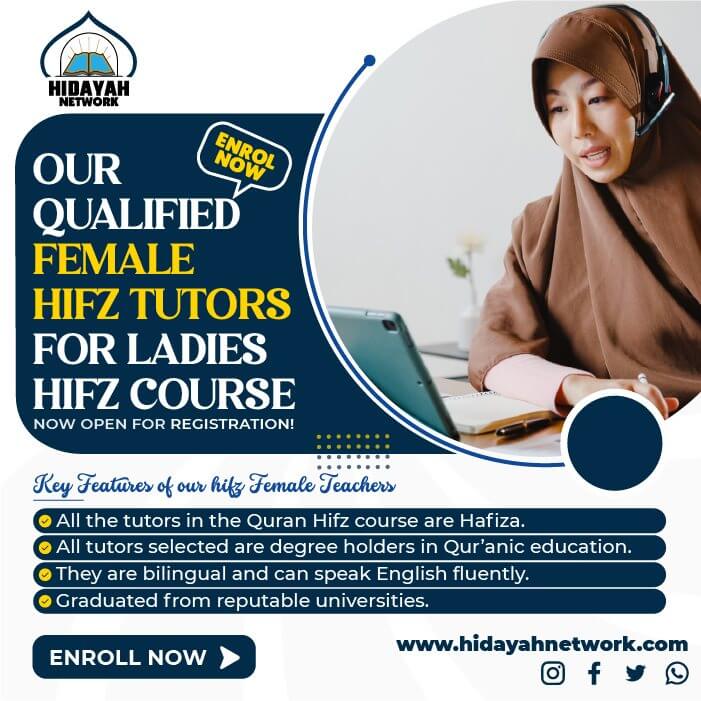 The following are the prominent reasons.
Availability Of Our Tutors
Are you busy with your job or with your kids and can't attend Hifz classes according to a set timetable? We have a solution for you; our tutors are available 24/7 to conduct your lectures. You need to schedule a specific time with your tutor according to your availability on the Zoom app and that's about it!
Comfortable Classes Environment
Our professional and highly-skilled female Hifz tutors provide collaborative learning, promote a positive class environment and keep things simple. They will keep you engaged in fun activities, socialize and regularly take your feedback.
Weekly Reports
All the sisters in online Quran Hifz classes are provided weekly reports so that you can evaluate your progress at the end of the week. We also incorporate our tutor's feedback in the report that is shared on your registered email.
Explanation Of Surahs
Before our female tutors deliver the Hifz lesson, they precisely elaborate the meaning of the Surahs to make it easier for the students to memorize it.
Budget- Friendly
We have strategically designed all the Hifz course plans while keeping them budget-friendly. Moreover, if 3 family members are enrolled in the same course, 2 of them will get a discount offer.
Key Features Of Our Hifz Female Teachers
To provide high-quality online Quran memorization classes, we ensure that we hire the best female Hifz teachers with the following prominent features.
All the tutors in the Quran Hifz course are Hafiza.
Highly-experienced scholars.
Graduated from reputable universities.
All tutors selected are degree holders in Qur'anic education and are truly pious.
Our female tutors go through an examination stage for online teaching sessions to provide the best possible output to our sisters.
They are bilingual and can speak English fluently with a clear accent.
They are adept at using technology by attending various training sessions regularly.
Moreover, our trained teachers give 2 free trial classes so you get completely satisfied before enrolling for the online Quran Hifz classes.
Personalized Hifz Plan For Each Lady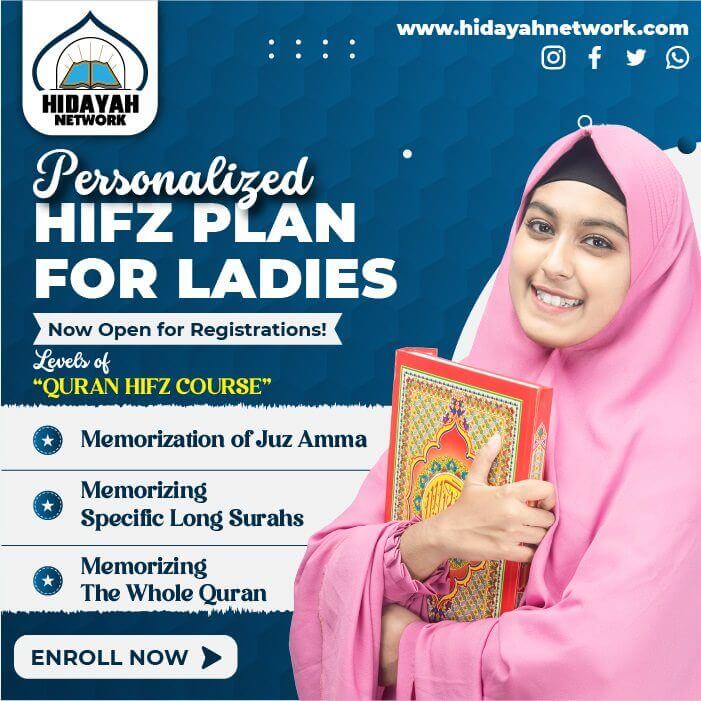 Hidayah Network provides personalized Quran Hifz courses for ladies that can be prepared according to your capacity and time. For this, our tutors judge the student's capabilities and plan the course accordingly. Usually, it ranges from 10 to 37 months, but, the student's verdict marks the final decision. Next, a calendar is shared with the students so they can set up their reminders.
However, if you select any of our Hifz plans and want to make some changes, we can customize it for you. Our female tutors will help you go through this process smoothly.
Our Quran Hifz Teaching Strategy
We've designed our teaching strategy for the adult Hifz classes after a thorough analysis of students' compatibility and capacity.
Skimming Before Hifz Class
A new lecture is delivered each day. Thus, it's recommended to read the lesson you're going to study in the class right before the lecture. This will help you learn quickly when the tutor is delivering the lesson.
Reciting Sabaqi
You have to recite the previous lesson the next day so the tutor can highlight your mistakes before you learn them by heart.
Reading and Memorizing Daily Lessons
Next, you will get the new lesson. You must learn and recite it thrice in front of your teacher.
Weekly Revision
You can decide one day with your tutor when you will recite all the lessons you have memorized in the past week. This will help you in tracking your progress.
How do We Engage Ladies In our Quran Hifz Classes?
We employ the latest and most fun teaching methods in our online Quran classes for ladies.
Collaborative Learning
Interactive one-on-one sessions are arranged between students and tutors to engage them.
Memorizing With Mind Maps
We use one of the most efficient and effective techniques of memorizing the Quran by making mind maps. You can connect one verse with another and make it easier to learn them.
Hifz Discussion Board
Discussion boards are organized during Quran Hifz classes where students engage with one another and tutors take notes which are later used for grading.
Engaging Lectures
Infographics, videos, and presentations are included in the Hifz classes to make them super fun and easy. Moreover, an online Whiteboard is used to deliver lectures in the best possible way. Also, sometimes, our tutors plan the lesson in the form of fun quizzes.
Moreover, our tutors of the Quran Hifz course refer some excellent podcasts to our students to enhance their listening and learning skills.
Outcomes Of our Quran Hifz Classes for Sisters
Following are our expected outcomes.
Practicing all the recitation and tajweed rules learned in the class
Strong grasp over the Surahs you've learned
Recite like your favorite Qari in a beautiful voice
Get the concept of the Surah you're reciting
Steps For Joining our Hifz Classes for Ladies
Enroll for your first trial class and we will send you a Zoom link.
Go ahead and take your first Hifz class.
Share your feedback with us.
We will help you select a plan out of our 12 packages and choose a tutor.
Schedule your class with your tutor and you're done!
Maybe you cannot find an amazing Hifz female teacher or you're struggling with Quran memorization. No problem; get yourself registered for our Hifz classes for kids and ladies. Let's set your goals today!
Frequently Asked Questions
"