Hidayah Network brings the best Quran memorization Online classes with the best Quran memorization plans.
We claim to be unique in this regard as we have strict criteria for our Quran memorization teachers who have devised innovative methods to make Hifz Quran easy and enjoyable for their students.
Why Should You Memorize Quran Online With Us?
1-

Highly qualified Online Quran memorization teachers:
• Our Quran memorization teachers are highly devoted and dedicated to helping 100s of Muslims around the world.
• They have finished hifz Al-Quran by heart at a very young age. It influences them to share their experiences to promote productive outcomes.
• Our online hifz tutors are well-trained and aware of the most practical techniques of memorizing the Quran. They have applied all the techniques and have given their 100% consent for the application
• They have studied and are Ijazah certified from the best leading institute in the world Al Azhar University.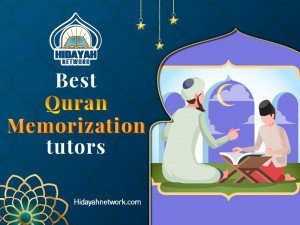 • Our Native Arab tutors are fluent in English. Hence, it makes them capable of teaching students from all zones.
• They have been through tough stages of interviews and selection before being hired as the Hifz teacher.
• Our skilled teachers are experts in tajweed, makharij, Arabic, and Quranic translation. They qualify in different genres to be in the prestigious position to conduct intensive hifz course
• They have mastered the skill of devising and introducing innovative techniques for online teaching, as they know old methods are evolving day by day.
2-

Well-structured Quran memorization schedules:
Keeping the students' capabilities into consideration, we emphasize on personalized Quran memorization schedules as it is essential to let students achieve what they are capable of.
We have designed different plans according to our students' feasibility. For instance: Our plans to memorize Surah Al-Baqarah of the Quran are customized depending on your ability to finish this surah in 2 to 5 months.
Our plans to memorize the whole Quran are customized according to your memorization per day. It will end anywhere between 10 to 37 months.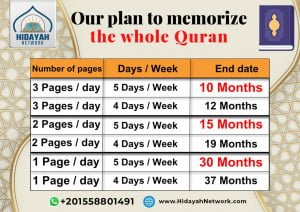 We are aware of the traditional ways of memorization where students are forced to learn the Surahs. In our Online Quran Hifz classes, the teachers set a plan as discussed with the student, and then start working on it.
NOTE: Our Quran memorization planner is checked on a monthly basis by the supervisors to keep a note of each and every student's progress.
Our plans to memorize 3 Juza' of the Quran can be accomplished between 3 to 10 months depending on your memorization and revision per day.
3-

Our goals for this Quran memorization program:
• To memorize the Quran (or whatever part is to be memorized) with correct pronunciation and accurate tajweed rules' application.
• To learn and understand the meaning and interpretation of the verses memorized.
• To know the reason, time, and context of the revelation of each surah.
• To be able to recall any surah from Quran easily.
• To make the Hifz journey easy and enjoyable for the learners.
• To memorize the Quran efficiently by heart.
• To instill a love for reciting the Quran beautifully.
Note: We also offer online Hifz classes for ladies 
4-

Our 4 main levels of memorization:
We have divided the Quran memorization online process into 4 main levels so that you can choose where you fit in. these levels are:
Level 1: memorization of Juz' Amma:
The students can opt for this initial easy level if they are beginners and want to start off with the smaller surahs.
This Juz is further divided into 2 parts for the learner's convenience.
From Surah An-Naas to Surah Al-Balad
From Surah Al-Balad to Surah Amma
Note: The Juz can be subdivided further as per your convenience. 
Level 2: Memorization of Juz' Tabarak:
For those who have completed level one successfully and are willing to continue their Quran memorization classes, we offer the second level that is Juz Tabarak (29th Chapter). 
This Juz can also be further divided into small milestones for the learners' ease as we know small goals are easily achievable.
Level 3: Selected Surahs/ Ajzaa' from Quran:
 If you have or haven't done initial levels and have your own plan to memorize any of the surahs from the Quran, this level suits you the most.
You can discuss your plan with your teacher, she/he will evaluate your recitation, Tajweed, and understanding of verses and then guide you accordingly.
Level 4: The whole Quran (Hifz ijazah is optional):
This is our advanced level for those who have completed all three levels or are just willing to enrol in the 4th level for the whole Quran memorization. 
Our Ijazah-certified teachers are there to conduct this advanced level to make you an Ijazah holder so that you can also get certified to teach Quran memorization online.
5-

Weekly Progress report of our Quran memorization online course:
We are mindful of the fact that assessment is very important in the long-term journey of Hifz Al-Quran. 
The Quran memorization online course is articulated in such a way that students will never forget the portion learned In Sha Allah. 
We assess students regularly and keep a check on the errors. If the previous lesson has flaws, the student isn't given the new verses to memorize. 
That is why at Our best Quran hifz school ,we generate weekly progress reports for all the adults and the parents so that they are kept well aware of their child's headway.
6-

Motivating environment to make Quran memorization online enjoyable:
Our Hifz teachers are experienced enough to create a motivating and encouraging learning environment to make Quran memorization online enjoyable and friendly.
Keeping the fact in mind that memorization is a long-term process that needs a renewal of intention and commitment, a motivating environment proves to be helpful for booster kids who strive in their Hifz journey due to boredom.
Our Quran memorization teachers tell the importance of memorization and rewards and share success stories of young huffaz from different sources to boost the morale of their students to strive to learn more.
Check this out→  online Hifz classes for adults 
It also helps relieve the burden students feel while memorizing the desired part as we do not force our students, but rather give them a break if they are tired or not willing to learn.
7-

How do our Hifz teachers conduct our Hifz classes?
Our online hifz classes are conducted with a proper planner, decided goals, learning patterns, target-tracker, and motivation.
The teacher starts with the recitation of the verse that is to be learned. He/she explains the meaning (depending on the level of the student). 
The student is asked to recite the verse with the teacher first, to see if there is any error or not.
Then, the students recite the verse 5-10 times to get it perfect.
In the next class, the students are expected to recite the previous lesson with accuracy first, and then the same process is carried on.
This is how Quran memorization online course is conducted. Our hifz teachers also advise and motivate students to practice and revise the lesson several times in the day.
They are appreciated to listen and imitating their favorite Qaris to bring that intonation and beautification in their recitation.
Must read: How to memorize Quran online
8-

Memorize Quran online 24/7 at your convenience:
Our platform is not limited to the gulf only, we are available all the time for all the Muslims out there to help them Hifz Quran at home conveniently.
Keeping your time zone and differences into consideration, we are providing you with the facility of 24/7 reachability to opt for a suitable Quran memorization schedule.
We have hired numerous teachers who are available round the clock to guide you and make your Hifz dream come true.
9-

Online Quran memorization monthly competitions: 
To boost up the morale of our students and to motivate them to keep up their best efforts to become Quran Hafiz, we conduct competitions among students of the Online Hifz Quran program. 
Quran memorization competition is announced months earlier with full details of Surah/juz names to let students prepare the best they could.
Once the results are shared, the participants with distinct positions get cash prizes, discounts and certificates for being the best in the test. Other participants are also presented with participation certificates to encourage them.
10-

What are the requirements for doing Quran Hifz online?
To start the blessed and spiritual journey to memorizing Quran online, the students need to have an intention and self-commitment because memorization is a long-term process that needs a renewal of intention every other day.
Secondly, for each of our levels, there should be a specific knowledge of Quran reading unless you want to memorize short Surahs only. this is because we have skillfully devised our levels according to our students' ease.
You need to have a Mushaf with highlighted Tajweed rules that will make you read your lesson carefully and easily. We suggest keeping only one Mushaf to avoid confusion while memorizing.
Also, when you are starting your hifz journey you need to totally cut out all the worldly distractions and haram-listed things that shaitan put in your way to mislead you. Like: 
Listening to the music, 
Gossips with friends, 
Late night partying, 
Eating or drinking that is forbidden, etc.
The reason for this is to keep you chaste for this noble journey and to unite you with Allah's blessings.
11-

2 FREE trial classes with 2 different teachers of Hifz Quran:
If you are skeptical about whether or not to get enrolled with us, we provide you an opportunity to avail our offer of 2 free trial classes with 2 different hifz teachers.
You can attend the trial with both the teachers and decide on your own which teacher are you comfortable with to carry on. We are sure you would love to carry on your Hifz course with us.
12-

Regular t

ests and quizzes in our online Quran memorization course:
To keep a thorough check on our students' ongoing progress, we assess them through quizzes and Quran memorization tests online.
Hifz students are evaluated through different test styles to check their fluency in Quran hifz. They are given ayahs from the beginning, middle or the end to continue recitation.
Quran memorization tests online are meant to keep our students focused and alert by practicing to revise their lessons properly with accuracy.
13-

1 to 1 personalized online Quran memorization classes:
The Quran cannot be memorized forcefully. Keeping the ability, pace, and tendency factor of every single individual under consideration, we have brought a customized Quran memorization plan for each student where they are taught individually.
In our 1-to-1 online Quran memorization classes, the hifz tutor pays full attention to an individual to bring out drastic results.
It helps the student interact with the teacher without hesitation and ask to assist if he/she needs any help.
One-to-one classes not only let learners focus more but also keep them away from distractions occurring in group classes by students.
14-

Quran memorization certificates and rewards:
We appreciate the hard work of our students by rewarding them. The toppers are presented with gifts as well.
We present cash prizes too for the best students overall as it is important to keep them on track.
At the end of this course, all the regular students are given Quran memorization certificates. These certificates could be later used by them if they wish to apply as online Hifz tutors.
15-

Our methodology for this online Quran Hifz course:
To memorize Quran efficiently and to retain it forever we have listed below 3-pillars that will eventually prove to be helpful throughout the learning journey in online Quran hifz course.
| | | |
| --- | --- | --- |
| Memorization | Old revision | New Revision |
| Listen to the lesson 3 times read out by the reciter. | Reciting from memory the portion learned few weeks or a month ago. | Reciting from memory the portion learned a day or two ago. |
Once the student of Hifz Al-Quran understands and instills these pillars with the help of professional Quran Hifz tutors, he/she will start enjoying the process.
16-

Enjoy memorizing Quran online with our innovative techniques:
Hidayah Network believes in innovative and result-driven Quran memorization approaches. We have designed our strategies with the help of our very talented and experienced Ijazah-certified teachers. These strategies have proved to be super engaging and helpful in the Quran memorizing period.
Recitation perfected in Quran memorization course:
As we know it is really challenging for the non-Arabs to pronounce and recite according to the tajweed rules, we have devised a strategy for them to get perfection in recitation and then step into the Quran memorization course.
Identifying personal learning techniques in Online hifz Quran:
As stated earlier, every student has his/her inclination. Our Quran memorization teachers held this fact in mind and have provided 3-personal learning techniques for online hifz Quran.
Rot-learning:

Where students feel easy to learn as he/she has been taught.

Auditory-learning:

Where students like to listen to the reciter's audio to learn his lesson.

Visual-learning:

Where students prefer looking at the text and learning by putting a finger on each word.
Memorize Quran online with target tracker:
Every student is motivated to set his plan and hit the daily/weekly target to stay on track to memorize Quran online. This technique helps in bringing discipline to life. 
It also gives you an idea about the total time duration you require to finish your desired portion.
Meaning of the verses and reason of revelation:
You can never get interested in something you don't know the meaning of.
The expert Quran memorization teachers make sure that the learner knows the meaning and the reason for the revelation of the verses they are learning.
It will trigger interest and curiosity in them and they will surely love to move on to learn everything.  
Study-buddy technique in online Quran hifz classes:
How about providing support to your friend by listening to his/her Quran hifz lesson or by reading your lesson to your friend in online Quran hifz classes.
This technique helps the students in delivering 100% correct lessons, by recognizing their mistakes, underlining them, and then avoiding them in the future. 
Revision of hifz lesson in Salah:
Our learned online hifz tutors always suggest reading the memorized portion of the Quran in your daily Salahs.
It helps boost recitation with tajweed, makes your hifz accurate, and your retention span increases.
Audio/video support for hifz lesson:
Once the teacher makes the student recite the lesson, the audio of the best Quran reciter for memorization is played again and again until the lesson is learned with intonation.
Setting the target to learn and memorize Quran:
For every student, a specific target to learn and memorize Quran is set by keeping the learning and retaining capacity in mind. These milestones are achieved on a daily, weekly, monthly, and yearly basis.
So, if you are worried about how to Hifz Quran easily, enroll with us today for this course in becoming a hafiz.
17-

Affordable fees for our Quran memorization classes:
Providing an amazing platform for Quran memorization online we are pleased to announce that our course is quite pocket-friendly not only for single students but for multiple students from the same family.
We offer discounts for second and third students from the same family enrolled in our courses.
We have different packages for families according to the time period you can attend the lesson in.
Pay a thorough visit to our pricing list on our website to see the economical rates we are offering.
18-

The amazing outcomes of our Online Quran memorization program:
This course is designed to achieve some outcomes. All the teachers of this course put in their utmost efforts and hard work to meet the targets set in the beginning. These outcomes are:
Increased capability of memorization by learning effective hifz techniques.
Not to forget surahs memorized by following unique hifz strategies.
Achieved the goal of memorization in the

online Hifz Program

.
Applied all the rules learned in

online Quran memorization classes.
Beautified voices by constant practice and imitation of Qaris.
Understood the overall meaning of the surahs memorized.
Capable of reciting the Quran from wherever he has been asked.
Brought change in the overall personality after the memorization.
Capable of teaching others around him/her how to memorize easily. 

Learned all the tajweed rules perfectly in

online Quran hifz classes

to apply while recitation.
FAQs about our Quran Hifz course?
Is there any age limit for Quran memorization online courses?
No, there is no such age limit for Quran memorization online courses as we offer multiple levels that are age-appropriate and you can modify the syllabus for your convenience.
Can we get enrolled with a friend to study in a group?
Yes, why not! We offer group classes where the participants are limited to four members only so that the teacher can focus on everyone properly.
Also, we appreciate if the group members are of the same age, this helps in the motivation and the lesson also remains almost the same for everyone.
Are the lessons recorded?
No, the lessons are not recorded but live one-to-one. In our 1-to-1 online Quran memorization classes, the hifz tutor pays full attention to an individual to bring out drastic results.
It helps the student interact with the teacher without hesitation and ask for assistance if he/she needs any help.
What is the duration of this course?
It mainly depends on you! 
Keeping the ability, pace, and tendency factors of every single individual under consideration, we have brought a customized Quran memorization plan for each student where they are taught individually.
Can I memorize the Quran on my own?
No, we won't recommend you to memorize on your own as you need to learn Quran tajweed for memorization. You might make mistakes without proper guidance from a teacher.
Which app do you use for hifz Quran course?
We use the ZOOM app for our online hifz classes and other courses as it has the best features that are used by the hifz teachers.
Conclusion:
It is a great imperative that we have on our shoulders to work on Quran memorization online to produce highly talented huffaz, who are trained under the supervision of our online hifz tutors, in the best available time, and are equally capable of playing their religious role in society. We, along with our team and hardworking students will strive to achieve our goals. Inshaa ALLAH