Reading the Quran in a native or plain tone doesn't bring the charm that we feel in the recitation of qualified Qaris. Quran recitation is a different and mandatory branch of Quranic studies that makes you excel in your pronunciation and Tajweed to give you the gift of a mesmerizing voice.
Hidayah Network has come up with a golden opportunity to make you understand and learn the science of recitation by enrolling in the best online Quran recitation course conducted by our qualified and certified tutors who have taught hundreds of students globally.
You will learn to recite the Quran correctly like Prophet Muhammad SAWW by following all the Tajweed rules as we staunchly believe that Qira'a and Tajweed go hand in hand.
About Our Online Quran Recitation Course
Whether you are a beginner or already know how to read the Quran, the course opens with the very basic Arabic alphabet reading. This is done through the projection of all the articulation points of the letters.
We will teach you how to utter the Arabic letters correctly through constant practice exercises on how to move your jaw, tongue, and lips while pronouncing the letters.
Once you utter the letters as natives do, you will move on to the Quranic words joined together. This course aims at making your Quran reading flawless with the jewels of Tajweed. At the end of this course, all the students will be reciting Quran like a pro-Qari in a beautiful voice.
From letters to proper Quran reading, everything is designed skillfully with activities, tests, quizzes, and revisions to bring the change in tone that non-Arab Muslims desire to have.
What You Will Learn in Our Recitation Course?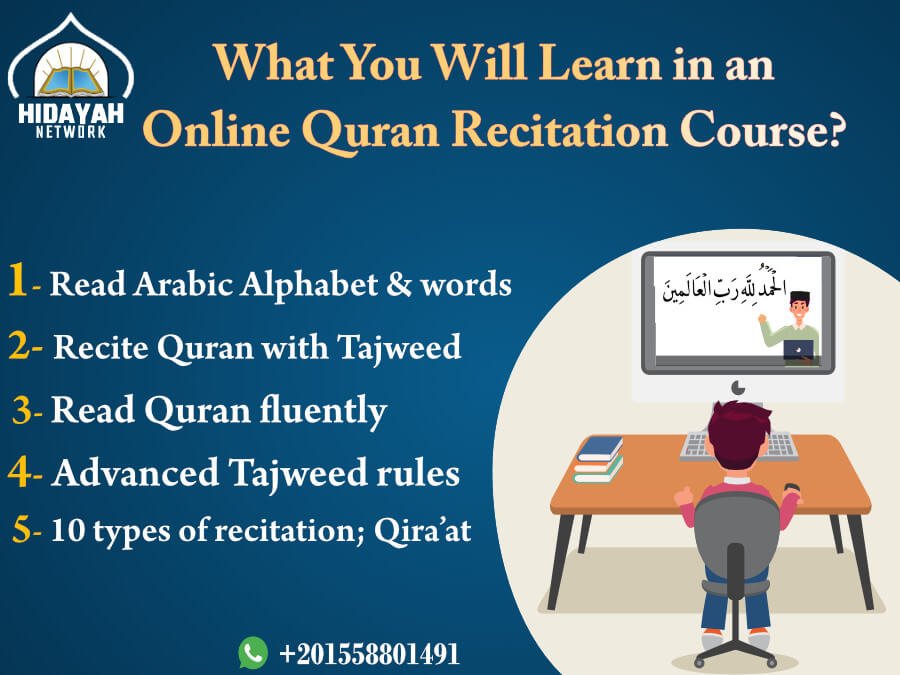 1- Learning How to read Quranic Alphabets & words
You will learn the correct articulation points of each letter and read the words accurately like natives.
2- Learn to recite Quran with Tajweed
The basic Tajweed rules are meant for proper Quran reading without any errors. You will learn to reicte Quran online with Tajweed, and mainly focusing on implementing all Tajweed rules perfectly.
3- Learn to read Quran fluently
With constant practice and revisions, you will gain fluency in reading Quran by reciting verses without missing any rule.
4- Learn Advanced Tajweed rules
With the progress in fluency, you will learn the advanced Tajweed rules like the pauses, rules of joining similar or unlike words, etc
5- Learn 10 types of recitation; Qira'at
There are 10 ways to recite Quran and the 7 of them are the most accurate forms. The reciters belonged from different areas and hence brought slight variation in recitation. You will choose the type you want to learn and practice it.
1-on-1 Personalized Online Quran Recitation classes
Complete your recitation plan in our personalized 1-on-1 Online Quran recitation classes where you will learn all the rules with back-to-back revisions with your teacher in full attention.
The following points are enough to convince you to a customized class.
➡️ It will help you focus on your recitation and improve it quickly.
➡️ It will enable your teacher to work on your weaker rules more and help you become a pro.
➡️1-on-1 class helps clear out any confusion right away. Do not wait for your turn to ask questions.
➡️️Follow the plan as designed, there will be no delay in the daily lesson as you have plenty of time every day to work on it.
Levels Of Our Quran Reading Classes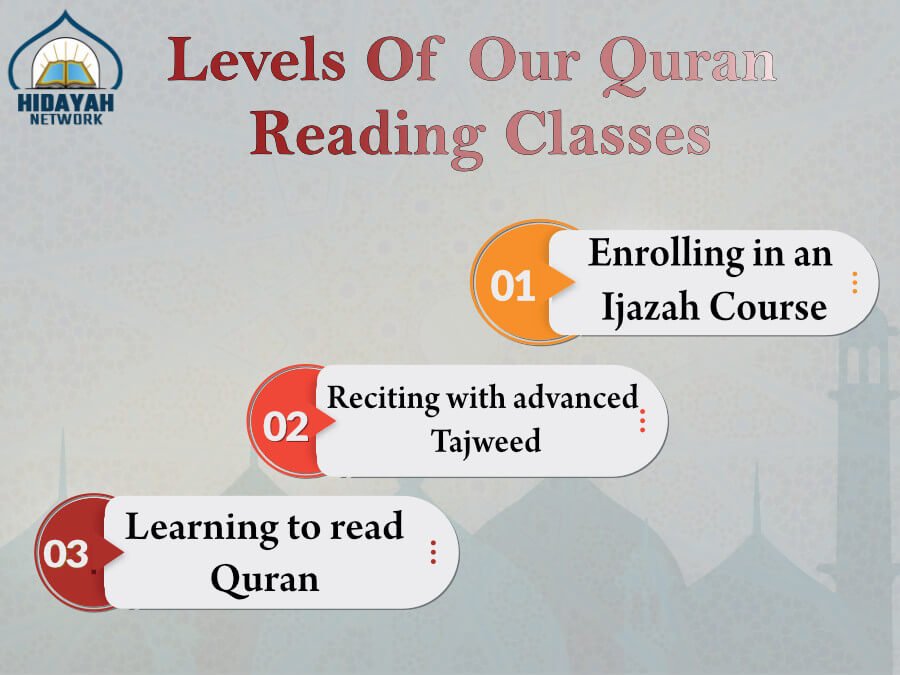 Recitation is a very different and tough skill to excel in. Where it requires a lot of practice and revisions, it certainly needs a breakdown of the whole part into smaller milestones to be achieved with accuracy.
We at Hidayah Network have divided the curriculum into 2 levels for our Quran reading course which are:
Level 1: Learning to Read Quran with Basic Tajweed Rules
You will learn how to read Quran fluently without pausing much. The fundamental tajweed rules of this level will help you perfect your errors in pronunciation and articulation points.
Level 2: Reciting the Quran with Advanced Tajweed Rules
You will be able to read Quran perfectly and professionally after learning all the advanced Tajweed rules that are mandatory for recitation. These rules are only understandable and practice able if you have flawlessly cleared level 1.
Level 3: Enrolling In an Ijazah Course
Finally, upon clearing both levels you can proceed towards enrollment in an Ijazah course where you will excel further in all 10 Qiraat and get formal permission to teach others.
Outcomes Of Our Online Quran Recitation Classes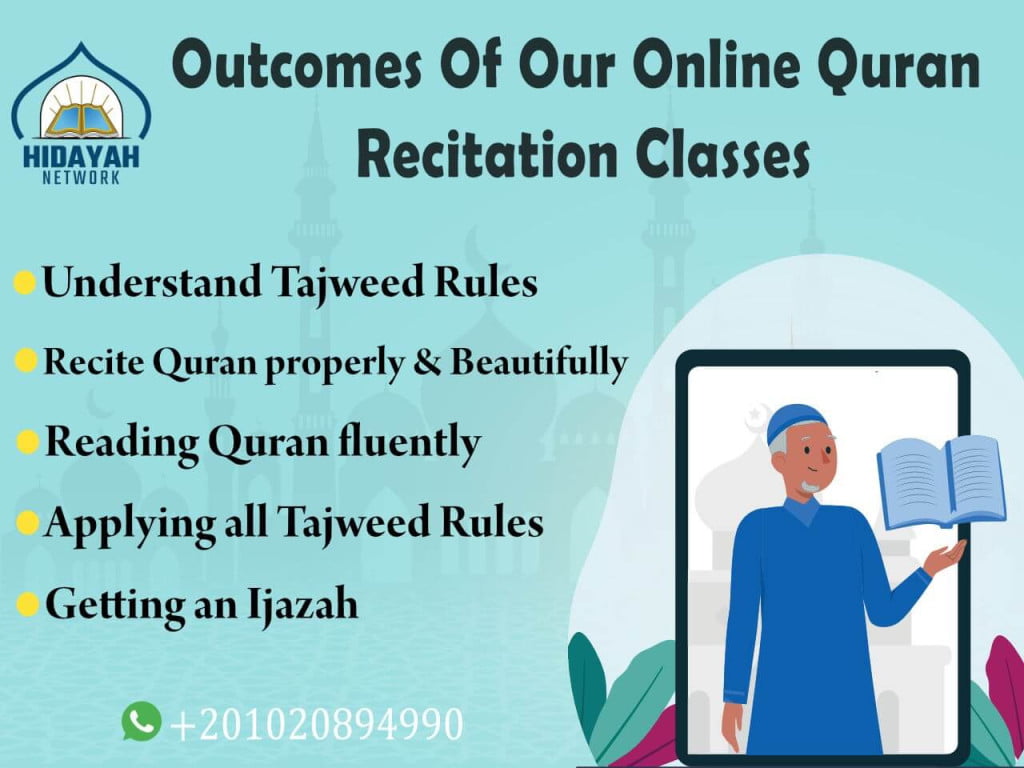 The following few practical outcomes are mind-mapped before the course is formally started.
➡️To make the students understand the Tajweed rules easily through activities.
➡️To make students capable of applying all the Tajweed rules with accurate Makharij of Arabic letters.
➡️To confidently recite Quran with the Tajweed rules.
➡️To excel in recitation and get an Ijazah.
➡️To recite Quran with intonation and be as mesmerizing as their favorite Qaris.
➡️To make students habitual of practicing lessons with Tajweed so that they can recite Quran beautifully.
Who Can Join These Classes?
To get enrolled, the students must have completed our Quran for Beginners course which is based on the foundation of the Tajweed rules.
The following users can join the classes,
➡️Those who have the basic know-how of the Tajweed through our beginner's lessons.
➡️Anyone keen to learn to recite Quran for beginners by applying all Tajweed rules.
➡️Those who want to learn to recite with advanced Tajweed rules and get an Ijazah.
➡️For someone who just wants to refresh their recitation but has lots of errors in tajweed, we will help them practice and revise and then begin the classes.
Certified Tutors to Teach You to Recite Quran with Tajweed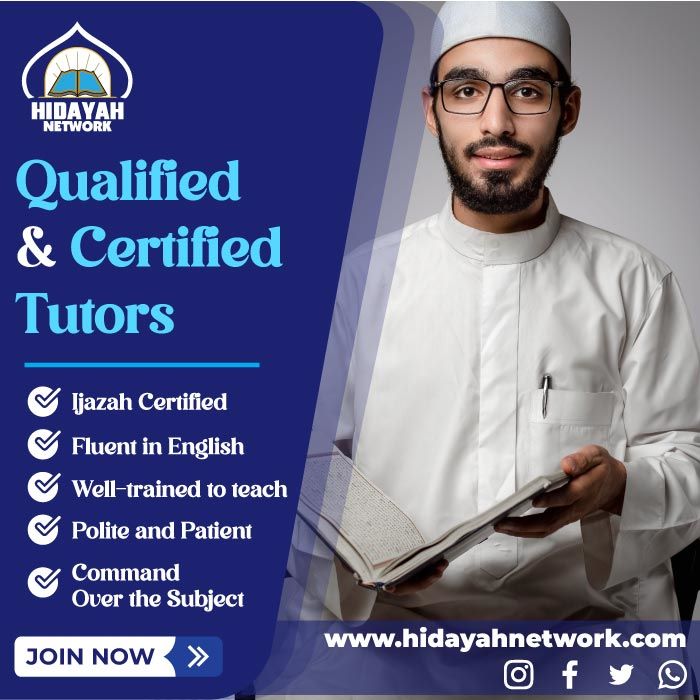 Hidayah Network has hand-picked tutors who excel in this field and are working with a 5-star rating. The following are the notable qualities of the tutors conducting the Qir'ah course.
➡️They are native Egyptians and naturally have an exceptional recitation.
➡️They are fluent in English to cater to students from different parts of the world.
➡️They speak very clearly and confidently to make the lessons easily understandable.
➡️They are Ijazah certified and are beyond excellence in their recitation.
➡️They have 5+ years of experience in teaching the Quran and already know how to make lessons engaging and easy.
Why Choose Us to Improve Your Quran Reading?
Certain salient features make us worth the hype on the internet.
24/7 Availability for Quran Classes
Whether you are running a business or doing a job and do not have time in between your working hours, we offer the facility of 24/7 availability of our teachers to make you learn to read Quran with Tajweed at your convenient time.
Quran Recitation Certificate
At the end of this course, a grand test and recitation demonstration will be held to check your learning. You will be awarded a certificate that is signed and stamped by the supervisor and the course teacher.
Report Card After Every 2 Weeks
To make the course exceptional and flawless, we generate a report card after every 2 weeks in which we give a detailed summary of the student's standing. The points we discuss in the report card are:
✅The errors in the Tajweed and Makharij.
✅The points in the verses where more practice is required.
✅The intonation and sound practice if required.
✅Breathing practice for the continuation of reading if required.
✅Plan for the next 2 weeks
500+ Tajweed quizzes
Sign in to your digital account and solve more than 500 Tajweed quizzes to excel in your recitation. These quizzes will help you practice more.
Practice Tests of Recitation in front of the Expert Qaris
To make your lessons extraordinary and to help you recite and learn Quran fluently, we arrange test sessions with the Qaris who examine and give you tips about how to make your recitation perfect.
Structured Plan to Read With Tajweed Properly
Hidayah Network offers a structured plan for you to learn according to your wish. If you want to learn the recitation of any specific Surah or even Juz, your teacher will make a plan for you by dividing the lessons into the number of classes you will take per week.
Frequently Asked Questions