People who are looking out for a credible place to join Online Islamic classes but are highly time-packed on weekdays can rejoice in the blessing of Weekend Islamic School by Hidayah Network. This is an amazing all-in-one institute that caters to all the needs and demands of Muslims living all around the world.
Weekend Islamic School is for all ages and backgrounds. There is no time constraint, like typical schools, for the classes as well.
The Vision of Weekend Islamic School
We envision providing such a place where Muslims can easily come to attend all Islamic and Quranic courses to enhance their knowledge, grasp more details regarding Islam, and build a strong connection with Allah. The best thing is you can learn everything on weekends when the rest of the schools are off. This school is one in a kind that focuses much on personality development through tarbiyah. It is our mission to enlighten you with accurate and authentic Islamic education at the ease of your homes.
To inculcate Islamic values in kids through our Quranic Programs is what we focus mainly on.
Learning Goals Of Islamic Classes
Hidayah Network is one of the leading Islamic Schools that has some learning goals for weekend classes both for kids and adults.
Helping students stay on track after the whole week off.
Enabling them the environment where they could learn Quran easily.
Developing the bond between students and Quran.
Motivating them to learn more as they have only 2 days for classes.
Instilling Islamic values and knowledge through Quran courses.
Assisting them to smoothly read, recite, and memorize Quran.
Qualified Tutors For Kids And Adults
The hiring policy plays a vital role in the success of the tutors' premium providence. Hidayah Network chooses only the best ones who have passed the entry exam.
Their origin is Egypt and they speak Arabic amazingly.
They are certified in teaching Quran by eminent scholars of Egypt.
They are adept at teaching Quran, Islamic studies, and Arabic to all ages.
They are available on weekends 24 hours when the other teachers are not.
Their teaching methods are very efficient as they have to finish the course in less time.
Their fluency in English and Urdu is another great quality to mention.
How We Cover Syllabus In Weekend Classes
As it becomes intensive and extensive to cover the syllabus by only teaching 2 days a week. We expect students to be more organized, disciplined, committed, and focused. It is a double-sided hard work and we have successfully assisted many users to complete their courses in a year by attending classes on Saturdays and Sundays. What we mainly do is:
Make a realistic syllabus plan.
Break down the syllabus into small levels.
Split the levels into days (Saturday & Sunday) of the month.
Offer double classes or an extended class of 90 minutes.
Start from the easy lessons and give tasks for the weekdays.
Finish the revisions in the 1st 10 minutes of the lessons.
Track the goal efficiently and get benefitted from time if the student willingly increases the duration.
activities like listening to audio, and watching animations or documentaries are given to the students to complete anytime on the weekdays, and inform them when done. They are asked about those activities in the class.
Structured Curriculum For Kids And Adults
It becomes mandatory to structure the curriculum of weekend classes as our school focuses on the main themes, topics, and subjects first. The whole syllabus that the student has personalized is structured by dividing them into the number of lessons per month.
Kids Studies for Kids course take a bit longer than adults' as we prefer conducting activities in the class to keep them engaged.
All the weekend Quran classes are organized and students are given a roadmap about their journey and an idea about when could they complete the entire course.
Courses Offered In Weekend Islamic Classes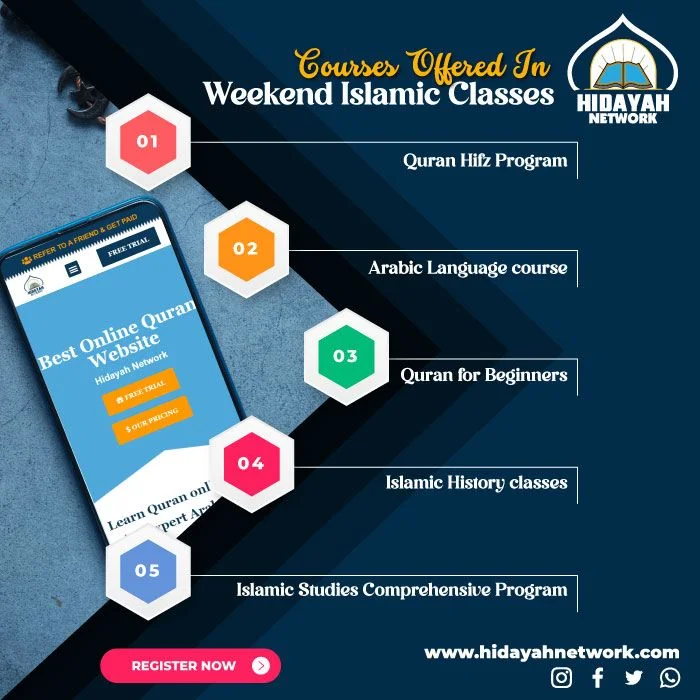 We offer several courses in Quran, Arabic, and Islamic Studies, both for kids and adults. Some of them are named here.
Quran Hifz Program
Tajweed Course for Kids and Adults
Quran for Beginners
Online Recitation Course
Islamic History classes
Arabic Language course
Islamic Studies Comprehensive Program
Features of Online Islamic School
The facility of Male and Female Teachers
The facility of Double Classes On Saturdays
All-Time Reachability for Courses
Group Classes Available
Fewer rates, More Offers
Certificates Of Islamic Courses
Portal accounts for tracking progress
One-on-one classes available
Rescheduling of lessons if missed
Recordings of Recitations available
Free printable worksheets and course materials
Conclusion
Our school has an innovative approach of convenience for kids, students, job holders, working males and females, and old citizens. We try to cater to all our brothers and sisters through our weekend Islamic school to help them connect to the Book when free. Grab our free trial for any course and feel free to contact us for more information.
Frequently Asked Questions
1- Do you take tests in weekend lessons?
Yes, tests are the main part of the courses. The schedule for tests is shared when the plan is prepared.
2- How do you help memorize Quran on weekends?
We have several full-time and intensive hifz courses that are designed to help memorize easily. But it requires extra effort and time from students.
3- Can my 5-year enroll in any weekend course?
Yes, kids are kept engaged through weekend courses and they enjoy being a part of them.
4- How do you manage your classes?
Our teachers are very regular and punctual in this regard and do not waste a single second. They efficiently and effectively follow the lesson planner and reach their daily targets easily. If any objective is not achieved in the desired time, they work hard in the next class to achieve all goals.