Part-Time hifz course is an intensive and extensive plan which requires time, dedication, a serious outlook, and consistent hard work. All those people who want to memorize Quran online smartly by giving around 2 hours daily, can join this course. Our huffaz tutors are here to assist and guide you on every step by motivating and boosting your morale.
Part-time hifz course will not only let you memorize but also improve your Tajweed and Arabic pronunciation to make your recitation perfect. We at Hidayah Network strive to provide a multi-featured program that is easy for everyone to enroll in.
Prerequisites Of Part-Time Hifz Program
This course is open for kids and adults, males, and females who are passionate enough to pursue their hifz goals efficiently by dedicating a good amount of time other than their work or studies. The must-have points for students are:
Prior knowledge about Quran reading or having attended a Noorani Qaida course.
Must be familiar with basic Tajweed rules.
Manage to give extra time daily to have good retention.
Avoid unnecessary delays in classes and unusual off days.
Available 6-7 days a week for 1.5-2 hours class
Learning Outcomes Of Part-Time Hifz Course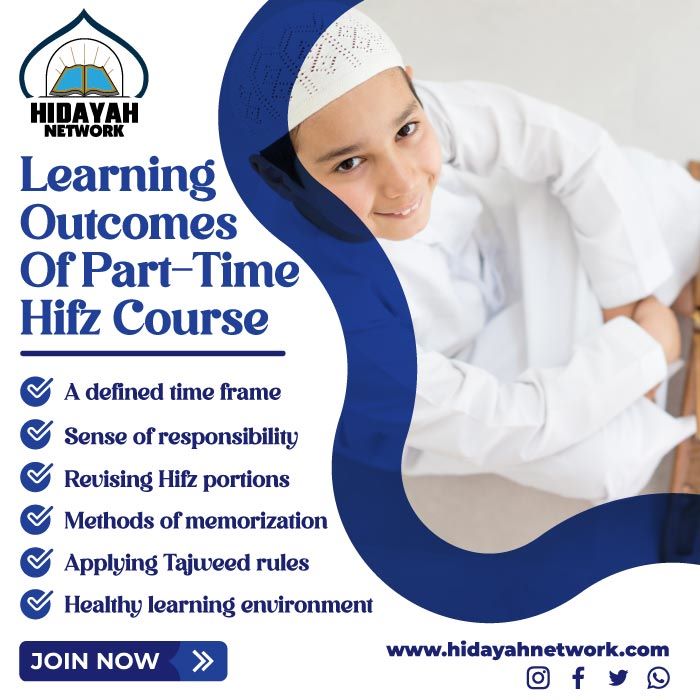 The outcomes are mandatory to achieve as the success of the course depends on the accomplishment of objectives defined before.
Providing a healthy learning environment where hifz is done with ease.
Enabling students to follow the plan of their choice in a defined time frame.
Developing a sense of responsibility to reach the goals in time efficiently.
Applying Tajweed rules accurately while reciting and learning verses.
Revising Hifz portions more than 5 times daily for excellent memory retention.
Be able to apply different methods of memorization that help learn fast.
Our learning outcomes are the same as our intensive hifz program.
Levels Of Hifz Classes
Level 1: The Beginners Stage
At this stage, the students will be exposed to the hifz lessons at a mild pace to make them get used to the new routine. This stage will begin after the hifz plan is prepared with mutual discussion. You can start the course with easy surahs of Juz Amma and gradually move toward the difficult ones.
After a quiz-based test, you will be promoted to the next stage where the level is a little higher than the old one.
Level 2: Intermediate Stage.
Upon reaching this level, your pace and capacity would have increased and so is your daily verses limit. You will memorize a large portion of your hifz learning plan and get promoted after a test. This level is tough as you need to give more time to your old revisions and have to learn new verses daily. The number of verses memorized daily will also increase as the level advances.
Level 3: Extended Hifz Stage.
The last stage is extended and advanced because now you have become habitual in learning Quranic verses by revising the old ones. If you are memorizing the whole Quran or a large portion, this is the stage of completion and revision. Push beyond the bars and reach the target in a short period.
Who Will Conduct This Course?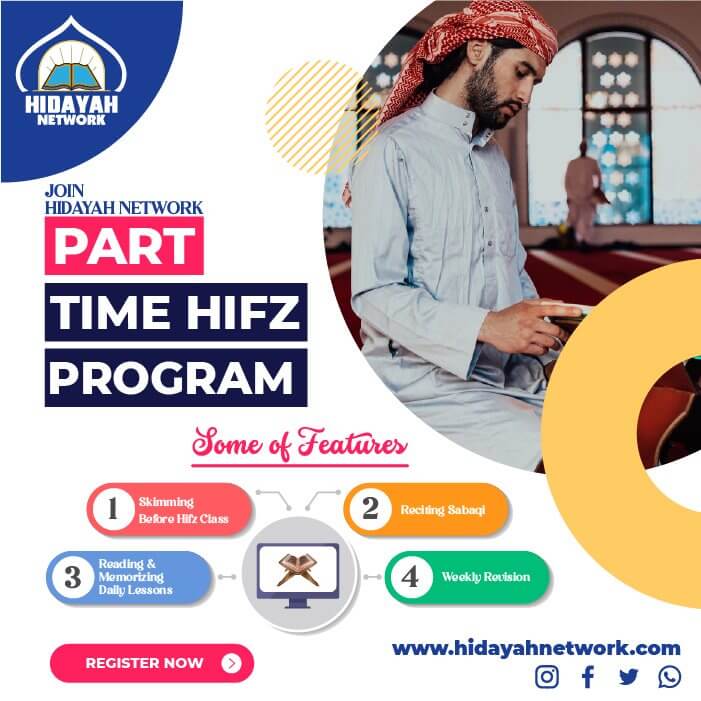 The tutors hired by Hidayah Network to conduct the part-time high course are not ordinary ones. They are taken on board after a detailed scrutiny and sample class demonstrations. All the male and female Hifz tutors are:
Native Egyptians with a phenomenal Arabic accent and Tajweed.
Huffaz with a degree in Ijazah and has memorized it in a short time.
Graduated from renowned Islamic universities in different subjects and have a good grip over all Qiranic Categories.
Fluent in English, Urdu, and Arabic, and communicates very well with students from different countries.
Experienced in teaching Quran online and helping thousands of Muslims memorize with amazing retention.
Well-aware of efficient hifz methods and devise strategies to reach the goals smartly.
How do Part-Time Hifz Classes work?
Free Trial Assessment
You have to take a free hifz class first and see how the teacher conducts the lesson. Your prior knowledge, capacity, interest, age, and availability will be assessed and considered for the hifz plan.
Portion Opted for Hifz
You are in authority to opt for the desired portion of the Quran or the whole Quran to memorize. Your teacher will make a plan for you according to the classes you opt for per week. Once the plan is ready, you are all set to start.
Selection of the Hifz method
Various hifz methods are suitable for different types of learners, so, the teacher will see which suits you the most and how well you adapt it.
Old and New Revision Pattern
As you will advance, the old and new revisions will also increase and you will need a proper pattern to follow to revise all the memorized parts daily.
Tests and Evaluation
Students will be evaluated through frequent quiz-like tests and with time they will appear in exams invigilated by external teachers.
Weekly Reporting
A report card is generated at the end of the week that emphasizes the errors and weak areas. The teachers discuss the points and give this to overcome them.
Features Of Part-Time Hifz Course
Well-Structured Course
Our part-time hifz program is very well-structured according to the duration of the course, length of the classes, number of classes, and availability of students for revision classes. Everything is planned to avoid any confusion. Our online classes are haste-free and students achieve their targets easily and smoothly.
Personalized Curriculum
All the students can design their plan, whether it is a surah, a single juz, or the whole Quran. Fix a finish time for your plan and get started right away. We provide plans for different Surahs and juz to be completed in 6 months, 3 months, and even one month.
Flexible Timings
You are not bound to attend the class at a fixed time daily. Rather, enjoy memorizing the Quran at the time of your choice from any country. We are always available.
Weekend Classes Facility
Now you can arrange your classes on weekends too. If you want to attend double classes on weekends, that is also feasible for us. All we need is your time and dedication.
Male and Female Huffaz Tutors
Sisters can hifz part-time with a female instructor if they are not comfortable studying with a male teacher. These teachers are highly qualified and beautifully teach Quran.
Hifz Certificate
A certificate is allotted to all the students of this course and will be signed by the supervisor and the course teacher. This certificate is proof that you have memorized Quran with an intensive plan.
Easy Hifz Methods
Our hifz methods are very easily applicable to all ages. Some of the common high methods adopted by our tutors are:
Back and forth way
Downside up method
Traditional hifz method with rot learning
The Ottoman custom of hifz
Repetitive techniques, etc
Conclusion
Whether you opt for the whole Quran or any part of it, this course will help you achieve your targets quickly with double the hard work and commitment. We are present to guide you and make your goals easy to achieve. Grab a free trial class of online hifz classes and learn Quran at home with ease. Unlock these features of part-time hifz classes with affordable pricing.
Frequently Asked Questions