Adult males and females can learn to read Quran from the basics through our online Noorani Qaida classes that are designed comprehensively. These classes will teach you the basics of the Quran with a perfect accent of Quranic Arabic used by natives.
Noorani Qaida course for adults by Hidayah network is very well-structured and comes with flexible scheduling. Our certified Egyptian tutors conduct these classes in a personalized way with multiple strategies and techniques. Our Qaida activities will help adults learn to read Quran smoothly and effortlessly
Noorani Qaida Course for Adults Description
Noorani Qaida for Adults intends to enhance their skill in Quran reading.
➡️ This course is for all male and female adults who can spare time for Qaida classes.
➡️ The syllabus is divided into 3 levels to make the course manageable and easy.
➡️ All the 30 chapters of Noorani Qaida have tech-based activities, games, quizzes, and tests.
➡️ We offer personalized one-on-one and group classes for noorani qaida for both males and females to learn in an interactive and motivational environment.
➡️ Tests, quizzes, and competitions will be pre-announced and students can easily prepare during their classes.
➡️ The certificate of the course will be awarded to all the regular students who have completed their credit hours.
Learning Objectives of Noorani Qaida Classes for Adults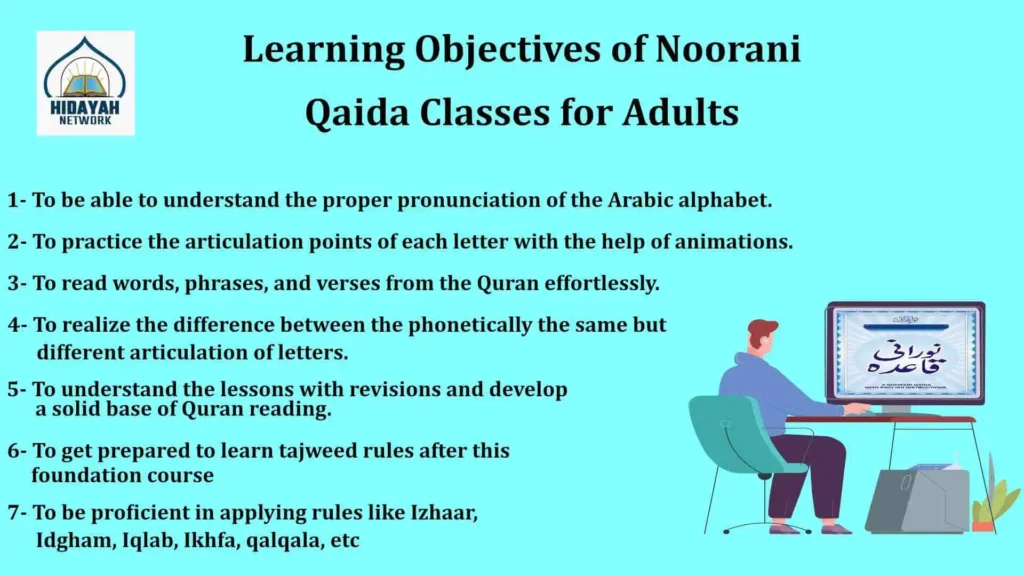 Noorani Qaida is the main component of Quran reading for adults, it will help set a base. So, we have some calculated objectives for each topic to learn noorani qaida for beginners. Our tutors manage to achieve all the goals through their unique teaching strategies.
➡️ To be able to understand the proper pronunciation of the Arabic alphabet.
➡️ To practice the articulation points of each letter with the help of animations.
➡️ To read words, phrases, and verses from the Quran effortlessly.
➡️ To realize the difference between the phonetically the same but different articulation of letters.
➡️ To understand the lessons with revisions and develop a solid base of Quran reading.
➡️To get prepared to learn tajweed rules after this foundation course.
➡️To be proficient in applying rules like Izhaar, Idgham, Iqlab, Ikhfa, qalqala, etc
One-on-One Personalized Qaida Lessons for Adults
Our one-on-one personalized lessons of Qaida for adults intend to help individuals who prefer a single-student class to learn at their own pace. Our tutors analyze your learning tendencies and aptitude, according to which they use multiple teaching strategies to assist you in learning the rules.
Hidayah Network is known for its customized class plans where adults can join at ease and study on the days that suit their routines. The lessons of Qaida Al-Noorania need a lot of practice, which is why a personalized class is better for adults.
You can even arrange your lessons only on weekends as there is no one else to join a class with you. Read, revise, and excel without any hesitation.
3 Basic Levels of Qaida For Adults
We have divided the curriculum of Noorani Qaida for adults into 3 levels that serve as milestones to achieve easily. All 3 levels are further divided into small units based on the chapters and their exercises.
Level: 1
This is the very beginning of the course where adults will be introduced to the Arabic alphabet, their exact articulation points, proper pronunciation, and the addition of movements (harakah) on the letters. You will also learn some basic rules of reading these alphabets.
Level: 2
After a test of the initial level, the students will learn some more concepts and rules from Noorani Qaida with activities and exercises to make them very easy for non-Arab learners. At this level, you will be able to read words and phrases with correct pronunciation.
Level: 3
Pass the test of level 2 and move forward to reach this advanced level where you will learn some rules that will make you a smooth Quran reader. This level will teach you how to read the Quran verse by verse with proper basic rules of shaddah, ghunna, made, saakin, etc.
At completion, you will appear in the final test of all the topics of Noorani Qaida. You will enjoy learning Qaida with us!
What Will You Learn in the Qaida Course?
We have chosen Noorani Qaida and Yassarnal Quran, the two amazing booklets for learning Quran reading for adults. The topics are not just taught as in Qaida itself, but supported with exercises, activities, and other educational resources.
➡️ Learn the phonics of Arabic letters through animations.
➡️ They will understand the types of letters; throat, nasal, heavy, light, etc.
➡️ Learn how to join and connect letters and what change would be applied to the elongation of each letter after joining.
➡️ Learn to join letters to form a word and join words to make a phrase.
➡️ Learn to smoothly join words to read a verse properly.
➡️ Learn to apply rules like qalqala, ghunna, shades, made, and other rules efficiently.
Structured Curriculum For Adults to Learn Noorani Qaida
We at Hidayah Network have taken 3 top Qaidas to structure our curriculum for adults. The topic list from Noorani Qaida, Noor Al Bayan, and Yassarnal Quran is intermingled with the skillful arrangement of lessons, activities, tests, and practical exercises.
We take into note your availability, capacity, and inclination before organizing the whole course. The duration of the program is also important to note as we help you complete Noorani Qaida in different times like 2, 3, and 6 months.
Why do Adults Choose Hidayah For Noorani Qaida?
Experienced native Egyptian Tutors
Our tutors are selected on the qualities that a few possess to qualify.
➡️ They must be native Arabic with exceptional tajweed and grip on the Quran recitation.
➡️ They must have 5+ years of online Qaida teaching experience for adults around the globe.
➡️ They must be fluent in English and have a clear accent that is easily understandable for Western students.
➡️ They must be Ijazah Certified from a reputed and known Islamic institute.
➡️ They must know and apply different online teaching strategies that help adults grasp the lesson quickly and effectively.
➡️ They must be tech-friendly to save time and bring out good results with online activities.
Mind Maps of each chapter
Before starting the planned lesson, our certified tutors prepare mind maps to provide as many examples from the Quran as possible. These mind maps help students understand the topic quickly and identify rules in the Quran while reading.
Monitoring of Classes
We monitor each side of class with the help of experts who are 24/7 available online to provide the assistance needed for:
➡️ Internet stability
➡️ Smooth transition from one activity to another
➡️ Scheduling trial classes and tests
➡ Record lectures for students who ask for them.
Tests and Certificates
Noorani Qaida for adults has tests after each level and sometimes weekly too. Each regular student will get a certificate of being eligible to enroll in tajweed or recitation classes as they are done with the basics through the Noorani Qaida course.
Separate Revision Sessions
For desired results and a flawless grip on each lesson, we offer separate revision sessions at the end that mark the end of the course and make students read the Quran perfectly. These revision sessions help work on articulation points once again to be as good as native Arabs.
Activities with Audio/Visual Resources
We don't teach Qaida as it is, rather let students get involved in practice activities that are based on audio listening, imitating, watching visuals, etc. The more you listen to the qaris, the better your pronunciation will be. We make sure it is done smoothly in class time.
Use of Colorful Noorani Qaida
The colorful print of Qaida has different colors for different rules. Hence, making it easy and interesting for non-Arabs to consciously apply rules according to their colors. It is helpful for beginners who find it difficult to recall the exact rule.
Join Hidayah Network
Hidayah Network not only offers the benefits of learning Noorani Qaida to adults but kids and ladies too for learning Noorani Qaida to start reading the Quran. This first step is successfully fulfilled to pave the way for other classes of tajweed. Enroll to join in the flexibility of timing after a free test class from any of our qualified tutors. You will enjoy learning Qaida with us!"