Islam is a basic code of life and guides every aspect one might consider. Whether you are a beginner or already have some knowledge about Islam, you must strive to learn this beautiful religion to lead a righteous and prosperous life that will benefit you in both worlds.
Being Muslim, one must consider learning all about Islam from a credible platform that delivers the best online Islamic classes not only for adults but for kids as well.
Here we welcome you to the best online Islamic school Hidayah Network which excels in providing amazing and well-structured Islamic courses to cover a wide range of topics. Our Islamic courses are designed in a way to suit the requirements of our students.
Best Curriculum For Islamic Studies Courses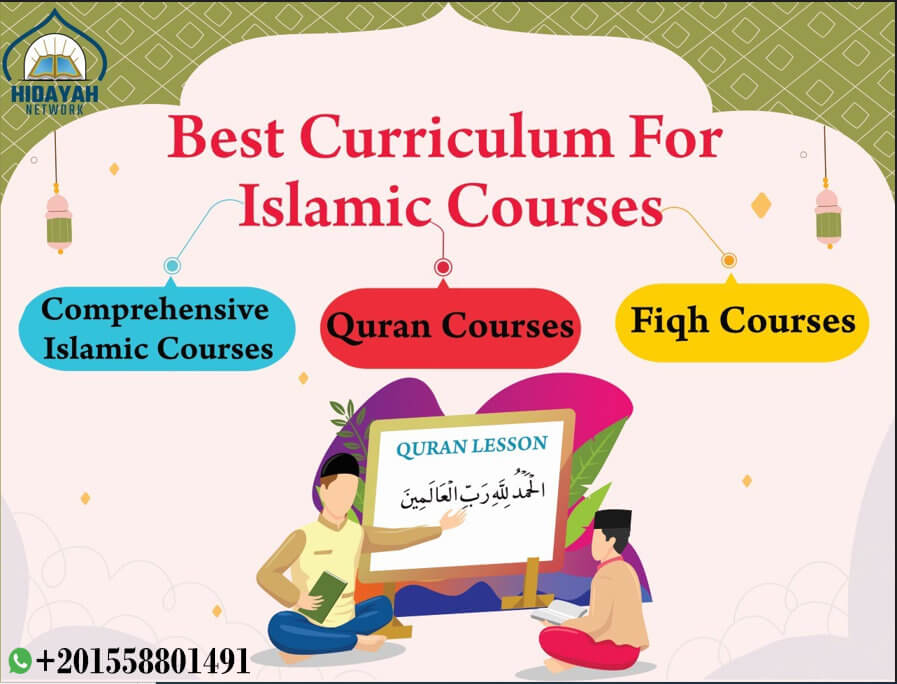 For exploring major themes, we at Hidayah Network have designed a very detailed curriculum for Islamic lessons for kids and adults.
1- Comprehensive Islamic Courses
➡️ Aqeedah
➡️ Seerah
➡️ Islamic State History
➡️ History Of Rightly Guided Caliphs
➡️ Authentic Hadith
2- Quran Courses
➡️Quran Recitation
➡️Quran Memorization course
➡️Quran Tajweed
3- Fiqh Courses
➡️As-Salaah (Prayer)
➡️Az-Zakat (Alms)
➡️Al-Hajj and Al-'Umrah
➡️As-Siyaam (Fasting)
➡️Marriage and Divorce
➡️Raising Children
➡️Fiqh for New Muslims
➡️Other Advanced Fiqh topics
Learning Objectives Of These Islamic Programs
1- Learning in detail about Islam through a variety of courses.
2- Learning Fiqh to establish a solid Islamic foundation.
3- Developing great love for Allah, Prophets, and Islam by learning History.
4- Learning to lead a simple life by following the path of Hazrat Muhammad (SAW) through hadiths.
5- Understanding the Quran through the tafsir course to apply the teachings in daily life.
Enroll Now → Islamic studies for kids
Qualified Tutors Of Our Online Islamic School
We provide you with the best teachers in our Online Islamic courses that are selected after rounds of tests and interviews. They are:
➡️ Graduated from the most prestigious Islamic institutions in Egypt.
➡️ Native Egyptians or Arabs.
➡️ Highly knowledgeable in Islamic lessons and teach with passion.
➡ ️ Proactive and creative to innovate ideas to engage students.
➡️ Huffaz who refer to the Quran where needed.
Note: We also provide Online female teachers for sisters to attend classes conveniently.
Features Of Online Islamic Classes
There are certain features that we offer to facilitate our students and let them enjoy the classes with ease.
Weekly Reports
Your progress is monitored and thus weekly reports along with meaningful feedback are prepared by the headteachers and presented to the students and their parents.
Gifts and Certificates
Students are rewarded with gifts to encourage them for better performance in our online Islamic classes and tests.
After passing the exams, the certificates with the signatures of supervisors are presented to the students.
24/7 Reachability
If you are not available, change your class time as we have hired dozens of teachers to provide the flexibility of scheduling anytime around the clock.
Quiz Accounts
Since Quizzes and tests are some of the best ways to repeat the material. Students are given a digital quiz about where they can solve 500+ quizzes for practice and revision.
Affordable Fee
Our course rates are minimal despite the high quality of our Online Islamic school. We also offer discounts. If one family member is enrolled in our course, we provide a special discount to the 2nd member of his family. In short, 3 members of a family get this jumbo offer.
Audio-video Aid
Our Online Islamic school designs the audio-video tracks to transform the lecture information into accessible and visually engaging core concepts for students.
Activities and Webinars
To engage students and keep them interested throughout, we involve them in activities and encourage them to attend international webinars to explore more about Islam.
Excellent Islamic Classes for Reverts
Especially for the new Muslims, who want to have a proper channel to learn in a genuine and positive environment for their new faith established. Hidayah Network potentially gives Customized classes for them.
Why hire Us?
Strive to learn the Quran since it's the only path toward paradise and salvation. We Muslims need to apply its teachings to every single part of our life to lead a prosperous life and to have a smooth path for our future generations. As learning Islam is very important and people have less time to explore Islam. Our Weeknd Islamic school is the best option for them. Enroll today and get free trails.
Frequently asked questions