Online Quran learning is the easiest and most convenient way to keep ladies engaged with the teachings of Islam. The sisters who live in non-Muslim countries find it hard to go to Quranic learning centers near them which results in a wide search of online Quran classes for sisters that render their services worldwide.
Hidayah Network is a renowned forum providing online Quran classes for ladies for years and has maintained its top position in countries like the USA, UK, Australia, Canada, Pakistan, India, and many Gulf countries.
Best Quran Classes for Women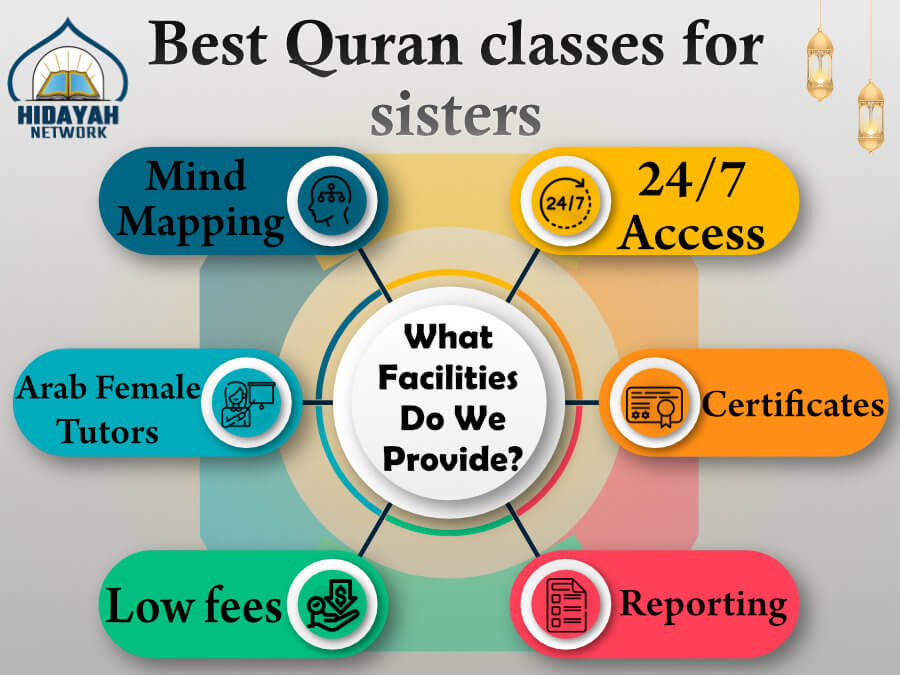 The reasons we claim that our Quran classes for sisters are the best ones are::
➡️We offer a convenient time option.
➡️Sisters will get a personalized Quran plan to follow.
➡️We offer a facility for Egyptian tutors specifically for sisters.
➡️Our teaching techniques are different from normal Quran teaching.
➡️We have an outstanding quality team to monitor both the progress of the female students and their teachers' performance.
Personalized 1-on-1 Online Quran Classes For Sisters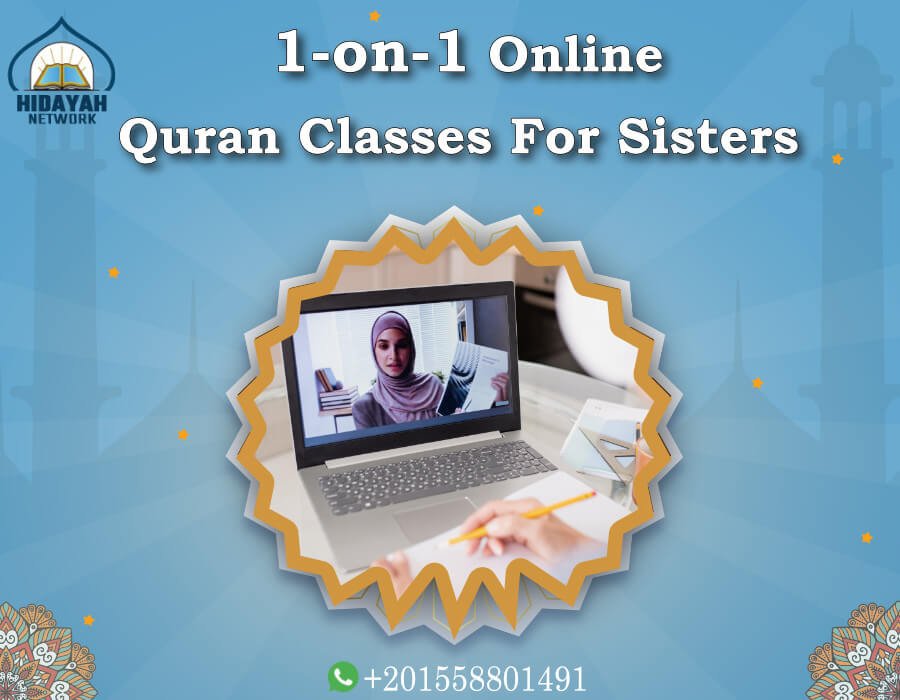 We offer you personalized 1-on-1 online Quran classes for sisters where you can follow your tailored plan easily without wasting time on the pre-scheduled syllabus you are already aware of.
You can Learn to read, recite, and memorize the Quran with 100% attention and focus. This type of class shifts the approach from teacher-centered to learner-centered.
Such a session will let you work hard on your mistakes and move on with the plan at your own pace and learning capacity to help sisters succeed in learning Quran online. Also, you will be able to schedule your classes anytime at your convenience.
In our personalized Quran classes, tutors get ample time to work on weaker areas and know very well which teaching technique will better suit the students. Also, the environment remains motivational and interactive.
Outcomes of Our Quran Classes For Sisters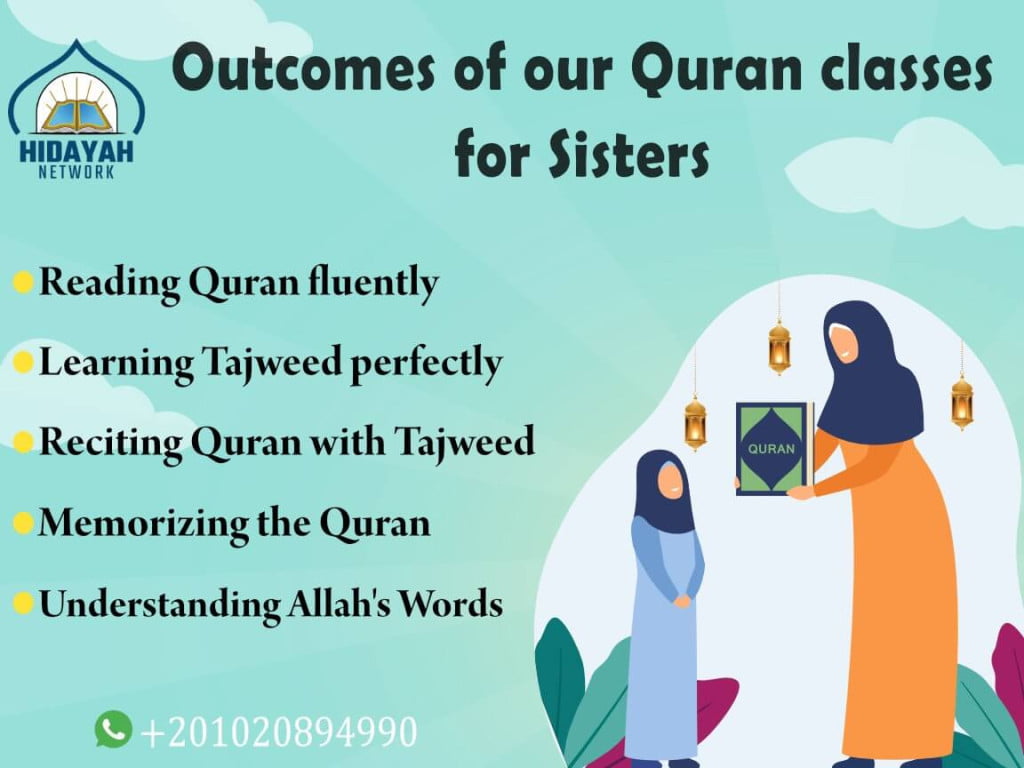 All the Quran courses for Women have practical outcomes to make sure the vision and aim begin each program have been accomplished 100%
➡️ To make sisters capable of reading Arabic letters accurately through Qaida classes.
➡️ To enhance their Arabic reading through the Tajweed course and make their pronunciation as natural as Arabs.
➡️ To be able to recite the Quran like a pro-Qari by constant practice.
➡️ To help ladies memorize the Quran or any of its portions through different unique hifz techniques.
➡️ To enhance their knowledge regarding Quran Tafsir through special classes of translation and tafseer for sisters.
➡️ To help them learn Arabic conversation and develop the skills to get hold of a new language.
Hidayah Network Online Quran Courses for Sisters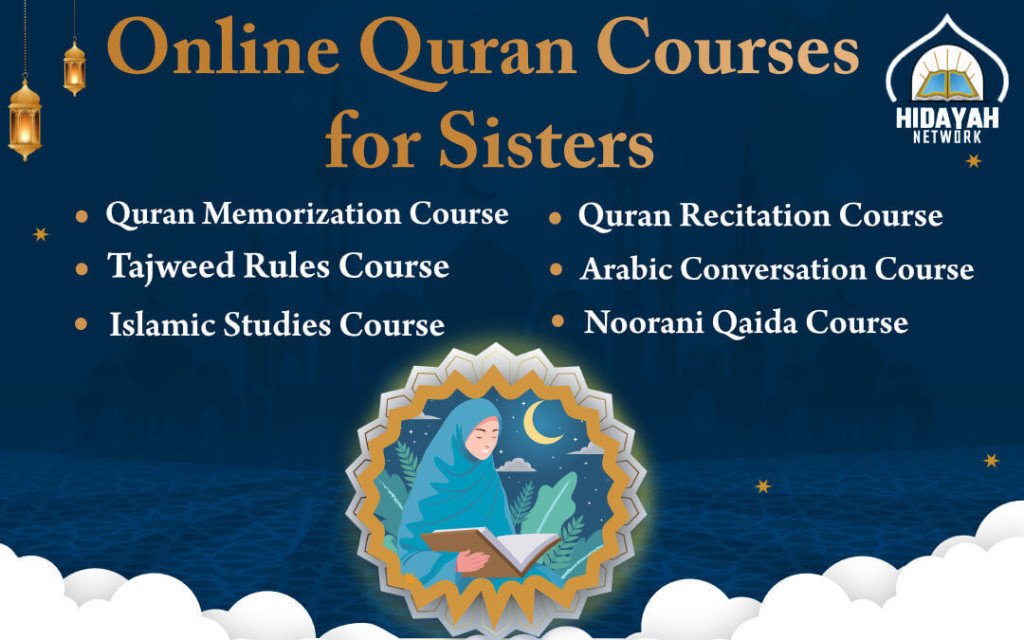 Quran Memorization Course
This is an amazing course designed with the facility of customization of the plan for ladies. Hifz the whole Quran or any portion of it in the duration of your choice. We have many tailored plans for you to choose from.
➡️Surah Baqara Plan
➡️Juz Amma Plan
➡️3-Juz Plan
➡️10-months Hifz
➡️1-year Hifz
➡️2-3 year Hifz
➡️Memorize Short Surahs
➡️Memorize Surah Al-Mulk and As-Sajdah
The purpose of quran hifz for ladies is to give you the ease to choose whatever you can retain and maintain well.
Quran Recitation Course
Get perfect in your recitation by enrolling in this course and learn the rules directly from our native Arab tutors who will leave you in awe with their phenomenal recitation skills. Sisters who have prior knowledge of the Quran reading can start this course according to their availability and finish learning recitation as early as they can. You will get certified too.
Tajweed Rules Course
Are you struggling to read the Quran with accurate pronunciation? This course is the best way out. Learn Tajweed from our eminent and professional teachers in a way to get an exact Arabic accent in a short time. We teach tajweed through different activities to help you practice more on your vocals to properly articulate each letter and apply each rule.
Our 3 easy levels to learn Tajweed will help you reach the goal easily.
Islamic Studies Course
Learn about your religion through our Islamic Studies Course where you will be taught about everything essential for sisters. We cover a wide range of topics in this course that you can also customize as per your choice.
➡️Islamic Creed (Aqeedah)
➡️Pillars of Islam
➡️6 beliefs in Islam
➡️Hadith and its types
➡️Prophets, Angels, Books, etc
➡️Brief Islamic History
➡️Quranic Stories and discussions, and much more.
Arabic Conversation Course
Are you willing to step ahead and learn how to speak and understand verbal Arabic? Join our Arabic Conversation course that will make you
➡️Read
➡️Write
➡️Listen
➡️Speak Arabic flawlessly.
The reason we work on these four areas is that without reading, listening, and writing Arabic you can not fluently speak it.
Noorani Qaida Course
This course is the foundation stone of learning the Quran. The sisters who need to start learning the Quran from the basics are welcome to join our Noorani Qaida Course to learn to read the Quran fluently and smoothly.
Noorani Qaida has all the basic reading rules covered in it which, after good revisions and practice will make you a proficient Quran reader. The certificate for this course is also given.
Hidayah Network Qualified Female Quran Tutors
To provide a comfortable learning environment, we offer you to take any of our courses under the supervision and guidance of our online female Quran teachers. Hidayah Network, Alhamdulillah has a good number of female instructors with the following qualities:
➡️They are Native Egyptians with amazing Arabic.
➡️Certified from leading Islamic universities.
➡️Ijazah Degree Holders.
➡️Know English well and speak clearly
➡️They have 5+ years of experience in teaching the Quran online.
➡️They are adept at using different techniques to engage and involve learners online.
➡️They are dedicated and passionate about teaching the Quran and are available round the clock.
Why Learning Quran with Our Female Tutors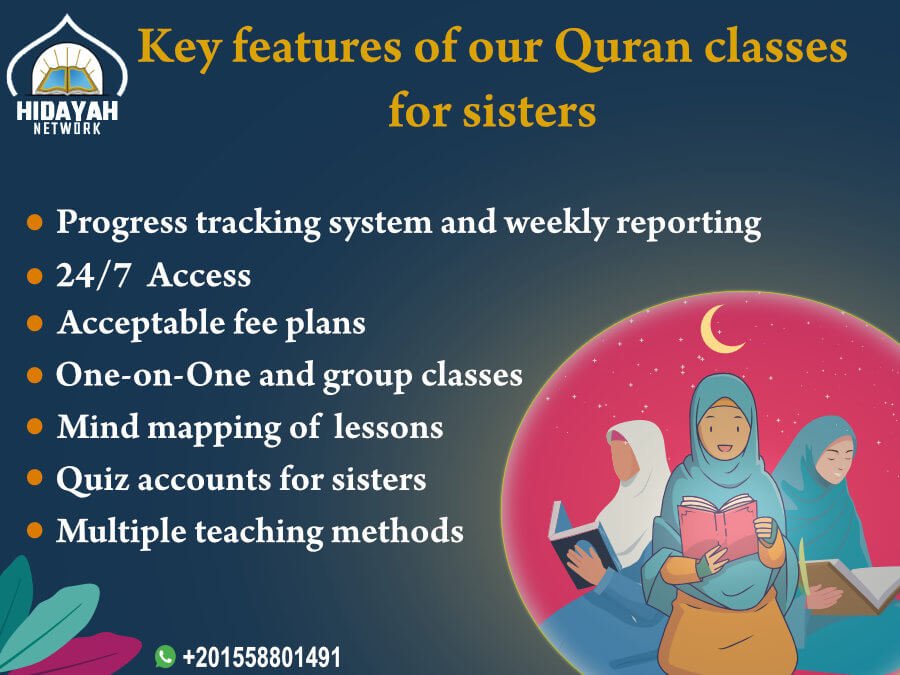 24/7 Access
Reach out for your enrollment and attend your classes at any time, whether day or night. We are available for 24.7 and our customer service desk responds quickly too. Choose a time slot that is convenient for you to be available and the teacher will be there for you.
Multiple Teaching Methods
Our teachers do not stick to a single method, rather, keep on changing their strategies and techniques if the one they are already using isn't giving the desired result. Also, they change their style of teaching to break the monotony of the class and bring variation in teaching to keep sisters' classes lively and interactive.
Acceptable Fee Plans
Do not worry about the budget for all these facilities as we have kept our rates very low compared to our competitors. Start with just $3 per hour and pay in your currency.
One-on-One and Group Classes
Women out there can avail of any of the modes of our classes, whether one-on-one or a group class. Choose the one that best suits you. In our group classes, we enroll only 4 ladies at a time who have the same learning plans.
Mind Mapping of Lessons
This is our top most feature where we excel in preparing mind maps before each lesson of every ongoing course. The tutors plan their lessons with a bunch of relevant examples, related activities, and supported educational resources.
Quiz Accounts For Sisters
Haven't heard of it before? Let us explain!
You will be given access to a digital account where you are free to solve as many quizzes as you can. The number of quizzes extends to 500+. This is to make your tajweed, hifz, Arabic, and other fields super strong with practice.
Progress Tracking System and Weekly Reporting
You have paid! And we will make sure you say it was worth paying!
We track the progress of each sister taking any course at Hidayah and report to you back weekly and in some courses biweekly. Our tracking and reporting are to ensure quality understanding of lessons by you.
Benefits of Learning Quran Online for Ladies
Online Quran learning for Women holds great importance as they are also keen to learn like our brothers. Online learning surely has super advantages for ladies like:
➡️It saves time you spend driving or reaching a nearby or distant institute.
➡️You can arrange a class in your free time, whether at dawn or in the evening.
➡️You are not bound to learn everything from a predesigned syllabus, rather customize your plan and learn Quran online easily in small parts.
➡️Get certified without attending a year-long in-person school class.
➡️Learning Quran online from Arabic tutors was impossible otherwise.
Join Hidayah Network Today
To unlock the amazing features and to get connected to Quran, we, along with our qualified teaching team welcome you on board to join our recognized platform and take 2 complimentary classes for free. Grab your slot and start right away to bring a change in your lives through Quran.
Frequently Asked Questions