Online Quran classes have gained hype due to a large number of people turning to understand the book of Allah. Sects like Shi'ism and Sunnism sometimes make it complicated for beginners to understand the difference between them and the importance of attending Sunni online Quran classes. That's why we have special online quran classes for beginners course too.
These classes are the one-stop solution for all Muslims that are based on all the elements one needs to understand.
We will cater to your requirements with amazing features that will make learning easy and interesting. To follow the right Aqeedah it is necessary to hire Sunni instructors.
Highly Qualified Sunni Tutors To Teach Quran
To learn to read, recite, understand, and memorize the Quran, professionally trained Sunni teachers are required with the following qualities.
They must be native Arabs and have a strong grip over Quranic studies.
Graduated from renowned Sunni Islamic Universities of Egypt and certified with Ijazahs to teach.
Must be fluent in English to teach students from different western and Asian countries efficiently.
They must be huffaz with accurate and beautiful Tajweed if conducting hifz lessons.
Able to answer queries concerning sects and beliefs proficiently.
5 Best Sunni Quran Courses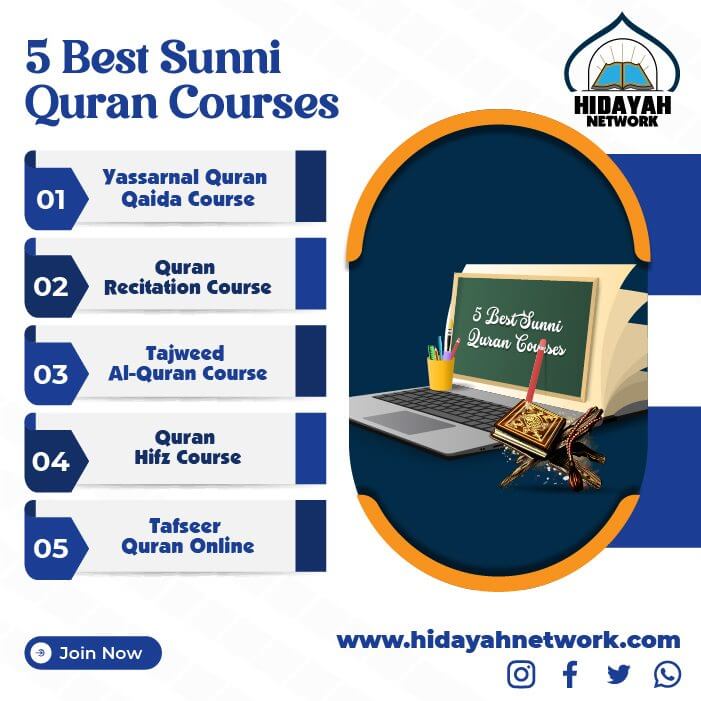 Here are the top 5 major courses that you need to enroll in to learn Quran online.
1- Yassarnal Quran Qaida Course
This course is also named as Noor Al-Bayan or Noorani Qaida course. It is the basic course that helps you read Quran smoothly without any help, right from scratch.
2- Quran Recitation Course
Another amazing Course that helps you get perfect in recitation is offered by a highly credible platform like Hidayah Network. This course works on your Tajweed rules and makes your recitation accurate.
3- Tajweed Al-Quran Course
As the name suggests, this is the main course to get your Tajweed perfect by following all the rules with amazing revision strategies. At the end of this course, you will be able to read and recite Quran with efficiency and also memorize some of the Surahs with Tajweed.
4- Quran Hifz Course
This is the main course for memorization which can be modified according to the requirements of the students. The hifz course intends to make you a hafiz along with the application of Tajweed rules.
5- Tafseer Quran Online
Learn the translation and interpretation of the Quran done by eminent scholars. This course can also be altered according to your need. You can learn the Tafseer of any specific Surah or Juz. It will help you learn the background scenarios in which the particular Surah was revealed, along with its word-to-word translation.
Personalized Curriculum & Well-Structured Quran Plans
Once you are on board with Sunni Quran courses, the personalized curriculum and a well-organized study plan are a must-have. We recommend starting Quran learning by setting small and achievable goals that help engage learners with interest. The personalized curriculum is exactly what makes Quran lessons easily understandable.
Online Quran classes are not commenced without a proper plan that is organized by keeping the following points in reflection.
The time duration for the plan to be finished.
The revision time allotted in each class.
The age and inclination of the student.
The length of each class.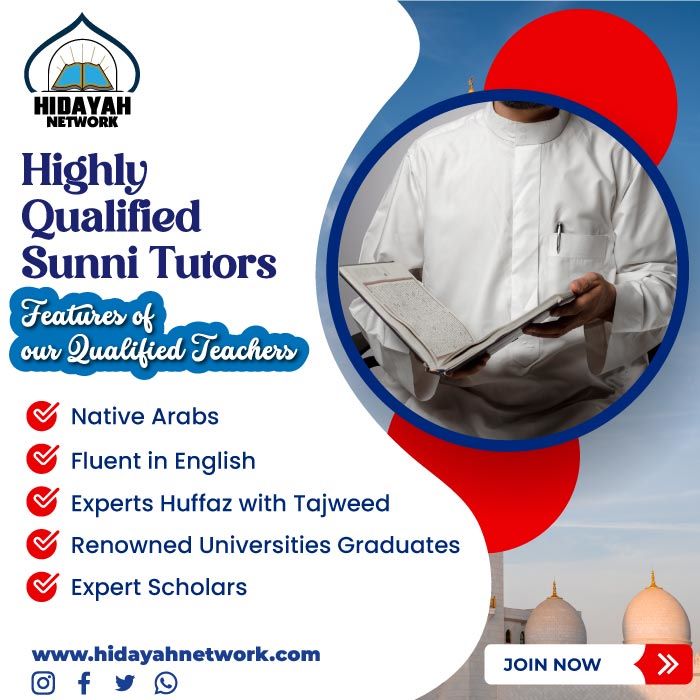 Outcomes Of These Quran Classes
We have certain outcomes chalked out before beginning the course.
Making attendees proficient in Quran reading with the application of basic to advanced Tajweed rules.
Producing Sunni Huffaz who can maintain their hifz forever by revisions.
Making adults and Kids recite Quran with beautiful intonation and stand out from the rest.
Paving the way to ijazah degrees by helping bring flawless results.
Making Tafseer of Quran easy through all the authentic references.
Other Features Of Quran Classes For Sunni Muslims
1- All-Time Access With Flexibility
The best thing about online sessions is the relaxation in time and 24/7 availability offered by Hidayah Network.
2- Mind-Mapping For Each Lesson
Our teachers equip the lessons by noting down all the details, including examples and references to be quoted. It makes the lesson result-oriented with 100% deliverance.
3- Quizzes and Competitions
We provide a quiz account for students to solve more than 500 quizzes based on different Quranic topics. Students solve quizzes, and riddles, take frequent tests and participate confidently in competitions.
4- Affordable Fee Plan
Our Virtual Quran sessions are affordable for Muslims, especially from Asian countries with the least per-hour rates and discounts for families.
5- Educational games and Video Resources
Videos like cartoons, animations, games, documentaries, recitations, and whiteboard presentations of topics, are all used effectively by our teachers.
Conclusion
Opting for the best online Sunni Quran classes just needs a few clicks by keeping the above-mentioned features in mind. Avail of our free trial option to have an idea of how these sessions are carried out. Whether you learn Tafseer, Tajweed, or memorize Quran, a reliable platform is the only primary forte you need.
Most Important FAQs