Do you wish to learn Quran Tafseer Online, but don't know How to start?
If you have been looking for Best Tafseer Teachers, Curriculum, Structured Study Plans, and interactive Multimedia Tafseer classes, You landed on the right page! 
Best Tafseer Tutors for Our Online Quran Tafseer Course:
We provide you with the best Tafseer teachers since we never compromise on the quality of teachers we provide:
• Hidayah network runs trial tests to hire professionals with years of top teaching experience. Our experienced teachers will help you throughout the Online Quran Tafseer course with all-time Cooperative behavior.
• Our Tafseer Teachers have gone through a round of interviews and tests to be chosen for this awesome job.
• Our teachers come from the most prestigious Islamic institution in the world, Al Azhar, The renowned university, just to guide you through the course.
• Our Tafseer Tutors have learned Tafseer from the most trusted Tafseer scholars, along with some courses and great books of Tafseer to make sure they make the class very informative for Tafseer students.
• Our Online Tafseer teachers arrange competitions between their students to boost their morale along with visually attractive slides and apps.
• The Tafseer experts communicate maturely and respectfully, set personal beats for students, and along with the main Tafseer course, put a high-end effort to complete additional activities.
• English is the main teaching language of our course thus Teachers speak English fluently to help you Learn Tafseer with basic rules accurately and easily.
NOTE: We also have Female Tafseer teachers for personalized classes for female students.
Facts about Hidayah Network
→ check out this one: Online Tafseer classes for kids and adults
What You Will Learn in Our Online Tafseer Course?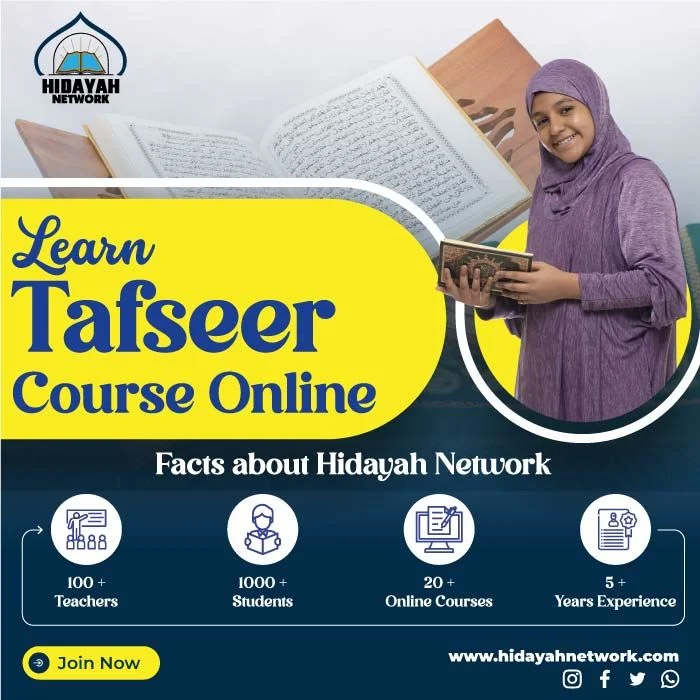 • Hidaya Network aims to let its students learn and enjoy the core Period of the Online Tafseer Course without feeling any burden on themselves.
• Students learn the cause of the revelation of each surah and get a Full understanding of Islam.
• Provide the student with an understanding of the major background branches of knowledge required for a mufassir.
• Learn the Meanings of verses word by word and apply the lessons derived from surahs in daily life.
• Learning about the good manners of the prophet (PBUH) and his companions and learning about the stories of the prophets.
• Understanding the accurate meaning of the Quranic words according to their context without the need of searching into the translated version of the Quran.
• Understand the commands of Allah (SWT) and Learn Islamic laws.
• The sophistic and complicated ideas through the oral display.
• Skills in scholarly writing with contextual meaning of the Arabic words.
• Understanding the science of Tafsir Al Quran by knowing the scientific facts mentioned in many Surahs.
• Explain every Surah and its verses with other parts of the Quran and Hadees with references.
Since Hazrat Muhammad (PBUH) asked us to live our life by following him, learning Tafseer will give us a deeper meaning to the Holy Prophet's (PBUH) life.
Enroll Now and grab the limited offer for our Islamic Classes for Adults!
The Best Curriculum for our Quran Tafseer Program:
We have a compact and precise plan for the students of our Quran Tafseer Program. We don't just teach Tafseer, but many other Islamic studies courses. All the courses have a proper curriculum planned out. Following is the plan for our Online Quran Tarjuma Tafseer Course.
• Introduction to Quran: Usool al-Tafseer will be defined along with the closely related field of 'Uloom al-Qur'an.
• Al-Wahy (Revelation)
• Virtues of the Quran
• Understanding of Ahkaam (Allah Almighty Commands)
• Virtues and problems of ta'awwuz and tasmiyah.
• Application of Ahkam
• Meaning of verses
• Order of Quran in the era of Hazrat Abu Bakr Siddiqui and Usman (R.A
• Comparison of the Quran with other previously revealed scriptures
• Shaan-e-Nuzool
• Rabt b/t Surah
• Ilmul Blaghah
• Ethics
→ Enroll your kids Now: Best Islamic classes for kids
Motivating Atmosphere to Learn Quran Tafseer Online:
Hidaya Network enables its students to get the Tafseer skills and enables them to groom their Islamic values with highly positive attributes.
How do we do that?
The answer is motivation. We get our students excited to log in and learn each day about productivity and progress to learn Quran Tafseer Online.
• Motivate with high goal setting
• Motivate with the best rewards and praise
• Motivate with meaningful feedback
• Cooperate with parents to motivate students at home
• Help them stay connected as a class and motivate each other
Since the goal is the critical hit point for students, our faculty sets goals for them within a fixed time. This way students participate more in class, cooperating with their teachers who help them in learning more.
All in all by providing them with a motivating environment where teachers keep them in pace and take notes of every single student's mental health and capacity.
Unique Virtual Techniques for Our Students:
Hidaya network tutors use many tricks to get the best output from students. Following are our adopted strategies: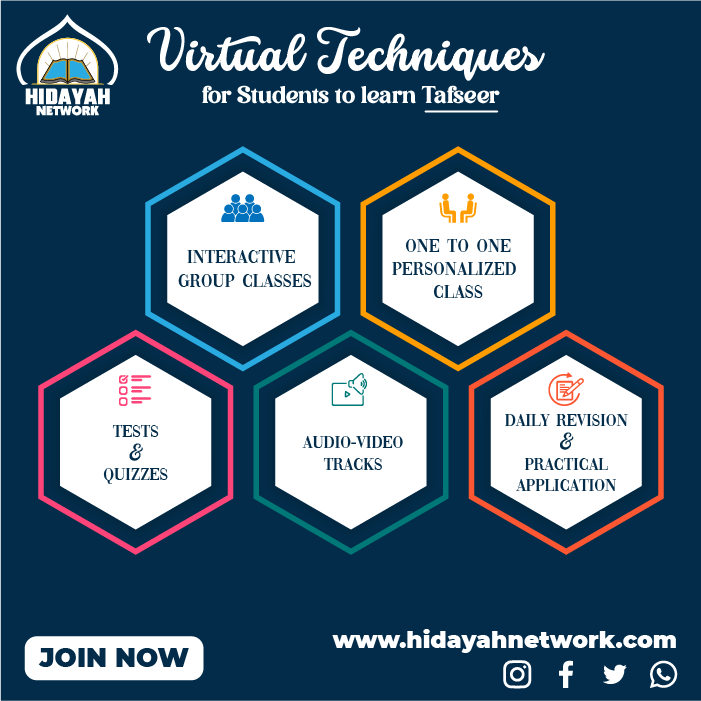 • One to One personalized class for each Tafseer student:
One to One personalized class for those students who need undivided attention and are unable to ask questions in a group class. They would be having a chance to get a personalized Tafseer plan according to their ages and levels
This way they can communicate privately with individual students and they involve themselves more in lectures. One-to-one online Tafseer classes will also help them track their progress, and stay focused and motivated.
• Our Interactive Group Classes:
Online classes are beneficial because it enables learners to develop critical thinking and higher-order skills as well as to build knowledge and basic meanings of concepts.
From one Question, others' confusions are already cleared, which is the best thing for Online Group Learning. That's the exact methodology Hidaya Network adopts in its group classes for the Quran Tafseer online course.
The Course Experts encourage the students to communicate with each other either by making their Tafseer assignments groups or in the comment section.
The best factor about our group classes is that we charge them at a very low cost despite their High quality!
• Daily Revision and Practical Application of Knowledge:
The teachers don't start the new lecture before revising the last one. This way Tafseer students are attentive enough to learn the daily lessons and Tafseer experts also help them do the practical application of their knowledge from our online Tafseer course.
• Audio-video Tracks for Remote learning:
Tafseer students are given the Audio Video aid so that they don't feel like a blank sheet in class. Audio Video tracks along with Visual effects help them take interest in lectures.
High Quality and Authentic Study Material for Quran Tafseer online course. We don't just let our students rely on visual and audio aids by teachers but we also provide high-end Digital study notes in ours.
Our course material is handpicked by higher authority experts of Quran Tafseer Online Courses and many other Quran scholars. This way students retain more knowledge and it also helps them in future assessment exams.
2 Free Trial Classes to let You Check us Out:
We do issue 2 free trial classes so that you can check out the curriculum of our course yourself without any worry of scams.
The 2 trial classes are with 2 different teachers and that's the opportunity to choose the best teaching style that suits his taste.
→ That is absolutely something that none of the other institutions offer.
We don't want you to compromise on the quality of your knowledge, so you are free to go for trial classes. Also if you are not satisfied with our classes, you are free to follow your choice without being obliged to us.
Best Interactive Online Quran Tafseer Classes:
Hidaya Network doesn't just believe in teaching Quran Tafseer classes online in a blank manner but it tries to keep the students as attentive as they can.
Teachers physically teach with whiteboards and screens are also shared with students through Multimedia apps. Not only that, attractive Powerpoint Slides designed by the Tafseer Teachers make the Tafseer classes even more engaging.
Students can by clearing their concepts first and learning later. Teachers schedule video lessons via Skype or Zoom to bring back the liveliness of a regular classroom environment.
Tests and Quizzes to Assess our Tafseer Students:
Our Online Tafseer Students are kept in touch with recent lessons they learned by tests and quizzes which are held every week. Monthly tests are also taken so that they don't forget the previous syllabus. Fiñal testing keeps them attentive and desired for the gifts as a result.
Prizes and Certificates for Regular High Achievers:
Since rewards and prizes are better motivators than punishment, thus we have a GOLD STAR system along with the Quran Tafseer Certificates for high achievers. Not only that, the teachers give Positive feedback messages with fun images, gifs, and videos.
They also Email parents with congratulatory messages. This way, fellow students also follow the route and stove hard to achieve the badges.
Weekly Reports to Track Your Tafseer Progress:
Weekly and monthly reports are prepared along with the classes to track your progress in our Quran Tafseer Course. Reports are presented to parents and students so that Parents can keep focusing on What their Child is studying and they do even better next time.
All in all, Hidaya Network has a Parent-Friendly support package, Since they keep them informed about their child's progress. All the students are kept under the eye.
Low Fees charges for your Online Islamic education:
We have an extremely economical fee structure for those who strive to learn Tafseer but are afraid to put their dear money on an online site
We offer special pricing packages for families and group classes. If you survey other course markets, you will be amazed to know that our course rates are minimal despite the high quality of our Online Islamic Classes. Most other websites cost too much. But we offer the best suitable package for students.
• 3 members of a family get a jumbo offer. If one family member is enrolled in our course, we provide a special discount to the 2nd member of his family. This way whole families can learn at cheaper rates.
• On top of that, Our group classes are considered the best since they are much more affordable and the hourly rate is as low as 3 dollars per hour.
In short, Hidayah Network doesn't compromise on the quality of content, thus it has a very reasonable budget.
Learn Quran Tafseer Anytime 24/7:
The main difference between our Online Quran Tafseer classes and Physical classes is exactly the flexibility of the schedule 24/7. We don't bind students to a fixed time, instead, they have the convenience to learn Quran Tafseer online as per their choice.
If a student can't take classes at his normal fixed time and wants to alter the plan he can do that by contacting the Hidayah network office without any offense.
Unlike the physical classes where one is bound at times, the Hidaya network enables you to learn in a carefree environment without any worry of hanging by the side.
Review Your Previous Tafseer Classes for Better Grip:
The students can review their Previous Tafseer classes to clear their queries, and concepts and get a grip on the most important point of their previous lesson by recording lectures.
Also, for slow learners, recorded lectures prove to be the best option to dramatically increase their output in classes.
Even if a student wants the recorded lecture due to his unavailability during normal class time, he will be provided the recorded lectures so that he can prepare for the next class without any worry of lagging behind other students.
Conclusion
Prophet Muhammad said,
"Keep on reciting the Quran, for by Him in Whose Hand my life is, Quran runs away ( is forgotten) faster than camels that are released from their tying ropes."
To construct an everlasting bond with Allah, Perfection of one's character, know the history of Islam, and apply Allah's teachings to practical life, it's important to learn Quran Tafseer Online. Yes! Hidaya Network presents itself to your doorstep by providing learning experiences in Online Quran Tafseer Courses that are more tailored to individual students than is possible in Hectic classrooms.
We have laid out all our beats in front of you, Now all you need to do is click right here and get to the bottom of Tafseer.
Frequently Asked Questions
1- Is there any age limit to learning Quran Tafseer Online?
No, people of all age groups can join our courses without any worry.
2- Do you just focus on the Tafseer course only? Or do you offer other Quran online courses too?
We offer many other Quran courses for all ages and levels. You can visit our website for details.
3- Is Learning Tafseer through the Hidaya Network worth it?
Yes, there is no difference between real sessions and digital ones, except that you get flexible timing with your desired tutor.
4- Where do I start since I have never used an online platform?
All you need is:
Smartphone
Internet
Zoom Meeting
Enroll in our course
Klick start now.
5- Can I rate or change the teacher?
Yes, Although we have high-end Teachers, still you will be provided the chance to rate the teacher's method through google forms to enhance overall performance.