Best Tajweed Course for Women to Recite Quran Correctly
Tajweed is the core of Quran recitation and is very crucial to be understood and practiced by everyone. The online Tajweed Classes for Sisters are of utmost importance as mothers can teach their kids at home after learning.
For the convenience of sisters, Hidayah Network has designed this amazing course that will be conducted by native Arab female tutors who are fluent in English and explain all the rules professionally.
We will take you through the course with a step-by-step approach. A customized plan with flexible scheduling and various teaching methods is what you will get to become a pro.
3 Levels Of Our Tajweed course For Sisters
We have divided the course into 3 primary levels to make it easy for ladies to get enrolled in the Quran Tajweed level they think they are currently at, or we recommended for them after joining our Quran classes for ladies.
1- The basic level.
You will learn the following topics.
Introduction

Rules of Meem Sakin

Qalqalah

Rules of Noon Sakin and Tanween

Rules of Laam Sakin
Check out our Tajweed course for beginners to get an idea of how we teach Tajweed to sisters that are starting off with the basics.
2- The Intermediate level.
The rules you will learn and practice at this level are
Madd rules

The Relationship between the letters

Nabrr

Light and heavy letters

Levels of heaviness
3- The Advanced Tajweed level.
You will be able to recite the whole surah and even Juz with the application of all Tajweed rules.
The rules you will learn and practice in this level are
Rules of Hamza

The Meeting of Two Sukoons

Rules of Stopping and pausing in the recitation
If you pass this level, you are eligible to get enrolled in Ijazah Course, as it requires a deep understanding and implementation of the rules.
Outcomes Of Our Online Tajweed classes for sisters.
For our Tajweed classes for women, we have some clear outcomes in mind that our capable teachers will make sisters achieve.
1- Learning the articulation points and rulings of each letter of the Arabic language.
2- Reciting short words and sentences without being stuck.
3- Reciting long Surahs effortlessly without doing any Makharij and articulation mistakes.
4- Finally, being Capable of reciting Quran fluently and confidently in the same way as Prophet Muhammad SAWW.
Why Ladies Choose Us To Learn Tajweed Online.
The following are the reasons that make us unique and popular among ladies who are looking forward to learning to recite Quran with Tajweed.
》Quizzes Accounts for Ladies

.
To understand Tajweed well and to practice each ruling, we have created a quiz account for ladies which has more than 500 quizzes. All you have to do is to sign into your account and solve the quiz.
》

Progress Report Each 2 Weeks
For all the enrolled women, we gave a bi-weekly report card that covers all the aspects of the test and syllabus done in 2 weeks.
We also generate a bi-weekly planner that intends to give you an idea about what you will be learning in the next 2 weeks.
》 Mind Mapping for the Tajweed lessons.
Our Tajweed teachers prepare the lesson beforehand and make a mind map about how they are going to explain the rule, what examples are to be quoted, what questions to be asked, and how to make females practice.
》Quran Tajweed Certificates.
All the regular Tajweed students are given certificates at the completion of the course.
Your total credit hours will be mentioned on the certificate that you have completed this Tajweed course in so and so hours.
Personalized Tajweed Plan for each lady.
We offer a personalized Tajweed plan for females where you are not forced to learn from the beginning till the end like in schools.
According to your understanding of Tajweed, we will structure a plan for you through our 3 primary levels. Each level will take almost 25 to 30 hours of classes.
You will be tested for your prior knowledge about the rules and application of Tajweed. Then, we will give you a plan as per your need, level, and availability.
Our Quran Female Teachers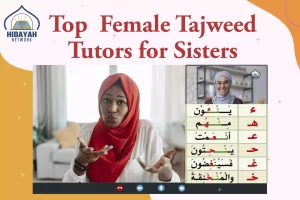 They are native Arabs and know very well how to teach non-Arab sisters.

They are Ijazah certified and are exceptional in their recitation with Tajweed.

Our teachers are fluent in English and are capable of teaching Ladies from the West, professionally.
》 Our Hiring Process Of Tajweed Tutors.
We select only Ijazah Certified Teachers for this Course.

Our selection criteria are strict, the teachers are interviewed by professionals and are shortlisted first.

After several rounds of scrutiny, we select the prime tutors for women.

Committed and motivated teachers are preferred to join our team of experts.
》 Innovative Teaching Methods of Our Teachers.
The teachers who are selected to join our team of Hidayah Network, devise very unique teaching methods that are 100% result-driven.
Some of the Teaching techniques used by our teachers in Tajweed classes are:
Audio snippets of Tajweed rules

Colorful PowerPoint slides to explain articulation points

Using mind maps to simplify the Makharij lessons.

Finding out the real examples from Quran.

Reciting loudly to improve vocals.

Using a mirror to enhance perfection.

Listening and imitating the Qari/Qaria.

Underlining mistakes to work on.
Our Quran Course's Features
》24/7 Availability

.
We are available round the clock to provide you with the best Quran learning opportunity.
You can schedule your classes anytime, the tutors are available to cater to your requirements.
》 Tests and Evaluation System.
Our teachers take oral tests every day to check your understanding.
The weak areas and repeated errors are highlighted to work on rigorously before the next test.
》Affordable Fee for Females.
We have kept the minimum rates as compared to others, starting just from $4. Whether you are a working woman or a dependent lady, our rates will not be a hurdle in your learning.
》Discounts for Families.
We offer discounts for families who enroll in our one-to-one sessions. The 2nd and 3rd siblings from the same family are given a discount.
》Tajweed rules Competitions
You are appreciated to participate in the competition with other students. This lets all the sisters confidently participate and enhance their learning. The winners are also given cash prizes.
Final Thoughts
Hidayah Network is the place where Muslim ladies can get all types is Islamic or Quran classes for adults. We have specially qualified female Quran teachers to give proper tajweed classes full of practical work and quizzes. So no need to wait and get our two free trials classes.
FAQs
Is there any age limit for learning Tajweed?
No, there is no age limit for learning Tajweed. Anyone can enroll according to the level of their understanding. We also have special tajweed classes for kids.
What is the next step after the Tajweed course?
If you have completed all three levels of Tajweed classes, then you can move forward to your Ijazah Course.
Do you offer group classes to Learn Tajweed?
Yes, Group classes are very interactive and let students participate with zeal.
Is there any system for giving feedback about the classes?
Yes, we share our feedback form that is supposed to be filled in. You can complain, appreciate, ask, or advise whatever you want to.
Can we get a discount if we increase the hours?
Yes, if the class hours go to 10 hours per month then you can enjoy a discount.
Do you offer Ijazah Certificate in Tajweed?
Yes, if you have successfully completed all the levels, especially the advanced one, you can take an Ijazah course too.