Best-structured Online Full-time Hifz Program
Hifz is a big responsibility that needs your time, dedication, and hard work. To be enlisted among huffaz, a hafiz must struggle to maintain his status by revising and retaining every verse.
If you are 100% committed to opting for this great task, then a full-time Hifz program is the best option for you. The more hours you spare for memorization, the sooner you will complete it with accuracy.
Hidayah Network is the only reliable platform that is currently offering an amazing Quran memorization program in which it is providing a structured plan according to which you can attain the goals in the desired time.
About This Hifz Course
This Quran Hifz Course requires extra time and effort to achieve good results. The reason we have designed these classes so intensively is to let students complete the memorization process in a short time.
The tutors for this program are all those talented huffaz who have completed their hifz in a short time.
This course will be divided into levels and a milestone is set to let you become a hafiz in a short time. All the tajweed rules will be applied in each verse to make memorization be done perfectly with Tajweed.
It will be conducted by the teacher of your choice in a very flexible but rigorous time schedule.
Our 3 Levels of Full-Time Hifz Program.
LEVEL: 1- The 7 Juz plan
LEVEL: 2– The 15 Juz plan
LEVEL: 3- The whole Quran plan.
Your structured plan will be devised according to the level you want to enroll in. These levels are further subdivided into more levels to make the plan very clear and formal.
Each level is breakdown into smaller parts to keep a track of the progress every day.
Amazing Huffaz Tutors with Great Experience
Our sessions have become successful due to the efforts of our experienced tutors who are qualified enough to make you memorize the Quran online in 6-12 months (depending upon the plan).
To have amazing reviews of this course we have hired the teachers on the following criteria.
They should be hafiz and have good experience of teaching to non-Arabs.
They should be native Arabs to easily help complete this intensive Hifz program.
They should be fluent in English to speak clearly and be able to explain the meaning of verses.
They must be Ijazah certified and graduate from reputed Egyptian universities.
They ought to be knowing advanced techniques to help them reach their goals early.
They should have an amazing Recitation to inspire learners to recite beautifully.
Outcomes of This Intensive Quran Memorization Program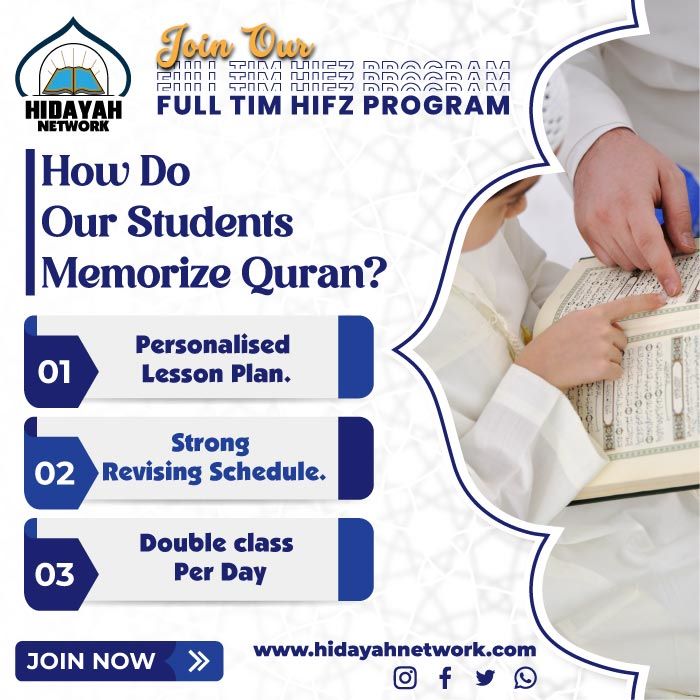 The following outcomes are kept in mind before beginning the course.
To make the students reach the target in the selected time frame.
To help them learn verses with proper Tajweed and Makharij.
To be able to memorize the Quran or any portion of it without any error.
To be confidently reciting from wherever it is asked.
To be able to recite verses with Tajweed beautifully as our Prophet Muhammad SAWW did.
How Do Our Students Memorize Quran in 6 Months/A Year?
This is true that many students have god-gifted memory strength and they achieve their learning goals in 6 months or a year. We are here to facilitate them with the proper guidance. Following are the ways adopted by our teachers to help them achieve the target.
1- Personalised Lesson Plan.
To complete the whole Quran in 6 months, we make a very scrutinized plan and don't let the learner deviate from it for a second. As the plan is going to be extensive and lengthy so they are motivated to buckle up their energies for it.
Students will be learning 40 verses every day (4 pages per day). And the revisions will be done alongside.
2- Strong Revising Schedule.
Becoming a hafiz in just 6 months needs a rigorous revision schedule because until the freshly learned verses are accurate, the tutor won't move to the new verses. So, keep that in mind before opting for such an intensive program.
3- Double class Per Day.
You can avail of the opportunity to attend double classes per day to focus and revise more. It is possible for those who are not attending their contemporary school.
Features Of Our Hifz Classes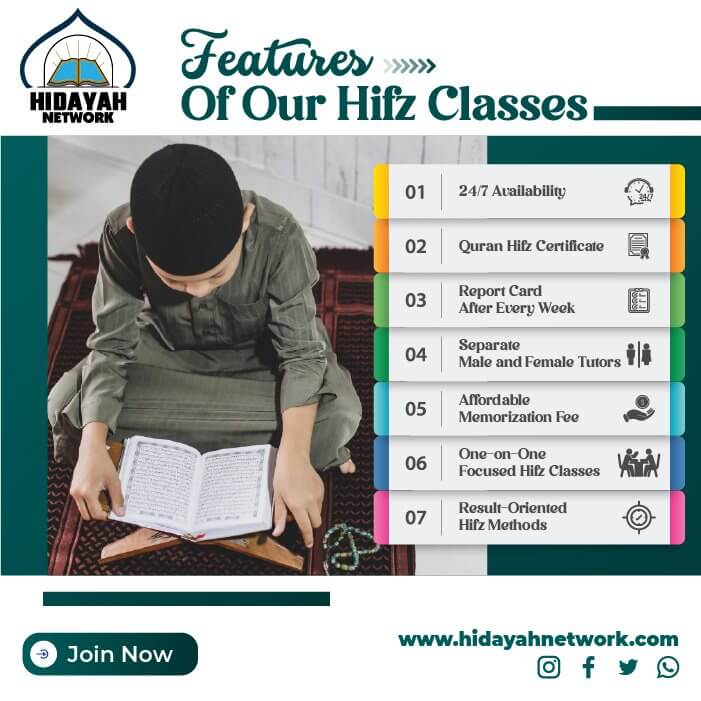 To make our classes a tremendous shoutout, we have worked hard on the features to facilitate our students.
1- 24/7 Availability
We have many teachers who are available all day long and will cater to your requirements according to your time zone.
2- Quran Hifz Certificate
All the enrolled learners will be given a certificate at the completion of the course which will be signed by the supervisor and the teacher.
3- A report card After Every Week
Our report card is sort of a written meeting because we give detailed feedback in it weekly. It comprises of:
1- Stuck points in the lessons
2- Repeated errors in the revisions
3- Tips to revise and overcome the errors
4- Plan for the next week
Note: Hifz students are not given the new lesson until they recite the previous one accurately and without any errors.
4- Separate Male and Female Tutors
We provide you the facility of choosing from male and female tutors to assist you in memorizing the Quran online. We facilitate our sisters to avail of this golden opportunity and start their session with us.
5- Affordable Memorization Fee
This intensive course is available at extremely low rates as compared to the other leading Quranic platforms.
6- One-on-One Focused Hifz Classes
You can get a scheduled plan and opt for a one-on-one session where you are the only student under the hired tutor's direct supervision.
7- Result-Oriented Hifz Methods.
The method our teachers are following to bring out the best results are:
1- Repetition of the given verses 8-10 times in the class.
2- Doing old revision (the lesson that is a week or a month older) in the class.
3- Doing new revisions (the lesson is a day or two older) in the class.
To make your learning journey memorable and advantageous, we have strived hard to facilitate you in every possible way. You are welcome to check our Hifz classes' quality on your own through our free trial option.
Frequently Asked Questions
""