Learning Arabic in groups helps with providing an engaging and interactive environment. The group environment for Arabic learning creates an immersive atmosphere where people communicate with each other in Arabic language, enhancing speaking and listening skills.
Hidayah Network has set high standards for people looking to learn Arabic. Hidayah offers best online Arabic Group classes with effective techniques to learn the language fast. These are carefully crafted to address the unique challenges that Arabic learners of all ages face. With experienced and certified Arabic tutors leading the way, our courses are designed to empower both kids and adults to speak Arabic fluently, just like native speakers.
About Our Group Classes of Arabic Language
At Hidayah Network, we take pride in offering professional and comprehensive Arabic language classes that cater to Arabic learning of all ages. Our Arabic course commences with the essentials of Arabic, where you'll begin to grasp the beauty of the language from day one. From greeting with "As-salaam alaykum" to introducing yourself with "Ana ismi" (My name is), we ensure that you build a strong foundation with these fundamental Arabic words and phrases.
What sets Hidayah apart is our commitment to tracking your Arabic learning progress. Through regular testing and evaluations, we provide clear insights into your development, enabling you to see your growth and areas that may need improvement. In addition to group classes, we offer personalized 1-on-1 Arabic lessons, ensuring individual attention to your unique learning needs. Our mission is to empower you to learn Arabic and thrive in it, fostering a deep connection with this rich and ancient language.
Features of Our Online Arabic Group Classes
Our Online Arabic Group Classes at Hidayah Network offer a multitude of features that enhance the learning experience for all participants. Here are some key highlights:
Flexible Class Timings
We understand the importance of accommodating diverse schedules, and our classes offer flexible timings to ensure that learners can access quality education at their convenience.
Quiz and Tests After Each Level
Regular assessments are integrated into our curriculum, allowing students to gauge their comprehension and measure their progress effectively after completing each level of instruction.
Arabic Learning Tracker
Our dedicated learning tracker is a valuable tool that helps students monitor their Arabic language journey, providing insights into areas of strength and areas that may require further attention.
Progress Reports After Every 2 Weeks
To maintain transparency and accountability, we provide progress reports biweekly. These reports comprehensively outline a student's development, highlighting achievements and suggesting areas for improvement.
Our Online Learning Plans for Groups
Hidayah Network offers three levels of learning plans for groups who want to master Arabic.
Level 1: 30 Hours Duration
Level 1 at Hidayah Network is where your Arabic language journey begins. With a curriculum spanning 30 hours, this level focuses on establishing a solid foundation for beginners. During this comprehensive course, you will delve into the essentials of Arabic, covering fundamental topics such as the Arabic alphabet, pronunciation, basic vocabulary, and introductory grammar.
Level 2: 40 Hours Duration
Level 2 marks your progression into intermediate proficiency, with an extended duration of 40 hours dedicated to honing your Arabic language skills. This level builds upon the foundations established in Level 1 and takes learners deeper into the intricacies of Arabic. You will expand your vocabulary, gain proficiency in Arabic numbers, explore more complex sentence structures, and delve into intermediate grammar concepts.
Level 3: 50 Hours Duration
Level 3 represents the pinnacle of your Arabic language journey, offering an immersive experience with an intensive duration of 50 hours. This advanced level delves into expert-level Arabic concepts, focusing on achieving mastery of the language. Level 3 is characterized by an in-depth exploration of advanced vocabulary, intricate grammar rules, and the refinement of both spoken and written Arabic.
What You Will Learn in our Arabic Group Classes 
Hidayah Network's Arabic group classes primarily focus on developing the four essential language skills: reading, writing, listening, and communicating. With our expert guidance, you will:
Construct meaningful sentences by seamlessly joining Arabic words.
Achieve precise Arabic pronunciation for confident native communication.
Build a solid foundation in Arabic grammar and expand your vocabulary.
Attain fluent reading skills to navigate Arabic scripts effortlessly.
Master Arabic writing through consistent and purposeful practice.
Engage in comprehensive testing and evaluations for enhanced comprehension.
 Levels of Our Online Arabic Group Classes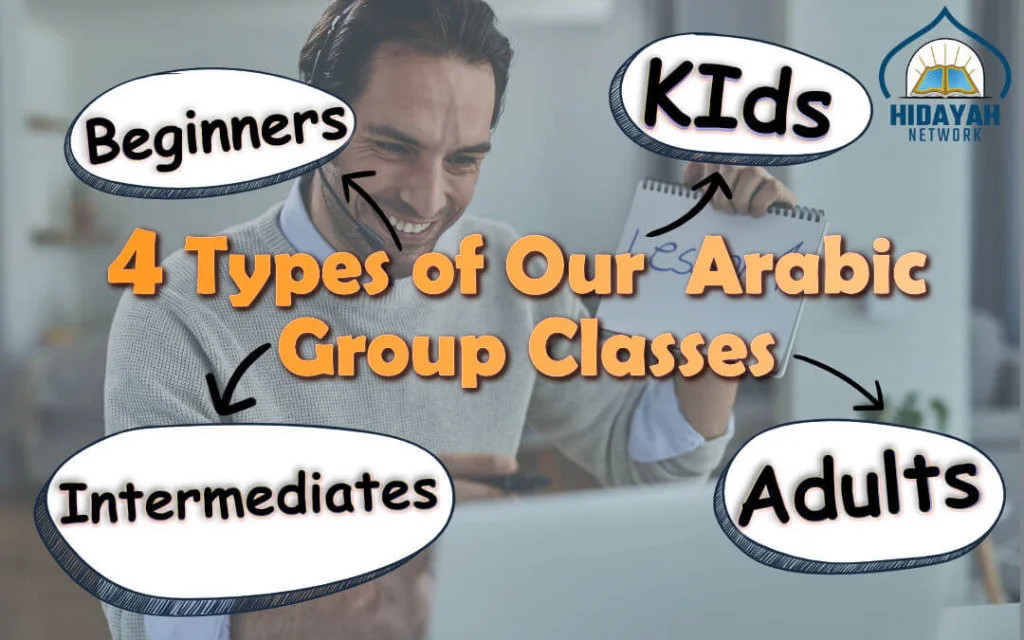 Hidayah Network offers carefully designed courses that entails learning Arabic for beginners as well as intermediate. The levels start from the very basic level and slowly progress to an advanced level. Here are the different levels of Arabic courses for groups:
Arabic Group Classes for Beginners ( Kids )
Our beginner-level Arabic online classes for kids are thoughtfully crafted to introduce the beauty of the Arabic language in a fun and engaging manner. Kids will be able to:
Learn the most common thousand Arabic words in the beginning
Learn to join words to make basic Arabic sentences.
Engaging with other students in basic Arabic conversation.
Kids will be able to write basic Arabic words and short sentences through learning Arabic grammar.
Arabic Group Classes for Beginners (Adults)
Our beginner-level Arabic online classes for adults are meticulously designed to provide a seamless introduction to the Arabic language, ensuring a rewarding learning experience. In these classes, adults will be able to:
Learning the most common 1500-2000 Arabic words, including essential vocabulary such as "Marhaba."
Master Arabic counting, gaining proficiency in numbers.
Navigate simplified Arabic grammar, focusing on fundamental rules for sentence construction.
Engage in interactive sessions that facilitate practical conversations and everyday language use.
Participate in collaborative group activities that foster language practice.
Arabic Group Classes for Intermediates (Kids)
Hidayah's intermediate-level Arabic group classes offer the next level of language proficiency for young learners who have already grasped the fundamentals. This level of course focuses on:
Learning the most common 5000 words in Arabic.
Learning how to join sentences to make smaller paragraphs in Arabic.
Reading more advanced-level Arabic scripts.
Engaging in group activities in Arabic language with other students to enhance communications skills.
Kids will develop a strong understanding of complex Arabic grammatical elements.
Arabic Group Classes for Intermediates (Adults)
The intermediate-level Arabic group classes for adults are designed to refine and enhance the language skills of those with advanced Arabic knowledge. Here is what this level of course offers:
Adults will be able to learn the most common 7000 words in Arabic.
Adults can learn advanced-level Arabic phrases.
Focusing more on complex Arabic grammar elements to enhance speaking and writing skills.
Engaging in interactive group projects leads to developing better communication skills.
Personalised Curriculum for Each Group 
Hidayah Network places a paramount emphasis on tailoring our Arabic language curriculum to meet the unique needs of each learning group. We understand that no two groups are alike, and our commitment to personalization ensures that every participant receives the attention and resources essential for their growth.
We adapt our teaching methods through personalized curriculums, set achievable milestones, and cultivate a learning environment accommodating group dynamics and individual characteristics.
Through personalized curriculums, this is what you will get:
Providing detailed weekly and monthly learning breakdowns to facilitate focused and dedicated study.
Considering the unique dynamics and characteristics of each group.
Conducting regular Question/Answer sessions, enhancing our participants' overall Arabic learning experience.
Variety of Other Arabic Courses for Groups 
At Hidayah Network, we offer a diverse range of Arabic courses tailored for groups, including:
Arabic Conversation Course
Hidayah's Arabic Conversation Course enables both kids and adults with the skills to engage in meaningful conversations with native Arabic speakers. Through interactive sessions, learners gain confidence in speaking and understanding spoken Arabic, enriching their communication abilities.
Arabic Grammar Course
Hidayah offers an Arabic Grammar Course that delves into Arabic grammar, focusing on verb conjugation, sentence structure, and noun-adjective agreement. This course empowers students to express themselves precisely and accurately in spoken and written Arabic.
Egyptian Arabic Course
Hidayah Network offers dedicated Egyptian Arabic Courses customized to cater specifically to learners interested in mastering the pronunciation of the Egyptian Arabic dialect. Participants delve into elements like colloquial phrases, local expressions, and regional culture, providing an immersive experience in this distinct variant of the Arabic language.
Outcomes of Our Online Arabic Group Classes
Through Hidayah Network's online Arabic classes for groups, you will gain the following outcomes:
Students understand the basics of the Arabic language with simplified grammar
Develop a strong sense of Arabic verbs and pronouns
Enhance Arabic pronunciation and fluency, mirroring the nativity of Arabic speakers.
Enable students to communicate in Arabic, both in speaking and writing confidently.
Foster religious understanding by providing an immersive Arabic learning environment.
Equip students with the ability to comprehend and engage with authentic Arabic texts and calligraphy.
Structured Plans to Learn Arabic in Groups Effectively 
Hidayah Network offers structured plans that cater to the unique needs of each student to learn Arabic fast. These plans are meticulously designed, considering several essential factors:
Number of Classes per Week
Hidayah Network's structured plans are centered around the number of weekly classes, ensuring that learners receive consistent and focused instruction tailored to their schedules and learning pace.
Time Allocation for Each Class
Each class is allocated specific timings based on the group's preferences and availability, allowing for an efficient and immersive learning experience that respects their time commitments.
Student Proficiency Levels
We recognize that learners come to us with varying levels of Arabic proficiency. Therefore, our structured plans are customized to match the skills and knowledge of each group, whether they are beginners or at an intermediate level.
Regular Revision Classes
Hidayah Network's structured plans incorporate strategic revision classes to enhance comprehension and ensure the fluidity of learning. These sessions provide opportunities to revisit and reinforce previous lessons, enabling students to build a solid foundation and progress confidently.
Top Expert Native Arabic Tutor 
Expert native Arabic tutors are certified and qualified teachers from Al-Azhar University.
Trainers are fluent in English and Arabic to teach Arabs and non-Arab students.
Arabic Tutors who can teach hundreds of non-native Arabic students comfortably.
Tutors use interactive media like instructional videos, PowerPoint slides, play class activities, etc.
Arabic tutors with more than five years of experience of teaching Arabic to kids and adults.
Tutors who offer interactive, engaging, and fun style of learning during online sessions.
Most Important FAQs