Best Islamic Classes for Adults
Muslim brothers and sisters are obliged to learn about their religion in great detail to gain a vast knowledge of every field. Hidayah Network offers a wide range of courses to enrich your spiritual journey and deepen your understanding of Islam. Whether you seek to strengthen your Aqeedah (Islamic creed), delve into the enlightening Seerah (biography of Prophet Muhammad), navigate the intricate world of Fiqh (Islamic jurisprudence), explore the rich tapestry of Islamic History, immerse yourself in the profound teachings of Hadith, or engage in the enlightening Tafseer (interpretation) of the Quran, our expert instructors are here to guide you every step of the way.
Join us at Hidayah Network and embark on an enriching Islamic educational experience that will empower you with knowledge and wisdom to lead a fulfilling life in accordance with the teachings of the Holy Quran. Enroll now and take a step towards a profound spiritual transformation.
Learning Objectives Of Islamic Classes For Adults
All the online Islamic classes have objectives that the teachers and students mutually work to achieve in due time.
➡️ Analyzing The topic in great detail.
➡️ Learning the authentic rulings of every topic.
➡️ Understanding history by covering 3 major aspects.
➡️ Understanding Aqeedan and Seerah with references to Quran and Hadith
➡️ ️Learning 6 beliefs to nourish Emaan.
List Of Islamic Courses for Adults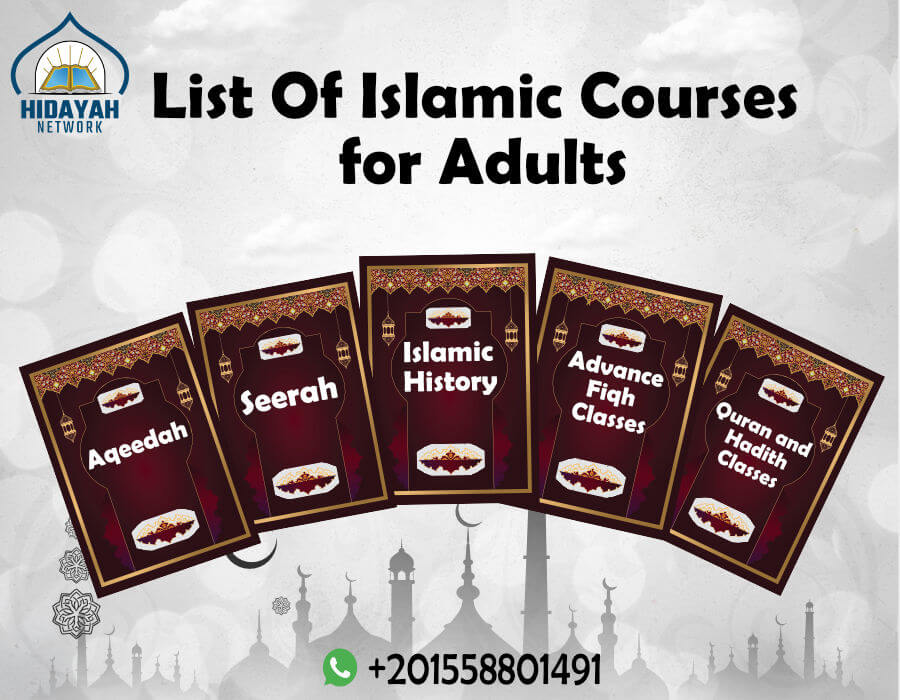 Under the label of Islamic classes comes a list of courses that you need to learn about so that you choose from them easily. All these programs are very well-structured and cover all relevant details required.
Aqeedah Course
The backbone of Islam is our Aqeedah (belief). Whatever we act on is due to our beliefs. If our aqeedah is strong, we are and worship will be accurate. This course aims at teaching the 6 beliefs
✅ Tawheed
✅ Angels
✅ Messengers and Prophets
✅ The Holy Books
✅ Akhirah
✅ Al Qada wal Qadar
All these topics have further deep details that are covered in this course.
Seerah Course
Islamic lessons are incomplete without the Seerah Course. This course is basically about the biography and Sunnah of Prophet Muhammad SAWW that aims at teaching the three phases in great detail.
✅ Arabian world before the birth of Prophet Muhammad SAWW.
✅ Birth and life of Muhammad SAWW.
✅ Arabian world after the revelations started.
Advance Fiqh Classes
To know about the rulings of Islamic jurisprudence other than Quran and Sunnah, we at Hidayah Network offer advanced Fiqh classes that cover topics like:
✅ Marriage and divorce
✅ Inheritance
✅ Taharat (Purification)
✅ Birth and Death rites
✅ Fiqh of All 5 pillars of Islam: Oneness of Allah, Prayer, Charity, Fast, and Pilgrimage.
Islamic History
Delve deep into the history of Islam and discover the topics like:
✅ Gioraghical importance of the Arabian Peninsula.
✅ Early Islam and the 4 rightly guided Caliphs.
✅ The Umayyad era
✅ The Abbasid Era
✅ The Ottoman Empire
✅ Advent of Islam in Morroco and Spain
Quran and Hadith Classes
Other than Islamic lessons get a strong grip on Quranic studies like:
✅ Quran Memorization
✅ Quran Tajweed and Recitation
In our hadith classes, we also teach students following Islamic hadith books.
✅ Sahih al-Bukhari صحيح البخاري
✅ Sahih Muslim صحيح مسلم
✅ Sunan an-Nasa'i سنن النسائي
✅ Sunan Abi Dawud سنن أبي داود
✅ Jami` at-Tirmidhi جامع الترمذي
✅ Sunan Ibn Majah سنن ابن ماجه
✅ Riyad as-Salihin رياض الصالحين
And enlighten your knowledge through hadith (the sayings of our Prophet SAWW).
Islamic Programs for Sisters and Brothers
All of our Islamic programs are open for male and female adults regardless of age and occupation. The students, job holders, workers, and teachers, hence everyone is invited to enroll in these exciting classes to learn about Islam uniquely.
We have a team of female qualified Arabian teachers to cater to the needs of our sisters out there if they feel hesitant to learn from a male tutor. There are separate personalized online Islamic classes for sisters and the focus is on the accomplishment of goals that are set beforehand.
Personalized Curriculums Of Hidayah Network
If you want to choose any specific topic from our vast range, we will provide you with a personalized learning plan for that very topic. Let's suppose you only want to learn about the Seerah of Prophet SAWW. We will design a plan for you according to your availability.
This is done to facilitate you to slowly and gradually learn more subjects one by one. We do not force you to study the stretched-out Islamic course as a whole, rather we have introduced short programs of different durations for everyone. The course length ranges from 1 month to 6 months depending on the plan and details.
What Facilities Do We Provide?
The hype of our Islamic classes for adults has brought it to a top-ranked course due to the following facilities we offer.
24/7 Access
Arrange your classes on weekdays or weekends, in the daytime or nighttime, we are here with our around-the-clock service for all countries with no time constraints.
Flexibility In Timing
Drag your course length to the limit of your choice. Finish the course in one month or 6, it's up to you. Flexibility in timing and number of classes depends on our learner's availability and capacity.
Mind Mapping and Clouding Of Lessons
The make the lesson engaging and exciting, our teachers prepare mind maps and topic clouds with references and examples, as many as possible. It helps bring the details of a particular topic to the fingertips.
Certificates Of Islamic Courses
Each of our Islamic courses ends up with proper tests, results, and certification. It's the same as a school or university but virtually done.
Tracking And Reporting
Adults can get their syllabus tracking done by the teacher weekly to tell them about their pace and quality of learning. The weekly report card will shed light on your progress and also highlight the weak areas that you need to work on.
Bottom Line
Islamic classes for adults come as a golden opportunity for people living in the West to learn in detail about the religion. Avail of our free demo lesson today to get started with the course of your choice right away. Land on the homepage to checkout the pricing contact for any details. Our customer representative is available 24/7.
Frequently Asked Questions