Islam, the religion of righteous teachings and absolute guidance towards fitrah, is not only for men out there to study and teach it further. Rather, it is for all; for ladies and kids as well.
Sisters must have equal chances and opportunities to learn about Islam and for that Hidayah Network has designed multiple courses for ladies in our online islamic classes to enhance their knowledge about Islam and teach other sisters about Islam.
Best Online Islamic Classes For Sisters
Our detailed online Islamic courses for ladies cover all the topics that women need to study and understand. The reason we call these courses the best is that our knowledgeable female tutors teach with authentic references from Quran and hadith and answer all the queries of sisters regarding any Islamic topic.
All of our courses are feature-packed and with the providence of all the study materials, activities, test papers, and online books for reference. Moreover, sisters can enroll in these courses as a group class as well, where they can learn from the questions of other sisters.
Islamic Courses Offered For Females by Hidayah Network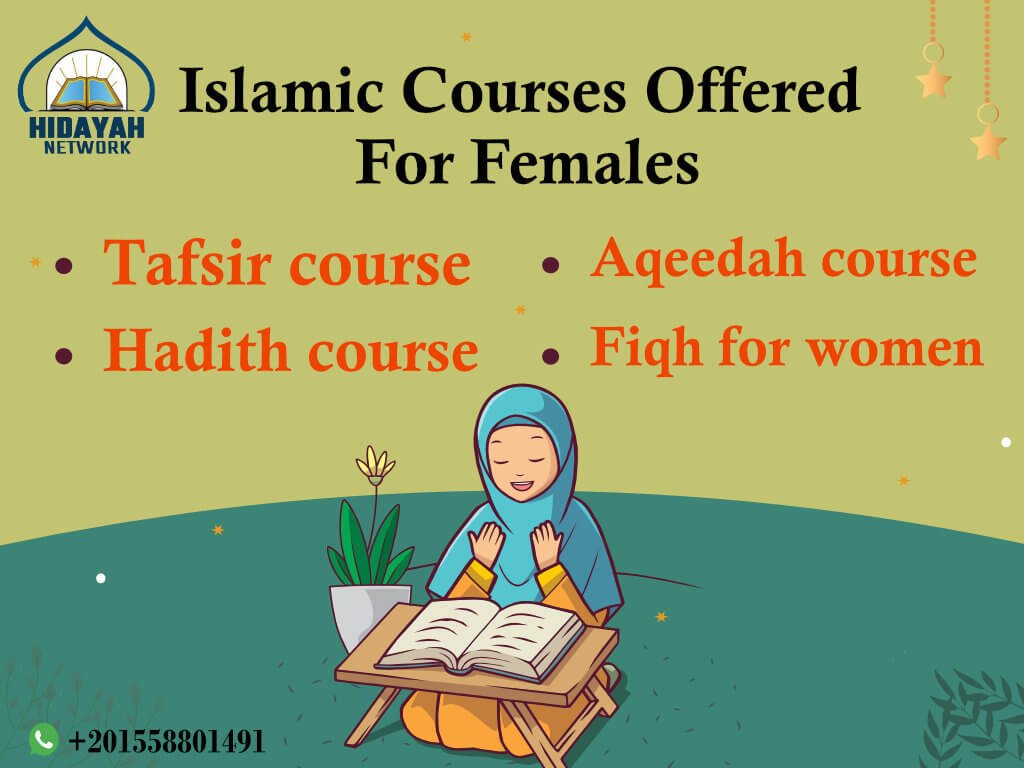 Females need to learn miscellaneous Islamic topics to have a strong grip on religious education. The following is the list of courses we offer for sisters all around the world. The duration of the courses depends on the personalized plan you get.
Comprehensive Islamic Course
✅Tafsir Course
Quran tafseer course is designed to teach the detailed meaning of verses through references to the Quran and Sunnah. The duration depends on the student's plan, whether they are learning the meaning of the entire Quran or any specific Surah.
✅Hadith Course
This is a unique course that focuses mainly on the authentic hadiths from Al-Bukhari and Al-Muslim. The collection of hadith, the chain of narrators, and the types of hadiths, all topics are covered in this course.
✅Aqeedah Course
Learn about the oneness of Allah, the types of aqeedah, and everything related
✅Seerah Course
This course will teach you the biography of Prophet Muhammad SAWW and will highlight the traits, character, and personality of Muhammad SAWW in detail. 
Fiqh Course For Women
✅Fiqh of Taharah (Purification)
Ladies must learn the authentic way of taharah for different things to avoid misguidance and wrong interpretations.
✅Fiqh Of Marriage and Divorce (Nikkah and Talaq)
It is important to learn the fiqh of nikkah and divorce to enhance your Islamic knowledge and leave the false sayings that people usually follow without knowledge.
✅Fiqh Of Fasting and Charity (Sawm and Zakat)
Learn everything regarding fast and Zakat to know the accurate Islamic rulings. The conditions and liabilities for sisters in Fast and of Zakat are taught in detail.
✅Fiqh Of Inheritance
One of the most complicated laws to learn is of inheritance where females need to know about their rights and share in inheritance. Different examples and equations are discussed to make the laws easily understandable.
Experienced Alimahs For All Courses
Our evolution is due to our teachers who are native Egyptians and exceedingly qualified.
For Islamic courses for sisters, we have hired Alimahs who have completed their 8-year Islamic studies course that includes all the branches and categories.
These Alimahs are mostly from Arab countries or Arab-native residing in the West.
They are adept at teaching Islamic studies and Quranic courses online with different strategies and techniques to deliver the lesson with excellence and achieve all the outcomes.
They are available 24/7 to cater to sisters from different time zones.
Features of Islamic Courses for Ladies
It is necessary to mention the features of these Islamic programs to grab the attention of as many sisters as possible. Hidayah Network proudly presents fully-featured courses where the learners just need to sign in to get through the courses.
➡️ Powerpoint Slide presentation of topics
➡️ Infographics and map study where required
➡️ Daily quizzes, Weekly tests, and monthly competitions
➡️ Assignments, mind mapping, and presentations
➡️ Course completion certificate with prizes for toppers
➡️Get a chance to attend webinars on different Islamic topics to enhance your knowledge
Educational Outcomes Of ladies Islamic Program
None of the courses come without their practical outcomes as we strongly believe that every learning should have some goals to keep the learner motivated and focused. These underwritten outcomes are collectively chalked out for all the courses.
➡️ To master the topics of the course taken that ensure efficient learning and understanding.
➡️ To understand the profound details of the topics and refer to the references from Quran and Sunnah easily.
➡️ To learn the authentic rulings of all the women-related laws and avoid misguided opinions from different sects.
➡️ To apply the teachings of whichever course is taken, and guide their sisters, daughters, and other ladies around.
➡️ To be able to understand the difference between authentic Islamic fiqh and the wrong interpretations readily available on the internet.
Hidayah Networks' Teaching Methodology
Hidayah Network has evolved with the passing years and has adopted a very systematic teaching methodology that suits our sisters and makes every lesson interesting and easily understandable. We do not stick to the planner and try to complete the daily goal no matter whether the ladies understood or not. Rather, our Alimahs adopt the following methods of teaching.
➡️Didactic Approach
The topic begins in a didactic way and the teacher instructs about the details of the topic to construct a good base.
➡️Interactive & Participative Sessions
Secondly, we prefer interactive and participative sessions where females can ask whatever seems complicated. Discussions help explore the topic more and more and the answers help clear all confusions.
➡️MindMapping and Subject-centered approach
Teaching Islamic courses online is different from physical sessions. Our teachers create mind maps and encourage students to think about the topic to deduce prior knowledge.
Applying different teaching methods fosters wide learning of topics with an exploration of multiple dimensions. Busy ladies do not have times to enroll in full times islamic programs then our weekend islamic school is best option fro them. Get free trails and join Hidyah Network.
Frequenlty Asked Questions