To make you understand the meaning and details of each Surah, we at Hidayah Network have initiated online Tafseer classes that are very well-structured. The tutors of this course are highly qualified and have studied Tafsir from renowned Tafsir books by Sunni scholars.
The syllabus of tafsir is flexible for students and is divided into 4 stages to make it easy to learn. You will not only learn the root words and translation but also a detailed summary and history of each Surah. Audio, video, and infographics are used to support the lessons of Tafsir. This program ends with a test, result, and certification.
About Our Online Tafseer Classes
Our online Tafseer classes are open for kids above age 10 and adult males and females. For kids, we have designed different schedules and activities with tafsir of small and easy Surahs. For adults, we offer customized plans of any Surah they like to learn explanations of. The progress of each student will be tracked to present a weekly report.
The curriculum is divided into milestones to make the lessons easy to learn and retain. Tafseer is discussed from different angles of history, culture, politics, and sociology. You will learn the cause, place, time, and background of each Surah's revelation. Students are expected to appear in oral and written tests of every chapter they learn. 
After completing the customized syllabus, students will give online short presentations of Surahs assigned to them. This will help them revise and retain the details much more easily.
What Will You Learn in Tafseer Lessons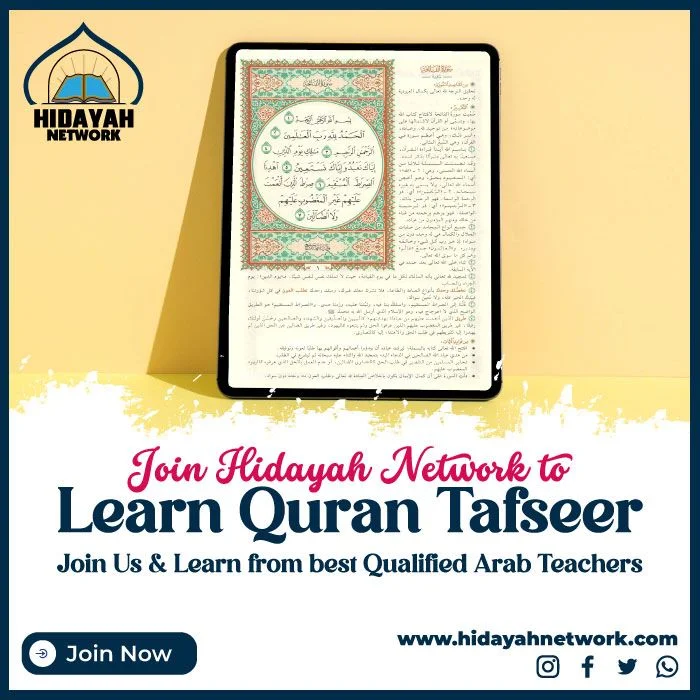 As Hidayah Network approaches tafseer differently, we make sure the students know:
➡️ The translation of verses through basic root letters
➡️ The main themes of each Surah.
➡️ Importance of Tafseer and Surahs.
➡️ The time and place of revelation.
➡️ The various causes of revelation.
➡️ Lessons derived from each Surah.
➡️ How to implement the lessons for character building.
Furthermore, in the advanced stage, you will learn the cross-analysis of verses by different Imams and also details through Fiqh. This stage is optional for those who want to learn advanced tafsir.
4 levels of the Quran Tafseer course
There are 4 main levels of this Tafseer course that can be customized according to your choice.
1- In level 1 you will study:
➡️ Surah Al-Fatiha
➡️ Juz Amma (30th)
➡️ Juz Tabarak (29th).
2- In Level 2 you will study 3 Ajzaa:
➡️ Juz Qad Sami Allah (28th)
➡️ Juz Qala Fama Khatbukum (27th)
➡️ Juz Ha'a Meem (26th)
3- In Level 3 we will teach 5 Ajzaa that are:
➡️ Juz Elahe Yuruddo (25th)
➡️ Juz Faman Azlam (24th)
➡️ Juz Wa Mali (23rd)
➡️ Juz Wa Manyaqnut (22nd)
➡️ Juz Utlu Ma Oohi (21st)
4- In level 4 you are given an option to select any Makki or Madni Surah or any Juz you like to study in detail. For example:
➡️ Surah Al-Baqarah
➡️ Al-Nisa
➡️ Al-Yusuf, etc.
Tafseer Schedules by Hidayah Network
We have different schedules for Tafsir that can be customized according to the student's demands. These schedules cater to a large group of people out there.
➡️ Complete Quran Tafsir in 2 years with great detail of each chapter and 3 classes
➡️ Complete Tafsir in 1.5 years with a schedule of 5 days per week.
➡️ Complete Tafsir in 1 year with 6 classes per week.
➡️ Complete Quranic explanations in 10 months with 7 days a week classes.
A Structured Curriculum for the Tafsir Program
Whatever schedule you choose, the syllabus for that schedule is very well-structured with various details like:
➡️ Daily work planner
➡️ Test dates
➡️ Meeting agendas
➡️ Arrangements of supported educational resources
We will give you a proper layout of your Tafsir program to keep it undereye all the time and progress accordingly.
Qualified Tafseer-al-Quran Tutors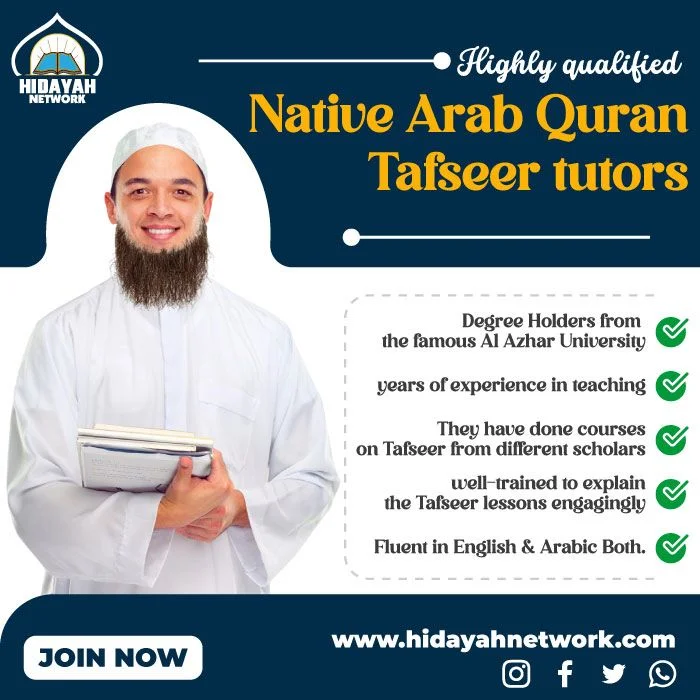 We have selected one of the best teachers to teach Quran Tafseer online.
These teachers are highly qualified with a degree from the famous Al Azhar University.
They have years of experience in teaching a variety of Islamic courses online.
Our professional native Egyptian tutors are fluent in English and are capable of conducting Online Tafseer classes in English professionally.
Our teachers have been through many rounds of interviews to get selected for this Course. This makes them competent enough to teach Tafseer the Quran.
Our talented teachers have done courses on Tafseer from different scholars and have a strong grip on their subject.
Note: We hire both male and female tutors for Online Tafseer classes for your convenience.
Objectives of our Online Tafseer classes
This course is articulated by keeping certain objectives in mind that are supposed to be met at the end of the program.
To develop a strong bond with the book of Allah.
To understand the meaning of root words and interpretation of the verses included in the course.
To understand and acknowledge the reason, time, and cause of revelations in the online Quran with Tafseer.
To be able to translate the Surahs easily.
To implement the orders of Allah and the ruling of this noble book in your lives.
To have comprehensive knowledge of the Prophets and their teachings.
To identify root letters of the same Arabic words used differently.
To recite the Quran by keeping its meaning and interpretation in mind.
To groom a personality that attracts others towards our Deen.
Why Choose Hidayah for Learning Tafsir? 
Some salient features make our Online Quran Tafseer classes stand out from the rest. These amazing features are:
Personalized one-on-one class to learn Tafseer online
Our one-on-one class for Tafseer is very unique. The students get the whole time with the teacher to focus on the lesson. The result of attending this type of class is innumerable. You can also learn the Tafseer at your own pace.
24/7 access to classes
You can choose a convenient time for learning Tafsir. Our availability helps adults and people from the working class to take some time off their schedules and attend classes.
Weekly Progress Report and Feedback Form
Our teachers of online Tafseer classes keep a track record of each student. They fill in the progress report daily and generate a report sheet every week.
Assessments at the End of the Quran Tafseer course
We will take tests to ensure that the syllabus covered is understood by our students. These tests are taken orally and in written form. The quizzes and objective questions are asked after each lesson.
Rewards and Certification
The students who gave their best and put in tireless efforts will be rewarded with financial gifts whereas all the regular students will be given a certificate for attending the course.
Motivating and Friendly Environment
Our online Tafseer course is conducted in a motivational and friendly environment where everyone uplifts others and works with unity.
Quality-control Experts
We have a team of IT specialists who vigilantly maintain the stability of the internet through online sessions. They are responsible for providing assessment sheets, report cards, meeting schedules, and all the audio/video educational resources required for the course.
How do we Teach Tafsir to Kids and Adults? 
Slideshow and infographics.
Our teachers show a slideshow of pictures and use infographics to help students understand the facts and figures easily. It is used to summarize the main theme of the Surahs.
Narrating Islamic Stories for an explanation.
Keeping the fact in mind that the Quran itself is full of stories. We prefer narrating stories to make the topic easily understandable.
Tafsir Activities and Quizzes for Kids
Quran Tafseer classes are conducted with the help of activities and quizzes. This technique makes the class enjoyable for kids. We engage them in:
➡️ Drawing and Tracing
➡️ Matching and Coloring the right answers
➡️ Filling the blanks with details
➡️ Choosing correct answers and puzzles
Presentations of Tafsir
After the completion of each Surah, the students are assigned a topic related to the theme, important event, time, place, and causes of the revelation of the Surah.
They are supposed to prepare the presentation and show it on the screens. This helps everyone revise it in a quick mode.
Interactive Tafsir sessions
An authoritative class has no visible outcomes. That is why we prefer interactive sessions for kids and adults to learn the Quran with Tafseer online. Students can cross-question and discuss topics from different perspectives.
Frequently Asked Questions