Learning Arabic language for adults becomes easy and exciting by joining an Arabic course. The Arabic course for adults is specifically designed according to each individual's preferences and learning capabilities. Plus, the interactive and engaging teaching style during classes helps master the Arabic language like a native speaker, leaving an instant impact on the Arabic learning journey.
Hidayah Network's Arabic classes for adults stand out with its simplicity and effectiveness, offering personalized 1-on-1 online classes taught by experienced native Arab tutors. Whether you're a beginner or looking to advance your skills, our well-structured curriculum ensures you'll develop all the essential language skills – reading, writing, listening, and speaking. Join us to learn Arabic effortlessly and gain the confidence to use it in various real-life situations
About This Arabic Course for Adults
Our Arabic course at Hidayah stands as a beacon of successful education, offering a unique approach where students actively shape their learning journey. We've meticulously crafted a course that adapts to each student's culture, level, and individual needs for adults to learn arabic fast. With a straightforward level determination process, students seamlessly progress from one proficiency level to the next.
Vision: Creating content specific to each student that includes all language skills.
Objective: To use Arabic in daily life/different situations in an integrated manner.
Result: Developing important Arabic skills and ease of using it in various situations.
What sets our course apart is its emphasis on making Arabic a daily habit. Through our expert teachers and carefully chosen curriculum, we ensure the educational process is not only efficient but also enjoyable. Drawing upon our extensive global teaching experience, we've harnessed modern tools to enhance the Arabic language learning experience for adults..
What You Will Learn in Our Arabic Classes
The Arabic classes for adults at Hidayah Network are largely focused on building the four key language skills: reading, writing, listening, and communicating. With our assistance, you will:
All necessary Arabic language skills (speaking, listening, reading, writing).
More than 1000 common words/expressions in all areas of the Arabic language.
The most important modern words and expressions are suitable for all new situations/fields.
The most important verbs that can be used in all daily situations and dialogues.
Basic rules for speaking correctly/building a correct sentence.
How to form any question using correct/appropriate interrogatives.
Various audio and read passages in all fields.
What interests the student regarding dialogues on Arab culture and religious topics.
Personalized 1-on-1 Online Arabic Classes for Adults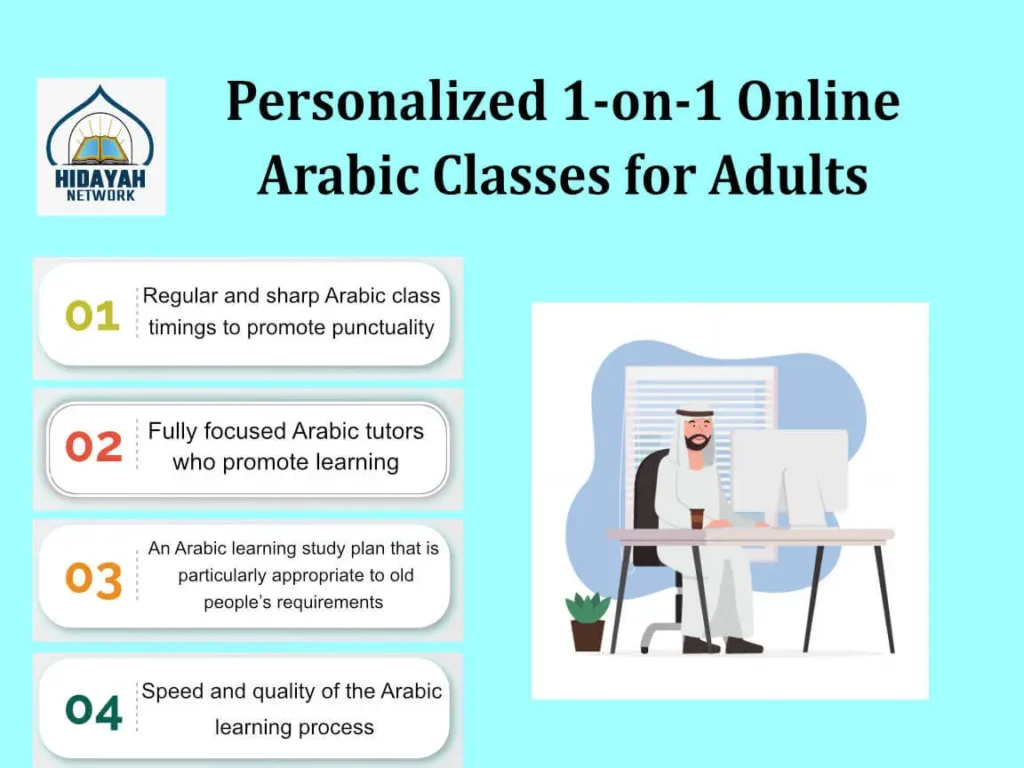 Hidayah Network offers personalized 1-on-1 online Arabic classes for adults. Student has the opportunity to fully benefit from:
Regular and sharp Arabic class timings to promote punctuality
Fully focused Arabic tutors who promote learning
An Arabic learning study plan that is particularly appropriate to old people's requirements
Speed ​​and quality of the Arabic learning process
The individual Arabic lessons at Hidayah Network, which are designed specifically to suit the old people's environment in all aspects, are considered among the most important and best serial sessions in a gradual manner that ensures the student's competence in using the 4 skills of Arabic language. Personalized 1-on-1 classes will prepare a student to express itself in the Arabic language.
The curriculum and strategy for Arabic learning for each student are decided based on:
The student's Arabic learning level through a personalized test.
Student learning requirements by determining the four skills of Arabic language.
Student interaction in the classroom.
The student's level of Arabic understanding and speed of progress.
3 Levels of Arabic Language for Adults
The student is tested to determine the appropriate level of Arabic learning for him. There are 3 levels:
1st Level: Building a Strong Base for Arabic Language
The first level is focused on building a strong base for the next levels to come. This level of Arabic learning includes important and common words to ensure that the student can communicate in Arabic with other in basic words. The student will eventually learn:
Daily vocab
Daily verbs
Daily phrases
Basic articles
2nd Level: Writing Sentences and Reading Texts in Arabic
This level of Arabic learning depends on using the previously learned basics in the first level in an organized and proper form to build coherent expressions that help the student express their requirements, needs, and ideas in an easy way.
Through this level, the student learns how to:
To write sentences
To listen to audios
To read texts
To answer questions
3rd Level: Learning Arabic Translations and Grammar
The third level of Arabic learning entails that the student has proper knowledge of the first two levels, which contributes to significantly enriching the student's language.
In the third level, the student can test its ability to:
To learn Grammar
To translate
To do conversations
Well-Structured Arabic Curriculum for Adults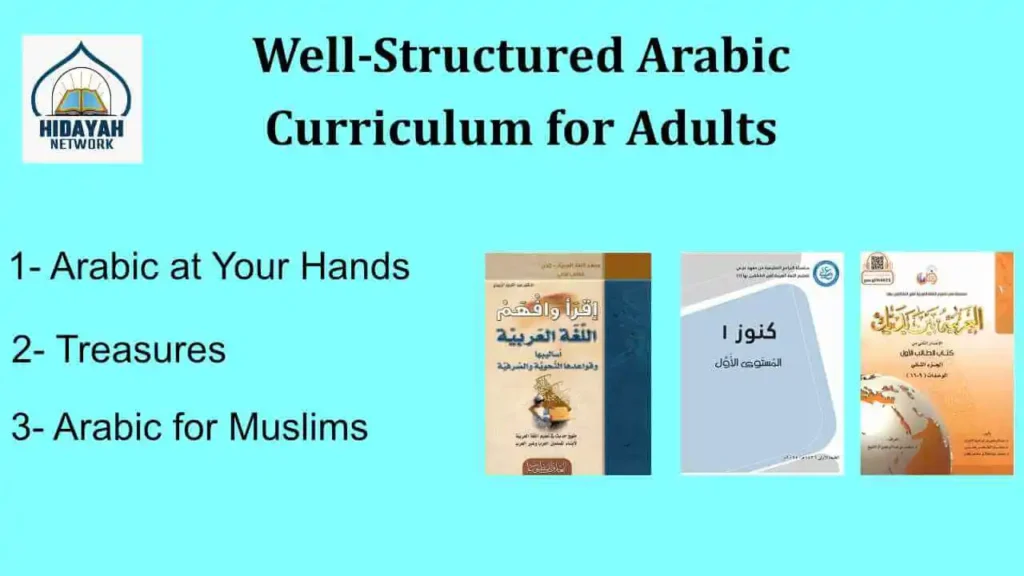 Our educational approach hinges on the cornerstone of a consistent and competent teaching team. At Hidayah, we entrust experienced educators with your learning journey, ensuring they employ effective techniques to benefit you. You'll find that our curriculum is thoughtfully designed to guide you through every step of your Arabic learning adventure.
Arabic at Your Hands (العربية بين يديك)
The most important feature of this book is the practical aspect, discussions, and questions that stimulate the student's memory and ensure a high rate of remembering various Arabic content. Hidayah Network tutors train students on the keys to using the language properly.
Treasures (كنوز)
The most important feature of this book is the audio and reading texts, which contain all the different topics appropriate to each student's environment. Hidayah Network teachers link this piece of information to the learner's environment and requirements.
Arabic for Muslims (العربية للمسلمين)
The most important feature of this book is the cultural aspect, which ensures that the student learns the language to build an Arab identity with historical roots. Tutors at Hidayah place the student in an authentic Arab environment that ensures the formation of a civilized Arab model.
Variety of Online Arabic Courses for Adult
At Hidayah, the experienced teachers have designed a variety of courses for adults. These courses cover all the basic and intermediate level Arabic that ensures the student learns authentic and classic Arabic as well. Let's look at various courses and what they will help you learn about Arabic:
1. Quranic Arabic
Learn how to read and understand the meanings of Quranic Arabic words.
Study the rules of the Quranic Arabic context.
Applying morphology to extract more than 10 forms for each word.
Detail and explanation of 6236 verses.
2. Modern Standard Arabic Classes
Learn to express thoughts, needs, feelings, and daily routine in Arabic.
Using the Arabic language in proper dialogue and conversations.
Mastering the four Arabic skills (listening, reading, speaking, writing) gradually.
3. Arabic Conversation Classes
Practicing Arabic properly is one of the most important achievements of learning the Arabic language.
The focus of the Arabic conversation classes is on employing all Arabic language skills (listening – reading – writing) to serve the speaking skills.
Training takes place through various conversations and dialogues using Arabic vocabulary/expressions.
Developing speaking skills depends on daily/modern/required topics.
This course is designed based on the needs/level of each student.
4. Arabic Group Course for Adult Intermediates
In addition to individual lessons, Hidayah Network provides excellent online Arabic group classes. In these classes, you will learn:
The success of group courses in teaching Arabic depends on mixing the different cultures of the students.
Collecting different challenges for students to develop Arabic skills.
This is done through a gradual course with curricula that include many dialogues – group conversations.
Outcomes of Our Adult Arabic Classes
The results of adult learner courses depend on having a sound foundation for all language skills:
1-Reading
Reading Arabic letters, words, texts, and indicative expressions.
Reading more than 1000 – thousand Arabic sentences.
2-Writing
Writing all the Arabic letters at the beginning, middle, and end of the word, distinguishing between different types of fonts, and learning the skill of arranging questions.
Writing daily diaries – various comprehensions.
3-Listening
Knowing the difference between the sounds of Arabic letters, while understanding the meanings of texts and the general meanings of Arabic stories and nasheeds.
Knowledge of events, documentaries, scientific and personal dialogues.
4-Speaking
Pronouncing letters, words, expressions, structures, and short sentences correctly.
Speak the Arabic language fluently like an Arab person and easily use the Arabic language in life situations with the efficiency of expressing thoughts and feelings in the Arabic language.
Our Arabic Lessons for Adults
Arabic Lessons for Beginners
Reading Arabic letters, words, and short paragraphs.
Writing all the Arabic letters at the beginning, middle, and end of the word.
Know the difference between the sounds of Arabic letters.
Distinguish different words and pronounce them correctly.
Duration = H80
Arabic Lessons for Intermediate Level
Visual texts and indicative expressions.
Teaching the skill of arranging questions.
Use prepositions, conjunctions, and interrogatives.
Describe situations, images, and events accurately and efficiently.
Duration = H180
Advanced Arabic Lessons
Read more than 1000 – thousand Arabic sentences – written texts.
Writing daily diaries – various articles and mastering the skill of dictation.
Knowledge of the events of documentaries and scientific and personal dialogues.
Speak the Arabic language fluently like an Arab person and easily use the Arabic language in life situations with the efficiency of expressing thoughts and feelings in the Arabic language.
Duration = H120
Top Quality Native Arab Tutors
Arabic tutors have certificates/degrees in the field of teaching the Arabic language.
The tutor's diverse religious background helps in enriching the language's vocabulary.
Arabic Teachers' experience in teaching all modern educational curriculam takes the student through a gradual journey that ensures ease of Arabic communication and learning.
Teachers excel at communicating information appropriate for all ages.
Arabic tutors at Hidayah have many training courses on how to manage online classes.
Tutors' proficiency in preparing appropriate worksheets/tests/activities/follow-up reports.
Design and preparation of educational and psychological teaching aids.
Tutors can set classroom goals and achieve them with hard work and dedication.
Arabic tutors are flexible in delivering lectures in Arabic in more than one way.
Why Choose Hidayah Network to Enroll in Arabic Classes for Adults?
More than 10,000 students of different nationalities and levels have been taught to speak and use the Arabic language properly at Hidayah Network.
Our curricula are special and distinctive for each student.
The Hidayah platform has succeeded in designing many comprehensive classrooms to teach all Arabic skills to adults proficiently.
There is a special file for each student that includes evaluation, certificates, and levels.
Tutors at Hidayah provide appropriate scientific content (audio/written/read) for each student.
We provide standards for each plan and follow up on their achievement