Best Online Tajweed Classes for Beginners
Have you:
◇ Never strived to Learn to recite Quran with Tajweed?
◇ Lost confidence in Learning Quran with Tajweed?
◇ Lost your will halfway through any Tajweed course for beginners?
Your heart shatters whenever you think about it but Hidaya Network won't let you suffer anymore as it helps to learn Quran with Tajweed for beginners.
1- Structured Plans to Learn Quran with Tajweed
The most important tip to learn Quran with Tajweed for beginners is to have a well-structured Tajweed plan that is specially designed for beginners. That helps every beginner to track his/her progress, and always keeps him on track and encouraged.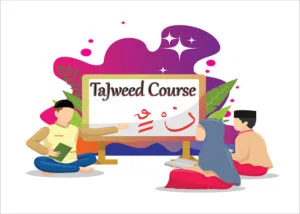 But why should you choose Hidayah network?
The course is built on modules with proper worksheets and programs. The plan is divided into 2 parts. It is further subdivided into Kids and adults.
Tajweed Rules for Beginners part 1:
First, you will have to learn Quran for beginners like these basic Quran reading lessons; The harakat (movements), the Madd letters, Sukoon, tanween, and Shaddah, and that's before starting to learn the following Quran Tajweed basic rules:
Introduction to Tajweed

Articulation points of the letters

Noon Sakinah and Tanween rules

Meem Sakinah rules

The Gunnah

Lam Sakinah rules

The Mudood

How Letters are formed

Qalqalah Mechanism
The basic Lesson classes plan for our online Quran Tajweed course are as follows:
As for the Beginners Kids, the lesson time is high but other plans are almost the same.
Tajweed Rules for beginners part 2:
The students will practice the Tajweed rules they learned in the Tajweed rules for beginners part 1.
They will read Surahs by manifesting the rules they learned in the beginners Quran Tajweed course and their recitation styles will be reviewed by Tajweed Tutors.
Accent in Recitation of the Glorious Quran

Characteristics of letters

Velarization and Attenuation (Tafkheem and Tarqeeq)

Two Alike, the Two Similar, the Two Close, The Two Far

A Brief Introduction to Grammar Terms

Connecting Hamzah (Hamzah Al-Wasl)
Note: To check the fluency of the students, tests will be conducted.
2- Best Tajweed Experts to Teach Beginners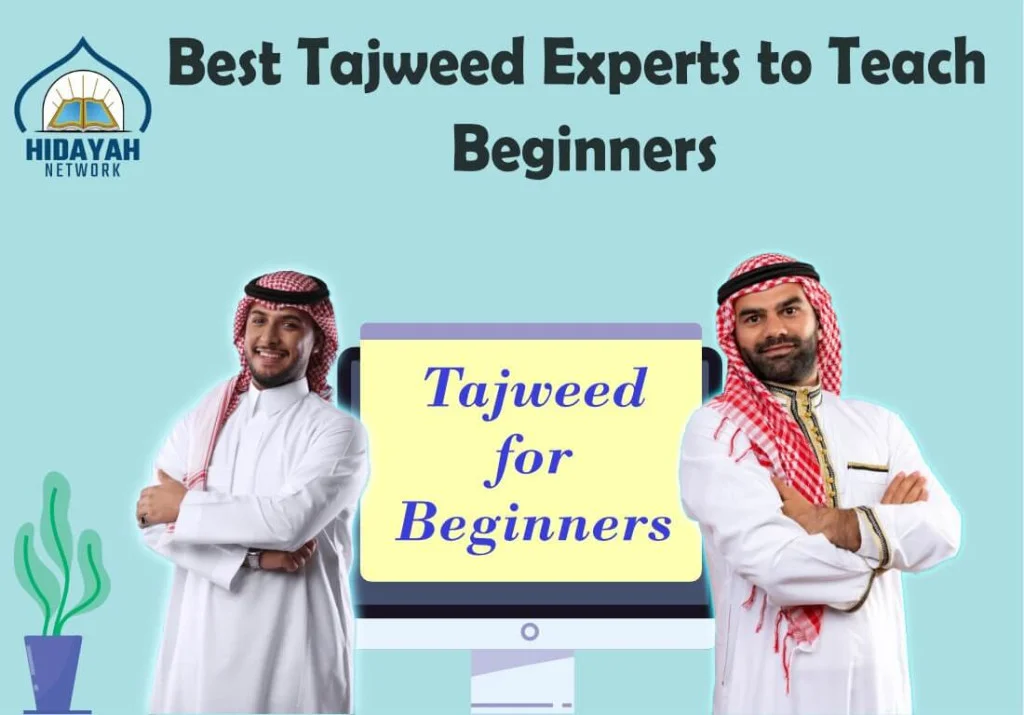 Online Quran learning requires a professional Tajweed tutor to make it easier for them to learn Tajweed perfectly. But, What makes them eligible for such a grand job? So, here is the endless list of proven expertise of our qualified tutors:
1) They have graduated from one of the most prestigious Islamic universities; Al-Azhar and are certified with many Quran Ijazahs.
2) A Quality selection is done to get the best online tajweed teacher who can help our students recite the Quran the same way our prophet Muhammad did.
3) Speak English fluently to help you learn and recite Quran with basic Tajweed rules accurately and easily.
4) Well-trained to teach online and had the experience of helping hundreds of non-Arabs improve their Tajweed. They are certified in teaching different amazing Tajweed books.
5) Using the best interactive & most modern teaching tools in explaining Tajweed. They use slides and infographics to help our students understand Tajweed easier and faster.
6) They provide you with the best practicing rules and materials to let you practice whenever you want thus helping you love practicing Tajweed consistently by engaging in visual practice.
Note: We also have the best female Tajweed tutors to teach ladies the Tajweed rules in our Quran Tajweed Classes for sisters.
3- Why Choose us?
Our Online Tajweed Course for Beginners doesn't just rely on theoretical aspects of Tajweed as the other companies do, but we focus on developing practical skills in our consumers.
Our Quran Tajweed for beginners course Provides:
1) Best strategic Tajweed plans to achieve your goal with a 24/7 flexible schedule.
2) Native Ijazah Certified, Arabic male, and female tutors who give practical tips by providing material for practicing Tajweed.
3) Monthly quizzes for the students and prizes for the winners. We keep track of your Tajweed progress with monthly reports.
4) Best Tajweed software to easily access your classes anytime and anywhere.
5) Tajweed for beginners course to keep them focused on tracks and Completion Certificates for each of our tajweed levels.
6) Unique teaching and engaging tools for visual engagement of students with slides and infographics to let students keep focused.
7) Two FREE Trial Classes to let you judge our credibility and decide by yourself.
4- What will you learn in our Tajweed Course?
Hidaya Network helps the beginners enrolled in our Online tajweed course in all the following aspects:
● Let you have a grip on Basic Tajweed rules for reading Quran and overcome personal hurdles without failure. To remove the barrier in the relationship between you and the Holy Quran and learn Tajweed for beginners without being frustrated.
● Know the Characteristics of each letter and articulate the points and exercise through focused repetition thus having fluent pronunciation.
● Let you point out your mistakes and let you have a beautiful voice as per the saying of the Prophet (SAW).
5- Is it Worth it to take our Tajweed Course for Beginners?
Tajweed for Kids Course:
Consider that your kids don't want to go outside and all you want is to let them learn The Quran Tajweed in an easy, free, and engaging atmosphere. We solve this problem for you with the best online Tajweed course for beginners.
Since it's our responsibility to raise them well in a healthy Islamic environment and teach them to follow our Prophet Muhammad's(PBUH) footsteps and spiritually connect with Allah. It is a dire need to teach them and yourself the basics first.
Let your kids learn tajweed with our course "Tajweed Course for kids''.
Tajweed Course For Adults:
It's not too late for learning. Allah likes high-spirited learners who engage more to know about his message. Hidayah Network provides you with all the expertise to help you adorn your voice with the sweetest essence while reciting the Quran with Tajweed and understanding the exact message of Allah.
We provide you with the best curriculum and online Quran teachers who help you in every possible way with the expertise they have.
6- The Outcomes of our Quran Tajweed classes for Beginner:
The correct pronunciation is a gift from Allah, and we must use it in order to please Him. It is difficult but not impossible. All we can do is lend you our helping hand, and what you need to do is to take it and let yourself and your kids grow by understanding the Al Quran properly.
We have laid the pathway of Tajweed Learning Strategies by best teachers, Guides, and proper schedule just to get the following outcomes for you:
1) Students become proficient by learning Tajweed for beginners from primary to advanced levels.
2) Students become familiar with Quranic pronunciation skills and the most common rules of Tajweed, theoretically and practically implemented in their life.
3) Students will not only fine-tune their recitation through this highly interactive course, but they will also develop a new love of reciting the Quran and connect with Allah.
4) After clarifying the excellence to Learn to recite Quran basic Tajweed rules they would be able to confidently recite it in front of their family members and teachers.
5) They could apply easy tajweed rules in Daily Duas and Azkar.
6) They will be proficient enough to teach others and please Allah.
Conclusion
Being an international Quran and Islamic school, We strive hard to provide the best quality to help Muslims to learn Quran with Tajweed for beginners' courses easily and efficiently.
Understanding tajweed to improve your Arabic and recitation of the Qur'an may look like a daunting task but you need to remind yourself to be patient for you will not only get a reward from Allah, In sha Allah, but this seemingly daunting task may become easy for you and you can memorize Quran online too.
Most Important FAQs



Can I schedule my online Tajweed classes anytime 24/7?
Yes, Hidaya Network has a user-friendly strategy. Users can take classes whenever they want.
Do you have an age limit for the Online Tajweed Course?
No, people of all age groups can join our courses they wish for
Do you focus on the Online Tajweed Course only? Or do you offer other Quran online courses too?
We offer many other Quran courses for all ages and levels. You can visit our website for details.
How do I pay my fee?
We have many options available for you:
Paypal
Bank transfer
Moneygram
Western union
How do I get started?
Take admission in our course
Take your laptop, Mobile
Internet connection
Skype, zoom for lectures
Is there any female teacher to teach female students?
Yes, we have female teachers since there are many problems that are to be solved related to female students.
Who are your courses designed for?
For all kinds of ages since there is no limit age to learning. Kids, Adults, Males, and Females all can engage in this course.
Can I rate the teacher or change the teacher?
All the teachers are chosen through high standards to ensure the best learning of Tajweed beginners but surely you can rate your teachers to enhance the overall performance and write a review.