Understanding the Quran is the only way to strive for excellence and betterment in this world and the next. There is no obligation to learn the Quran in a rigorous routine or force yourself and your kids to attend the daily sessions. The goal should be to learn and stay connected to the book of Allah no matter which day you allocate for it.
If you are busy on your weekdays, Hidayah Network invites you to attend weekend Quran classes that are specifically designed for job holders, working ladies and gents, students, and people with busy schedules. These online Quran classes are flexible to attend at any time on Saturdays and Sundays.
Educational Goals Of Weekend Classes At Hidayah Network
Quran Reading
The main goal of this course is to enable students the opportunity to learn basic Arabic which is essential for Quran reading. this includes
Arabic letters
proper articulation points of these letters
joining of the letters
word formation with different rules
smooth sentence formation
reading without getting stuck
Quran Recitation
This program aims at making the learners exceptional in their recitation by applying all the Tajweed rules and by enabling students to become pros in any of the 10 authentic recitations.
Quran Memorization
This is a crucial program with several sub-courses. Its main goal is to make students hafiz with quality retention and amazing recitation. We focus on Tajweed and engage in continuous revision sessions to make your hifz accurate.
Quran Advanced Tajweed
Advanced and tough Tajweed rules are considered in this course and we only take those who are familiar with the basic Tajweed rules. The ultimate goal is to enhance the science of Tajweed and make Quran reading and recitation as natural as Arabs have.
Tafseer Al-Quran
Learn the meaning and detailed description of each surah from our eminent scholars who consider the best-known Tafseer books. The main goal is to make you familiar with the verses and enables you to understand the overview of that era easily.
Another main goal is to focus on the tarbiyah and moral lessons derived from each surah.
Arabic Language
As non-Arabs find it tough to understand pure Arabic accents both verbal and written. This course aims at making you efficient in understanding Quranic Arabic and simple day-to-day Arabic easily. We engage students in practical activities too.
Note: As you will get back to the class after the whole week, you have to revise your lessons daily on your own to avoid any waste of time in re-learning the old lessons. The more you stay active in this regard, the better and sooner you will accomplish your goals.
How Do Weekend Quran Classes Work?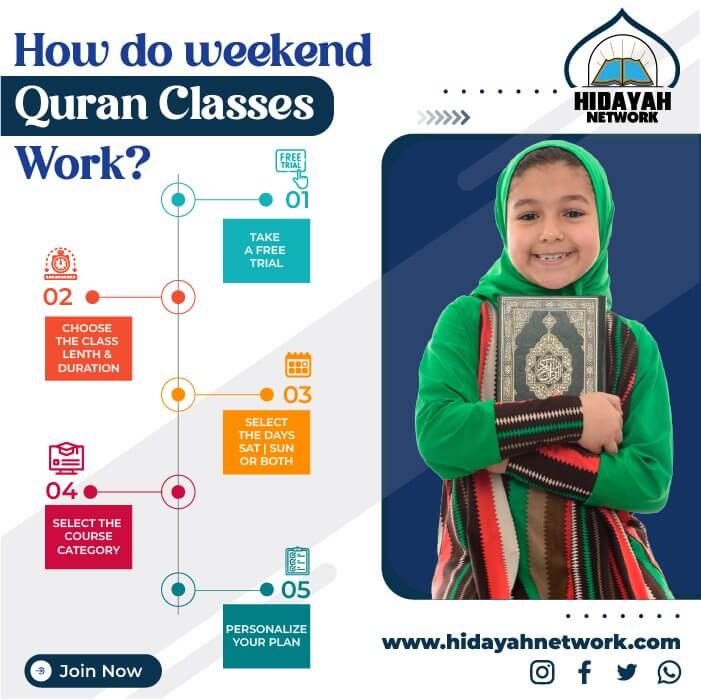 Take a Trial
The 1st step is to enlist your name in the free trial class where you will get to have an idea about how these native teachers teach. Whether you intend to take any Quranic or Arabic course, we have a sample class for each one of them.
Choose the Class length
Decide your class length according to your ease, convenience, and availability. You can choose to have a 30, 45, or 60 minutes class. If you want to have a double class, that is also feasible.
Opt for the Course Duration
Choose how long you want to stretch the course. All the courses will take more than normal time as you are only taking weekend classes. Your duration priority will let us have an idea of the classes we have to sequence with curriculum breakdown.
Select the days (Saturday, Sunday, or both)
Either you can have a class only on Saturdays or on Sundays as well. Our tutors are full-time available to cater to you. You can also get double classes on both days.
Select the Course Category
We have several Quran and Arabic courses for all age groups. You can select from the list of Hidayah Network homepage and let us know. There are some prerequisites for a few courses which you will get to know in the course description.
Personalize your plan
Once you are done choosing the course and its duration, talk to the hired tutor and get a personalized plan in which you can alter and change your syllabus according to your preference.
Qualities of Hidayah Network Tutors of Weekend Quran Classes
Origin
Our male and female teachers are native Egyptians and Arabs. They are adept at speaking and teaching Arabic exceptionally. Their accent is phenomenal. Hence, it is superb to hire such an amazing teacher to develop a natural Arabic accent.
Schooling, Higher Studies, and Other Qualifications
These teachers have been brought up in Islamic culture, their schooling and higher education are all done in Islamic institutions where they are exposed to many religious subjects and are trained to teach even if they are not pursuing teaching as a career. They are quite knowledgeable and have a good grip on each topic.
Qualities as a Teacher
Our hired tutors possess some qualities that make them stand out from ordinary teachers. They have gained and maintained a 5-star rating in online teaching.
They are creative and proactive and devise innovative teaching strategies for the success of their lesson deliverance.
They are patient and compassionate and handle kids' Quran classes amazingly.
Online Teaching Experience
They are highly experienced and skilled in Quran teaching. Whether it is a Quran Recitation, tajweed, memorization, or Tafseer course, our tutors know, out of their years of experience, how to achieve the targets and accomplish the learning objectives.
The more time they have spent conducting virtual classes, the better they have evolved professionally. The majority of the tutors have 7+ years of experience in online Quran teaching. So if you are a beginner and want to learn Quran online then get our Quran for Beginners course.
Features Of Online Weekend Quran Lessons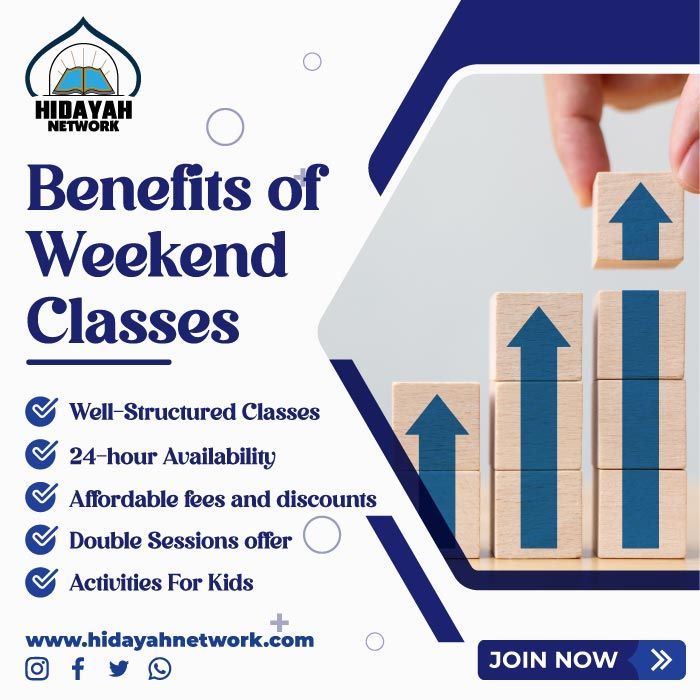 Well-Structured Quran Classes
All of our Quran and Arabic courses are well-structured and do not let you be in any confusion or hassle. All you have to do is to enroll, get a plan, and leave the rest to us. We will inform you about tests, competitions, report card meetings, quizzes, and syllabus breakups.
24-hour Availability on Weekends
As you are taking classes only on weekends so you have the opportunity to schedule the classes anytime in the day 24 hours. No matter which country are you from, time management is not an issue for us.
Affordable fees and discounts
For the first time, we offer the payment of the dues in the currency of the user. We do not bound you to pay in dollars. Our rates are pocket-friendly and we offer discounts for families and for referring our site to your friends
Activities For Kids
For the attraction of concerned parents, we have designed our kids' courses by adding great thrill and the element of fun to them. Now learn Quran differently and connect to the book of Allah with love.
Double Sessions offer
You can attend a double class both on Saturday and Sunday to complete the syllabus early. If you can manage to spare more time, it is easy for us to either elongate the class or let you join another class at a suitable time. You can arrange both classes at your ease.
Reporting Back Weekly
Get feedback on your kids' and your learning and understanding, weekly. The report sheet has many points and columns to fill in. The teachers take out time to give you a detailed evaluation with improvement tips.
Exams and Certification
Proper tests and grand exams are part of each course. The schedule is predefined in the learning plan to help students get prepared easily. All the exams are checked, numbered, and the grades are sent via WhatsApp or email.
Conclusion
The main purpose of teaching the Quran is to enlighten your Islamic knowledge and connect you to the book of Allah. Whether you take classes daily or only on weekends, we recommend joining with convenience. Choose us if you like the free trial and get a Quran plan to continue.
Frequently Asked Questions