Hifz Quran for adults is a versatile course that is not only for the Native Arabs but for all the Muslims living in this world. We provide a unique online school that helps adults fulfill their dream of memorizing the Quran.
What Makes Our Quran Hifz Course for Adults Different?
There may be uncountable platforms and online Quran schools that claim to be the best but we show how we are unique and one of a kind. The following features will help you learn how our Hifz course for adults is different.
1- Excellent Quran Memorization Teachers for best Hifz class output!
When it comes to the Quran Memorization teachers of the Hifz program, we deal with utmost scrutiny and tough selection criteria to choose the best ones.
★

Experienced and Ijazah Certified!
1-These native Arab teachers have completed their Ijazah from an authorized and very well-known institution Al-Azhar University at a very young age.
2- Our tutors have years of experience in this field, and they share their special techniques of memorization with the students, that is why our online hifz course is a big success
3-These top listed teachers are experts in their Tajweed, Makharij, Quranic understanding, and Arabic language.
★

They pass a series of Selection Tests!
4-Our Quran memorization teachers are hired after a selection test and interview conducted by professional scholars.
5- They are devoted and dedicated to helping Muslims memorize the Quran confidently.
★

They speak English fluently
Have a language barrier?
No problem!!
The teachers we have selected for our Quran memorization course speak English coherently and make students understand the lesson well.
Being bilingual gives our Online Hifz teachers the benefit of understanding the process necessary in the Online Hifz Quran.
Our Online Quran Tutors are Proficient in their English Fluency Level and Ensure clear and polite communication with the Students.
They can offer support and guidance to their students better than someone who has not learned another language. Thus they can Explain the Hifz lessons in a better way.
★

Strong Decision-Making Skills
Our Hifz Tutor Can help Students build engaging and welcoming virtual Hifz classrooms.
Excellent instruction is based on decision-making — how teachers decide to respond to and engage with students, select Hifz Class curriculum, and materials, organize learning, and use communication strategies.
2- Well-Articulated Plan of Hifz Quran
Once you have made up your mind about Hifz Al-Quran, go through the online Quran memorization plan offered by us.
We bear the fact in mind that every individual has his/her own learning capacity and speed. That is why we let you decide whether to hifz the whole Quran or the selected portions (different Surahs).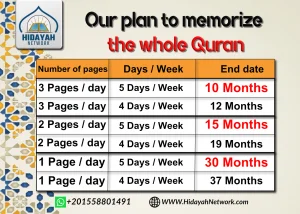 Our Best Quran Hifz school has plans for memorization for different surahs and Juz. You can select your plan or make a customized plan for yourself. Your teacher will help you through the process.
3- Weekly Reports to Track Your Progress
In our online Hifz classes, we generate weekly reports to track your progress in Hifz.
Meetings are scheduled to discuss the weaknesses and to mutually decide the ways to cope with them.
These reports and regular meet-up sessions help keep you on track and map out the rough estimated time of hifz completion.
4- ONLY 4 Steps to join our Online Hifz Classes for Adults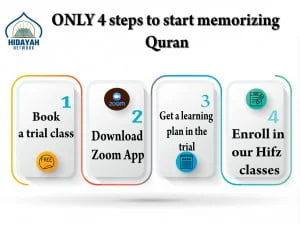 1) Book a FREE trial class now and have the trial class anytime 24/7.
2) We will contact you shortly but make sure to Download Zoom App as soon as possible.
3) Enjoy your Quran Hifz trial class and we will send you an evaluation report with a personalized Hifz plan.
4) Enroll in our best online Quran classes, with a male or a female Arab Quran tutor at your suitable days and time.
5- Best Personalized 1 to 1 Hifz Classes for Adults
In our One-on-One Online Quran Classes for adults, the students get the individual attention they demand.
Using our Private tutoring online gives you or your child the opportunity to take as much time as they need to explore difficult concepts, fully understand their classwork and ask questions. Additionally, Our One on One Hifz tutoring provides children a safe place to ask questions they're too shy or embarrassed to ask in class.
In these individual-focused Hifz classes, the Hifz students can avail of the opportunity of attending fully customized Hifz classes and the 100% attention of the Hifz teacher.
6- Encouraging Environment in our Quran Hifz Course for Adults
Don't expect harsh comments and disregard from our hifz teachers. They are experienced in creating an encouraging and supportive learning environment for intensive hifz course.
It is no doubt a vigorous task that can only be successfully achieved if the teachers and mates are quite motivating.
Our Hifz Experts also use unique and Interactive ways to make learning for Hifz Students more suitable and refined!
Asking for feedback

Let the students choose the way

Making it social

Invite learners to contribute

Encourage peers Evaluation

Discussion boards
Why Hifz discussion board?
By adding a discussion board to the curriculum, Hifz students can engage with each other while the teacher sits back and takes notes.
If some students aren't participating in the Online Hifz class, the professor can send an email reminding them the discussion board is factored into their grades.
This way they Build more in-class, real-time surveys.
We help slow learners by applying different strategies to make them capable of achieving their goals.
7- Flexible Timings for all of our Online Classes
We are available 24/7, unlike the typical Quran institutions where you have to attend classes in the given time frame.
You can tell us the time that best suits you and at which you can easily focus properly on your lesson.
→ Attend your lesson via the ZOOM app and reach your target with the best hifz teacher.
Note: In case you are not available for the lesson, inform your teacher beforehand and schedule your timing according to your availability.
8- Grab the Rewards from the best Quran Hifz school
Hifz Quran classes for adults are extensive and demand devotion and hard work. We keep our students' motivation level high by giving rewards after they achieve the set target of the Hifz portion.
We claim to have the best Quran Hifz school online due to the fact that our students give positive feedback once they complete their Quran memorization course.
We have many Virtual reward Tricks in Hand to encourage students:
digital reward tags.

digital stickers.

Award ClassDojo points.

Taking a virtual field trip.

Send them an ebook

Play Classcraft.

Giving them a social media shout-out

Create or contribute to the classroom playlist.

All the students of the

hifz program

are awarded a certificate signed by the supervisors at the end of the course.

We also give financial gifts to our brilliant students that encourage them to give the best they can.
9- Hifz Quran Classes for Ladies with female Tutors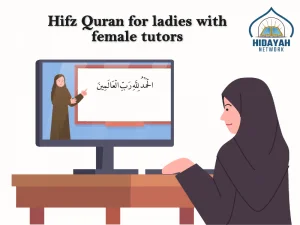 Hidayah Network, the best online Quran memorization website, is offering you an opportunity to select a gender-specific teacher for yourselves.
Keeping the concern of female adults into consideration, we are pleased to provide you with both male and female teachers so that you can select the one you feel comfortable with. So free feel to get our Hifz classes for ladies with two free trials.
10- Monthly competitions between our Hifz students
To break the monotony of Quran Hifz classes, we arrange and conduct monthly competitions between Hafiz students.
This lets them prepare well for different rounds to reach the finale. It also helps motivate the students to give extra time to their revisions to be on top.
The winners are given cash prizes, trophies, and certificates to appreciate their hard work and to boost their morale.
11- Interactive Group Classes!
In the Online Hafiz Quran group class, adults will be grouped according to their families, the same lessons, or the same age. What is the benefit you get from this Hifz method?
• Students who learn in our groups are more motivated and enthusiastic about learning.
• Learning in Our group Classes contributes to creativity
• Advantages of peer collaboration.
Our Hifz Group Classes are limited to only 5 members. The groups exceeding five are shaped again to let each Quran Hifz teacher have the same number of Hifz students.
• You will get a discount if the second or third member of your family gets enrolled in any of our courses or in the same Online hifz course.
12- What Exceptional Tricks do we use in our Quran Hifz Classes for adults?
Our Hifz Teachers use many monetized and unique tricks to keep the students hooked for the daily lessons and adopt the following methods to make the Online Quran Memorization Classes fun for them.
1- Assign students frequent practice tests or quizzes.
2- Combine visual and verbal lessons.
3- Encourage and help students to develop memory "cues."
But how do they help students to develop memory cues which are helpful for remembering the Hifz Lesson they just learned?
By 5 basic Memory skills:
Elaboration

Mental imagery

Mnemonics

Organization

Rehearsal
4- Encourage peer discussion and group-based learning.
So, enroll today for "Hifz Quran for adults" and unlock the salient features of our Hifz course.
How do they help you Memorize Quran Fast and Easily?
In our Quran Classes for Adults, Our Professional Hifz Tutors help you out to memorize Quran fast and easily, Using the Following Methods in a Flow!
Prepare the Hifz lesson

Record What You're Memorizing.

Write Everything Down.

Section Your Notes.

Use the Memory Palace Technique.

Apply Repetition to Cumulative Memorization.

Teach It to Someone.

Listen to the Recordings.

Continue
13- Pocket-Friendly Fee Structure
The fee structure of Quran Hifz for adults is highly affordable and economical as compared to the competitors around us.
Do make a tour at other Online Hifz Websites too. And you will be amazed to see that Our High-Quality Course is just so affordable for you.
Your selected teacher, your convenient time, your customized plan, and your choice of class at a pocket-friendly rate is all that you are looking for.
14- Outcomes of our Quran memorization course for adults
We have some productive outcomes of our Hifz course for adults. We intend to achieve these outcomes for all of our Hifz students.
1- To complete the planned portion of the Quran in the set time frame.
2- To memorize the Quran or the part of the Quran with proper tajweed and makharij.
3- To actively participate in the monthly competitions and try to stand atop.
4- To keep tracking the progress by putting in extra effort in revision.
5- To adorn their voices with the pearls of Arabic accent in Qiraat.
6- To keep revising the learned part every day in Salah and leisure time.
7- To understand the overall meaning of the Surah to be memorized.
15- TWO FREE Trials with 2 Different hifz Teachers:
Here comes another reason why we should be your 1st choice when it comes to the online hifz program.
You can avail of our two FREE Hifz trials with two different Hifz Quran tutors teaching you. This is to let you choose which teacher suits you the most according to his/her teaching style.
Once you attend a free trial class from both teachers, take some time to decide, let us know, and we will hire that tutor for you.
Note: Select a suitable time for your Quran hifz classes and get started with this journey with your selective teacher.
Conclusion
If you have a dream to learn the book of Allah or any of its portions by heart, don't feel hesitant to step ahead and let us take the responsibility to help and guide you through your Memorization journey. Hifz Quran for adults is a course designed for you to achieve your goals.
Most Important FAQs
Which part of the Quran are you going to start with?
We will start with the easiest and the smallest Surahs to develop interest and understanding in the beginning.
I have memorized Juzz amma but not with proper tajweed. Can I enroll in this course to gain perfection?
Yes, we have customized plans for different Juzz of your choice. Your teacher will work on your tajweed.
How Many Classes Per Week do I have to attend?
It depends on you how much time you can give to your Quran memorization weekly. The time duration will be set by you when you will design your plan with the teacher.
How to Get Enrolled in this Hifz Course?
It is very simple. Fill out our FREE trial hifz form. Then, pay the dues and get started.
How do you accept the fee?
We have different options you can choose from, at your convenience.
Paypal
Bank transfer
Western Union
MoneyGram etc