Whatever young kids learn in their early years becomes the foundation of their beliefs and interests. Parents in the West strive to provide a solid Islamic base to their offspring so that they can develop a love for their religion.
Little beings always have less attention span and like engaging, fun-filled, and interesting sessions to attend and understand. Parents who are looking for such a credible platform got the good news that Hidayah Network is providing the best Islamic Studies for Kindergarten E-classes that are specifically designed to instill the love of Allah and Islam in them.
Islamic Studies for kids carries a vast range of Islamic topics that should be taught side by side. We are pleased to render our services through our online Islamic classes for toddlers that will cover all the topics like beliefs, pillars, Prophets, Divine Books, and much more.
About Our Islamic Studies For Kindergarten Course
Kindergarten Islamic studies course is for students between the age of 3 to 5. We have selected the basic curriculum that will serve as a foundation of Islamic upbringing.
Toddlers will be carried through this course step by step, by our qualified kid's tutors who can make a structured plan of the levels in this course.
Through these virtual sessions, parents will also learn how to teach Islam to kids. The course duration depends on you, as you are offered to customize the lessons for your child You can make them attend 3, 4, or 5 classes per week.
The time for each class is kept at 30 minutes because we do not want children to get bored or tired.
Why Enrol in Our Islamic Classes For Kindergarten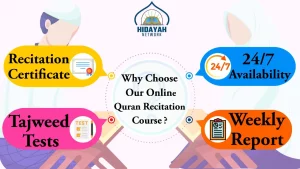 1- 24/7 Availability
2- Certificates For Toddler Islamic Courses
3- 2-weeks report for Parents
4- Quizzes and Competitions
5- Affordable Fee Package
6- One-on-one Interactive class
7- Online Islamic Group Classes
Best Tutors To Teach Islam to 3-6 Years Old
We bear the fact in mind that this age is very sensitive and the information you pour into young minds and hearts leaves a deep impression. So, Hidayah Network has adopted strict criteria for the hiring of teachers. We welcome the tutors who are:
1- Professionally trained to teach toddlers.
2- Having years of experience in handling kids.
3- Native Arabs are fluent in English to teach with a clear accent.
4- Are degree holders in Islamic Studies.
5- Using visual and engaging teaching methods.
Note: We also have the facility of separate male and female Quran teachers for preschoolers if required.
Our Structured Plan of 3 levels for Preschoolers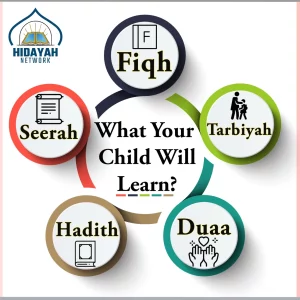 We have designed these 3 primary levels to cover the main Islamic subject categories. Parents can get a structured plan for each level after we analyze which level the infant stands in. It is very important to have a personalized plan for your kids, choosing from our curriculum which part you want them to learn.
These categories are:
Hadith

Seerah

Fiqh

Tarbiyah (Islamic etiquettes)

duas
Our curriculum is specially designed for the young age where we cater to all the topics through some famous and reliable Islamic E-books for preschoolers.
These books are used as a support of the main curriculum designed by the experts. The main focus is to instill a love for religion and Allah.
Our Methods of Teaching Islam to Toddlers
We do not want to make toddlers take Islam as a difficult subject with lots of information in it. Rather, Islam is taught through various methods to make it lovable for preschoolers.
Use of colorful Worksheets

Islamic Educational games and toys

Fun-Filled activities for Islamic learning

Quizzes, puzzles, and riddles

Animated videos and PowerPoint slides

Storytelling and Islamic Cartoon

s
Outcomes of This Islamic Course for Young Kids
Our practical outcomes are designed to make Islam learned and adopted naturally and not forcefully.
1- To instill the love of Islam and connect the toddlers with Allah.
2- To make Islamic Studies lessons really fun and enjoyable to learn.
3- To make kids understand and adopt Islamic etiquette and values.
4- To shape their personalities according to Islam.
5- To make them love Prophet Muhammad through the stories narrated in the course.
6- To follow Sunnahs of everyday life out of love and understanding.
7- To have learned short duas of everyday life and recite them out of habit.
8- To offer salah with parents in the masjid or at home without being asked or forced.
Most Important FAQs