The era we are living in is full of fitna and deception. It has become mandatory for parents to look for reliable classes of Islamic studies for their children that are known to instill the love of Islam in them by teaching in a fun way.
Hidayah Network has designed a course on Islamic Studies for kids of different ages, in which all the topics are skillfully arranged to be taught by qualified Arab tutors who are experienced in teaching Islam in an engaging way.
About This Islamic Studies for Kids Course
What Will Your Child Learn Through This Course?
The curriculum of our Islamic classes is basically designed to provide deep-rooted knowledge to the kids living in Non-Muslim countries. Our experts have made sure to cover all the aspects of Islam.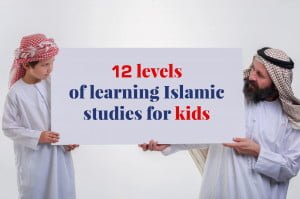 ✅Tafseer of Surahs
✅ Seerah of Prophet Muhammad
✅ Authentic hadiths of Prophet Muhammad
✅ Fiqh
✅ Tarbiyah ( Islamic good manners and etiquettes )
✅ Wives and Daughters of Prophet Muhammad.
✅ The Male and Female Companions of the Prophet.
✅ The Ghazwa ( wars ) of Prophet Muhammad.
✅ Duaa and Azkar.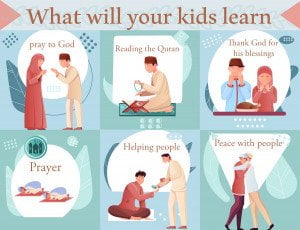 We have 12 levels series of Islamic Studies that covers everything. Also, we provide a personalized Islamic study plan for children to choose from according to their interests.
The Outcomes of These Islamic classes For kids:
✅ They will learn the correct way to pray and worship Allah SWT not because it's compulsory but out of their love for Allah.
✅ To instill love and affection for Allah and not His fear or wrath.
✅ To learn Tafseer of Surahs through multimedia, as visuals that attract children more.
✅ To apply Islamic rules, studied in Fiqh, in daily life with reasoning and not forcefully.
✅ Their value-integrated learning will shape their personalities after attending our Islamic lessons for kindergarten.
✅ To learn and develop a love for Prophets.
✅ To develop tolerance, love, goodness, and compassion in kindergarten from their early years through the Seerah of Prophet Muhammad.
Facts about Hidayah Network
Note: We also teach toddlers a variety of Quran courses in our online Quran classes for kids
Why Enroll in This Islamic Course?
We bear the fact in mind that to stand out of the hundreds of leading online platforms, we need to provide something really unique and different. So, here are the reasons to choose us for teaching your toddlers Islam.
Storytelling and Cartoons for Children:
In this course, we have added the sessions of storytelling and cartoon watching that are questioned and discussed at the end for the moral and righteous outcomes attained.
Storytelling sessions are conducted with the help of images to let students enjoy and understand the details easily.
Our teachers use flashcards, puzzles, toys, and other resources to keep children engaged in the story with the peak of curiosity and climax.
The cartoons are also selected by the supervisors for their content, language, moral lessons, and authentic details.
Islamic Educational Games and Toys:
To support what we teach, we use educational games and toys for kids to learn Islam. We are aware that it is difficult to keep toddlers attentive to us online.
That is why our tutors keep on changing the mode of teaching and playing games through which they teach and let young kids enjoy themselves.
Some of the games and toys are named here to help the parents to buy them for home use as well. Arabic alphabet blocks, Sound puzzles, Memory games, Board games, etc
Rewards and Certificates:
We give cash prizes and certificates to students scoring top positions and participate in different presentations, debates, and quiz competitions.
We appreciate and reward with digital stickers, badges, and monitoring positions to the toppers to motivate and encourage other children too.
All the participants in Islamic lessons will get an E-certificate that is signed by the supervisors.
Our Quizzes and Tests:
The kids are evaluated through quizzes and tests that are sometimes taken surprisingly. At the end of each lesson, they are asked questions regarding the lesson to check if they have understood well.
Also, they tend to forget quickly so we keep on taking short quizzes about names, dates, stories, and duas.
Tests are taken orally and in an objective style too.
→ We also provide Arabic quizzes if your children would like to learn the Arabic language in an engaging way in our online Arabic classes for kids.
Activity-Based Islamic Learning:
Keeping our students' interests in mind, we have designed an Islamic studies curriculum in such a way that makes it look easy and enjoyable.
Instead of reading from textbooks and following the typical teaching rules, we generate Islamic activities for the Islamic Studies courses.
Each lesson is conducted with specially designed activities to make learning Islam for toddlers unusual.
Students are given printable worksheets for the tasks like:
1- Colouring 2- Matching
3- Labeling 4- Tracing
5- Cutting and Pasting 6- Finding out the meaning.
Islamic studies curriculum helps children stay connected to the lesson and reinforces the topics with these activities.
Audio Video Snippets to Learn Islam:
✅ Keeping the advancement in technology into consideration, we have equipped our online Islamic classes with audio/video aid to make our lessons graspable.
✅ The tutors play audio, and videos, and show pictures of the relevant lesson to keep the interest and keenness intact.
✅ These snippets are prepared beforehand from different Islamic websites and are played after the lesson is over.
We are well aware of the importance of Islamic education for children, and that is why we pay attention to every minute detail

by using different credible websites for sources.
Regular Meetings with Islamic Studies Tutors:
Our supervisors held regular one-on-one meetings with the teaching staff to discuss the infants' progress, syllabus, regularity, punctuality, overall behavior, and the factors of urgency.
The teachers also have meetings with the parents of toddlers to keep them updated.
Frequent meetings with the parents are essential to discuss the lesson retention and character building of the children.
Best Islamic Tutors for Children
✅ The tutors hired to teach Islamic studies are certified by the best-known institution in the Islamic world: Al Azhar University.
✅ Our teachers are chosen after several rounds of tough selection where they are interviewed thoroughly so that the best few can be selected.
✅ The selected Native Arab instructors are fluent in English and can teach students living in the West.
✅ They have devised innovative techniques of teaching as they believe that old ways do not bring in positive results.
✅ Our online Islamic teachers are highly experienced in teaching young infants and they know very well how to engage them and develop their interests.
✅ If you want a gender-specific online Islamic teacher for your children, Hidayah Network got you covered with a wide range of male and female tutors that are keenly working to provide their professional expertise.
Our Fun-Oriented Teaching Techniques:
To make our online Islamic classes for toddlers easy, enjoyable, and understandable, our talented teachers strive hard to devise new and innovative ideas for teaching Islamic studies to beginners and kids as they know old teaching styles do not attract this young generation anymore.
The strategies and techniques used by the teachers to instill Islamic knowledge in young learners comprise of:
Asking lots of questions.

Giving relevant examples.

Narrating interesting stories.

Showing images and videos.
Having interactive discussions.

Letting young learners guess through hints.

Giving references to the topics.
Interactive Way of Teaching Islam to Kids:
You will be surprised by how tutors teach your kids Islam through innovative and modernistic techniques and strategies.
The old and conventional styles of teaching are modified according to the rapid change in the world of technology.
This lets parents from around the globe get attracted to our best teaching staff.
The teachers keep their style interactive and engage the hesitant students to participate in the lesson.
Engaging lesson Planners:
None of our tutors enter the class session without a lesson planner. We at Hidayah Network validate that the topic to be taught is:
approved by the Supervisors

fully planned and prepared

supported with the resources required.
These professional lesson planners are prepared to emphasize more on the objectives and outcomes meant to be achieved.
To make sure we deliver the best through our Islamic lessons for children, our supervisors held planner meetings with the teachers to discuss and map out how to make learning Islam for kids and beginners super engaging and interesting.
Hidayah is The Best Islamic School for Children?
Yes, definitely. we have almost 200 satisfied kids learning Islamic studies efficiently with us for the following 4 reasons:
One-on-one Engaging Classes for Toddlers & kids:
Keeping the level and age of your child into account in our one-to-one Islamic classes for toddlers, we guarantee efficient and quick progress in a short time.
✅ The students will get personal attention and the lesson delivered will be of premium quality.
✅ It helps the teacher to evaluate kids' levels from time to time and helps parents to track their progress through the personalized plan.
✅ 1 to 1 classes are always preferable when you need to focus on a single child.
✅ It lets introverted students open up to speak which they otherwise feel hesitant about in group classes.
✅ The parents can also keep a check on the daily learning of their infants.
Enjoy 24/7 Availability:
We are available round-the-clock to suit the timings of your choice. Whether you join from the North or the South, availability is not an issue!
We have dozens of qualified teachers who are available at different times to accommodate you at your feasible time.
You have to opt for the time that best suits your kid's attention span, focus, and interest, let us know, and we will provide you with one of the best teachers available at the time you have chosen.
Affordable Monthly Fee Package:
We proudly offer and welcome you to learn Islam with the most affordable fee structure that is designed by keeping the world's changing scenarios and economic downturns in mind.
The good news is that our pocket-friendly fee structure for our Islamic studies classes for kids is the best among other leading online teaching platforms.
We also offer financial support and discounts to students belonging to deserving families to help them learn Islam conveniently.
Online Islamic Competitions and Feedback:
We know how to keep our students' morale high. We conduct Islamic competitions every month to keep a track record and check the progress of our infants.
These competitions are usually quiz based and are announced earlier to let students prepare well by keeping the course line into consideration.
To keep the parents informed and updated on the progress, the Islamic Studies teachers generate feedback reports of their students.
Their strengths and weaknesses are kept recorded and evaluated to work on and bring desirable improvement.
Online Islamic Group Classes
We also offer group classes for students of our online Islamic school, belonging to the same age groups, learning levels, interests, and time zone.
We offer 12 levels of Islamic studies. You can enroll your kids according to their age and level group.
1- Islamic Classes for Toddlers (aged 3 to 5 years).
2- Islamic Classes for Early Childhood (aged 6 to 12 ).
3- Islamic Classes for teenagers (aged 13 to 17 ).
Parents do not have to buy any syllabus book to follow. Everything will be provided online by the tutors.
• It makes our online Islamic studies classes more interactive and engaging as kids love sharing experiences and stories in the live sessions.
• The rates for the group classes are kept comparatively lesser than the other online platforms for parents' convenience.
• We also offer discounts for the second and third siblings enrolled in our Islamic studies for kids course.
• We enroll 3-4 kids in the group.
FAQs
At which age kids can start learning Islam?
Kids are naturally inclined towards Islam. You can start as early as 2 years. They will understand for sure.
How can we introduce Allah to kids?
Our teachers make it very simple and interesting by asking questions regarding the things around them. Who made them? Are they made on their own? They make kids think and ponder.
How to make kids love Islam and Allah?
By making Islam easily applicable. Do not force your kids on anything. Instead, develop love and association with Allah.
What is the duration of this course?
It depends on you as parents how many topics you want us to cover. Roughly speaking it can take anywhere between 1-3 months.
Is there any Final exam at the end of this course?
Yes, before giving certificates, we take a final test based on the curriculum taught. Only the kids who will pass the test will be certified.
We pray to Allah to let us contribute to the grooming of your child according to the principles of Islam through our unique course of Islamic studies for kids. Our dedicated and talented teachers carefully designed course, economical fee structure, all-time availability, and passion to work for Ummah are all that inspire parents from around the world to get their children enrolled with us.