Quran memorization is a very big responsibility that the Huffaz carry on throughout their lives. To memorize Quran online, a breakdown of the juz in small levels is needed, which can be easily achieved.
To gain momentum in hifz, it is advisable to start memorizing short Surahs of Juz amma and swiftly move towards bigger ones.
People find memorization difficult because of the lengthy chapters, so we at Hidayah Network have designed this course of memorizing juz 30 online which is divided into 3 levels to make it easy for students to reach their goals with the guidance of our professional Native Arab tutors.
About Our Juz 30 Hifz Course
This course is open to all Muslims regardless of their age. Kids and adults can enroll in our Hifz course to get into the flow of memorization by starting short surahs of Juz 30 first.
The duration of this course depends on the student's classes per week and the duration of each class they attend.
Structured Juz Amma Memorization Plan
To make the target achievable, we have divided the Juz into primary 3 levels. Each level paves the way for the other and the students will start finding it easy and enjoyable.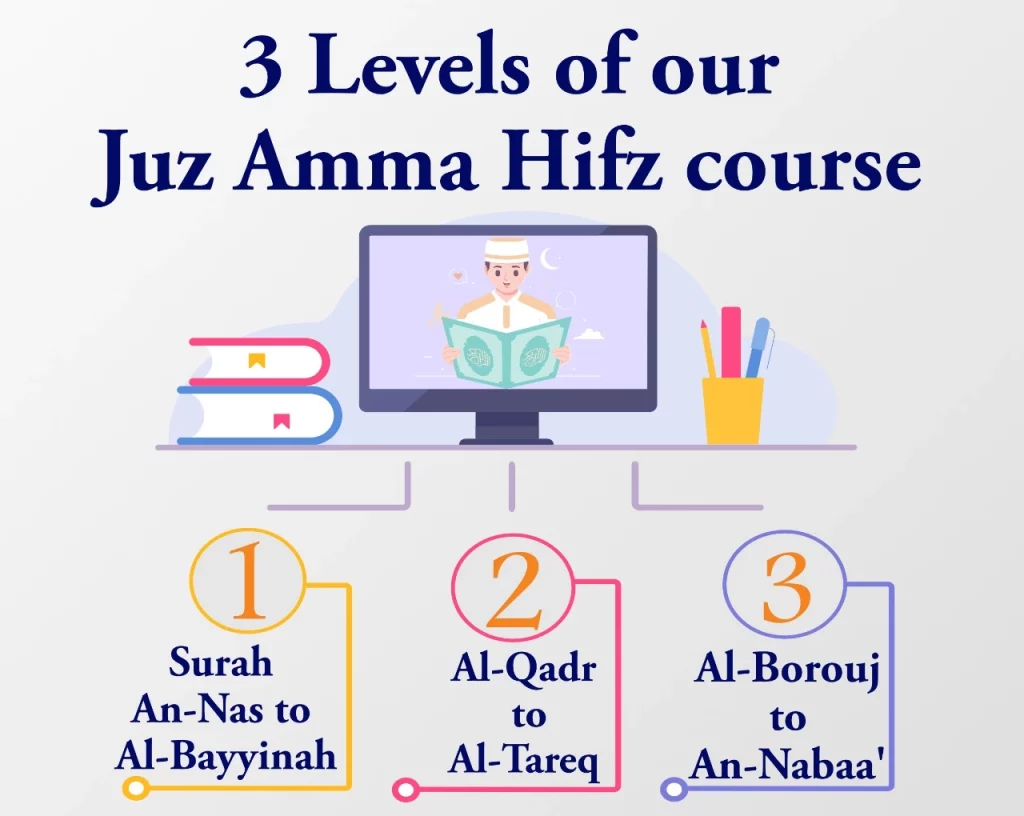 Level 1. This level is the beginning of memorization. Starting from Surah An-Naas to Surah Al-Bayyinnah.
Level 2. This level somehow has some little longer Surahs but still the easy ones. The level starts from Surah Al-Qadr and ends at Surah At-Tariq.
Level 3. Till now, students must have become habitual and gained speed in memorizing. This level starts from Surah Al-Burooj and goes till the end of the Juz Surah An-Naba.
Our Memorization Method for Juz 30
To retain the memorized lesson for the long term, we have devised a 3-step method that would let you move on with the new lesson along with the previous revision.
1- New Lesson: The new lesson is made to be listened to thrice, recited 5 to 8 times, and then it is memorized.
2- Old Revision: The lesson that is a week or a month older is revised from memory to keep it error-free.
3- New Revision: The lesson that is learned a day or two ago is recited from memory.
Why Enrolling In Our Juz 30 Memorization
The following few points make Hidayah Network unique so you can consider enrolling here for your juz Amma memorization.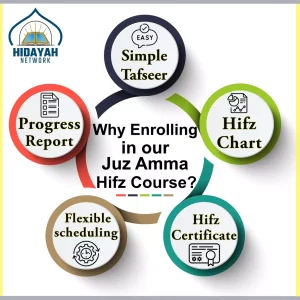 Explanation of Surah To Be Memorized.
Before starting to memorize the Surah, the students are given a brief overview of the Surah. They are taught about:
1- The reason for revelation and why it is named so and so.
2- A comprehensive Tafseer of the Surah.
3- The period of revelation (Makki or Madani).
We work on a hifz chart to let students keep a track of their hifz journey.
For Kids, we have an activity of the Juz Amma Tree chart where they have to put the stickers of Surahs in the tree once they are memorized.
You can arrange your online hifz classes at the time that suits you. It can be any time in the day that you think is the prime time to have a class.
Quiz and Tests After Each Level.
After each level, the teachers take a quiz test based on the Surahs the students have memorized at that level.
Juz Amma hifz tests and quizzes are held after each Surah too.
Progress Report After Every 2 weeks.
We generate a progress report after every 2 weeks that tells about the status of the student, his weaker areas, tips to improve the errors, etc.
The planner for the next 2 weeks is also shared to give an idea about when you can reach your target according to your current speed.
Juz 30 Memorization Certificate.
At the completion of the course, the students will be given a certificate for memorizing Juz Amma. These certificates are signed by the tutor and the supervisor of this course.
Top Tutors To Help You Memorise Juz Amma Online
We have picked our tutor very cautiously by keeping the following prominent qualities in mind.
They are Native Arabs, as natives excel in Tajweed and recitation.

They are Huffaz and have over 7 years of experience in the hifz department.

They are fluent in English and can easily teach students from the west.

They professionally apply new memorization techniques to reach the target quickly.

They are Ijazah Certified.

They have a 5-star rating among the students.
Outcomes Of Our Juz Amma Hifz Course.
This course is a gateway to the whole Quran memorization, which is why we have some practical outcomes for this course.
To make students able to understand the meaning of each surah.

Remembering the place of revelation (Makki or Madni Surah).

Remembering the sequence of Surah in Juz amma.

Memorizing surahs of juz Amma without any error.

Reciting the whole Juz with accurate tajweed.

Revising the whole Juz in Salah.
Most Important FAQs
How long does it take to memorize Juz Amma?
It depends on your personalized plan on how many surahs you want to memorize from Juz Amma.
For the whole juz, it depends on your number of classes per week. The more classes, the sooner you will memorize.
How to memorize Juz Amma?
Based on the 3 levels, you can easily complete your Juz 30 Surahs memorization.
How many Surahs are in Juz Amma?
There are 37 surahs in Juz Amma.
Why is it called Juz Amma?
The first Surah An-Naba starts With the word Amma. That is why it is named after this word.
Which is the longest surah in Juz Amma?
Surah an-Naziat. It has 46 Ayats.