Learning Quranic Arabic is a great initiative to decode the words of Allah to understand their in-depth meanings. Non-Arab Muslims must learn this form of Arabic which is classical and divine, to comprehend the verses in their actual term.
To help you understand the science, grammar, and rules of sentence formation, we at Hidayah Network have crafted an amazing Quranic Arabic Course that will help you understand not only the meaning but the grammar and the sentence structure as well. Our certified Arabic tutors have ensured deep analysis of each rule and practical understanding and application of Quranic verses too. The curriculum is very minutely arranged to help beginners move on step-by-step.
About this Quranic Arabic Course
The Quranic Arabic course is specifically designed to help students understand the Quranic terms easily in Arabic. This course aims at teaching Quranic Arabic through 3 approaches that will help learn 70% of the Quran easily. The structure of this course is arranged and managed by experienced Arab professionals who have given a sequence of learning the required topics. Once you grasp the basics, you can easily understand the deeper connotation of each word of the verses.
This course has different levels to cover different aspects of learning Quranic Arabic online. These levels have different topics arranged with their frequency of usage in the Quran. Non-Arabs can smoothly learn these topics and comprehend the Quran.
The syllabus books shortlisted for this program are more than one and approved by the Presidency of Holy Mosques in Makkah and Madinah. You will start with the basics from Juz Amma as it has the shortest and the easiest Surahs.
Furthermore, we will assist in using Quranic Arabic dictionaries and encyclopedias to understand the literal meanings with 10 variations (if had).
What Will You Learn in Our Quranic Arabic Course?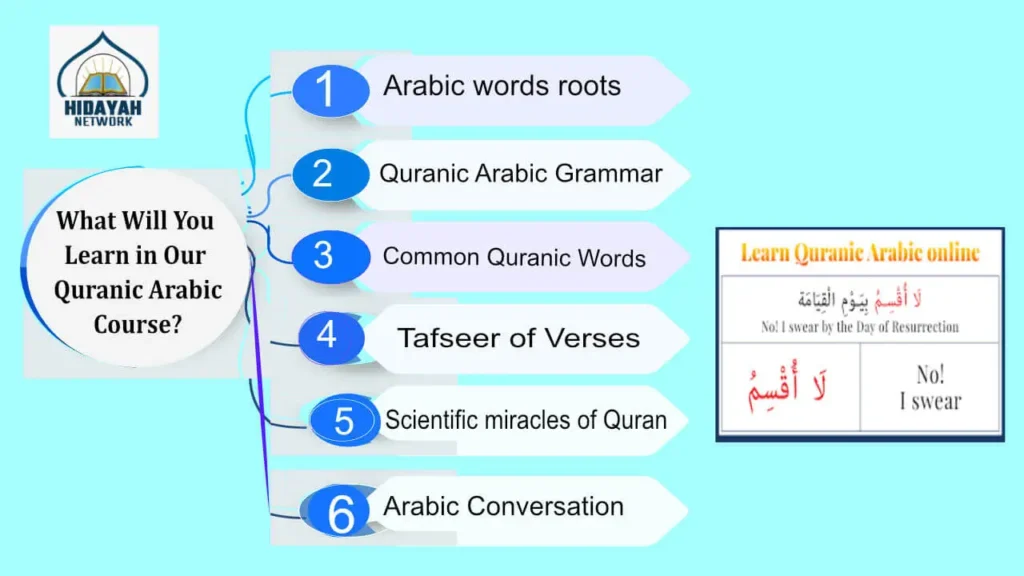 The Quranic Arabic online course has miscellaneous topics arranged together to make the content easy to grasp.
➡️ You will learn the root letters that combine to make words with variations in meanings.
➡ ️ Grammar rules that include tenses, pronouns, prepositions verbs, nouns, and much more.
➡️ You will enhance your vocabulary with the frequently used prepositions that make up 45% of the Quran.
➡ ️The association of general Arabic with the Quranic version and its usage.
➡️ The cause and time of revelation of Surahs, their themes, main topics, and summaries.
➡️ You will learn the Quranic Tafseer after being able to understand Arabic easily.
➡️ Learn the meaning of the Names of Allah, His Attributes, Prayer, Prophets' stories, companions' stories, and much more.
➡️ Learn about the linguistic and Scientific miracle of Quranic Arabic.
Personalized 1-on-1 online Quranic Arabic Classes
Due to the benefits of 1-to-1 sessions, Hidayah Network is offering personalized online Quranic Arabic classes for males and females with gender-specific teachers. After assessing the students' knowledge, level, learning capacity, and requirements, we arrange their classes so that they can learn Quranic Arabic at their own pace and with a deeper understanding.
In such classes, learning becomes easier and students can easily converse in their language to find examples or ask questions from the teacher. The Arabic tutors analyze the area of interest of their students and plan the teaching strategy accordingly.
Talk to your tutor about the confusion or difficult concepts while learning the ancient Arabic version of the Quran to get them revised in a personalized session. This will help you look for examples and exercises through flashcards, games, quizzes, riddles, and mind maps.
3 Levels of Our Quranic Arabic Course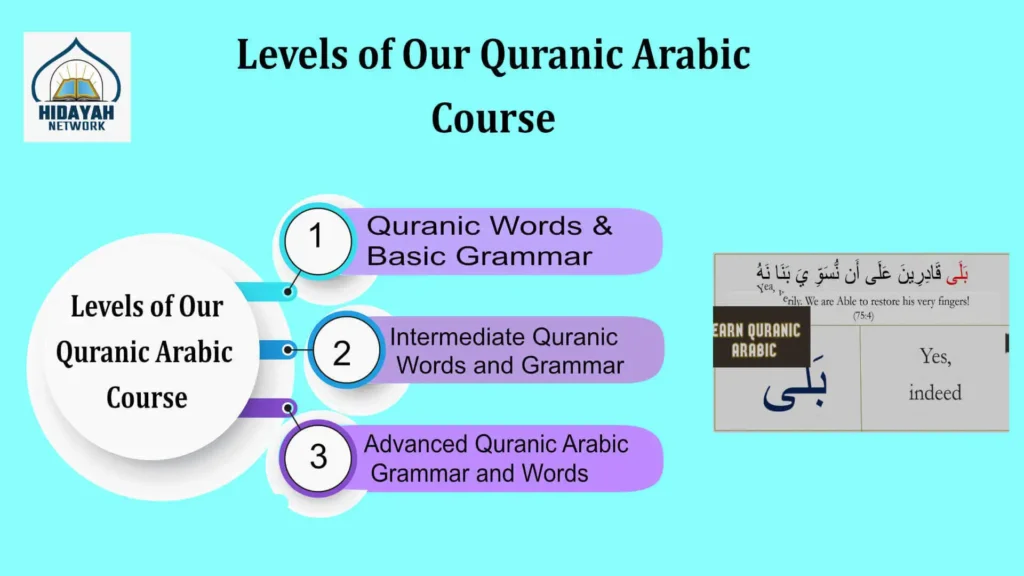 Each of the Quranic Arabic courses level is further subdivided into units and chapters to make the level super easy and erasable for a non-Arab beginner. The focus will be on learning how to read, write, and understand Quranic Arabic.
Level 1: Quranic Words & Basic Grammar
In the first level, you will learn to use an Arabic dictionary for Quranic terms. The origin of 5 words and their different formations will be worked on. From the Grammar portion, level 1 learners will learn about nouns, verbs, and the movements of letters changing according to the situation.
Level 2: Intermediate Quranic Words and Grammar
Processing to the next level, you will learn to make 10 words from the same root words to find all the examples from the Quran. The grammar rules will also increase at this level. The names of colors, days, animals, and other important things will be done in this course.
Level 3: Advanced Quranic Arabic Grammar and Words
In this advanced level, you will learn to make 15 words of Quranic Arabic with one main root word. The grammar rules will increase and get a bit tougher at this level. All the previous concepts and rules will be revised and you will learn new things.
Well-structured Curriculum to Learn Arabic of The Quran
Our professionals and all the Arabic tutors have worked hard on the curriculum of this Quranic Arabic program to make it very comprehensive and easy for non-Arab Muslims.
We have added more than 3 authentic and reliable resource books along with audio translations of the Quran by famous Scholars who teach the translation word by word.
Grammar books are also added to the curriculum to assist learning. You can easily consult the books and the Arabic dictionaries whenever required, even after the course.
We have made a roadmap of the time duration of each level to guide you about the total time this course will take. Each level has 20- 25 total credit hours of learning which will take around 3 months, depending on your schedule of classes and days per week.
Each topic has a test and quiz that will make your practical understanding strong. Our structured curriculum will cover more details in a short time with efficiency.
Variety of Online Quranic Arabic Courses
Quranic Arabic for Beginners
The curriculum of Quranic Arabic is divided skillfully into beginners, kids, and adults. Learn according to your ability and understanding. Beginners will learn the basics of Arabic to understand Quran. The levels-based curriculum and customized classes are available for starters to easily understand a new language.
Quranic Arabic for Kids
Kids are engaged in this kids Arabic course through activities and stories from the lives of Prophets, companions, and other remarkable events in Islamic history. The basic grammar is taught through the activities of nouns and verbs. They will also get a chance to play games and solve quizzes to further understand the topics.
Quranic Arabic Grammar
Grasp the advanced Arabic grammar rules used in the Quran through this course. You will find examples from Surahs of the Quran and make your examples to better understand the rule. Your learning will also help you understand Arabic used in Hadiths by Prophet Muhammad SAWW.
Learn Arabic to Understand the Quran
We offer Arabic classes exclusively for Quranic understanding. Although it is permissible to learn the Quran in your native tongue, the way Arabic comprehends the Quran is beyond words. You will be able to understand the phrases used in the Quran without English translations. Let's get to know more about how to learn Arabic to understand Quran.
It will enable you to enjoy recitation, prayers, and supplications in Arabic. This will be done by learning the frequently used phrases in the Quran. You will have 7 steps to understand Quranic Arabic.
Arabic literacy (alphabets).
Short & long vowels.
Pronunciation.
Tajweed Rules.
Quranic Vocabulary.
Basic Grammar.
Understanding the Quran by integrating what you have learned.
Outcomes of our Quranic Arabic Classes
Our Quranic Arabic classes have multiple outcomes as we intend to teach a variety of things in this course.
➡ Reading and understanding Quranic verses in a proper linguistic way by learning grammar rules.
➡️ To be able to enhance Quranic dictation and vocabulary through different activities.
➡ Capable of understanding the literal meaning of Quranic words and being able to comprehend the verse with that word in it.
➡️ Proficiently reading, writing, and comprehending Quranic verses with accurate grammar usage.
Learn Arabic of the Quran from Top Arab Tutors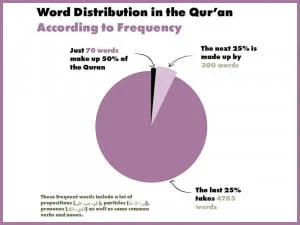 Our Native Arab tutors are the real strength of this course. They work hard to provide all the basic requirements and facilitate the students with authentic resources to learn Quranic Arabic quickly. Their profiles are uptick with the following qualities and traits.
🔸 Certified from Al Azhar or Equivalent university.
🔸 Fluent in English (teachers for Westerns), and Urdu(teachers for Asians).
🔸 Use multiple educational methodologies to teach the Quran.
🔸 Guarantee engaging classes for kids with activities.
🔸Adept at advanced Quranic grammar rules.
🔸 Experienced in online Quranic Arabic teaching for 6+years.
🔸 Use advanced technology to support the lessons with audio/video resources.
The majority of our male and female tutors are Native Egyptians with an exceptional grip on Arabic. This makes our teaching team phenomenal and very well-qualified for such a demanding course.
What Makes Quranic Arabic Different from Modern Standard Arabic?
The Quranic Arabic is different from MSA since Quranic Arabic is the classical/medieval dialect of Arab tribes. It's purely used in the written form. It's the highest form of Arabic with great eloquence. It is difficult to understand for a common man who hasn't read the old literature and needs to learn from scholars who have learned classical Arabic from institutions.
The modern standard Arabic is slightly different and commonly used in speaking and in newspapers, modern poetry, and literature. It's notable that many of the words of MSA are from the roots of classical Arabic. Both of these forms of Arabic are relevant to each other but Quranic Arabic is considered the divine scripture and MSA is considered a common language used for communication.
The vast vocabulary of Quranic Arabic, the grammar rules, and the deep meanings are something that makes it different from the ordinary Arabic version.
Learn 400 Most Common Quranic Arabic Words
During this course, you will learn 400 words that are repeatedly used in the Quran and will help you understand the meaning of the verses easily. These words include nouns, verbs, adjectives, conjunctions, prepositions, this or that, question phrases, etc. Our tutors will enhance your vocabulary through these 400 common Arabic words. You can easily understand the verse with these words.
45% of the Quran is based on prepositions, interrogative sentences, and pronouns. The other 20% of the Quran has 100 nouns which will help you understand the main point where it is used. The 20% of the Quran is based on 200 words that are verbs and connect the verses together. The last 15% of the Quran is based on unique nouns and verbs that are understood with the help of a dictionary.
In this Quranic Arabic course, you will learn this frequency list too, and will easily and efficiently translate it.
Why Choose Hidayah Network?
This Arabic course has multiple features to keep students engaged and interested. The top 10 facilities are listed to give you an insight into why we are leading in all of our online Quran classes. More than 10,000 students have learned Quranic Arabic through our platform and they are satisfied with these facilities.
➡️ Pocket-friendly fee plans.
➡️ Amazing Interactive sessions for kids and Adults.
➡️ Activities and games for kids.
➡️ Our Curriculum is easy and engaging.
➡️ Monitoring of classes through a team of experts.
➡️ Progress tracking through tests and quizzes.
➡️ Certificate of the course.
Most Important FAQs