Let's learn Quranic Arabic online from highly qualified and certified native Arab teachers to unfold the mystery of the Quranic Arabic language and its beauty.
1-

Learn Quranic Arabic online from our professional teachers:
If you are willing to learn Quranic Arabic online, you need to hire a professional tutor who has learned it from a scholar or Imam. Here are some of the high qualifications of our teachers;
• These qualified teachers of online Quranic Arabic classes have graduated from the famous Islamic universities of Egypt. They are learned enough to teach Arabic terminologies to the rest of the Muslims.
• To make you learn Arabic to understand Quran, our teachers have devised unique strategies to make it easy and understandable for you.
• These native Arab tutors are fluent in English and are capable of teaching Muslim students from all zones by making their classes engaging.
• They memorized the Quran at a very young age, and that enables them to easily extract a variety of examples or sentences from the Quran.
• They are very familiar with the most authentic Tafseer books, which enables them to find the most accurate meaning of the Quranic Arabic words.
• Our expert Quran teachers are experienced in using the ancient lexicon of the Arabic language and know well how to let students search for the words in it.
• They have been through several rounds of interviews before being hired as professional teachers of Quranic Arabic course. Our selection criteria is arduous and only the best few are selected for such an intense course.
• The proficient teachers of online Quranic Arabic classes teach through the root letters to make the Arabic terms easily graspable.
Check out our Arabic course for kids 
2-

Well-structured plans to learn Quranic Arabic effectively:
Learn Quranic Arabic effectively through our well-structured plans that are skillfully designed by keeping different levels in mind.
After the main aspects of Quranic Arabic lessons, the students will learn the interpretation of different Surahs with special reference to Arabic linguistics and grammar rules.
Our well-structured plan varies from level to level to meet the needs and pace of our students. So, enroll with us to learn Arabic of the Quran from beginner to advanced level.
Your structured plan includes a timeline for you to have an abstract idea of how many hours would you finish the course.
For beginners in level 1, the time limit is around 40 hours. Students of the Intermediate level might meet the time between 60 – 70 hours roughly.
The advanced level will take around 80 hours for their course to be finished.
Check this out →  Learn How To Read Quranic Arabic fluently. 
3-

Learn Quranic Arabic in our motivational environment:
Being in the field of teaching, we as supervisors and teachers know very well that if you want to retain the lesson, enjoy the science of the Arabic language, and learn Quranic Arabic quickly, you need a highly motivating and encouraging environment.
Our teachers, being experienced enough, make sure to create a positive and motivational learning space for their students where they can study confidently, happily, and in a tension-free environment.
Such an environment is helpful when you are learning linguistics, science, root letters, and Quranic Arabic grammar technicalities, as it enables you to discuss and help each other with the task.
We bear the fact in mind that if your learning zone isn't supportive and encouraging enough for you, you won't be willing to continue with the course. So, we are pleased to provide you with a motivational learning space, as it is the easiest way to learn Quranic Arabic.
4-

Learn to use the most frequent Quranic Arabic words: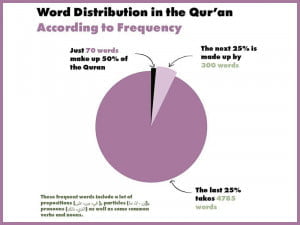 According to the amazing fact of word distribution in the Quran by the frequency, there are:
50% of the Quran uses just 70 words
The next 25% is made up of 300 words
The last 25% takes 4785 words
If you will get a strong grip on the following frequent words, you may be able to speak, read, and understand Quranic Arabic everywhere.
The most frequent words include:
• Prepositions 
• Particles 
• Pronouns 
• Use of This or That 
• Question Words 
• Yes or no expressions 
• Adjectives and Adverbs and
• Some commonly used verbs () and nouns () and much more.
Our Quranic Arabic teachers will make you learn these words so that you can use them in your day-to-day conversation easily.
5-

3 levels of our best online Quranic Arabic course:
We present the best Quranic Arabic curriculum that is prepared by our experts who kept the levels of learning into consideration before finalizing it.
The basic level is for beginners to start learning Quranic Arabic online from the easiest Surah (For instance: Surah Fatiha and chosen Surahs from Juza' Amma).
The intermediate level comprises Quranic interpretation through the linguistics and grammar of the Arabic language. The Surahs selected for this level are from Juza' Tabarak and Juza' Mujadila.
The advanced level is based upon the Quranic Arabic lessons from the whole Quran. 
NOTE: You can also make a customized plan for yourself if you are interested in any specific Surah belonging from either the Makki or Madni period of revelation or any Juza'.
                  We also offer Islamic studies classes for kids 
6-

The outcomes of our best online Quranic Arabic classes:
This is not a usual course but is quite deep-rooted. That is why the outcomes of our best online Quranic Arabic course are very clear and practical.
1. To be able to understand the root words that help decode the detailed meaning of the letters combined.
2. To be able to focus on reading, listening, understanding, and speaking Quranic Arabic letters easily.
3. To learn the basic grammar rules that would help understand Islamic terminologies used in Khutbas, Islamic lectures, programs, and different literature-based books.
4. To be able to learn Arabic online by consulting ancient Arabic dictionaries to find out the exact meaning and application of the letters.
5. To make the learners proficient in using Arabic words in day-to-day conversation.
6. To develop a strong understanding of the meanings of identical root words used in different contexts.
7. To motivate others to learn Quranic Arabic and understand the diversity of this miraculous language.
8. To interpret the translation of Quranic Arabic and understand Quran Tafseer accordingly.
7- Amazing teaching strategies to Learn Arabic to understand Quran:
With time, the old teaching methods and strategies have faded away, letting unique and innovative strategies cover the stage.
Moreover, these strategies are applied after a deep and sound analysis of their effect on learning pace, retain the ability, focus span, and engagement.
We invite you to learn Arabic to understand Quran with our amazing strategies that will surely make the lesson engaging and enjoyable.
•

Best way of learning Quranic Arabic is through root words:
Our competent teachers teach Quranic Arabic words with a special focus on root words. For instance, in the Arabic word یدخلون  the root  word is  د  خ  ل  
The teacher makes sure the students understand the root letters and their meanings. After grammatical interpretation, students will understand the literal and contextual meaning. 
In our online Quranic Arabic course,  the students learn all the root letters, focus on grammar rules, and the vast linguistics attached to this superior language.
Finding out and learning the root letters is the best way of learning Quranic Arabic.  
•

Slideshows to learn Arabic grammar for understanding Quran:
To make our classes engaging and result-driven, we use different slideshows to make it easy for you to learn Arabic grammar for understanding Quran. These colorful slides are specially prepared to make grammar rules and their usage easy and lucid.
•

Consulting dictionary to learn Quranic Arabic quickly:
Our skilled tutors use the ancient lexicon of Arabic to help learners find out the meaning and details of the word. The teachers help students with the practicals of how to use these old dictionaries.
Students find it easy and interesting to use the lexicons to learn Quranic Arabic quickly
•

Reading Quranic Arabic books to enhance knowledge:
We never support the idea of gaining knowledge only from a sole source. It is crucial to consult different books for the same subject matter.
Reading Quranic Arabic books during the course or in your leisure time will surely increase your knowledge and develop your interest to get into the depth of this miraculous language.
•

Practicing Quranic Arabic Grammar through video presentations:
To break the monotony of the class, the teachers use video presentations to make the students practice Quranic Arabic grammar.
These presentations are prepared by experts. Some of them are board-oriented and some are animated to make the lessons excitingly good.
•

Worksheet and activities to learn Quranic Arabic online:
For reinforcement and long-time retainment of the lesson, we use activity-based worksheets to make you enjoy and learn Quranic Arabic online.
These worksheets are freely printable and can be used later on for practice as well. The activities include look-in for words, fill the blanks, finding the meaning, and mark the correct answers, etc.
•

Using the Quranic Arabic terminologies verbally:
After getting the gist of this course, our teachers appreciate students for using the Quranic Arabic terms in day-to-day life. It is essential to develop confidence in the students who can be proficient in their second language as well.
Understanding, reading, and speaking Quranic Arabic is all that is desired eagerly by Quran lovers. We make it easy through these strategies.
8-

Join our Quranic Arabic course in an affordable fee plan:
Our fee plan for online Quranic Arabic classes is cost-friendly and is revised by keeping the worldwide economic inflation in view.
We also offer discounts for the 2nd and 3rd siblings from the same family. It becomes economical for the families to attend the course with 2 or 3 members.
We have different fee plans designed according to the time allotted for the classes. For instance: the pricing of 30 minutes class is kept lesser than the pricing of 45 mins or 1-hour class. 
9-

Quranic Arabic vs Modern Standard Arabic ( Fus-ha ):
This is the most discussed topic by Muslims living in the world. To clear the confusion and to guide you about the difference between the 2 types of Arabic, this  Quranic Arabic course will prove to be beneficial.
Quranic Arabic is eloquent and full of beautiful and magical expressions. It is the purest language that has uncountable synonyms and is the divine dialect. Whereas, Modern Standard Arabic (MSA)is the simplest form of that grand Arabic language. 
It is largely used in regular day-to-day conversation, Arabic journals, news, articles, syllabus, and TV shows. Arabs were accustomed to using this colloquial simple Arabic dialect which is why when the Quran was revealed, they were amazed by its words and expressions.
→ Join our Quranic Arabic Lessons to learn some of the words from classic Arabic and use them confidently
10-

Quranic Arabic lesson planners before each class:
Our teachers prepare their Quranic Arabic lesson planners beforehand every week. These planners are supported with visual resources and worksheets attached to them.
These planners are reviewed and checked by the supervisors who make sure the teachers are well-prepared and well-equipped before they conduct the class.
11-

1 to 1 personalized Quranic Arabic classes:
Our 1-to-1 personalized Quranic Arabic classes are very unique and in high demand. The student gets the whole time to focus on the lesson with the teacher.
There is no distraction in 1 to 1 class which is why you can easily pay full attention to the subject matter. These classes help you retain the lesson learned and come up with creative ideas to deal with the topic.
12-

TWO FREE trials of Quranic Arabic online:
Now you can get 2 free trials of our Quranic Arabic online classes. These trials are meant to give you a brief sneak peek into the course. You can avail of these trials with 2 different teachers. This is a unique feature that isn't offered elsewhere.
After attending both trials, you can decide which teacher are you more convenient carrying on this Quranic Arabic course with. Inform us about your decision and the particular teacher will be allotted for your course duration.
13-

Learn Quranic Arabic grammar in an easy and simple way:
We invite you to enroll in this specially designed course to learn Quranic Arabic grammar in an easy and simple way. The classes are conducted according to the curriculum designed, by keeping the learners' age group into consideration.
Something that is intriguing and intense is not taught by the teacher who keeps the level of the student in mind. The planners are made age-appropriate because it helps the teachers deliver correct pieces of knowledge.
14-

Our feedback policy for this Quranic Arabic course:
Learning is always considered a two-way process. When you teach, you need to be flexible to let healthy criticism or complaints come in.
We have designed a feedback form for this Quranic Arabic language course which is supposed to be filled out every week by the students to keep the authorities well-informed about their views regarding the course.
If you have any complaints regarding the curriculum, teacher, or anything else, you can leave a comment in the feedback form and it will be looked into soon.
15-

Arabic Quizzes and competitions for our students:
To keep the excitement level of the students high, we arrange quizzes and competitions for our Quranic Arabic learners. These quizzes are held after every lesson to let the students revise what was learned in the class.
The competitions are usually announced a month earlier so that the students can practice and prepare for them without feeling any burden with the online classes.
16-

24/7 availability for our Quranic Arabic lessons:
Great news for those who have issues with the timings of fixed online lessons. We offer a flexible schedule for Quranic Arabic lessons in which you can choose the time that best suits you.
As we are well aware of the fact that you have your own work commitments, family time, and social circle where you need to invest your prime time.
That is why we provide you with 24/7 availability through our platform where you can attend classes at your available prime time.
We have hired dozens of teachers who are available round the clock to provide the best online teaching services all around the world.
17-

Interactive group online Quranic Arabic classes:
Not only our 1 to 1 classes are in great demand but also our group classes are searched frequently.  These Arabic group classes are highly interactive and engaging. The students participate in group classes when the Arabic terminologies are discussed.
They look into the lexicons unitedly to come up with detailed meanings and learn cooperatively how to read Quranic Arabic.
Conclusion
To understand the Quranic Arabic terminologies and expressions, it is vitally important to learn the grammar rules, root words, and translation efficiently. This course will definitely help you comprehend the meaning of Quranic Arabic lessons whenever you will listen to Arabic content.