Learn Quran with Tajweed for Adults
Quran was revealed with Tajweed and it should be recited the way it was revealed. The purpose to learn to read Quran with Tajweed is to make your recitation beautiful and accurate like the native Arabs.
You can attend online Tajweed classes for adults to understand the Arabic pronunciation and have a clear distinction from your native accent as the majority of the Muslims recite Quran in their accent and tend to have grave mistakes.
Hidayah Network can be a helping hand for you to recite Quran with Tajweed perfectly as our experienced Tajweed tutors are guiding hundreds of adults through this uniquely designed course where you can have a personalized plan that suits your requirements.
About this Tajweed Course for Adults
This course is open to all adults living in different countries and having different cultural backgrounds. Our professional Quran tutors are fluent in English and will help you get along this course through the primary 3 levels.
The basic requirement to learn Quran online with Tajweed is to have passed the Noorani Qaida Course where you have gained the basic knowledge of Tajweed. Our experts have designed 3 levels according to the rules that are required to be learned. You can enroll in this course by deciding the level for yourself.
We do not follow a specific book for adults Tajweed classes, but rather we have a variety number of amazing Tajweed books, design our videos, animations, worksheets, and other useful material to assist you.
Personalized 1-on-1 Online Tajweed Classes For Adult
We offer personalized 1-on-1 Tajweed classes where adults can easily learn all the rules with concentration and a result-driven approach.
The activities, drills, and quizzes are all the same as the group class. The benefit of such personalized classes is that you can work better on your errors and improve under the direct supervision of a tutor. Furthermore, you can enjoy the following facilities in a personalized class.
Choose the number of classes per week
Select the duration of the class (we prefer a 45-minutes or a 60-minute class)
Learn the selective rules to make your Tajweed acceptable
The capacity and pace at which you want to move on
Our Structured Plan to Learn Tajweed Faster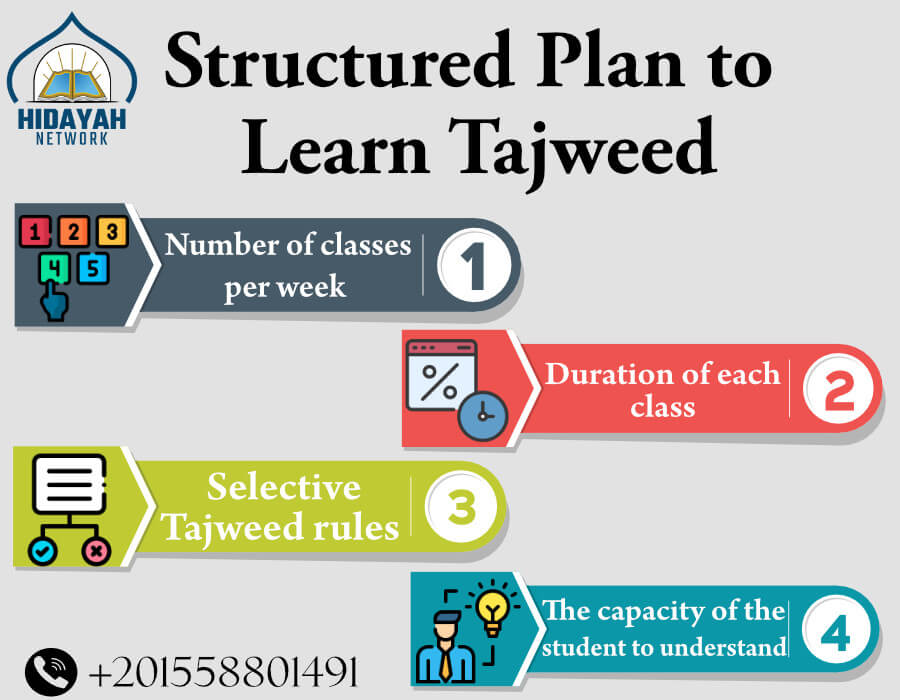 The best thing Hidayah Network excels in is the facility of a structured plan for all online Quran classes for adults. Once the teachers decide the level for you after having a little interview, he/she will design a tailored plan for you in which you can consider the following points:
The number of classes per week

The duration of each class (we prefer a 45-minutes or 60-minutes class)

The selective rules to make your Tajweed acceptable

The capacity of the student to understand and apply Tajweed rules
Our 3 Levels To Learn The Tajweed Rules Online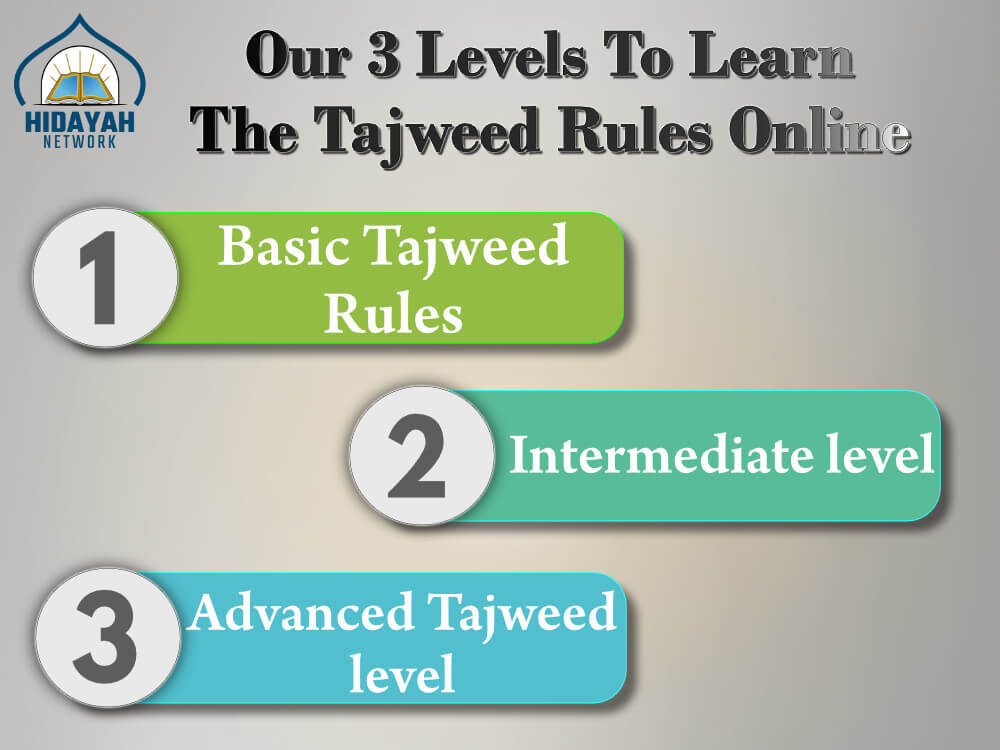 It becomes really easy to break down the course into levels and let students achieve the goals step by step. Adults can enroll in the level they think they need to start from.
Level 1 (The Basic Module)
It covers the rules of how to pronounce letters depending on the letter coming after them, in particular, the rules of Noon sakin and Tanween, Meem sakin, and Laam sakin.
Isti'aatha and Basmala

Rules of Meem Sakin

Qalqalah

Rules of Noon Sakin and Tanween

Rules of Laam Sakin
Level 2 (The Intermediate module)
This level will focus on the recitation by learning the places of elongation and emphasis. Students will also learn how neighboring letters affect each other and their overall pronunciation.
Mudood

The Relationship between the letters

Nabrr

Light and heavy letters

Levels of heaviness
Level 3 (The Advanced module)
At this level, you will do deeper and learn the rules of Hamza, the different ways of overcoming the meeting of two sukoons, and how and where to stop or start recitation.
Rules of Hamza

The Meeting of Two Sukoons

Al-Waqf Wal-Ibtidaa (the stop and the start)
Goals Of Our Tajweed Classes for Adults
There are some practical goals that our teachers have chalked out to reach till the end of the course.
1- To be able to learn and practice all the Tajweed rules accurately.
2- To have learned the articulation points of all the complex Arabic letters that are intermixed with a local accent.
3- To be able to implement the rules of Tajweed in Quran recitation.
4- To be able to recite Quran with Tajweed as beautifully as Prophet Muhammad SAWW did.
5- To have gained confidence in reciting Quran exactly like Arabs and be qualified for getting an Ijazah.
Top Certified Tutors to Teach Tajweed Online
As Tajweed is the core of Quran recitation so the instructor should be the one who excels in his/her Tajweed with a formal degree of Ijazah from a reputed Institute. While hiring tutors who can accurately make you learn Quran with Tajweed, we consider and prefer the following points.
The candidate is a native Arab because they got an edge due to their accent.

The one who can speak English clearly and fluently to conduct adult Quran classes.

Someone who is professionally trained to teach and has years of experience with good reviews.

The person who is flexible in adopting new teaching methods in the class.
Hidayah Network offers a facility of separate male and female Tajweed tutors to cater their online Tajweed classes for sisters as well.
What Makes Our Adults Tajweed Course Special?
The following points should be considered when selecting a reliable platform and we have all these features Alhamdulilah.
We have dozens of male and female teachers available round the clock to cater to your timings.
At the end of the course, you will be given a certificate signed by the supervisors and your Tajweed teacher.
Report card after every 2 weeks
Our report card gives all the required feedback like
Repeated errors in Tajweed

Tips to overcome the errors

Plan for the next 2 weeks.
We facilitate you through this course at a very minimum rate as compared to the others. Pay a visit to our pricing list to have an idea.
We play the audio and show the animated videos in almost every lesson to make the rule more clearly learned.
Tests and quizzes are taken to reinforce all the rules and make you perfect in recitation.
Final Thoughts
All the above-mentioned features and facilities are provided to make our Online tajweed classes for adults a big shoutout! So what are you waiting for? Book your 2 free trials with 2 different Tajweed teachers now and start your journey to learn to recite Quran with Tajweed perfectly.
Frequently Asked Questions