Learning the verses of the book of Allah is a greatly rewarded deed that requires efficient time management skills, strong willpower, discipline, and a proactive mind.
You can memorize Quran in different time durations that are set to be short or long, according to your convenience. Hidayah Network welcomes you to join our 6-month Quran memorization course to challenge your memory and provoke your energies. This is a very unique and least heard-of program that is designed for both men and women who want to hifz the entire Quran in just 180 days.
The tutors, schedules, and features are all so attractive to gain your attention and incite you to join right away.
Different Schedules Of the 6-Month Hifz Program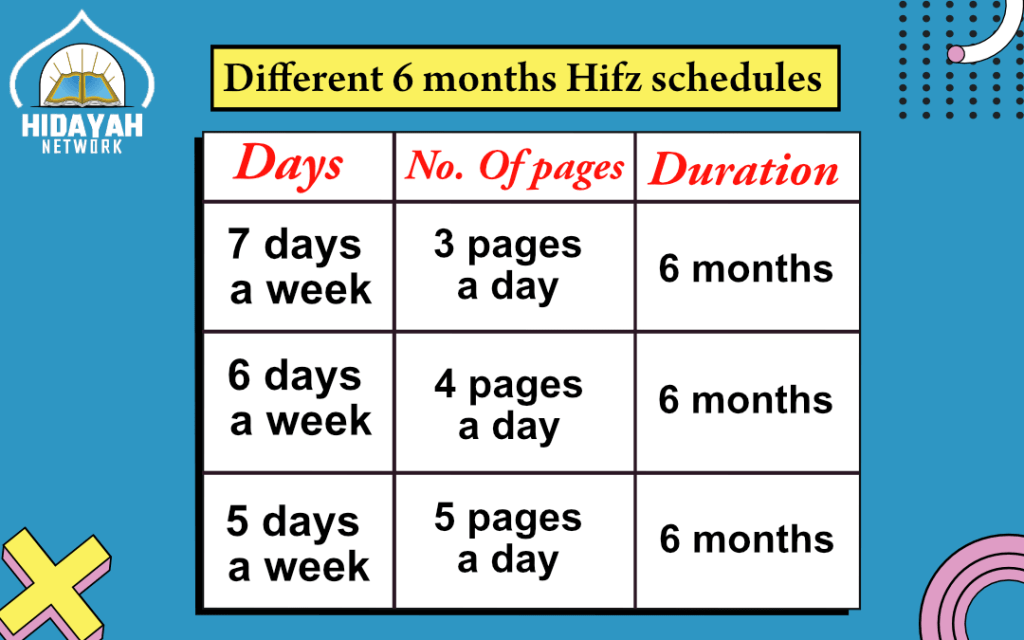 Go through the detailed plan of how you will be taken through this online Quran memorization program in this limited duration of 6 months. You can alter and arrange your classes according to your convenience as we are available on weekends as well.
✅7 days a week/ 3 pages a day → 6 months
✅6 days a week / 4 pages a day → 6 months
✅5 days a week/ 5 pages a day → 6 months
How Does This Hifz Course Work?
To make the 6-month course successfully workable, we have devised techniques to apply to different students concerning their tendencies.
✅Continuous Revisions
To bring out the desired results in a short time, we apply the technique of revising Quran lessons more than 5 times daily to make them accurately fixed in the memory.
✅Audio Listening Way
Listen to the audio of the famous and phenomenal Qaris before memorizing the lines to copy the accent, tajweed, and style to make your hifz amazing.
✅Loud Reading Method
The more you read aloud, the better your Tajweed and pronunciation. Reciting the verses loudly makes learning faster and easier.
✅Systematic Learning Technique
We encourage memorizing Quran portions in a sequence because selecting different portions from the middle or the end makes everything mingled up.
Features of This Intensive Hifz 6 months program
Quiz Hifz Accounts
We have a very unique way of reinforcement where we allocate digital quiz accounts to our students to solve quizzes, riddles, and short questions based on Surah names, Ayahs, and Tajweed. Students are expected to solve the quizzes that are arranged Surah-wise.
Once you have completed a Surah, solve the quizzes to check and revise your lessons perfectly.
Our Hifz Trackers
Track Surah by Surah, Ayat by Ayat, or Juz by Juz. We make it happen through our customized hifz trackers that allow you to uptick the lessons you have memorized with good revisions. All you have to do is to track your progress daily and cross-match it with your weekly and monthly planners to see if your pace and speed are up to the need or not.
Evaluation And Reporting
During online hifz classes, students are evaluated by internal and external examiners to check their competency in hifz, tajweed, and recitation. The teachers report back to the students or parents (in the case of kids) and share improvement tips too. If the evaluation has lower than average marks, they are supposed to repeat certain lessons to make them accurate. No new Ayaat is given until the previous portion is flawless.
Hifz Competitions
We arrange intra-school competitions for hifz students where they are exposed to other students of their level and the competitions are held. Students are given the dates beforehand to prepare and practice well for their lessons. The winners are certified, rewarded, and appreciated for their hard work.
Tests and Certificates
The tutors take weekly and monthly tests to assure that each Quranic portion is accurately memorized. These tests are numbered and the total aggregate is shared with the students.
Whatever portion you memorize, you will be certified for it. The certificates are signed by the supervisors too.
Hafiz Native Egyptian Tutors
To conduct Hifz courses, Hidayah Network has taken on board the Huffaz tutors who possess multiple qualities and prominent traits that make them 100% eligible for this prestigious post. Some of the traits we prefer on priority are:
✅They are mainly from Egypt or nearby Arab countries.
✅They have years of experience in virtual hifz teaching.
✅They are Ijazah holders and pass on this sacred authority to the toppers.
✅They have amazing portfolios with exceptional Islamic educational backgrounds with positive feedback from previous students.
✅They have worked on their moral development (tarbiyah) and are role models for students.
✅They are creative and proactive to design new ways and methods of making hifz goals easily achievable.
Why Hire Hidayah Network?
Hidayah Network is a credible online Quran platform with a leading position for the last 7 years. We have the world's best Egyptian Tutors who put in their utmost efforts to bring exceptional results. Our flexible scheduling and personalization of the intensive hifz program is yet another reason to consider hiring us for Quran memorization in the minimum time period.
Ease and comfort of home are what we aim at providing when we talk about facilitating our students. It is easy to complete your hifz programs with us in the time duration of your choice.
Frequently Asked Questions