Folks! How to learn the Arabic language in 1 year is no longer challenging. Mastering any language is a journey that requires commitment and effective strategies. To excel in learning Arabic, employ a well-rounded strategy. Start with a structured 1-Year Roadmap, progress through levels, and integrate Arabic into daily activities.
Participate in language challenges for motivation and employ a personalized 12-week plan for focused learning. By combining these strategies, you'll enhance your Arabic proficiency effectively and efficiently. Let's explore these top 8 practical tips that will help you learn Arabic in 12 months.
8 Practical Tips to learn Arabic language in 1 year
Sometimes, challenging circumstances motivate you to learn a language more quickly. However, you can maximize your progress by following these tips to make the most of your short time. Keep reading below to explore amazing tips to learn Arabic in one year:
1-Year Arabic Language Learning Roadmap
Let's explore a practical plan to learn Arabic in 12 months, covering multiple topics and language abilities. Moreover, it improves your Arabic competence from beginner to advanced. Stay consistent, practice consistently, and adjust the plan as needed based on your progress and learning rate.
Levels
Duration
Learning Topics


Level 1

Months 1-3
| Foundations of Arabic |
Learn Arabic Alphabet and PronunciationBasic Greetings and PhrasesIntroduction to Arabic ScriptNumbers and CountingSimple Vocabulary and Everyday Phrases

Level 2

Months 4-6
| Building Language Skills |
Expanded Vocabulary and PhrasesPresent Tense Verbs and Conjugations Basic Sentence Structure Describing People and ThingsIntroduction to Past Tense Verbs


Level 3

Months 7-9
| Intermediate Proficiency |
Future and Conditional Tenses Expressing Preferences and Opinions Expanded Grammar and Sentence Types Discussing Hobbies and Interests Reading Simple Texts and Short Stories


Level 4

Months 10-12
| Advanced Fluency |
Advanced Verb Tenses and Moods Complex Sentence Structures Cultural Topics and Idioms Engaging in Debates and Discussions Reading Complex Texts and Literature
2. Learn Arabic fast with a Personalized 12-week Engaging Plan
Follow this personalized Arabic language learning plan that gives you a structured way to master in just 12 weeks. It includes a variety of ways to learn the language to keep you interested and driven. If you stick with this routine and repeat it, then you can learn Arabic in 6 months only.
| | | | |
| --- | --- | --- | --- |
| Week | Focus Area | Learning Activities | Time Slots |
| Week 1 | Basic Arabic Alphabet | Learn the Arabic alphabet, focusing on letter shapes and sounds. Play an Arabic alphabet memory game to reinforce your knowledge. Try writing your name in Arabic script. | Day 1-7: 30 minutes each |
| Week 2 | Greetings and Basics | Learn the Arabic alphabet, focusing on letter shapes and sounds.Play an Arabic alphabet memory game to reinforce your knowledge. Try writing your name in Arabic script. | Day 8-14: 30 minutes each |
| Week 3 | Numbers and Counting | Build your everyday vocabulary with common words and phrases related to food, clothing, and household items. Label items around your home in Arabic. | Day 15-21: 30 minutes each |
| Week 4 | Everyday Vocabulary | Master basic greetings and polite phrases. Watch a popular Arabic film with English subtitles to hear greetings used naturally. | Day 22-28: 30 minutes each |
| Week 5 | Arabic Script Mastery | Study basic Arabic sentence structure Learn subject pronouns. Begin conjugating simple verbs in the present tense. | Day 29-35: 30 minutes each |
| Week 6 | Grammar Fundamentals | Learn Arabic numbers from 1 to 100.Play Arabic number bingo. Use Arabic numbers to create a daily to-do list. | Day 36-42: 30 minutes each |
| Week 7 | Conversational Skills | Continue to practice Arabic handwriting. Focus on connecting letters and forming words.Start reading simple Arabic texts or children's books. | Day 43-49: 30 minutes each |
| Week 8 | Expanding Vocabulary | Practice everyday conversations, such as ordering food, asking for directions, etc. Use language exchange partners or language apps for conversation practice. | Day 50-56: 30 minutes each |
| Week 9 | Intermediate Grammar | Learn words related to travel, weather, and common activities. Play a word association game and turns naming words in Arabic related theme.Write a short travel blog post in Arabic about a dream destination. | Day 57-63: 30 minutes each |
| Week 10 | Cultural Insights | Participate in a virtual debate or discussion club in Arabic Write a letter or share your thoughts on a current global issue. Engage in a live interview with a native speaker or language partner in Arabic. | Day 64-70: 30 minutes each |
| Week 11 | Advanced Conversation | Spend this week reviewing everything you've learned so far through fun.Try your hand at an Arabic crossword puzzle or word search. Reflect on your progress and set new goals for your Arabic learning journey. | Day 71-77: 30 minutes each |
| Week 12 | Review and Consolidation | Create a short Arabic story that incorporates past tense and conjunctions. Engage in a language exchange where discuss childhood memories in Arabic. Watch an Arabic TV series with subtitles and try to identify past tense verb forms. | Day 78-84: 30 minutes each |
3. 1-on-1 Arabic language session with a native speaker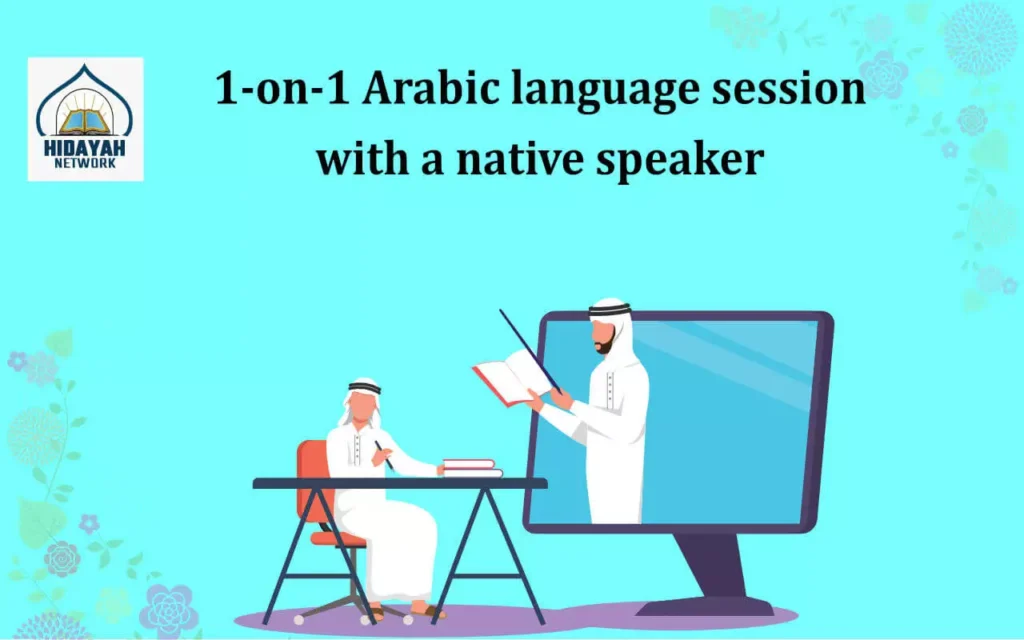 If you're trying to learn Arabic quickly, one of the best ways to speed up your progress is to meet with a native speaker one-on-one. This speaking practice indeed helps you to tackle your concern regarding learning How to speak Arabic fluently. Whether you want to improve your conversational skills, grammar, vocabulary, or understanding of cultural differences, your tutor can help you. One-on-one Arabic classes are also the best way to learn Arabic with native Arabic teachers.
Try to talk less than 30 minutes a day on Skype; you can make significant progress in learning Arabic. It makes to start learning Arabic for non-native speakers easy and more effective. A native speaker can tell you what your skills and weaknesses are and adjust the lessons to fit them.
4. Learn Arabic Fast with Daily Activities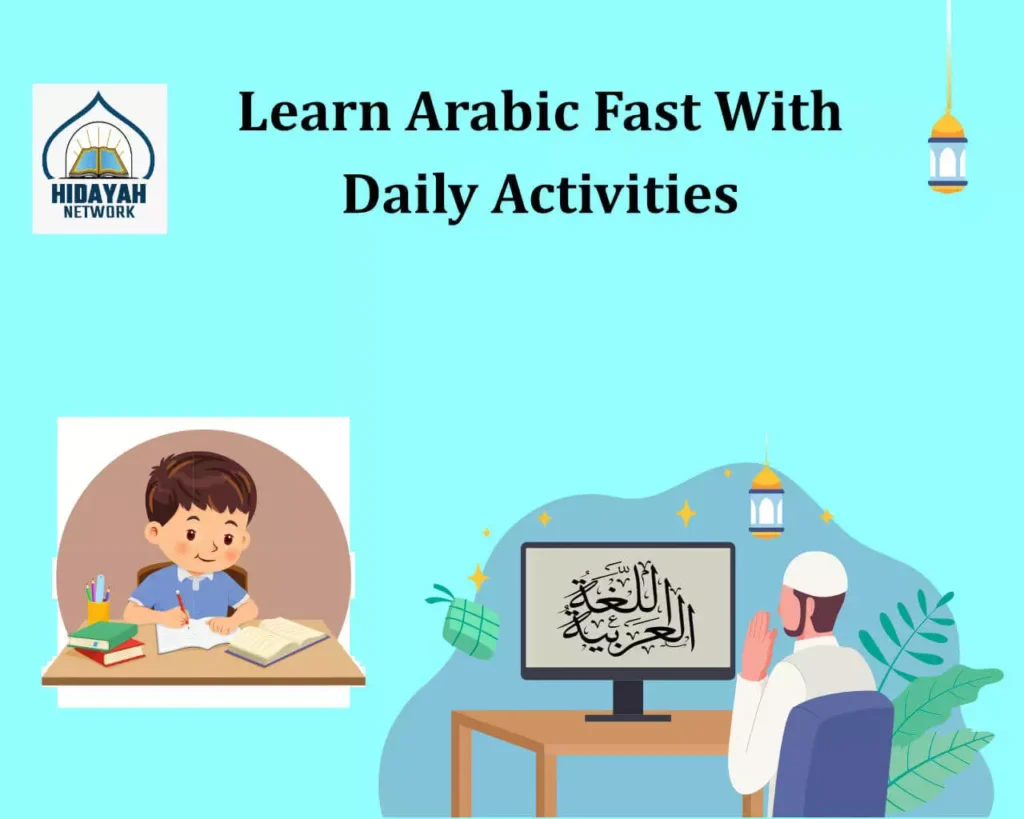 We'll explore creative ways to learn Arabic fast with your routine life activities, making it an enjoyable process. Let's discover how you can master Arabic through your daily routines.
Decode Arabic Music Lyrics
Dive into the world of Arabic music and decipher the lyrics. This will not only improve your listening skills but also introduce you to the rich poetic and cultural aspects of the language.
Create Arabic Comics or Cartoons
Turn your learning process into a creative endeavor. Design your Arabic comics or cartoons with characters speaking Arabic. This will indeed make language acquisition enjoyable and memorable.
Cook Your Way to Fluency
Explore the world of Arabic cuisine by following Arabic recipes in their native language. This will not only improve your vocabulary but also allow you to savor the flavors of the Arabic-speaking world.
5. Create a bi-weekly Vlog in Arabic
Creating Vlogs for your new learning journey will be an interesting way. Document your language-learning journey by creating a bi-weekly vlog in Arabic.
Share your progress, struggles, and experiences. Furthermore, engage with the online Arabic-speaking community for feedback and support.
6. Learn the Vocabulary Through Newspapers and Broadcasts
Modern Arabic broadcasts and news programs help boost your vocabulary. These sources introduce you to current events and real-life situations, helping you learn everyday language.
Modern Arabic literature illuminates its richness and culture. Arabic short stories or novels are good starting points. Reading literature expands your vocabulary and sentence structure, making your language more expressive.
Practice Your Pronunciation With Apps
Rocket Record: Offers voice recognition and feedback for precise pronunciation.
Flashcards: Use language learning apps like Anki or Memrise to practice pronunciation along with vocabulary.
Apps like Speechling and Sounds: The Pronunciation App focuses on improving your pronunciation through interactive exercises and feedback.
7. Arabic Pen Pals for Language Exchange
Find an Arabic-speaking pen pal with whom you can exchange emails or letters. Engaging in written correspondence will help you practice your writing skills and gain insights into native Arabic speakers' daily lives.
8. Join Arabic Language Challenges
Participate in language challenges on social media or language-learning platforms. These challenges often include unique tasks and prompts that can make learning Arabic more fun and engaging.
Gamify Your Learning with Arabic Board Games:
Discover or create board games that use Arabic words, phrases, and culture as part of the gameplay. This interactive approach will make learning Arabic feel like play rather than work.
Enroll in Hidayah Network Intensive Arabic Classes
Consider intense Arabic classes from recognized learning institutions like Hidayah Network for an immersive approach. They offered a well-structured 1-year online Arabic course for all.
A thorough curriculum, skilled instructors, and a friendly learning environment are offered in these courses. In our Arabic classes for beginners or advanced learners, intensive sessions can speed up language acquisition and lay the foundations for Arabic conversation.
Conclusion
In conclusion, challenging circumstances may motivate learning a new language, but conscious use of effective strategies speeds up the process. This article's tips help Arabic language learners maximize their time and achieve their goals.
Structured 1-year Arabic language schedule, daily practice, real-world engagement, vocabulary expansion, language challenges, and personalization can help people overcome challenges and become confident Arabic speakers. Seize the moment, stay engaged, and use these tactics to master Arabic.
Most Important FAQs