Online Quran Classes in Texas
Certified & Qualified Tutors
2 Weeks Report
Quizzes & Competitions
Quran Certificates
24/7 Access​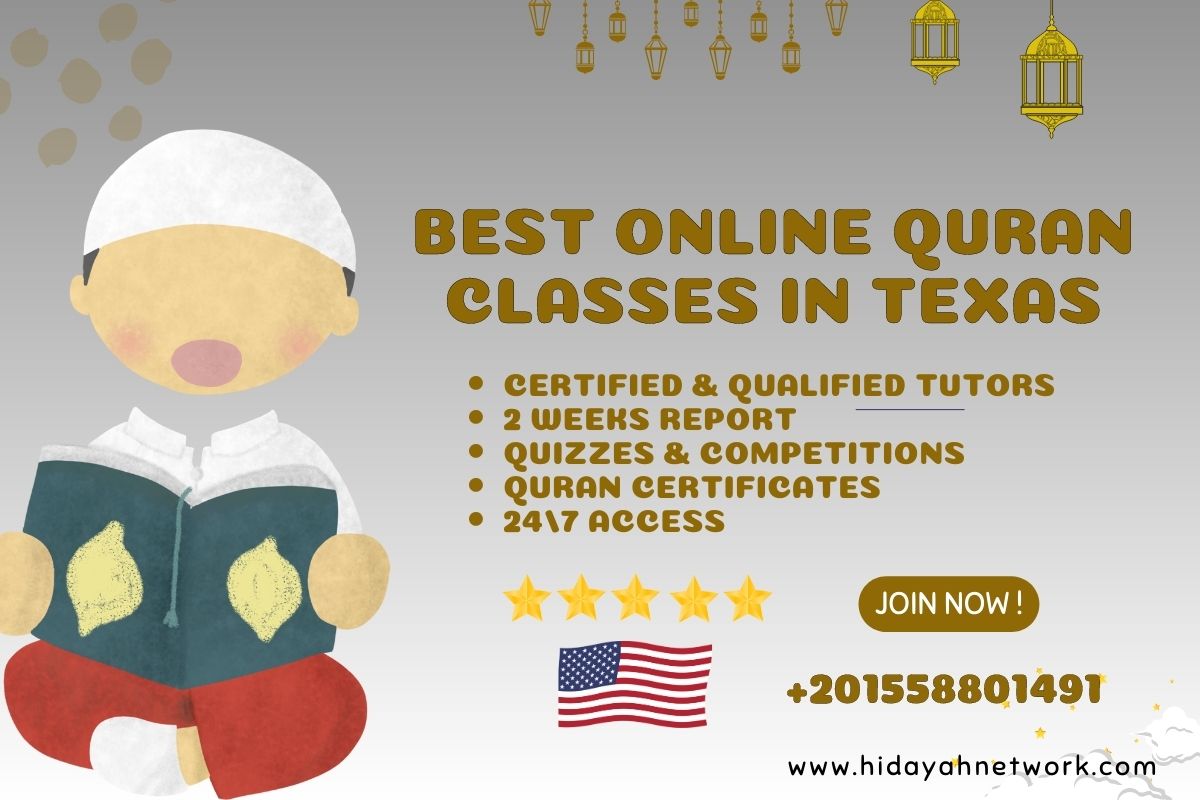 Best Online Quran Classes In Texas, USA
Online Quran learning has become mandatory, particularly in Western countries where Muslims find it problematic to attend material Quran lessons due to the shortage of such institutes or not having a Muslim community around their residence. 
In texas, Hidayah Network have brought up our latest and distinctive Online Quran classes for all Muslim brothers and sisters who are keen to elucidate their knowledge about Islam and Quran. These multi-featured classes are based on various courses that are organized and articulated by professionals to cover all the topics that are imperative to be learned. Structured Curriculum For Muslim Brothers & Sisters
All the Quran classes are very well structured and classified to enable students to enroll in any of the courses with ease. The following points are looked into while organizing a course. 
➡️The division of syllabus in levels.
➡️The number of assessments required for each Quran course.
➡️The length of each program including revisions, tests, and competitions.
➡️The activities, assignments, Q/As, and teaching planners for every lesson.
Our Variety Of Quran Courses In Texas
Hidayah Network invites you to enroll in any of the top 4 Quran courses to begin your learning Journey to get connected to Allah.
This is the 1st step in the direction of understanding the Quran. This course will enable you to learn Arabic from the basics and build a substantial foundation that will later help you recite and memorize Quran easily.
This program is for all those who want to memorize the whole or any portion of the Quran, regardless of their gender. You will be taken through this Hifz course with different hifz techniques that will make learning Quran super easy and engaging.
Adorn your voices with the gems of Beautiful recitation with Tajweed through this course. You will learn tajweed with rules and recitation and will get chances to recite in front of different eminent teachers to get perfect.
To understand the translation and detailed description of the Quran in English, you are offered a Tafseer course that will be conducted by certified tutors concerning the authentic Tafseer by famous scholars.
Facts about Hidayah Network
Outcomes Of Our Online Quran Courses
All the courses have certain predefined outcomes that are ought to be achieved in the course time. 
➡️To make students proficient in basic Quran reading through the Noorani Qaida course.
➡️To enable students to learn and apply tajweed rules confidently through the Quran Recitation course.
➡️To produce Huffaz that have strong tajweed and excellent recitation.
➡️To facilitate Muslims in Texas to contemplate the meaning of Surahs after attending the Tafseer course. 
➡️To maintain the connection with the Quran that they have made by attending Quran classes.
Why Enrol In Our Quranic Programs?
Certified & Qualified Tutors
We have taken the highly qualified and certified huffaz on board with us to conduct the Quran classes. What makes our teaching team outstanding is:
➡️Aptitude for speaking English smoothly.
➡️Their Ijazah Certification.
➡️Years of online teaching experience.
➡️Teaching style and methodologies. 
➡️Positive feedback from old students.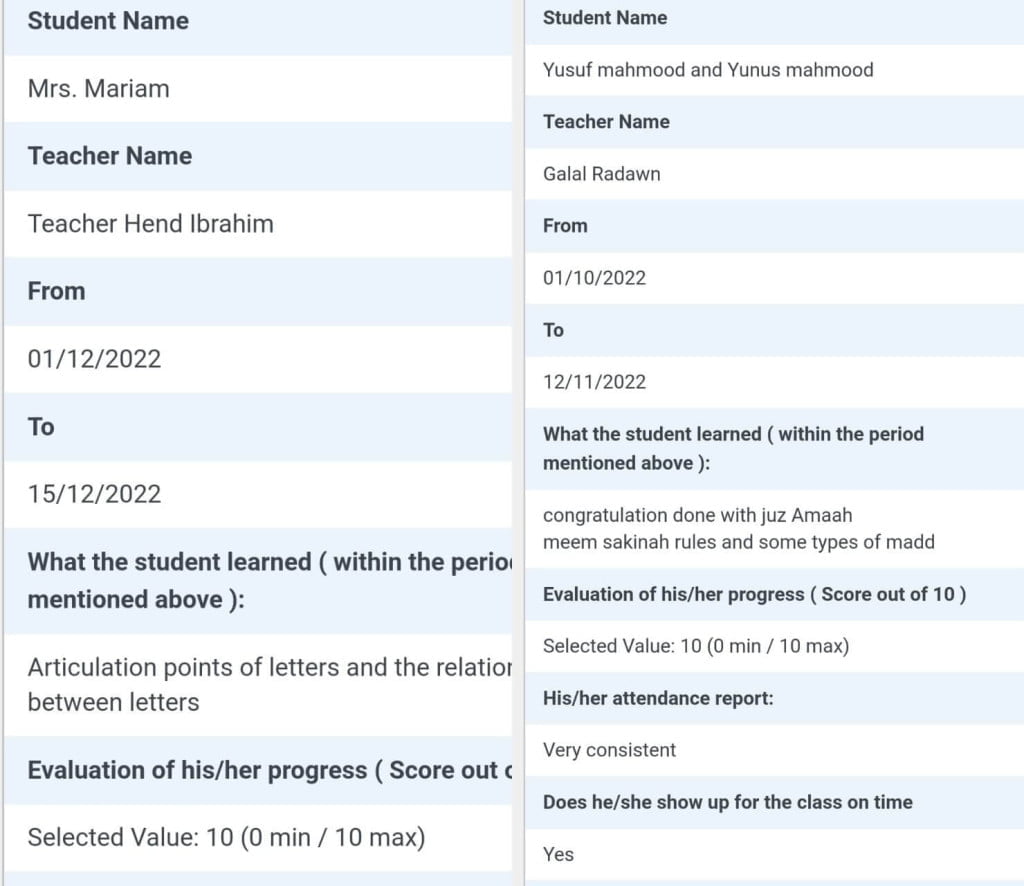 Our reporting system is not to keep telling you your flaws! It is basically a course tracker that helps both teacher and the student keep an eye on the ongoing progress. Report cards are generated after every 2 weeks and give a detailed evaluation of the classes. 
To bring a spark in all the classes and keep students engaged, we arrange competitions and contests of recitation, hifz, tafseer, and much more. You can prepare for them through your quiz accounts, allotted by us separately for each student. 
All four Quran programs are backed up with certifications for the students. Not only that, but we also give a certificate for memorizing any single surah or juz. These certificates are signed by the admin and the teachers.
To bring the best out of every student, we appreciate and motivate them to attempt quizzes and participate in competitions. We allot a quiz account to our students to solve more than 500 Quizzes and Riddles based on Quranic topics.
We offer online Quran classes in Texas with the feasibility of time. All the users can enroll in any of the Quran courses at their convenient time. Keep the following offers into consideration.
➡️You can modify your class duration.
➡️Classes on weekends are functional.
➡️Missed classes will be rescheduled at your availability.
Now you do not have to search further, as our Quran classes are here to provide the exemplary opportunity of learning Quran online through our native Arab tutors. Just grab a free trial from 2 teachers at your available time and then fasten your seat belts to carry on further.