Best Online Tajweed Classes In Birmingham
Learning Tajweed will correct your Arabic Accent and let you read the Quran like Native Arabs. So, Muslims living in Birmingham need no more deep search! All the factors are covered by us.

Hidayah Network, a recognized Egyptian platform, has brought to you amazingly designed Tajweed Classes In Birmingham that are meant to facilitate you at very low pricing that no one else offers. Our Tajweed lessons are taught by Native Arab Tutors in a step-by-step approach to let you master the skill easily with fun.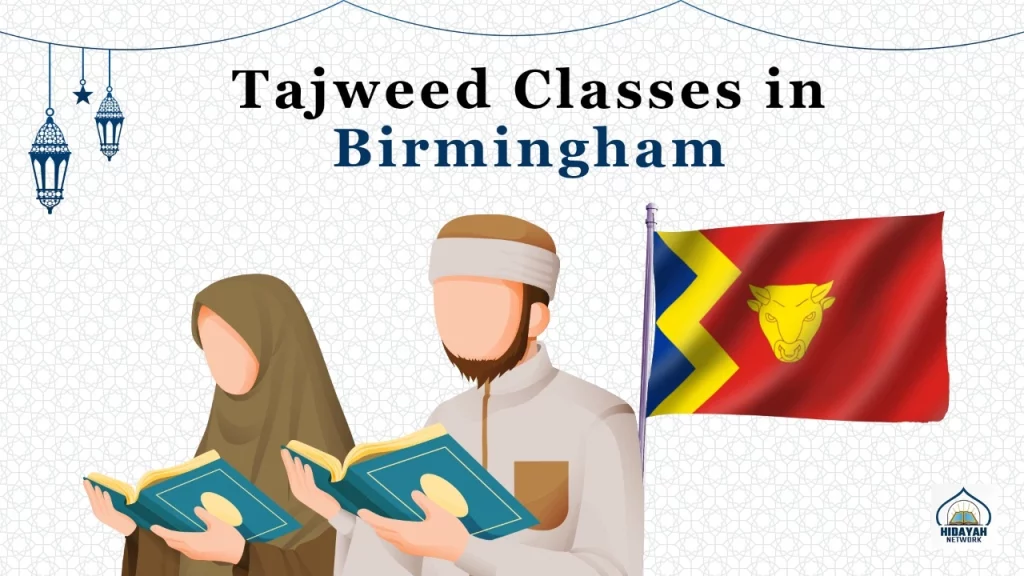 Best Structured Classes for Muslims In Birmingham
Our sisters and brothers in the UK and beyond can get a structured Tajweed plan based on the level you are enrolled in. Our structured classes consist of: 
A formal plan based on your choice of the syllabus.

The number of classes you want to attend per week.

The duration of each class.

Extra class for the practice of the recitation (If you wish).
Then a customized plan will be designed with mutual understanding.
Our Different Online Tajweed Courses
You can become a Hafiz by enrolling in any of the following Hifz Programs.
As the name hints, it is a lengthy program for those who want to memorize Quran in one year or 6 months, by getting an extensive schedule.
An amazing course for your kids to learn to read Quran in Birmingham. The classes are full of fun activities and free from boredom.
✅This course is open for all kids:
3 to 7 years.

9 to 12 years.

13 to 16 years.
If you want to learn the complex Arabic rules and Quranic Tajweed then this is the best course for you. It demands time and dedication.
✅ This course is open for:
Adult males

Adult Females

Teachers (If they want to).
All adults, regardless of gender, can join this course to learn all about Tajweed and successfully read Quran fluently.
Facts about Hidayah Network
How does Our Program Work?
Once you have decided to perfect your Quran recitation by learning all the Tajweed rules, follow the below-mentioned steps and the doors are open for you where you are welcome to get started.
✅ Choose the course
✅ Register for a free trial
✅ Get a customized plan for your level
✅ Pay the Pricing of the Package
✅ Get started with the tutor of your choice
We bear the fact in mind that it is really challenging for the Muslims living in the UK to learn Quran properly like Arabs from a reliable source. That is why we invite you to avail yourself of our free trial and get started now!
3 Main Levels of Tajweed Course
Based on the knowledge of students from the West, we have divided the course into 3 levels. 
The beginner's module for Muslims in Birmingham
This is where you will qualify to read the Quran with Tajweed. For this course, you must have a prior base of Noorani Qaida and a good know-how of Arabic letters and pronunciation.
If you don't have any knowledge, then no need to worry, contact us to get enrolled in the basic course of Qaida for beginners and then proceed further to this course.
This module will help you recite Quranic words, sentences, and short Surahs with Tajweed.
The Intermediate Module for UK students
This level is to gain fluency and confidence in Reciting at least a juz without any Tajweed error.
You will learn some new rules that were not taught in Qaida Noorania, and your tutor will help you apply the rules with confidence.
The advanced Module For adults Living in Britain
Coming from western society and reaching the advanced Tajweed level is an achievement! This high level is for those who have already learned the recitation and now getting perfect to achieve Ijazah Degree.
By now you will become a Tajweed Pro like native Arabs.
Why Enroll In Our Tajweed Program
If you are eager to learn Quran recitation, here is what makes us the best option for Muslims living in Birmingham.
We believe that positive and 100% results can only be achieved if the instructor is professionally efficient. So, we have adopted the following selection criterion to provide the Muslims of Britain with the best tutoring services.
They must be Native Arabs.

Graduated from Leading Islamic Universities.

Fluent in English.

Teach with an amalgamation of traditional and new methods.

Have Exceptional Tajweed and got Ijazah too.
They are Native Arabs.

They are qualified from prestigious Islamic Universities and own an Ijazah Degree.

They have years of experience in making students memorize Quran efficiently.

They are well-equipped with the latest trends in teaching hifz.

They have memorized Quran in a short time. To keep the progress under check, we generate the report card after every 2 weeks. The report has the following points:
The errors in pronunciation.

The repeated mistakes in recitation.

Areas that need more revision.

Tips to improve and overcome errors.

A planner for the next two weeks.
Affordable Pricing Package
Read the Quran with Tajweed at a very low price that is not offered anywhere but Hidayah Network. The services we provide and the fee we demand is just unbelievable ($4 per hour).
We facilitate our users by being available all day long to cater to as many students from the UK as we could. You can schedule your Quran recitation classes with Tajweed according to your convenience. Our bunch of tutors is available 24/7 to teach you.
It works as a motivator for kids and adults too get benefitted from it by checking on their learning capacity
Mind Mapping for each Rule
Creating a plan in mind to support each rule is what we apply in our class. Mind mapping helps explore the rule through variations and lets you learn with a variety of examples.
The theme of the Surah you have to start learning.

The subdivision of the topics discussed in the Surah.

The meaning of Each verse.
Tajweed Course Certificates
We provide an e-certificate of the Tajweed course at the end that is signed by the supervisor and your total credit hours are also mentioned on it.
Educational Quizzes of Tajweed
Tajweed and all its rules are taught and reinforced through quizzes. All the students are given a portal account where we have 500+ quizzes to solve. Enjoy and learn Tajweed with fun.