Best Islamic Classes For Kids in Birmingham
Parents in the UK are really concerned about their children's Islamic upbringing to keep them connected to the religion and love Islam. Usually, there are several obstacles they face in finding a credible place to enroll their kids in Islamic Classes in Birmingham. Physical classes are difficult as kids attend their contemporary schools too. 
So, we at Hidayah Network have designed an exclusive course for Students in Birmingham to learn all about Islam in a very engaging and fun-filled environment. Our professional male and female tutors will successfully inculcate the love of Islam and Allah in your kids through our structured learning plan that is designed by keeping all the Islamic perspectives in mind.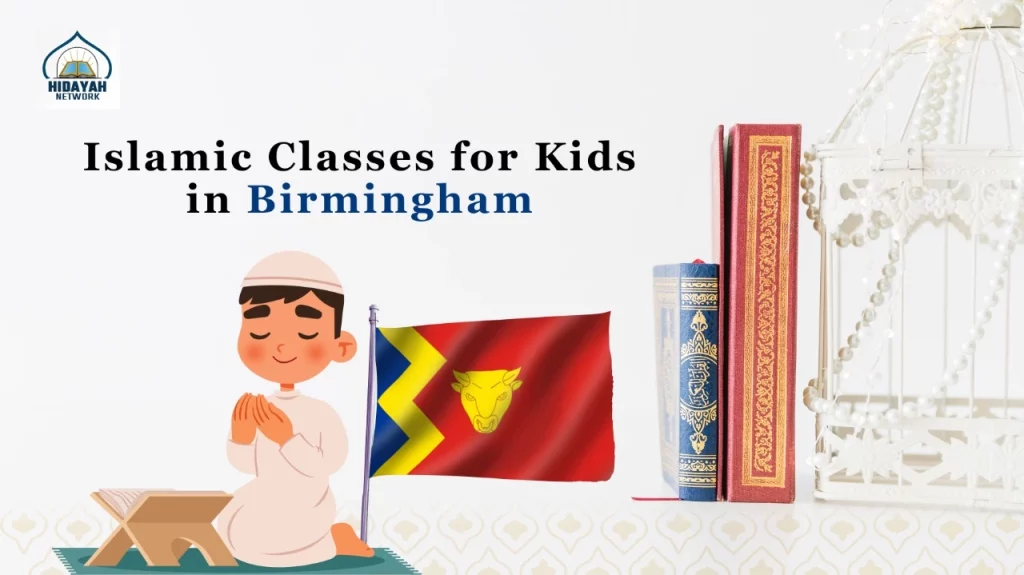 Best Structured Lessons For Toddlers in Birmingham
Toddlers in Birmingham can learn about Islam through our structured plan that can be designed according to your choice of topics.
The plan is based on the following details:
☆ The age group of the student.
☆ The topics you want your kids to learn. 
☆ The number of classes per week.
☆ The duration of each class.
Birmingham Online Courses For Kids
You can become a Hafiz by enrolling in any of the following Hifz Programs.
This course is designed for our shining little gems to enlighten their hearts with the Light of Emaan. 
We select short Surahs and different chunks from the Book of Allah to explain in detail with the help of:
☆ PowerPoint slides
☆ Mind Mapping
☆ Video clips
☆ Animations

Comprehensive Islamic Program
This course is for the younger kids who can learn about Islam in a comprehensive way, covering all the aspects in detail.
Facts about Hidayah Network
What Will Your Children Learn?
✅ Tafseer Of Selective Surahs with the background of revelation.
✅ Hadith From Daily Life to follow as many Sunnahs as Kids can.
✅ Seerah Of Prophet SAWW to shape personalities according to Islamic values and ideals.
✅ Fiqh (Wadhu, Salah, Fast, etc) to help gain clarity in the practical implementation of Islamic rules.
✅ Tarbiyah Of Kids according to morals.
✅ Dua and Daily Azkaar
We have selected some colorful and interesting Digital Books to support our virtual lessons to make kids enjoy the details with fun.
How Do These Classes Work
Once you are on board to enroll your kid at our institute, go through these steps and let them get started.
✅ Grab a free trial offer.
✅ Discuss the plan with the hired tutor.
✅ Pay the pricing of the package.
✅ Get started!
We enroll kids according to their age bracket. The following is the division by age.
✅ Kids aged 3-6
✅ Young Kids aged 7-12
✅ Children aged 13-16
Tests will be held every now and then to reinforce the lessons. Competitions are arranged other than the set class times. 
Why Enroll In Our Islamic Program For Kids?
To provide you with the best online Platform, we render the following services.
Our tutors are the best ones available online because of the strict selection rules we follow.
✅They should be native Arabs.
✅Qualified from any leading Islamic University.
✅Have Deep insight into Islamic Studies and its branches.
✅Are speaking English fluently and clearly.
✅Experienced in teaching Kids for more than 5 years.
✅Apply the latest tech-based methods in online sessions efficiently. 2 Weeks Report Card To Keep A Check
Hidayah Network generates a bi-weekly report card for the parents to track the progress of their little stars. This report consists of:
✅The problem area in any topic learned.
✅The errors in duas or prayer.
✅Tips to improve participation in class.
✅Planner of the next two weeks.
✅Behavioural or regularity issues (if any).
To cater to your kids' feasibility, we have a number of teachers who are available round-the-clock to teach your tiny stars. 
The best thing that we do is that we make our Islamic Studies for Kids classes really fun. Kids enjoy the activities done in class. Some of them are:
☆ coloring worksheets
☆ solving puzzles
☆ cross-matching
☆ digital tracing
☆ riddles

Educational Games And Toys
We let kids enjoy playtime while learning Islam. Some reliable sources do provide Islamic Games and toys that are really helpful. Alaabi.co.uk is one of those places that offer many educational resources for Kids.
The theme of the Surah you have to start learning.

The subdivision of the topics discussed in the Surah.

The meaning of Each verse.
Islamic Story and Cartoon Sessions
Our teachers conduct story sessions based on Islamic history and characters to indulge them in the love of their religion. The cartoons played in the classes are all from reliable sources that are also designed to teach Islam to toddlers.