Quran learning is not meant only for adults but also kids of all ages so that they can build a strong connection with Allah and understand the teachings of Qiran from their early years.
Quran classes for toddlers are arranged by Hidayah Network to let kids from 3-6 years enjoy Quran learning with a different mode of teaching. Our experienced teachers make every lesson fun-filled and engaging with activities to keep the interest level intact.
3 Levels Of Quran Learning For Children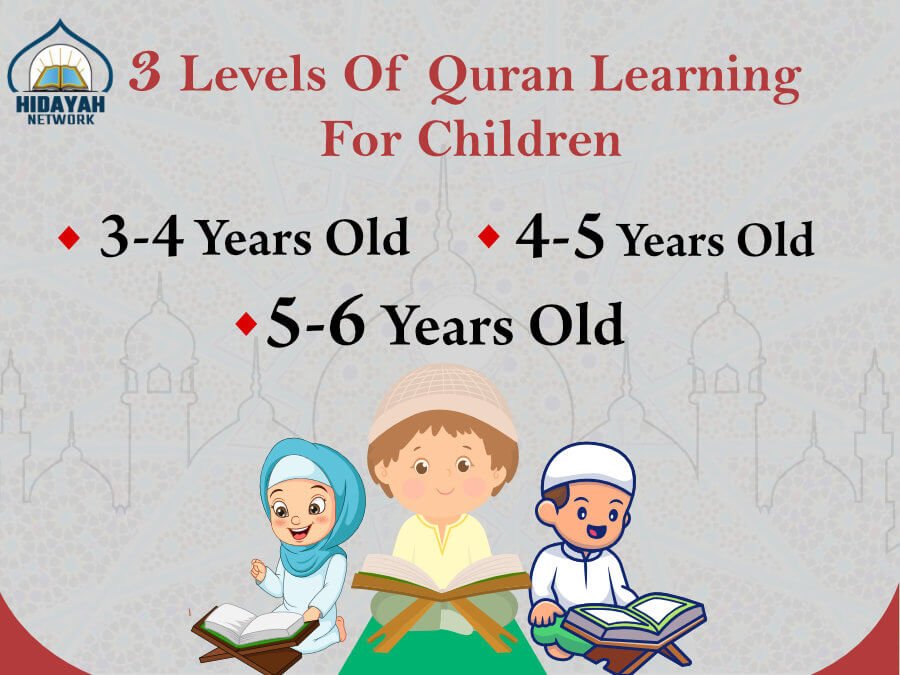 To make the course formally easy, we have categorized the levels according to the ages of toddlers.
Level 1: 3-4 Years Old
To make the content age-appropriate, we have made sections of the syllabus for kids of 3-4 years. Being too young to learn the concepts, we have chosen very few things for them to learn and understand with sign languages and activities.
➡️ Arabic Alphabets with Rhythm
➡️ Selective Stories Of Prophets
➡️ Basic Everyday Sunnahs To Follow
➡️ 3-4 easy surahs to memorize in our Hifz classes for toddlers
➡️ Short Supplications to Learn
Level 2: 4-5 Years Old
This level is for kids who are slightly independent age and ready to move forward with curiosity and questions about Allah, the Prophets, and the things around them. They will be taught about:
➡️ Selective names of Allah with their meanings and explanation
➡️ Animated stories of Different Prophets with a focus on personality building
➡️ Surahs to Memorize
➡️ Sunnahs to follow and learning about hadiths
➡️ Learning some more supplications
Level 3: 5-6 Years Old
This level is for kids 6 years old kids who are efficient and capable enough to learn Quran, hadith, and Supplications more than other toddlers.
The main focus will be on Tajweed to let them have an amazing accent since childhood. They will learn:
➡️ Translations of Several Surahs with Hifz
➡️ Basic Tajweed rules to read Quran flawlessly
➡️ Supplications related to different aspects as taught by Prophet Muhammad SAWW
➡️ Seerah Of Prophet Muhammad SAWW
➡️ Names of Allah with detailed meanings and explanations
Our Fun-based Lessons for 3-6 years old
We bear in mind that little souls need to be engaged in Quran lessons in a fun way so that they find Islam a wonderful religion to follow. We have planned all the lessons by keeping the element of excitement and enjoyment high.
All kids who fall in the age bracket of 3-6 years, will learn some Surahs in a new way. For instance, Surah Al-Asr is taught with sign language and the teacher touches the wrist/watch when reciting 1st verse. This helps kids understand and keep the meaning in mind forever.
Furthermore, the Prophets' stories are not only narrated orally but shown through colorful animations that surely attract little peeps. The supplications, names of Allah, and other topics all are backed up with visuals, games, fun chat, and coloring.
How Do We Teach Quran to 4 to 5-Year-Old Kids?
The age of kindergarten is very delicate and a single inappropriate or high-level subject content will take out the element of interest from the minds of these kids. That is why our qualified Egyptian tutors make sure to engage kids with the content of their level. Quran classes for kids are conducted unlike the regular class just to develop the love for Allah and this religion. Our experienced teacher follows the undermentioned strategies to reach the outcomes planned for toddlers.
Through Educational Games
We have chosen some amazing Islamic games for kids to play while learning Quran. These games are taken from reliable sources and have a drastic impact on kids' learning. Some of them are:
➡️ Muslim kid's educational games
➡️ Islamic quiz for kids-learn your Deen
➡️ Muslim kids tv
➡️ Muslim Ninja
➡️ Quranic Quiz
Through Puzzles and Toys
There is a high variety of toys and puzzles found online and are very good for kids whether they play online or at home. We use puzzles and riddles in our online Quran classes for kindergarten. These puzzles are in the form of digital mazes where kids have to help the characters to reach their destination.
Through Activities and Riddles
All the topics have activities like:
➡️Coloring, Painting, or drawing
➡️Tracing and sketching
➡️Labelling and recognizing
➡️Completing the story by arranging pictures
➡️Cutting and pasting (mainly for home tasks)
Through Stories and Videos
To keep their interest intact in the Quranic classes, we narrate stories from Quran and show them videos also. These videos are also selected from reliable sources to deliver authentic content. We also show PowerPoint slides and presentations to kids to motivate them to learn quran online.
Through Flashcards and Sign Language
These educational materials help a lot in delivering exactly what is intended. We use flashcards of Arabic words and story descriptions. Sign language is an amazing way to teach kids of 3-6 years as they learn them quickly.
How Does Hidayah Network Engage Kids in Quran Lessons?
Our tutors (male and female) are adept at engaging kids in Quran lessons through the following things.
➡️ Narrating stories
➡️ Fun-filled activities
➡️ Appreciation and rewards
➡️ Keeping it easy and simple
➡️ Setting Small goals and short class time
Kids have less attention and attention period. They quickly shift their focus from one thing to another, so it is better to engage them in small activities where they get a free hand to work. No dictation from teachers and parents at the time they are busy with activities keeps them engaged and interested. And we at Hidayah Network make sure our toddlers enjoy every bit of their lesson.
What Is The Best Age To Learn The Quran?
Quran learning must start as early as possible so that infants develop a bond with their Creator and also develop habits that will be helpful in their personality shaping later on. We suggest enrolling kids of age 3 in Quran classes that have short lessons with the minimum syllabus. From age 3 to 6 is the best time to learn Quran for beginners.
At age 4 in islamic studies for kindergarten they can begin learning and understanding a little more about the Quran by memorizing some of the Surahs and understanding different Islamic topics. At the age of 5, they can take a formal online hifz program because at this age kids can manage themselves independently and can better pursue their goals with the help of their teachers. At the age of 6, they must have sound knowledge of Quran reading, memorizing, understanding, and much more about Prophet Muhammad SAWW and his sayings.
Conclusion
Toddlers are keen and curious to know about. Different things and childhood is the best time you can pave their paths with proper directions towards Islam and Quran. They will learn everything as they have amazing learning capacities. We are here to make the classes lovable for your kids. So, take our complimentary class of 30 minutes to check out the teaching styles.
Frequently Asked Questions