Learn Arabic for kids | Best online Arabic learning for kids
Are you worried about how to let your growing Kid learn Arabic online with fun?
Hidayah Network makes it possible for the best online Arabic learning for kids. To let your kids nurture their mental horizon with our engaging and fun Online Arabic classes for kids.
Why Choose us for Arabic learning for kids?
Online Arabic classes for kids

with Extraordinary Arabic Teachers!

Highly customized Course curriculum to

Learn Arabic online for kids.

High Technology stuff to motivate

children to Learn Arabic Language

!

Unique virtual tricks for Teaching Arabic to children.

One to One class to encourage personalized

Arabic E-learning. 

 Creating a positive learning environment for

Best Online Arabic Learning for Kids.
Arabic for kids

made easy with an Affordable Fee structure!

Recorded Lectures for free to

Learn Arabic at home.

Learn Arabic for kids online with the flexibility of schedule 24/7.

Access to

Online Arabic classes

from anywhere anytime.

Scheduled Tests and Quizzes to check on kids.

Weekly Reports tracking the performance of your kids

Rewards and Stickers to keep our

Arabic classes for kindergarten

fun.

Multimedia to enhance the learning experience of

Arabic for toddlers.
Note: We have also a well-structured online Quranic Arabic course if you want your kids to be able to understand Quran accurately. Moreover, they will be able to use the most common Quranic words in their daily conversation.
What will your child learn from this Online Arabic course?
➤ With our Online Arabic Course, Your Child will be able to understand Arabic without any need to translate it into English or other native languages.
➤ Your child will be able to write Arabic well without any mistakes.
➤ The kids will be able to read the Arabic texts and Comprehend them to speak freely.
➤ Your kid will Learn Arabic to understand Quran meanings accurately.
➤ Learning Arabic will help your kids memorize the Quran faster and efficiently.
➤ Not only that but learning Arabic can open doors to employment and business opportunities for their future.
➤  Your kid will be reading Quranic Arabic fluently since he won't feel any language barrier.
➤ Our Arabic classes for kids will help your kids bring about a greater understanding and appreciation of Arabic culture.
➤ It will make their traveling in Arabic-speaking countries easier and more fun and will pave the way to lifelong friendships with Arabic-speaking neighbors.
➤ Our Arabic lessons for kids will help them connect with the Rich history of the world and other civilizations.
Online Arabic classes for kids

with Extraordinary Arabic Teachers!
We provide your kids with the best Arabic teachers since we never compromise on the quality of Course output we provide.
🡆 Our teachers come from the most prestigious Islamic institutions of the world, Al Azhar, The renowned university, just to guide you through the course.
🡆 Hidayah network runs trial tests to hire professionals with years of top Arabic teaching experience. Selected through huge rounds of interviews, our experienced teachers will help you throughout our Arabic classes for kids with all-time Cooperative behaviour.
🡆 Our Arabic Tutors have learned Arabic from the most trusted Arabic scholars, along with some Top Arabic courses and great Arabic books to make sure they help learn Arabic for beginners in a more informative way.
🡆 Our Online Arabic teachers arrange competitions between their students to boost their self-esteem along with colorful and appealing books and other multimedia stuff.
🡆 The Arabic experts communicate maturely and respectfully, set personal beats for kids, and along with the main Arabic course, put a high-end effort to complete additional activities.
🡆 We have a set rule that all the communication would be in English especially for non-native kids who are beginners. Because non-natives only understand English as its common source of understanding. Thus Teachers make the Arabic course for fresh kids easy by translating it into their native language too.
Must read: 15 Reasons Why You Should Learn Arabic
Highly customized Course curriculum to

Learn Arabic online for kids.
We have the best organized and specified syllabus to Learn Arabic Online for kids. Syllabus and lesson catalogs.
Rewards and Stickers to keep

Arabic lessons for kindergarten

fun!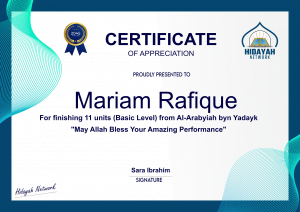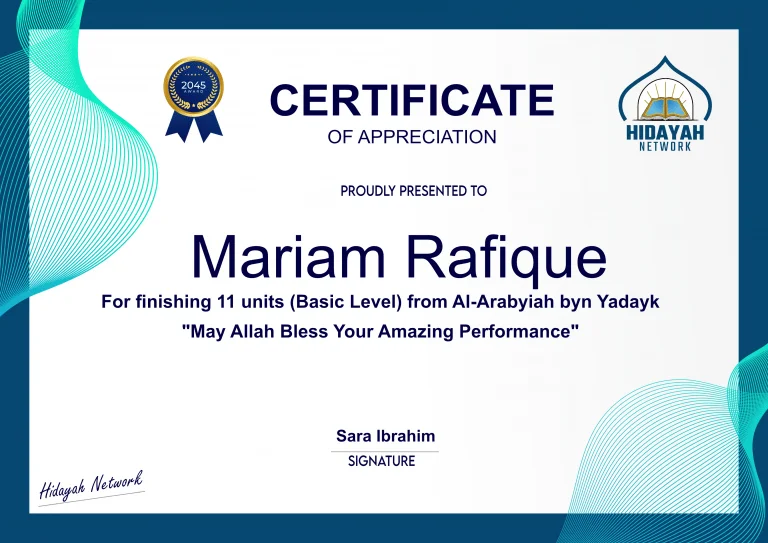 Teachers not only praise the top-performing students but also have established a huge virtually rewarding system for Arabic lessons for kindergarten. For example: letting kids Collect digital reward tags or sending them digital stickers with their result performance or making them Special guests for a day.
 Also, teachers have a virtual Badge system Like Gold, Silver, and Bronze. These badges appear on kids' profiles whenever they perform best in class. 
Certificates of the best performance are also given to those who participate throughout the class, Certificates for good job, effort, student of the week, and many more…
Emails with cool gifs and voucher rewards are sent to parents to let them know how their child is getting involved in the Arabic class.
Scheduled Arabic Tests and Quizzes to check on kids:
 The kids are accessed in weekly Arabic quizzes and monthly tests. A gift is already announced as a motivator for kids so that kids don't just lag but strive hard to earn that gift.
 Kids don't feel pressured for tests since the tests are kept fun according to their age. For example, coloring a Letter Test or other tricks.
Weekly Reports tracking the performance of your kids:
Weekly and monthly reports are prepared to track your kid's progress in our online Arabic classes. Teachers present those reports to the parents and have a detailed meeting for every single kid's performance. This way, parents are enlightened about where their child needs attention or what their child is doing.
All in all, Hidayah Network has a Parent-Friendly support package, Since they keep them informed about their child's progress in learning Arabic. All the kids are kept under the eye.
Learn Arabic for kids online

with the flexibility of schedule 24/7:
 This is the major distinguishing factor between our Online classes and others Physical Arabic classes is exactly the flexibility to learn Arabic for Kids Online 24/7. We don't bind children to a fixed time, instead, they have the convenience to Learn Arabic as per their choice.
If a student can't take classes at his normal fixed time and wants to alter the plan he can do that by contacting our customer support team without any offense.
Unlike the physical classes where one is bound at times,  we enable your kids to learn in a carefree environment without any worry of hanging by the side.
High Technology stuff to motivate children to learn Arabic language!
We use High technology tricks to motivate Arabic students to learn more. How do we do that? Following are the major things for children to learn the Arabic Language effectively!
★ Arabic audiobooks to encourage Kids learning:
According to stats from the reliable source,11% of kids around the world learn the languages efficiently by Listening to audio tracks or listening to others lectures talks, thus we provide Audiobooks and many other audio tracks to help them learn Arabic online more efficiently
★ Arabic cartoons to learn Arabic:
Cartoons strengthen the basic learning of kids, as they love to watch them. Thus Our course tutors use Cartoons as a warmer or icebreaker to the Arabic lesson, to change children's focus or initiate classroom discussion.
The tutors get toddlers to create their captions for the given cartoons, match captions with selected cartoons, observe different cultural and social behaviors. Finally, they show the children the Arabic cartoons to learn Arabic and contemplate the events shown in the pictures.
We've selected some beautiful children-friendly Arabic illustrations to help them understand more.
★ Arabic books to keep kids hooked!
The Arabic teachers keep the kids hooked by colorful Arabic books along with visually attractive graphics and other hooking materials. This way kids adopt the good habit of book reading thus making them even more productive.
★ Stories in Arabic for kids:
To recap their vocabulary for the letter the kids learned, we allow them to practice by making up stories and drawing pictures to aid them. 
★ Arabic letters Tracing Worksheets:
 Kids learn even more through such holistic learning tricks. The teachers provide them with the worksheets and guide the parents to help their child trace the Arabic letters and words on the worksheets. It just clarifies their concepts and helps them explore more.
Since it's great for the kids to trace over the worksheet to practice letter formation. We Let them learn the sounds before the name of the letter to help them read more profoundly!
★ Arabic flashcards:
The course guides use Arabic flashcards which have the alphabet written on one side and a synonymous word along with pictures on the other side! They also keep a plain set of alphabet flashcards. These you can print onto cards at your home, designing them with glitters and colors and also use them for practical training of your child.
★ Arabic children songs:
 Kids love singing! So the course tutors use some of the Kids' Arabic songs they find on youtube,  including the simple Alphabet song and the Arabic alphabet rhyme with vocabulary, and sing them in our class sessions! 
We use ones that include rich Arabic vocabulary and then invent our songs with the vocabulary we are using for that particular letter to help our children remember the new Arabic vocabulary.
★ Fun Arabic learning games for kids:
The course professionals plan and arrange different Fun Arabic learning games for kids where they guess the correct letters, teams are assorted as well as screenwriting games in which the teacher assigns an Arabic letter to kids and the students would have to write that letter on a screen whiteboard. This is fun.
★ Attractive PowerPoint slides full of pictures:
Our PowerPoint Slides are used by the Arabic teachers to create award-winning Arabic lessons for kids.
We've got an incredible collection of images and graphics containing visuals of classrooms, pencils, crayons, school bags, and blackboards.
Our Attractive PowerPoint Slides encourage Kids to be creative, innovative, and fun-loving. Our great presentation for kids includes a lot of colorful slides containing themes of books, building blocks, Arabic alphabets, and of course happy children.
★

Using worldwide interactive teaching sites

:
The Arabic Course team use the best worldwide interactive teaching sites:
Wordwall, Kahoot, etc. These Teaching sites are safe for children and designed to study with joy. They offer Arabic skills training as well as additional knowledge of the world. And the best part is that you can enjoy the content together with your kids.
It helps us get the students the best out of our online Arabic course.
Do we have Unique tricks for

Teaching Arabic to children?
 Yes, since our goal is not just Course teaching but practical implementation of what kids learn in our course too! But How do we do that?
By constantly exploring new tricks and methods for teaching Arabic to children. In this aspect our professionals have made the following strategies:
🡆

One to One class to encourage personalized Arabic E-learning: 
One-to-One E-learning has long been recognized as the best way to boost the kids who are too shy or not confident enough to ask the question or clear their confusions in a crowded class. We know quite well how parents of such kids are worried for them, we provide the best solution to you!
Our Online Arabic Classes Gives the opportunity of personalized Arabic E-learning sessions.
Maybe your child is nervous, or he is struggling to Learn Arabic Online with much difficulty and worried you want to build their confidence. We Give additional support in this aspect. Thus enroll your kid Now and Get them Personalized attention to reach their full potential.
🡆

Best way to learn Arabic with Group classes!
Different kids have different mindsets and mind capabilities according to which they adapt to the learning environment. We have arranged the best way to learn Arabic according to their age. One group is for younger kids while the second group is for older children. Many more other features:
 Groups based on ages and proficiency level 4-7, 7-10, 11-12, so on

 Language learning material based on age, eg:

Arabic Graphical stories

and

Fun Arabic learning games for kids

while Involving older kids in Arabic practical Performing activities, and other self-made Arabic stories.

Confidence and polished

Arabic skills
🡆

Multimedia to enhance the learning experience of Arabic for toddlers:
The problem most kids face even after long language courses is How to communicate with the real world? How to balance the flow of communication? and practical implications of what they learned in class. 
Our Reality-seeking Arabic for toddlers Course not just teaches Arabic in class but also encourages the use of kids' specified multimedia sources like Television, radio, and other kids shows so that kids know from a very young age that How they are going to communicate with the real world and not just the ideal atmosphere of the class.
🡆

Encouraging activities outside the Online Arabic classes:
We assign fun, interactive, and conceptual assignments to kids outside the class which helps them engage with the real world and boost their social confidence. We introduce them to new objects, thus exposing them to as much of the Arabic language as possible. 
We encourage them to find and name objects they have at their homes or even in their playrooms or surrounding pictures. This way children can hold or play with the Language without any pressure.
🡆

Teaching culture alongside the Arabic language for kids:
We do not just focus on teaching kids to speak Arabic at a very young age, but also focus on embedding the root values of Their Culture Islam into them. We teach them the historical background of this target Arabic language, its origin, value, and importance in Islam.
🡆

Teaching

Arabic for kids through repetition:
Our Arabic Teachers use the best techniques to help the kids retain the knowledge they seek every day. As repetition and active engagement with the language they learn is the main factor for learning effectively. 
Our Skilled Arabic tutors perform every activity to make Arabic for kids fun rather than just an imposed course. Like using the English first to let them know the core concept of a thing, then using the alternate Arabic words for the same thing. This way Kids get to know the same thing in 2 different languages.
🡆

Using big gestures and physical demonstrations.
Our Teachers don't keep the kid's class boring but use the proper acting skills with big gestures and physical actions to let the kids enjoy the Arabic lessons.
Since Kids respond better to the Magnified facial expressions, hand gestures, and welcoming behavior of their tutors, The Arabic tutors use the same comical tricks to let Kids dive better into the freshly learned Arabic words.
🡆

Creating a positive learning environment:
The Tutors encourage the parents and other family members to use more and more Arabic words in daily routine ( like Instead of saying Where are you from? SAY! من أين أنت؟ )
Also, Our professional online Arabic tutors create a competitive and engaging vibe in class for kids to participate more in daily online Arabic activities.
🡆

Reinforcing the Arabic language for kids at Home:
The tutors encourage the parents to use different assigned tricks to make the Arabic language for kids more fun and to keep them in touch with the new language.
Such as: Asking the kids to Find the Arabic Word!
 Using any magnetic tool, giving the kid a specific Arabic word and asking them to pick that one from the Jar full of many different printed Arabic Words.
 Asking the kid to form an Arabic letter in a sand tray!
Parents can help their kids write a letter in a sand tray which will evolve an interest in them to learn and write more.
Recorded Lectures for free to

Learn Arabic at Home:
The best benefit is that our teachers let kids Learn Arabic at Home with recordings too. We work in every way to facilitate its students for Learning more easily than just feeling like a burden.
If the Kid couldn't take lectures on his fixed time, the Arabic Course provides the kids with the Lecture Recordings.
Our Recordings provide kids the flexibility to view or review the lectures at their own pace.

Our Arabic Lecture Recordings allow the kids to use other resources at the same time they view the recordings.

Kids can clarify Course details after attending lectures or before a Test.
Arabic for kids

made easy with an Affordable Fee structure!
Do a survey online for other Teaching platforms that have made Learning Arabic for beginners quite difficult due to their high Arabic course prices and additional charges. But we do not do such lowly tactics to enroll kids. You will be amazed to know that we have minimal costs but we care for you and your kids. 
We offer a highly affordable pricing package for your kids, despite the high quality of our course with multi-talented Arabic teachers and other curriculums. 
We also offer discounts:
• 2 kids of a family get a jumbo offer. If your kids are enrolled in our language learning course, we provide a special discount to your 2nd and 3rd kid too. This way your children can learn Arabic even on a low budget.
• On top of that, Our group Arabic classes are considered the best since they are much more affordable and the hourly rate is as low as 3 dollars per hour.
No Hidden Charges!!
We pay the transaction charges no matter how much it is since we don't burden our students.
We don't also charge unreasonably. Except for the course's fixed economic fee structure, we don't charge excessive fees. 
Grab 2 Free Trial Classes to check out!
 If you are worried about the quality of the course and don't want to pay before even checking the course throughout, No problem! 
We provide you the facility of 2 Free Trial classes with different teachers so that you can choose the best for your kid.
 

 

That is absolutely something that

none of the other institutions offer

.
Feel free to judge since we try to improve ourselves with each coming day.
Conclusion:
"Indeed, We have sent it down as an Arabic Qur'an that you might understand."
(Quran, 12:2)
Since Allah Chose Arabic as the Sacred Language of Islam. It is more than enough to understand why learning Arabic is so important for our kids. While kids are young, they have more potential for a new language in a short span of Time, thus enroll your Kid today to learn Arabic for kids before it gets too late!
Enroll your kid Now!
Frequently asked questions FAQs
1. Do you offer Online Arabic courses for kids only or for other age groups too?
Hidayah Network offers

Arabic language courses f

or all age groups. There is no age specification for learning a new language though.
2. What methodology do you use in

Teaching the Arabic Language for kids?
Our Qualified Arabic teachers use the best learning methodology for kids to learn Arabic at a fast but balanced pace.
Reading

Writing

Listening

Speaking
3. Is the Arabic language hard to learn for kids?
Let's be honest!

Arabic

is a challenging language to learn. But a harder language is not an unlearnable language. That means it could help keep learners' brains healthy as they age
Arabic grammar

is simple compared to other languages. Learning a spoken dialect through a communicative method) but either way, the grammar is remarkably simple.
All you need is to get a better

Online Arabic Tutor

for your kid and leave the rest to us.
4. Can my kid change the

Arabic teacher

if he/she is not compatible with the teacher?
Yes, he can. Although we have the most qualified tutors for teaching Arabic to your kids, we still consider the kid's reviews through google forms.