Online Quran Classes In New Jersey
Ease Of Access
Certified Group Of Instructors
Tech-based Teaching Material
Systematic Reporting System
Certification and Awards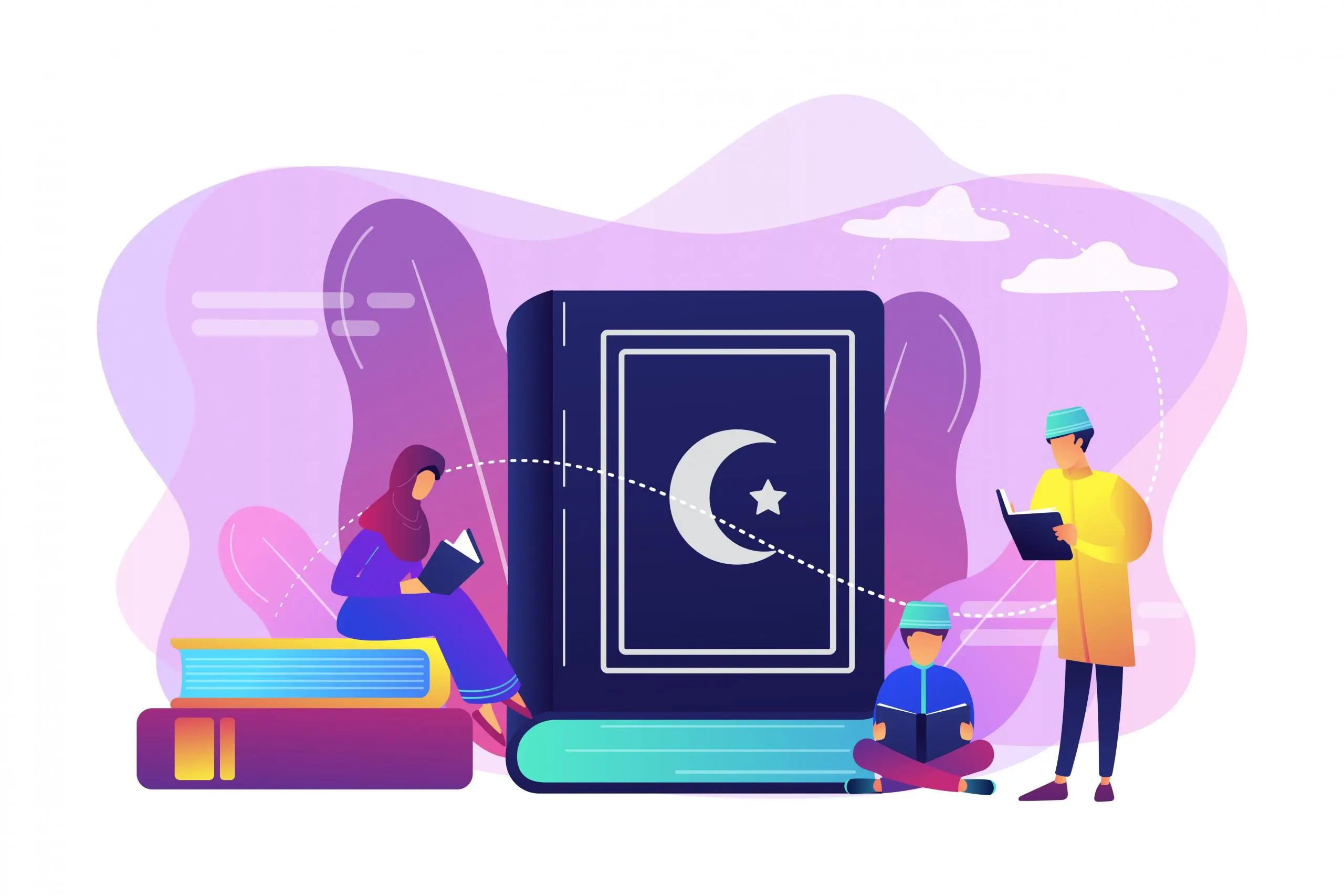 Best Online Quran Classes In New Jersey, USA
Standing by the fact that Quran classes are scarcely available to attend in person, the populace in New Jersey is let in to attend our virtual sessions where we offer you multiple courses with attractive features that make them engaging for students.
Online Quran classes in New Jersey are supervised by our qualified native Arab tutors who keep a thorough check on your progress whether you are memorizing, learning Tafseer, or recitation with Tajweed. Not only the kids but adults are also catered to by the number of courses functional online. Organized Curriculum & Personalized Plans
Not only males but females of all ages will also get to learn Quran online with a structured curriculum that is skillfully prepared to cover all the aspects of Islamic Education. When enrolled, you will get a properly formulated syllabus broken down into months, weeks, and days to make it easy for you to have a general idea of the whole course line.
Not only that, our sisters and brothers can enjoy a personalized plan for themselves and their kids by having a preference for the portion they want to memorize, learn to recite, and learn tafseer of.
Our 4 Main Quran Courses For Muslims In New Jersey
Hidayah Network invites you to enroll in any of the top 4 Quran courses to begin your learning Journey to get connected to Allah.
Noorani Course For Beginners
If you are a beginner and want to learn Quran from the very first step, then this is the best course that is amazingly articulated for the starters to set their base. 3 world-famous books are selected to be taught in this course.
➡️Noor Al Bayan.
➡️Yassarnal Quran.
Get a chance to learn Quran Tajweed from the native Tutors and excel in this genre. Whether you know nothing about tajweed or you have some errors, we are here to improve it and make you a pro through small milestones that you have to achieve one by one.
Quran Memorization Course
Make your parents proud and give them a chance to wear that fortunate crown on the Day of Judgment by becoming a hafiz through this course. You can get a personalized hifz plan for any of the Juz. This course is conceived to enable you to learn Quran with tajweed and review it too.
Another Quran course we offer for Muslims in New Jersey is the Tafseer program in which you will understand the translation and detail of each of the selected surahs. We follow Sunni Creed and the Tafseer we teach is by famous Sunni scholars known to the world. 
Facts about Hidayah Network
Learning Objectives Of These Classes
For each of our Quran courses, some objectives and outcomes are perceived by teachers while planning lessons. These objectives are supposed to be accomplished to bring the best out of these classes.
➡️To deliver each topic in the best way with the support of tech-based educational resources.
➡️To make beginners understand the Basics of the Quran through activities of the practical application of rules.
➡️To enable students to memorize Quran with various hifz methods to retain it forever.
➡️To enhance Quranic understanding through Translation and Tafseer.
What Makes Us Special For Quran Classes
This is the most prominent feature of our online Quran classes that you can access any time 24/7. Join us before your job time or after that, at dawn or late at night, we are always functional with a bunch of tutors ready to begin the session. 
Certified Group Of Instructors
Our Native Egyptian teachers are the backbone of our forum and work with passion and zeal to bring excellent results from each Quran course. They are qualified from prestigious Islamic institutes and have Ijazah to teach others.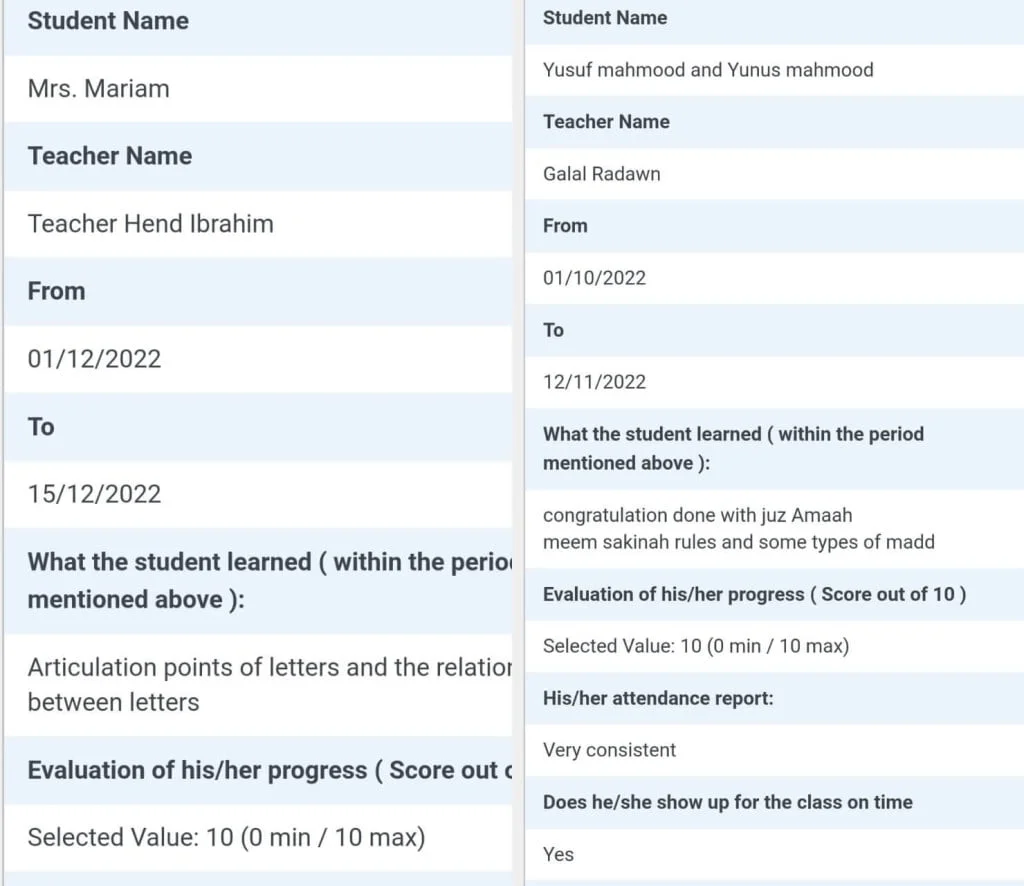 Tech-based Teaching Material
All the lessons are supported by educational teaching material that includes.
➡️3D version of pictures 
➡️Animations and documentaries 
➡️Audio and Videos 
➡️Educational games, etc
Systematic Reporting System
You will get a report card after every 2 weeks that sheds light on your performance and give tips to improve the errors and weak areas in Tajweed and hifz.
Our Quran courses are endorsed by certification and appreciation awards. Even if you have memorized a surah, learned the tafseer of a surah, or attended a Qaida course, you will be presented with a certificate signed by the forum's admin.
Many online platforms offer Quran lessons but we confidently declare that our classes are packed with fun, interest, and interaction. Attend our free model class and enjoy Quran learning in a motivational environment and in every unique way.