Quran Learning for Kids made easy Now! | Learn Quran For Kids
Are you Worried that your Kid could have authentic and more Engaging Quran Classes than just the Money Eyed Courses?
Hidayah Network is always seeking to set the highest standards in Quran Learning for Kids by staying up-to-date with the latest teaching strategies and technology.
What Salient Features do we provide for kids to learn Quran?
• Our Creative Quran Teaching Experts Empowering the best Quran classes for kids.
• 3 levels to learn Quran Online for kids: Beginner, Intermediate, Master
• Learn to recite the Quran beautifully like the Holy Prophet.
• Your Kids not Just Learn Quran But get ethical Training too for progression in professional Life!
• Choose between Male and Female Quran teacher.
• Get Quality Control Environment to Learn Quran for Kids
• Learn to read Quran for kids at the preferred speed.
• Educational games and attractive PowerPoint slides ( Full of Pictures) for a Deeper Understanding of Kids.
• No Extra Charges! No Registration Fee!
Professional Online Quran tutors for kids!
Our Professional Online Quran Teacher for Kids is experienced in Teaching Quran for Children. We hire Only Experts since it takes experience and a lot of effort to Handle Kids in a Class.
How are our Online Quran Tutors good enough for your Kid?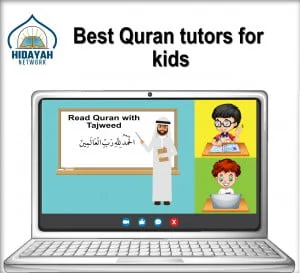 Quran Teaching Expertise
• They Have State Certification & Curriculum Expertise.
• 5+ Years of experience teaching the Quran to kids.
• They Teach Creatively.
• They prepare Lecture before each Online Quran lesson.
• They Have High Tech Skills.
• Use Gaming activities and props.
Strong Communication Skills
• They Make Themselves Accessible.
• They Are Welcoming.
• They Effectively Use their Voice and Gestures.
• They Provide Proactive Feedback.
Supportive Personal Qualities
• Very patient with young kids.
• They Are Encouraging.
• They Teach with Passion.
• They Are Adaptable.
• Have a backup plan for each Online Quran Class.
All in all, our Experts make Quran learning online for kids not just an easy task but also Fun and interesting Life long Lessons.
We also offer Online Quran classes for beginners either Adults or old people, whoever the age is!
What is our key strategy to Teaching Kids Quran

?
Our Quran Teachers don't just start with direct Reading of the Quran. Since Kids need a proper understanding of what they are going to do all over.
Our Quran Tutors keep the Online Quran Teaching for kids in a flow from Beginner to Expert level. Why?
So that kids don't just read Quran blindly but adapt step by step approach in order to come up with an amazing outcome at the end of their Quran learning journey.
This way they learn the Quran along with understanding the order of Allah for leading their Life the way Allah said!
Following is the Key Strategy we use for Teaching Kids Quran!
Stage 1: Beginner level to learn Quran for Kids online
1) Learning the Basics of Quran Reading:
Since the Quran teaching For children needs an initiator; The basics of Quran Reading, How the Arabic letters join, How the Words join, Short Arabic sentences, and Long Arabic sentences.
All these things need to be understood by Kids of Quran Classes so that they can proceed to the intermediate level.
What do our Online Quran Tutors teach in Basics to Kids?
Here these are:
Quran Phonetics

The Arabic Alphabet

Vowels

Letters Forms

Sukun

Shaddah

Shaddah with Tanween

Arabic Diacritics

AlifulWasl rules

Madd – Lengthening

Laam rules

Characteristics of the Quranic writing
We also offer Islamic Studies for Kids! Feel Free to check it out too.
2) Kids Learn to read Quran Word by word:
Arabic has the 'appearance' of difficulty because of its squiggly lines, harsh-sounding pronunciation but our Quran tutors for kids help the Kids to get started, letting them quickly discover many reasons why it is – in fact – easier than most major languages to learn.
This Way the Kids don't feel scared at all and learn Quran Online effectively.
Stage 2: Intermediate Level to learn Quran for Kids
After the Basic Beginner level, comes the Intermediate Level to Online Quran teaching For children. Step by step, the Quran Tutors prepare the Kids for the Expert level.
1) Learn to Read Quran for Kids page by page.
It's not recommended to directly go to Quran Hifz from the basics of Noorani Qaida. Although many madrassas and Online Quran Websites For Kids do such a thing as letting Kids go to direct Hifz after merely learning Basics of the Quran.
Thus Our Quran Teacher for Kids always recommends that except for Memorizing short Surahs, your child also knows how to read the Quran fluently.
They help learn to read Quran for Kids page by Page. This is important because it will help in understanding:
Pronunciation of Every Alphabet

Pronunciation of Every Word

Ayat Meanings

Characteristics of the Quranic writing

Different Ways of Recitation

Reciting Quran Fluently
Still, the Decision lies on both Kids' and Parents' will! Whatever path you choose, remember that you will have to Hire a Quran Tutor and buy a personal Quran for your child.
The Teachers recommend the Parents Find a Quran with an easy script for their child. The kids read in front of their teachers and the teachers guide them throughout.
2) Learn to recite the Quran Beautifully Like the Holy Prophet.
It takes huge efforts by Our Online Quran Teachers for Kids to let the Kids reach the Stage where they can Read the Quran Like the Holy Prophet. And In Doing so Teachers take the Following Steps:
• Understanding the Child Nature, His Mental capability and Implying the 3 basic Rules of Learning Quran Online for Kids
• Letting them understand what is being read thus helping them Fall in Love with Allah and Quran
• Encouraging the Kids to Practice for Beautifying their Quran Recitation Daily with what the Teacher Teach.
• Encouraging them to Listen to the beautiful recitation of a famous Qari daily.
• They help Learn the Quran Online For Kids by Setting Goals for them using the best Quran Apps.
• Encouraging them to teach others how to recite the Quran beautifully. This way they practice enthusiastically because it's not a race.
Stage 3: Master Level to Learning Quran Online.
1) Learn Tajweed Rules
To further master the recitation of the Quran, the Kids need to excel in "Tajweed". The Tajweed constitutes the rules and regulations one needs to follow in recitation to make it beautiful and accurate.
During the Quran Tajweed classes Your Kid will learn:
What is Tajweed

Benefits of learning Tajweed

Rules of Noon Saakin and Tanween

Heavy and light letters

Rules of Meem Saakin

Qalqala

Letter Raa rules

The Qualities of the letters

Madd – Lengthening rules

Stopping at the end of words

Laam in the exalted name of Allah
2) Learn to Memorize the Quran faster and easier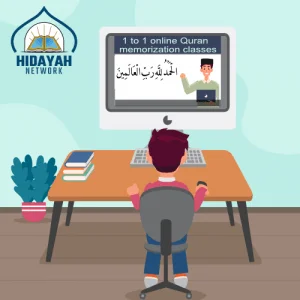 After mastering the Quran Recitation with Tajweed, your Kid can now proceed with memorizing the Quran and Hifz the Whole Quran By heart and imply its message to Life. Your Child Becoming a Hafiz/Hafiza is a great deal in Islam in both this life and hereafter.
During our Quran Memorization Classes with Hifz Plans, Your Kid will learn:
Accurate Memorization of The Book of Allah (Quran)

The General Meaning of The Verses

The Forgetfulness Types

How To Overcome Forgetfulness

Techniques For Fast Memorization

The Reasons For Revealing The Verses

Advantages of

Memorizing The Quran
3) Get

Ijazah

and spread your knowledge.
"Ijazah " means to master Quran Recitation with Tajweed or Quran Memorization and the person can start teaching the Quran.
Your Kid Can get Ijazah from our certified scholars for teaching recitation or memorization of the Quran to other people.
During the Ijazah Program at Hidayah Network, Your Kid will learn:
The Sounds, Articulation, and Characteristics

Quran Recitation

Quran Tajweed Rules

Hadith

Quran Memorization

Quran Tafseer
Access to

Online Quran For Kids

Anywhere at anytime!
Your Kids can learn with freedom anytime 24/7 with our both pre-recorded and live online Quran for kids classes, dipping in and out when it's the best time for them.
Even if You are away from home, in your Hometown, or any distant place.
No issue at all!
All your Kid needs is either a Laptop or any Digital Device.
Sitting in the Mothers Lap, Once your Kid logs in to the student portal on our Online Quran Course for Kids, they are at school.
Kids can access assignments, post homework, watch faculty presentations, contact our Online Quran teachers and their classmates, join student discussions, get assistance from student support services, receive feedback, and access their test grades.
It's also more comfortable learning from home and can be the better option for children who have a physical disability where traditional establishments like a physical institution may be challenging to access.
How Innovative are our Online Quran Classes?
Personalized One on One Online Quran Classes:
We provide personalized enjoyable One on One Online Quran Classes for toddlers and children as their wish. Your Kids get Individual attention in a relaxed, comfortable, and Learning environment. Not only that, your child gets many other benefits too!
1- You and your child will receive better and more personalized feedback
2- Tutoring gets flexible according to Your Child's needs
3- Your child gets individual attention for a better understanding of Quran lessons.
Interactive Group classes for a better Kids' experience.
Kids get engaging Quran e-learning experiences from home.
Our live, small-Online Quran group format encourages social interactions and builds learner friendships.
We have made Online Quran for Kids fun. They get more confidence in themselves. They learn from others' questions in Lessons.
Multimedia Tools for deeper understanding of your Kids!
Our Quran tutor for Kids make the best use of Multimedia for a deeper understanding of kids in a colorful and positively progressing environment.
There are hundreds of multimedia tools out there used by our professional Quran teachers.
This can be
Vibrant Slides

Quran Learning Lessons

Quran audio

Graphics

Animation

Videos

Virtual and augmented reality,

Interactions, etc.
Low Cost | Best online Quran Classes for kids and toddlers!
What makes us different from other Online Quran websites?
We provide the Best Online Quran Classes for Kids with exclusive discounts and offers. We follow the motto of Low Cost but High Quality so that you kids don't face any difficulty while Learning Quran Online.
It's a known fact that Traditional Education is costly as compared to Online Education. Since virtual classrooms will also reduce your child's carbon footprint related to gas and fuel.
You just need to pay the admission fee for our Online Quran Classes.
And That's it!
Your Kids are free to take as much advantage as they can while in class or outside our Quran class.
→ Not just that if 3 Kids from the same family enroll in our Quran Classes for Children, the 2nd and the 3rd student get the discount. And the discount goes on increasing with more members.
A Well established Examination and Reward System!
Weekly Progress Reports analyzing Kid's behavior!
In our online Quran classes, our expert supervisors are constantly assessing the Kids' online classes results to make sure that the quality of the Quran learning for KIds is up to the mark; while constantly making Weekly reports to assist and encourage Online Quran students.
The parents are also updated with the development of their children on a monthly and weekly basis. These development reports assist in keeping a measure of their development and realizing their weak points.
We also have adopted a Highly organized Reward System in Kids Quran Classes so that kids have the productivity expertise in different ways:
Digital Stickers

Virtual High 5s

Thumbs up

Positive feedback emails

Giving good behavior certificate

Change Name for a day

Special Guest for a day

Virtual lunch with the teacher
With such a Diverse range of Reward systems, Kids get the following Benefits.
• Kids feel more confident speaking the language and Participate more in Online Quran Classes.
•Teaching is made easier with more productive lessons.
• Kids are more likely to repeat the action that was positively reinforced.
• Kids are motivated by success and want to do well.
Grab 2 Free Trial classes Before Paid Classes Now!
But is it really important to grab our Free Classes?
What you will know About in our 2 Free Trial classes?
• In these free classes, your Kid can see if teaching methods by Teacher works for them? Kids interact with the teacher and talk about their objectives.
• What our teaching system is: the types of Online Quran classes we offer, Our educational programs, our materials, our methodology for Online Quran Teaching for Kids, etc.
• The students receive detailed information about how the Online Quran classes work: Parents can check the class packages that can be purchased, the payment formulas, the Prices, the class reservation system, the expiration of the classes, etc.
• The tutor also evaluates each student's level of knowledge.
All of this will allow us to elaborate a personalized Online class schedule for each Kid.
What are the Outcomes of our Online Quran teaching for kids?
1- Along with the Quran courses, kids learn Islamic values too! These values are instilled in them; the -values and ethics that will guide them in every aspect of their educational and personal lives.
2- "It's the Book (the Holy Quraan), where there is no doubt, a guidance to those who are Al-Muttaqoon [the pious] ["holy Quran Surah-Baqarah 2.2"
Understanding this sacred book helps your Kids to find the solution to all matters of their life from a very young age.
1- Reading the Quran on a regular basis will sharpen your beloved Kids' memory.
2- We make Quran learning for Kids an enjoyable experience for a Bright Future.
3- The Kids are taught the Holy Quran not just as something to be studied, but also as something to be returned to again and again in life – inside and outside of Online Quran class.
4- Children get exclusive attention from their tutors, clear their confusions, and do not lose their interest.
5- Sharpened digital skills in a Safe and Secure Homely Environment.
6- You being the parent can easily monitor your Kid's performance while he is studying.
Conclusion
The Prophet Muhammad (PBUH) said:
The best among you (Muslims) are those who learn the Qur'an and teach it.
Sahih al-Bukhari 5027
Online Quran for Kids is not a race from 1 month to 5th, it's a journey of a lifetime. So let your Kid start with small consistent steps because they add up to BIG goals! Start with something as simple as listening to the Quran.
So begin your

Kid's religious adventure

and

Contact Us Now!