Muslims all over the world are keen to learn to read Quran but face hurdles regarding proper guidance, platform, and teachers that can play a vital role in their learning.
We bring another course that will lead you to the correct way of reading Quran.
1-

Our structured plan for learning to read Quran.
To help you learn to read Quran easily, we have skillfully structured the plan for kids and adults. 
The plan is divided into 2 parts. It is further subdivided into Kids and adults.
Qaida Noorania or Noor Al-Bayan will be taught to beginners.
Learn to read Quran Part 1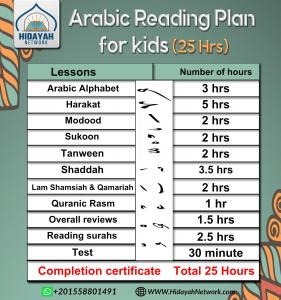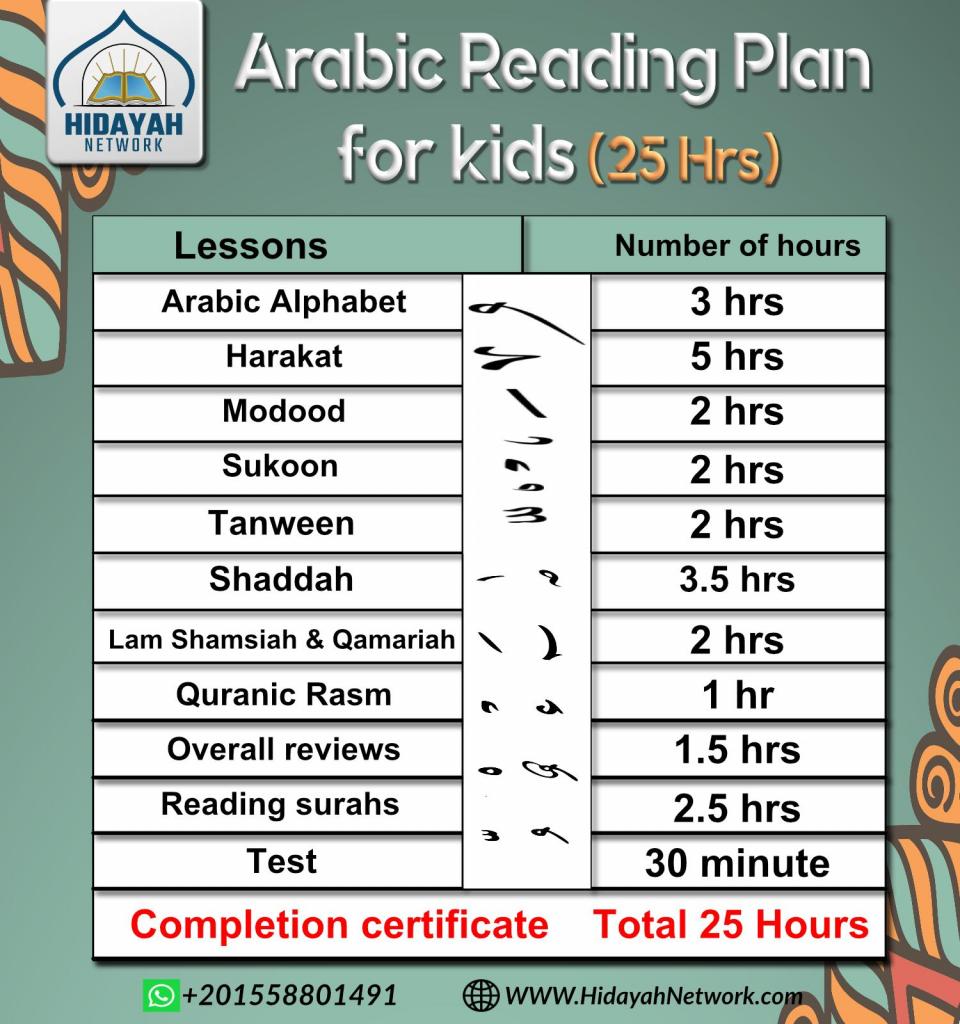 starts with the basics of the Quran:
The Students will learn the accurate pronunciation of the alphabets.
– The harakahs (movements), the Madd letters, Sukoon, tanween, and Shaddah.
–  Different rules of Joining letters.
Learn to read Quran Part 2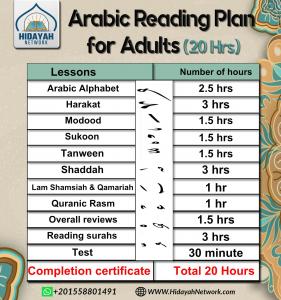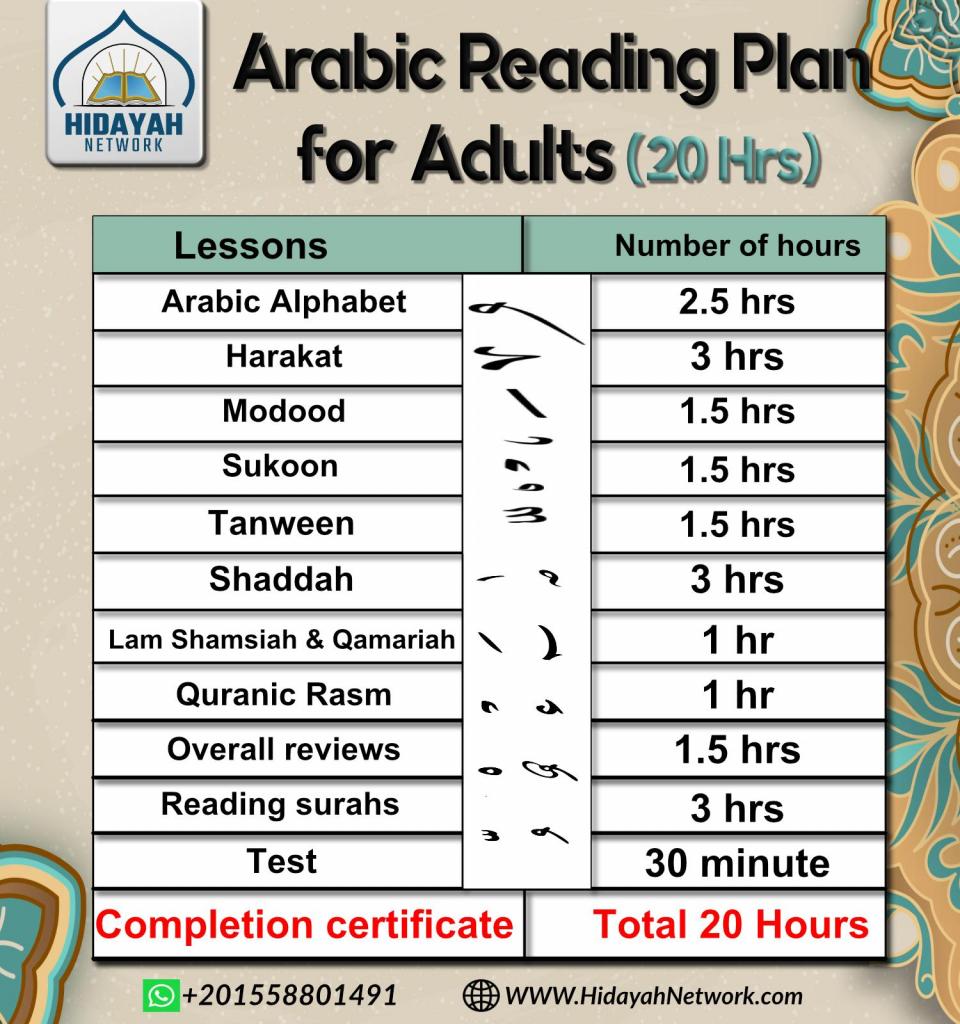 The students will learn to read Quran with Tajweed.
Read Surahs by applying the rules.
Revise and review recitation by imitating qaris.
Note: 2 tests will be conducted after each part of the course followed by the final test. This is to check the fluency of each student's reading.
2-

Learn how to read Quran with our qualified tutors.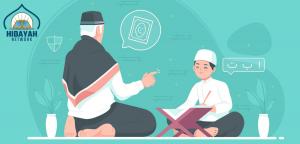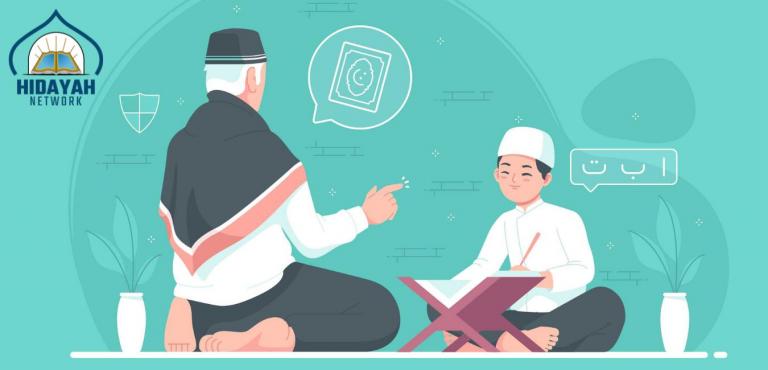 Learning Quran for beginners is tough and needs proper guidelines by a professional teacher.
1- Many of our Quran tutors have done diplomas and attended workshops from several institutes regarding teaching skills and techniques.
2- Well-trained to teach online and had the experience of helping hundreds of non-Arabs to learn to read Quran online
3- We only select the teachers that speak English fluently to ensure that they can explain the lesson professionally.
4- Our qualified Quran tutors have devised strategies and techniques about how to read and learn Quran in such a way that it makes learning enjoyable, easy, and interesting.
5- They use slides and infographics to help our students remember their Quranic Arabic lessons easier. 
6- Our tutors teach with utmost dedication and pure intentions to help achieve the goals of learning the Quran.
Note: You will learn Quran with Tajweed online with us after finishing this basic Quran reading course Inshaa Allah
3-

Learn to read Quran with our course amazing features
There are some salient features of this course of "learn how to read Quran" that make it stand out from the rest of the courses. 
Native Arab tutors to read Quran in Arabic correctly
We provide the best teaching faculty to the Muslim students out there. Our Quran tutors are proficient enough to devise lesson planners for Quranic teaching. They plan ahead of the class and discuss their lesson planner with the supervisors in order to avail the given time efficiently.
Learn Quran online anytime 24/7
Your time is precious to us. So, we let our students choose the best time they can give to learn how to read Quran. Our teachers are available 24/7 to teach at your convenient time. We make it easier to learn to recite Quran for beginners with flexibility in timings.
Two FREE trial classes 
To see how to read Quran correctly, we offer you 2 free trial classes where you can interact with the teachers to discuss the schedule. We are sure you would like to get enrolled with us after availing of the offer of a free class.
Learn to read Quran with colorful pictures and audio.
Once the lesson is taught, it is reinforced with the help of colorful visuals and audio. The students who are more inclined towards visuals find it super easy and helpful to understand how to read Quran.
One-on-one and group online Quran classes for beginners.
You can enroll not only for one-to-one classes but also for group classes. These groups can form with students belonging to the same family and also with the students from different areas but with the same lessons. This helps create a motivational learning environment for all the group members. Everyone is supported and uplifted.
Evaluation and feedback of learning to read Quran course.
You cannot learn to read Quran without working on your errors. So, the Quran tutors keep an evaluation form with them which is filled in regularly and helps focus on the areas of improvement of every single student. 
The kids Quran tutors give feedback to the parents directly and keep them updated regarding their child's Quranic learning.
Motivation and encouragement to learn to read Quran fluently.
It is one of our aims to motivate all Muslims all over the world to read the Quran with Tajweed the same way Prophet Muhammad used to read. With that goal in our mind, it pushes us up to create a motivational environment for All the students.
Certificates after reading Quran fluently.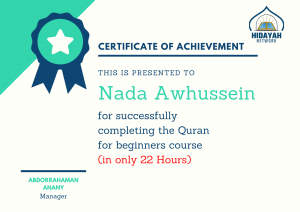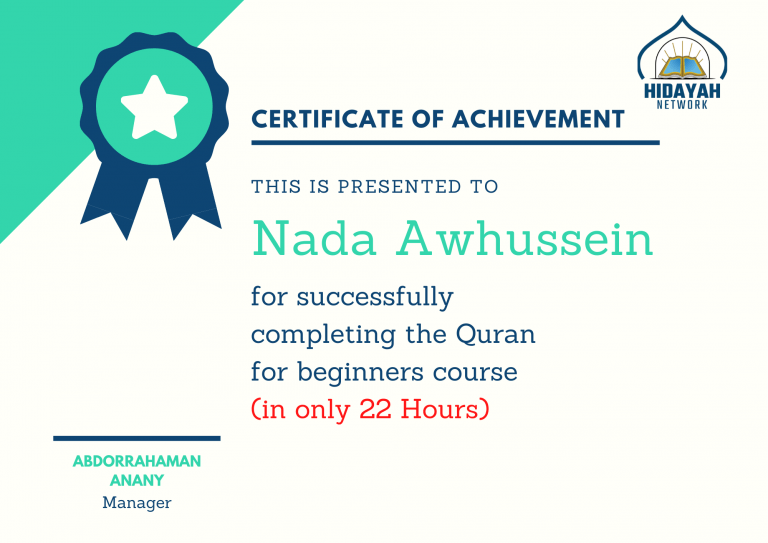 All the regular students are presented with the certificate. Whereas, the toppers are rewarded for doing their best. This certification allows the adults to teach other Muslims if required.
Stable network connection.
Last but not the least, we provide classes with a strong internet connection where the students can listen to the teacher clearly and reply instantly.
4-

Our amazing activities of Quran for beginners.
Noorani Qaida and Noor Al-Bayan are taught through activities that are designed differently for kids and adults by keeping their age groups and interests in mind. 
Learning the Quran for beginners is made enjoyable through:
Tracing of letters (for kids)
Picture recognition through Arabic letters
Finding examples from the Quran and much more.
The reason to include activities is to deliver the best and let students enjoy learning Quran online.
5-

Learn to read Quran with our affordable fee.
Hidayah Network brings an amazing and economical fee structure where you get a discount for the second child enrolled with us. 
Even more, discounts are given to the families who want to learn together. The families enrolled in group classes will definitely find it cheaper as compared to one-on-one classes.
6-

Our hiring process of teachers of Quran for beginners. 
Keeping the fact in mind that teaching Quran for beginners is different from other subjects, we have paid extra attention to the hiring process of our teachers.
We are determined to provide the most talented and learned online Quran teachers who teach with perfection.
Our teachers go through a series of tests and rounds of interviews to get selected for this noble cause. Anyone who doesn't meet our selection criteria is not selected for teaching Quran online.
They are Ijazah certified from prestigious Islamic universities like Al-Azhar and Dar-ul- Ulum which permit them to teach the Quran.
Note: We provide the facility of male and female online Quran tutors for those who are in search of gender-specific teachers.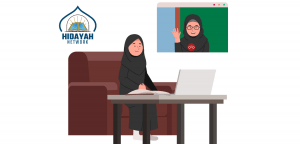 7-

Interactive ZOOM classes to learn how to read Quran.
We have opted for the best available app nowadays i-e: the ZOOM app that provides numerous facilities to the users. Lately, the class duration has been revised from 40 minutes to 1 hour which is good for both the teachers and the students.
It provides screen sharing which helps teachers to write what they are speaking or to guide the student on how the specific alphabet/word is written. The colors, font, and sizes are adjustable so that you can highlight some of your text in order to make it prominent.
Videos from other sites can be played in the class online that support teaching resources. Hence, this app is the best one for Al Quran teaching.
8-

The Outcomes of this Quran for beginners course.
When we were designing this course, we had certain outcomes in our minds that are supposed to be achieved at the end of online Quran classes for beginners. These are:
To identify alphabets, movements, rules of tajweed, and recitation perfectly.
To read out full ayah, surahs, and juz applying the tajweed rules.
To recite confidently in front of others like a skilled qari.
To revise and review it daily to retain it forever.
To implement the

rules of tajweed

in dua, azkar, and salah. 

To be conscious and avoid hidden mistakes that Non-Arab Muslims do while reciting.

Finally, to be able to read exactly the way our beloved Prophet Muhammad SAWW did.
The FAQs about our classes of Quran for beginners
Can I take my online Quran class anytime?
Yes, this is our key feature. You can set the time that suits you the best. Our teachers are available 24/7.
I want to learn how to read  Quran. How do I register?
After availing of the free trials, you can set up your own schedule, choosing your pricing plan, and then simply register.
Do I need to buy a textbook for this Quran for beginners course?
No, your teacher will share the book online which will be visible on both the screens to let you read from. We will provide worksheets for reinforcement
What if I miss my Quran class?
No worries, you need to inform your teacher beforehand and discuss your availability time so that you don't have a missed lesson, and you can make it up anytime at your convenience. 
I already have read the Quran but my tajweed is poor. Can I be enrolled in this course?
You can enroll in our online tajweed course.
How do I pay my fee?
We have many options available like:
Western union
Moneygram and
Bank transfer
How can parents check their child's progress?
It's simple, they can roam around during the live session. They will get a progress report card that is generated weekly to keep parents updated.
We pray to Allah to let us accomplish our vision with the help of our dedicated Quran tutors, structured plans, flexible timings, key features, help our students learn to read Quran. Together we can reach the goal of this Quran for beginners course. In sha Allah.